Warble Entertainment's
MJM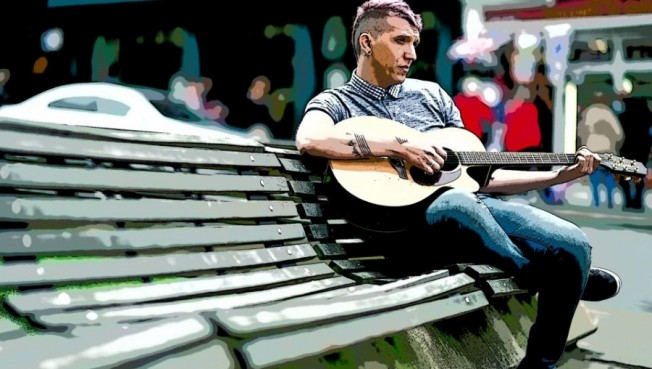 Location Berkshire
Starting from £300.00
Acoustic covers (60's - Now) soulfully performed live by MJM. A must have entertainer!
1 reviews
Listen




Song List
MJM knows over 2000+ songs but here are a few...
500 miles – The Proclaimers
A little respect - Erasure
A thousand years – Christina Peri
Against all odds – Phil Collins
Ain't no sunshine – Bill Withers
Alcoholic - Starsailor
All I want is you – U2
All of me – John Legend
All the small things – Blink 182
Always on my mind – Elvis Presley
America – Razorlight
American Pie – Don McClean
Angel of Harlem – U2
Angels – Robbie Williams
Another brick in the wall – Pink Floyd
Another day in Paradise – Phil Collins
Ashes - Embrace
A-team - Ed Sheeran
Babylon – David Gray
Bad moon rising – Credence Clearwater Revival
Be mine – David Gray
Beautiful war – Kings of Leon
Better – Tom Baxter
Black is the colour – Christie Moore
Boulevard of broken dreams – Green Day
Breakeven – The Script
Breakfast at tiffany's – Deep Blue Something
Broken stones – Paul Weller
Brown eyed girl – Van Morrison
Burning Love – Elvis Presley
Call me Al – Paul Simon
Can't help falling in love with you – Elvis Presley
Can't take my eyes off of you – Damien Rice
Cannonball – Damien Rice
Caravan of love – The Housemartins
Careless whisper – George Michael
Champagne supernova - Oasis
Chasing cars – Snow Patrol
Chocolate – Snow Patrol
Clocks – Coldplay
Come together – The Beatles
Counting stars – One Republic
Crazy – Gnarls Barkley
Crazy – Seal
Creep – Radiohead
Crocodile rock – Elton John
Dakota – Stereophonics
Day we caught the train – Ocean Colour Scene
Daydream Believer – The Monkees
Dear Darling – Olly Murs
Delilah – Tom Jones
Devil in disguise – Elvis Presley
Dignity – Deacon Blue
Distant sun – Crowded House
Don't fear the reaper – Blue Oyster Cult
Don't look back in anger – Oasis
Don't stop – Fleetwood Mac
Don't you worry child – Swedish House Mafia
Dreams - Gabrielle
Easy – Lionel Ritchie
Everlong – Foo Fighters
Every breath you take – The Police
Everybody's talkin' - Nilson
Everything – Lifehouse
Everything I own – Bread
Everywhere – Fleetwood Mac
Faith – George Michael
Fake plastic trees - Radiohead
Fall at your feet – Crowded House
Falling slowly – Glen Hansard
Fast car – Tracy Chapman
Fat bottomed girls - Queen
Feel like making love – Bad Company
Feeling good – Nina Simone
Fields of gold - Sting
Fill my little world – The Feeling
First cut is the deepest – Rod Stewart
Fix you – Coldplay
Flowers in the window – Travis
Folsom prison blues – Johnny Cash
Forever in blue jeans – Neil Diamond
Freedom 90 – George Michael
Galway girl – Steve Earle
Get Back – The Beatles
Get lucky – Daft Punk
Go your own way – Fleetwood Mac
God put a smile - Coldplay
Gold – Glen Hansard
Golden Touch - Razorlight
Good riddance – Green Day
Good souls - Starsailor
Goodnight girl – Wet wet wet
Got my mind set on you – George Harrison
Gravity - Embrace
Green eyes – Coldplay
Half the world away – Oasis
Handbags & Gladrags – Rod Stewart
Handbags & Gladrags – Stereophonics
Have I told you lately – Van Morrison
He ain't heavy – The Hollies
Hey brother – Avicii
Hey ho – The Lumineers
Hi ho silver lining – Jeff Beck
High hope – Kodaline
High Hopes – Glen Hansard
Hometown glory – Adele
Hotel California – The Eagles
Hound Dog – Elvis Presley
How to save a life – The Fray
Hurt – Johnny Cash
I heard it through the grapevine – Marvin Gaye
I want to hold your hand – The Beatles
I wish it would rain down – Phil Collins
I won't give up – Jason Mraz
I'm a believer – Neil Diamond
I'm a believer – The Monkees
I'm yours – Jason Mraz
Iris – Goo Goo Dolls
It must be love – Madness
Itchycoo park – Small Faces
Jcb - Nizlopi
Jolene – Dolly Parton
Just looking – Stereophonics
Keep your head up – Ben Howard
Laid – James
Last request – Paolo Nutini
Last train to Georgia – The Monkees
Lately – Stevie Wonder
Leaving on a jet plane – John Denver
Lego House – Ed Sheeran
Let her go – Passenger
Let me entertain you – Robbie Williams
Let your love flow – The Bellamy Brothers
Let's dance – David Bowie
Let's stay together – Al Green
Lightning bolt – Jake Bugg
Listen to the music – Doobie Brothers
Little by little - Oasis
Little lion man – Mumford & Sons
Live forever – Oasis
Local boy in the photograph – Stereophonics
Looking as you are – Embrace
Losing my religion – R.E.M
Love me again – John Newman
Lovely Day – Bill Withers
Lover will never tear us apart – INXS
Magic - Coldplay
Man in the mirror – Michael Jackson
Man who can't be moved – The Script
Master blaster – Stevie Wonder
Moondance – Van Morrison
Moving to New York – The Wombats
Mr Brightside – The Killers
Mr. Writer – Stereophonics
Mrs Robinson – Simon & Garfunkel
Mustang sally – Wilson Pickett
My girl – The Temptations
My hero – Foo Fighters
My little runaway – Del Shannon
Naive – The Kooks
Nine crimes – Damien Rice
No woman, no cry – Bob Marley
Nothing ever happens – Del Amitri
Of the night – Bastille
One – U2
One day like this - Elbow
Only you – Yazoo
Open your eyes – Snow Patrol
Over my shoulder – Mike & the Mechanics
Painkiller – Turin Brakes
Paint in black – The Rolling Stones
Pompeii – Bastille
Price tag – Jessie J
Proud Mary – Credence Clearwater Revival
Purple rain - Prince
Read all about it – Emile Sande
Red – Daniel Merriweather
Red, red wine – Neil Diamond
Reet petite - Jackie Wilson
Revolution – Tracy Chapman
Ride on – Christie Moore
Ring of fire – Johnny Cash
Riptide – Vance Joy
Roar – Katy Perry
Royals – Lorde
Run – Snow Patrol
Runaway train – Soul Asylum
Sail away – David Gray
Save me - Embrace
Saw her standing there – The Beatles
Secret smile – Semisonic
Semi charmed life – Third eye blind
Set fire to the rain - Adele
Sex on fire – Kings of Leon
She is love - Oasis
She's electric –Oasis
Silence is easy - Starsailor
Sit down – James
Sitting on the dock of the bay – Otis Reading
Slide away – Oasis
Somebody told me – The Killers
Somewhere only we know – Keane
Songbird – Oasis
Stand by me – Ben E King
Stand by me – Oasis
Stay with me – Sam Smith
Step on my old size 9's – Stereophonics
Stop & stare – One Republic
Stop crying your heart out - Oasis
Stuck in the middle with you – Stealer's Wheel
Sunday Morning – Maroon 5
Sunday morning call - Oasis
Superstition – Stevie Wonder
Sweet Caroline – Neil Diamond
Sweet home Alabama – Lynnard Skynnard
Take it easy – The Eagles
Talk Tonight – Oasis
Teenage kicks – The Undertones
That's life – Frank Sinatra
That's entertainment – The Jam
The Boxer – Simon & Garfunkel
The Cave – Mumford & Sons
The importance of being idle – Oasis
The Joker – Steve Miller Band
The Living Years – Mike & the Mechanics
The Scientist – Coldplay
These boots are made for walking – Nancy Sinatra
Ticket to ride – The Beatles
To love somebody – The Bee Gees
Tracks of my tears – Smokey Robinson
Trouble – Ray Lamontagne
Use somebody – Kings of Leon
Valerie – The Zootons
Volcano – Damien Rice
Waiting in Vain – Bob Marley
Wake me up – Avicii
Walking in Memphis – Mark Cohen
Weather with you – Crowded House
What's up – 4 non blondes
Wherever you will go – The Calling
White Hare – Seth Lakeman
Why does it always rain on me? - Travis
Wild wood – Paul Weller
Wild World – Cat Stevens
Wish you were here – Pink Floyd
With a little help from my friends – Joe Cocker
With a little help from my friends – The Beatles
With or without you – U2
Wonder of you – Elvis Presley
Wonderful tonight – Eric Clapton
Wonderful World – James Morrison
Wonderwall – Oasis
Worried about ray – The Hoosiers
Yellow – Coldplay
You do something to me – Paul Weller
You give me something – James Morrison
You've got the love – Florence & the machine
Zephyr song – Red Hot Chilli Peppers
Zombie – The Cranberries
High & Dry - Radiohead
Wicked game – Chris Isaac
Nights in white satin – Moody Blues
Take your mama –Scissor Sisters
Don't let me down – The Beatles
Hello Marylou – Ricky Nelson
Plus many, many more...