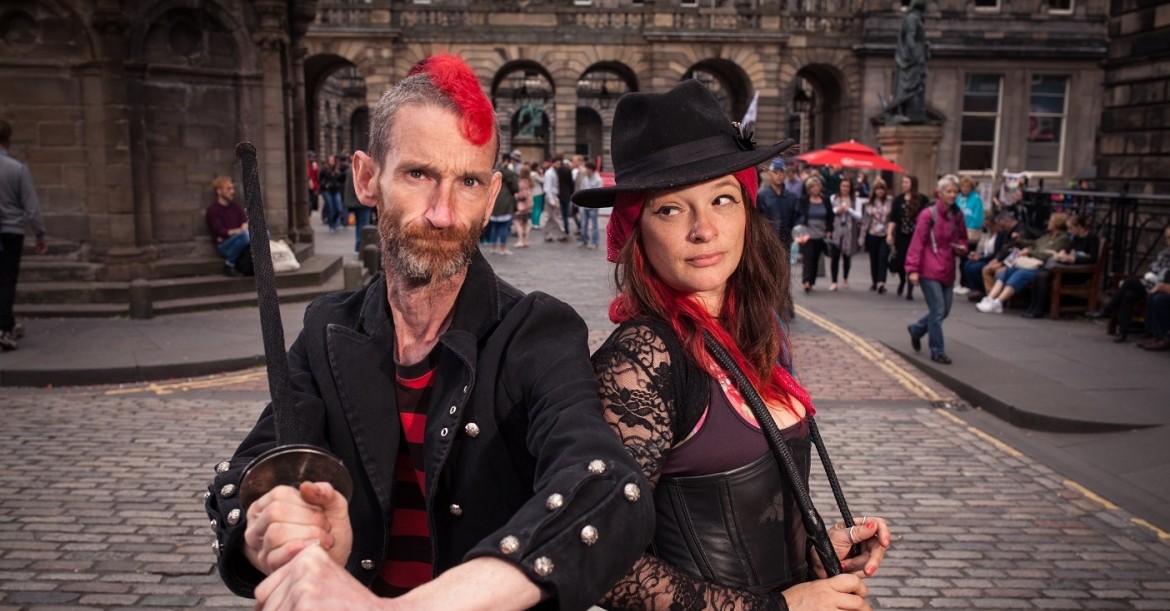 Location Yorkshire
Starting from £540.00
"The best proof of love - is trust" - And boy, do these pair need it!
Number of Reviews and Counting... 2!
Available for performances at Parties, Corporate Events, Pubs, Clubs, Bars, Streets, Gardens, Shopping Centres, Grand Openings and not so Grand Openings! They perform at Weddings, Funerals, Birthdays and pretty much any event you can throw at them!
They also juggle with flames, spin flames, demonstrate an impressive 'Rope Dart Attack' and do things with whips that no sane person should. At each other!
They'll then top it off with 'Bed of Nails' and knife juggling shenanigans, for you and your guest's pleasure. Mr & Mrs Danger are an impassioned attempt to spread colour and vibrancy into the cobwebbyist corners of your mindsies.
Mr & Mrs Danger perform as a duo
They also have a talented interactive acrobaticact (1 or 2 acrobats) who can join them to add an incredible thrilling extension to the show (additional fee)
Bethany Boase

, Wedding, Timble Village Hall, West Yorkshire
They were amazing and entertaining! It rained so much and they still performed brilliantly!! 10/10 and such lovely people too! x
---
Janine Russell

, Wedding, Derbyshire
Mr & Mrs Danger came to do a fire performance last weekend at my daughter's wedding on a farm near Matlock. It was a surprise for the bride and groom and was awesome! The event was very entertaining performed skillfully by an enthusiastic, friendly if slightly bonkers team :) They turned up in good time, prepared and performed on cue. The booking process involved several friendly accomodating email exchanges whereby I was confident that it would be a successful surprise and show, as it was. The cost was most reasonable, especially compared to other quotes I had received. I would definately book them again and highly recommend them. Thankyou Mr & Mrs Danger for finishing off the wedding day entertainment in such a special way.
---
Edinburgh Fringe Festival
Jodrell Bank
Aynhoe Park
Revolution Vodka Bar
Sheffield Civic Hall
Warwick Council Victorian Evening
Film Work - Lonely Place To Die
Scottish Executive
Greenpeace
Who
ITV
Wayland Show
Alchemy Festival
Y-Not Festival
Thunder In The Glen
Harley Davidson
Womad
Strathclyde, Durham, Glasgow Universities
BBC
British Film Industry
Many Many British Schools And Councils!
Can perform from 15 - 120 minutes dependant on requirements
Can be family friendly or more adult orientated
Full PLI and Risk Assessments available on request
Over 23 years experience in performance
Self sufficient and mobile
Meet and Greet available, Full Fire Performance with live drumming, AND/OR Danger Show
Fire Show: 15 - 60 minutes. Total ambient performance time - up to two hours.
Danger Show: 15 - 20 minute skits or 30 - 60 minutes all in.
Skills can be seperated and even mobile, discuss at time of booking.
Please Note: The fees indicated below are approximate and based on a central location for each county. They are intended to provide a rough guide only and exact quotes can only be given once the date and exact location of your event have been provided.
Scotland
Aberdeen
£660.00
Inverness
£660.00
Perth
£660.00
Sutherland
£660.00
Ayrshire
£660.00
Fife
£660.00
Stirlingshire
£660.00
West Lothian
£660.00
Dumfries-shire
£540.00
East Lothian
£540.00
Lanarkshire
£540.00
Midlothian
£660.00
Glasgow
£540.00
Edinburgh
£540.00
Dundee
£660.00
Foreign Locations
Europe
£1,140.00
Rest of the world
£1,800.00
North East
Durham
£540.00
Northumberland
£540.00
North Yorkshire
£540.00
South Yorkshire
£540.00
Tyne and Wear
£540.00
West Yorkshire
£540.00
Yorkshire
£540.00
East Yorkshire
£540.00
Leeds
£540.00
North West
Cheshire
£540.00
Cumbria
£540.00
Manchester
£540.00
Lancashire
£540.00
Merseyside
£540.00
Liverpool
£540.00
East Midlands
Derbyshire
£540.00
Leicestershire
£540.00
Lincolnshire
£540.00
Northamptonshire
£540.00
Nottinghamshire
£540.00
Rutland
£540.00
East
Cambridgeshire
£540.00
Norfolk
£540.00
Suffolk
£540.00
Norwich
£540.00
Wales
Anglesey
£540.00
Caernarvonshire
£600.00
Denbigh
£600.00
Flint
£600.00
Cardigan
£540.00
Brecon
£600.00
Carmarthen
£540.00
Glamorgan
£540.00
Monmouth
£540.00
Pembroke
£540.00
Wrexham
£660.00
Cardiff
£540.00
West Midlands
Gloucestershire
£540.00
Herefordshire
£540.00
Shropshire
£540.00
Staffordshire
£540.00
Warwickshire
£540.00
Worcestershire
£540.00
Birmingham
£540.00
South East
Bedfordshire
£660.00
Berkshire
£660.00
Buckinghamshire
£660.00
East Sussex
£660.00
Essex
£660.00
Hampshire
£660.00
Hertfordshire
£660.00
Kent
£660.00
Oxfordshire
£660.00
Surrey
£660.00
Sussex
£660.00
West Sussex
£660.00
London
£720.00
Middlesex
£660.00
South West
Cornwall
£660.00
Devon
£660.00
Dorset
£660.00
Somerset
£660.00
Wiltshire
£540.00
Bath
£540.00
Bristol
£540.00