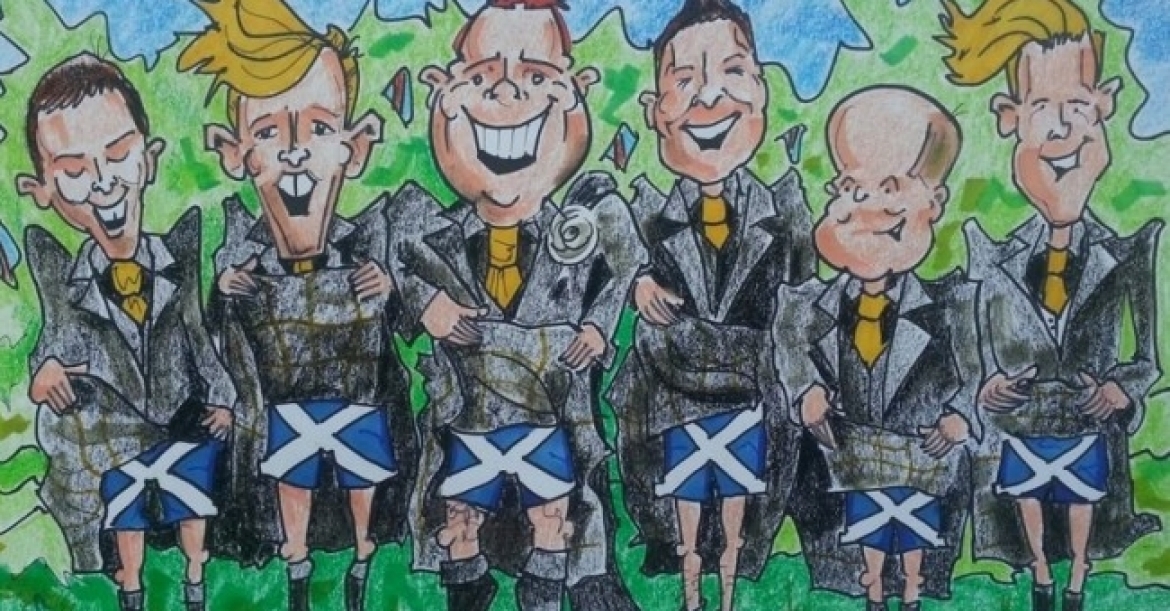 Location Lanarkshire
Starting from £144.00

Live Caricatures and Cartoons enhance your event and provide an opportunity for your guests to have a fun day!
Each Caricature takes between 5 and 10 minutes per person and, once finished, your guests can take the picture away with them. All pictures are included in the booking price.
Based in Scotland, Neil is a great choice to capture your special event with some fun!
Number of Reviews and Counting... 17!
Live Caricatures and Cartoons enhance your event and provide an opportunity for your guests to have a fun day! Each Caricature takes between 5 and 10 minutes per person and, once finished, your guests can take the picture away with them. All pictures are included in the booking price.
If you're looking to add some fun to your event, hire Neil S the Caricaturist! Neil has years of experience in drawing caricatures and specialises in quick, fun cartoon drawings of your guests.
For Weddings, he can even allocate a space at your venue where all the pictures can be displayed. Neil will supply a "Washing Line" with pegs so we can display the pictures for everyone to enjoy.
Lewis Metcalf

, Wedding, Banff Springs Hotel, Aberdeen
He was absolutely amazing - 10/10! So polite and he was also great with the kids.The drawings he did were just amazing. I have already recommended him to a few people who have events coming up and I will personally be using him again for the wife's 30th... Thank you.
---
Sukanya Nallaiah

, Private Party, Cumbria
Neil was fantastic! The caricatures were captured so quickly and to everyone's delight. Neil is highly talented, personable and great company too. Highly recommended.
---
Jo Hollingsworth

, Wedding, Chester Hotel, Aberdeen
Neil was amazing throughout and I wish I had booked him for longer!
---
Ali Kentish

, Wedding, Tulloch Castle Hotel, Inverness
Booking Neil S was a great choice for our wedding. He was easy to communicate with before the day, turned up on time, was great fun and the caricatures were hilarious. Our guests thoroughly enjoyed their sittings and watching others being done too, it was a great way to bridge the time between the wedding breakfast and the evening dancing and Neil set himself up in the bar to maximum effect! He also very kindly did an extra one after the event, from a photo, for our Best Man who missed her sitting due to dog-walking duties! Highly recommend!
---
Marc Downie

, Wedding, Dumfries-shire
Five stars.
---
Lisa Tierney

, Wedding, Lanarkshire
Neil was amazing. Everyone was so impressed. He was fast and blended in with the wedding. Thank you Neil. Made my wedding feel unique and special.
---
Stuart Mason - 102 Battalion REME

, Military Event, Britannia Hotel, Newcastle, Northumberland
Neil is a very gifted artist who arrived well ahead of the venue. His past experience was very evident from the onset and he worked the tables with great professionalism. Our only regret was that we didn't book him for longer as the demand for his caricatures far exceeded expectation. That said, he did stay a little longer than booked without question. Those who received artwork were extremely grateful and delighted. I would without question recommend Neil for any venue, he has an excellent personality and professional business model that impressed all 68 members at this Christmas Function in Newcastle.
---
Yasmin Tashnizi

, Wedding, Melvin Castle, Edinburgh
Neil was excellent, friendly, fun and on time.
---
Fiona Thomson

, Wedding, Lodge on the Loch, Glasgow
Absolutely brilliant! Easy to book, quick to respond to any questions and flexible with timings etc. Great with my guests on the day who all enjoyed their takeaway drawings! Couldn't recommend enough. Thanks!
---
Kay Pettinger

, Wedding, Dumfries-shire
Neil was a fantastic choice for our wedding. All of our guests really enjoyed meeting him and there were many laughs at his drawings. He is an amazing talented artist and a lovely person who was chatting with everyone. Everyone will have a unique gift now to keep as a memento of our special day. I would highly recommend Neil for any kind of occasion. Thanks again Neil, you were incredible and really made our day have more of a wow factor!! Kay and Michael Jennings
---
Suina Rogers - Train In The Ring

, Other, East Lothian
Amazing - Neil was very, very friendly - nothing was too much trouble. The pics were amazing and everyone had a blast. Thank you. We will ask to book him again next year!
---
Laura Maitland

, Wedding, Aberdeen
Neil was great. Everyone at the wedding agreed and thought that their caricatures were excellent. He was fun to chat to and kept everyone happy and laughing.
---
Avril Smith

, Birthday Party, Lanarkshire
Very good and I have recommended him to other people.
---
Sandra Lynch

, Wedding, Midlothian
Neil was brilliant, the guests were so pleased. It was a great talking point all evening and only sorry I did not book Neil for longer but so pleased. Please pass our many thanks to him and of course yourselves.
---
Yvonne Bell

, Private Party, Stirlingshire
Neil was the perfect addition to our hen party. He made everyone so relaxed when drawing them as he is such a professional. I would highly recommend Neil and will be booking him again in the future.
---
Dawn Ingram

, Private Party, Edinburgh
Neil was lovely, kept in touch beforehand and turned up early, fitted in with what you wanted and stayed a bit later because of a queue. Nice guy and some great pics. So glad we booked him.
---
Claire Mason

, Wedding, Fife
Thank you so so much Neil for your amazing pictures of my guests on mines and scotts wedding day!! xxx
---
South Lanarkshire Council
South Lanarkshire College
The Oak Mall, Greenock
Loch Lomond Shores, Loch Lomond
The Parkhead Forge, Glasgow
The Howgate, Falkirk
Can you mix and mingle with my guests?
I can do both - If you'd prefer me to work from table to table at an event, I can do this and I work from a stationary position providing there is enough light.
How many caricatures can you draw per hour?
On average, about 12 people where I'm working in black only. Colour drawings obviously take longer and this is normally around 6 per hour.
Can I commission you to draw a Caricature without booking you for an event?
Of course! The price depends on the type of caricature but speak to your Warble agent for a quote.

Are the Caricatures free for my guests to take home?
Yes. Once the drawing is completed they are free for your guests to take with them.
1 Hour (Minimum Booking)
2 Hours
3 Hours
Please Note: The fees indicated below are approximate and based on a central location for each county. They are intended to provide a rough guide only and exact quotes can only be given once the date and exact location of your event have been provided.
Scotland
Aberdeen
£144.00
Inverness
£144.00
Perth
£144.00
Sutherland
£144.00
Ayrshire
£144.00
Fife
£144.00
Stirlingshire
£144.00
West Lothian
£144.00
Dumfries-shire
£144.00
East Lothian
£144.00
Lanarkshire
£144.00
Midlothian
£144.00
Glasgow
£144.00
Edinburgh
£144.00
North East
Durham
£216.00
Northumberland
£216.00
North Yorkshire
£216.00
South Yorkshire
£216.00
Tyne and Wear
£216.00
West Yorkshire
£216.00
Yorkshire
£216.00
East Yorkshire
£216.00
Leeds
£216.00
North West
Cheshire
£216.00
Cumbria
£216.00
Manchester
£216.00
Lancashire
£216.00
Merseyside
£216.00
Liverpool
£216.00