North West Event Photographer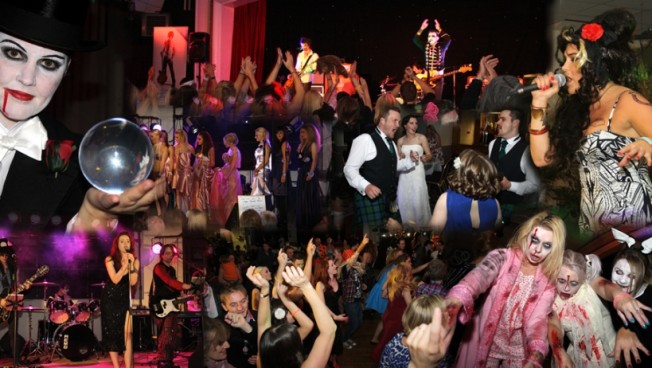 Location Cheshire
Starting from £180.00
We all enjoy celebrating and having fun with friends and family. You've put a lot of effort into organising something special; you've sorted the food, the music, the entertainment. The venue's booked and the invites are being sent out!
After all the madness, it's important that the photos taken on the day reflect all the hard work paying off and that's where the North West Event Photographer comes in.
Dedicated to ensuring that you get the pictures to give you and your guests great memories to share amoungst yourselves and online, the North West Event Photographer also adds a touch of glamour for your guests as they take the photographs and become part of the event itself!
North West Event Photographer
Number of Reviews and Counting... 1!
The service the North West Event Photographer provides is based upon understanding and respect for your event. If it's fancy dress or black tie, they will dress for the occassion to blend in.
North West Event Photographer's pride themselves on being part of the event, not observers of it. They are open to being approached for photo requests, talking to your guests, and making them feel special. By mingling, the images are very relaxed and wonderful to look at.
The North West Event Photographer listens to you! They will spend time making sure that the images taken are what you want. After all, it's your event.
The North West Event Photographer's are unbiased! This is in fact a common issue after an event that all photos taken by guests focus on small groups of people and they often miss out on the scale and splendour of the venue and the diversity of fun that occurs.
North West Event Photographer's light up the room! They have the experience and skill to make the colours leap out of the pictures, even in the darkest lit venues, without losing the details.
North West Event Photographers can take on any size! Whether it's a small birthday party, a large wedding, or a full on large scale event with thousands, they have the experience to take them on professionally and still get the best shots possible.
Tracey Warren - Warble Entertainment Agency

, Charity, Cheshire
We have worked with the North West Events Photography team for a few events now that we have organised for charity and also to help promote our entertainers and live bands. And, we have nothing but praise! We are always asked what we are hoping to achieve and if there are any kind of specific photographs we would like. This is then taken into account and when we are presented with the images after the event we are never disappointed. The North West Event Photographer is friendly and professional and has blended perfectly into our events making guests feel comfortable and at ease, which is reflected in the final product. For our North West photography needs, the North West Event Photography team are our first choice.
---
Warble Entertainment Agency
Crewe Town Council
Sandbach Town Council
Cheshire East Council
Nantwich in Bloom
Crewe Mayor Cllr Margaret Martin
The Cat Community Radio, Nantwich
Wulvern Housing, Cheshire
Richmond Village, Nantwich
The Big October Bash, 2012
The Monster Mash Ball, 2012
Photographed the MCM Expo 2012, Birmingham NEC
Photographed the Thundersprint 2012, Northwich
Status Quo Concert, Betley Court Farm 2013
Total Access Live 2013
Crewe Mayor Cllr Irene Faseyi 2013-2014
Crewe Mayor Cllr Pam Minshull 2014
Junction 16
Nantwich Show 2013, 2014
Cheshire Steam Fair
Princess Royal Trust
Cheshire Carers
Drew Kirk Productions
Signal 1 Radio, Stoke-on-Trent
Total Access Live 2014 - Backstage Official Photographer
- Union J
- Katy B
- Pixie Lott
- Rizzlekicks
- Ashley Roberts
- Jedward
- Ollie Marland
- Luke Friend
- Bars and Melody
- Fuse ODG
- Loveable Rogues
- The Cassettez
- M.A.D.
- Collabro
Ultimate 80s Concert 2014 ft, Brother Beyond, ABC, The Christians & Kim Wilde
How far in advance do I need to book?
Of course, the earlier, the better to ensure booking. However, even if your event is the next day, you are welcome to ask. We can cater for most events right up to the last moment!
How can I make sure I get the photographs that I want?
We are committed to respecting your event and the reasons behind it. We will have a chat before it begins to make sure that the photographs taken will reflect this. It can be from the person it's being held for, a surprise presentation, people you haven't seen for ages, to the importance of the act booked.
How soon after the event do I get a copy of the photographs?
Once the event is over, it will take 2 days to process them and get them looking amazing! Once done, a link will be created and sent by email for you to get them exclusively.
Are there any other ways to receive the photographs?
Absolutely! We can put them on a memory stick or disc if you like. We can also present them in an album or book if you wish. Of course, printed versions will take longer and will be an added cost to be discussed separately.
Can I order individual prints?
Once you receive the images digitally, you are free to print as many as you like! We can provide the ability to order prints at an extra cost for yourself and your guests if you wish.
How much control do I have over the use of the photographs?
Ultimately, we retain the copyright and use some of the images to promote ourselves and increase our portfolio. However, to make sure you are happy with what we pick, we give you two days of the images to yourself before using them. This gives you the opportunity to review them and let us know of any you want us to exclude.
Time spent at an event is dependant on it's length and requirements of the client. The price is standard for 3 hours, however costs can be organised as per hour to be more flexible.
Please Note: The fees indicated below are approximate and based on a central location for each county. They are intended to provide a rough guide only and exact quotes can only be given once the date and exact location of your event have been provided.
Scotland
Aberdeen
£360.00
Inverness
£360.00
Perth
£360.00
Sutherland
£360.00
Ayrshire
£360.00
Fife
£360.00
Stirlingshire
£360.00
West Lothian
£360.00
Dumfries-shire
£360.00
East Lothian
£360.00
Lanarkshire
£360.00
Midlothian
£360.00
North East
Durham
£300.00
Northumberland
£300.00
North Yorkshire
£300.00
South Yorkshire
£240.00
Tyne and Wear
£300.00
West Yorkshire
£240.00
Yorkshire
£240.00
North West
Cheshire
£180.00
Cumbria
£300.00
Manchester
£240.00
Lancashire
£300.00
Merseyside
£240.00
East Midlands
Derbyshire
£240.00
Leicestershire
£300.00
Lincolnshire
£300.00
Northamptonshire
£300.00
Nottinghamshire
£300.00
Rutland
£300.00
East
Cambridgeshire
£300.00
Norfolk
£300.00
Suffolk
£300.00
Wales
Anglesey
£240.00
Caernarvonshire
£240.00
Denbigh
£240.00
Flint
£240.00
Cardigan
£300.00
Brecon
£360.00
Carmarthen
£360.00
Glamorgan
£360.00
Monmouth
£360.00
Pembroke
£360.00
West Midlands
Gloucestershire
£300.00
Herefordshire
£300.00
Shropshire
£180.00
Staffordshire
£180.00
Warwickshire
£300.00
Worcestershire
£300.00
South East
Bedfordshire
£360.00
Berkshire
£360.00
Buckinghamshire
£360.00
East Sussex
£360.00
Essex
£360.00
Hampshire
£360.00
Hertfordshire
£360.00
Isle of Wight
£360.00
Kent
£360.00
Oxfordshire
£360.00
Surrey
£360.00
Sussex
£360.00
West Sussex
£360.00
London
£480.00
Middlesex
£360.00
South West
Cornwall
£360.00
Devon
£360.00
Dorset
£360.00
Somerset
£360.00
Wiltshire
£360.00