Ollie The Wedding Guitarist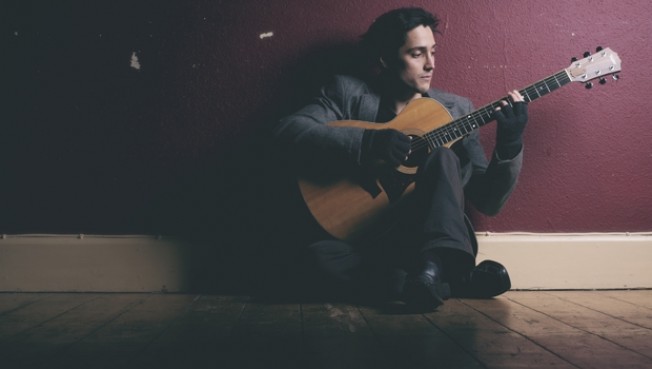 Location London
Starting from £216.00

Ollie provides beautiful acoustic arrangements of popular songs from the likes of Coldplay, Snow Patrol, Jack Johnson and many more! Ollie is an Academy Of Contemporary Music graduate and is now a full time musician of the highest standard. His stunning instrumental music is ideal for wedding ceremonies, drinks receptions and the wedding breakfast.
Ollie The Wedding Guitarist
Number of Reviews and Counting... 15!
Ollie is an Academy Of Contemporary Music graduate and is now a full time musician of the highest standard. His stunning instrumental music is ideal for wedding ceremonies, drinks receptions and the wedding breakfast.
Ollie is a fantastic musician who has developed a set of beautiful instrumental arrangements of well known modern and classic hits that are perfect for your wedding day. Ollie's arrangements include Make You Feel My Love, Fix You, Chasing Cars, Wherever You Will Go and many more wedding favourites! He is happy to learn a request for the ceremony and will also tailor all the ceremony music to your tastes.
Ollie is ideal for wedding ceremonies, drinks receptions and background music during dinner. He brings a small amplifier with him and can quickly move between locations on your wedding day.
Hey Jude – Paul McCartney
Fix You – Coldplay
Chasing Cars – Snow Patrol
Canon in D – Pachelbel
Blowin' In The Wind – Bob Dylan
The Boxer – Paul Simon
Wish You Were Here – Pink Floyd
Best Of My Love – Eagles
Someone Like You – Adele
Tears In Heaven – Eric Calpton
Time In A Bottle – Jim Croce
This Land Is Your Land- Woody Guthrie
Make You Feel My Love – Adele
Dust In The Wind – Kansas
Gravity – John Mayer
Your Song – Elton John
Price Tag – Jessie J
Leaving On A Jet Plane – John Denver
You've Got A Friend – Carole King
Black Bird – The Beatles
Only Exception – Paramore
Here Comes The Sun – The Beatles
Free Fallin – Tom Petty/John Mayer
Yellow – Coldplay
Is This Love – Bob Marley
Imagine – John Lennon
Isn't She Lovely – Stevie Wonder
Brown Eyed Girl – Van Morrison
Wonderful Tonight – Eric Clapton
Cian Hillary Lesquerre

, Wedding, Berkshire
Ollie was just amazing. I was so happy with what he did. Everyone said he was amazing. Cami was so happy he could play her favourite song as she walked down the aisle. 100% recommend him to anyone looking for a guitarist.
---
Catherine Burrows

, Wedding, Hampshire
Very good - Ollie is an excellent guitar player for this type of function.
---
Ciara Long

, Wedding, Gloucestershire
Booking Ollie was by far one of the best things I did. He was our favourite little detail of the whole day. The music was just beautiful and accompanied our venue perfectly. Everyone commented on how subtle and beautiful it was while we were eating. Ollie was so polite and lovely, I couldnt help but give him a huge hug when he was packing up to leave. I was sad when the music stopped. I managed to take a moment to look around during the meal and take it all in, having that stunning music as the background for our perfect day will forever stick in my mind and I can even still hear Coldplay playing in my head. You can't put a price on a memory like that and I'm so grateful to Ollie for being there and doing a fantastic job. Everyone was intrigued when he quietly set up in the corner of the wedding breakfast and when he started playing it was so different and thoroughly relaxing, it was the perfect addition to our rustic wholesome meal. Thank you so much Ollie!! Just perfect.
---
Ricky Naish

, Wedding, Oxfordshire
Ollie was excellent - He really made our day special.
---
Chris Marchant

, Wedding, Surrey
Ollie played beautifully throughout the ceremony and was just what we were hoping for. Sadly for Angela and I, we were off having photos during the reception drinks, so didn't get to enjoy further, however I've been reliably informed he was excellent.
---
Steve Castle

, Wedding, Kent
Ollie was very professional in his performance and discreet in setting up his equipment. He performed a wonderful range of acoustic songs to provide a lovely background for our wedding day.
---
Katie Reynolds

, Wedding, Oxfordshire
Ollie was an absolute pleasure to work with and his playing was the perfect touch for our ceremony. I know our guests really enjoyed his beautiful renditions of popular songs. I'm only sorry that I didn't have more chance to hear him play too! Thanks again, Ollie! Highly recommended!
---
Lorna Allard

, Wedding, Suffolk
There is only one word to describe Ollie .... INCREDIBLE :) We cannot thank you enough for playing at our wedding and helping to create that magical atmosphere. Ollie was fabulous in the way that moving around the venue a couple of times due to the weather really didn't phase him. His song list was great and learning to play a specific song for us was just truly wonderful and we will never forget it. We had the most amazing day and like I said we cannot thank you enough :) :) :)
---
Emma O'Kane

, Wedding, London
Ollie was perfect & played our wedding music exactly how we imagined. Our only regret is that we didn't get a chance to thank Ollie personally & to hear more of his music during the drinks reception as we were busy having photos taken.
---
Dan Baker

, Wedding, Kent
Ollie, thank you so much for Friday. Everyone comment on how lovely it was to have live acoustic music being played during our ceremony and wedding reception. You sounded fantastic and timed the requested songs perfectly throughout the ceremony. My only disappointment is that we missed so much of your set due to the photos. Everyone we spoke to though said how much they enjoyed the music and how nice and approachable you were. If anyone is looking for a talented acoustic guitar player to play alternative/pop music, Ollie is your man. Thanks again. Dan and Sarah.
---
Ven Ganeva

, Wedding, Surrey
Ollie was awesome and he even learnt a new song for us so I could walk down the aisle to our chosen song :) Thanks very much Ollie!
---
Rosie Finney

, Wedding, Essex
Ollie was absolutely amazing. He was perfect on the guitar and created such a lovely atmosphere for our ceremony and when having pictures taken afterwards. All of our guests mentioned how great it was to have Ollie playing in the background. Thank you Ollie for making our ceremony so special!
---
Jason Mcgaw

, Wedding, Gloucestershire
Ollie was a totally amazing and made our day very special and we would highly recommend him for his flawless playing during the day - what a first class guy! Jason & Lucy McGaw - Hyde Barn Wedding 16th November 2013
---
Jackie Hebden

, Birthday Party, Berkshire
I found Warble Entertainment professional and quick to respond to my enquiry. Booking Ollie was easy and confirmation of the booking went without any hitches. Everyone enjoyed Ollie's background music guitar playing at our celebration and we all had a fab night. Thank you.
---
Katy Naile

, Wedding, Hampshire
Ollie was perfect on the day. He played some really great tunes and was the perfect addition to our chilled out reception drinks. Thank you so much Ollie.
---
Ollie is hugely popular for weddings and has performed at some top venues including Northbrook Park, Elevetham Hotel, Woodlands Park Hotel, Wentworth Club, Ramster, Pennyhill Park and many many more!
How long do you play for?
Up to 3 hours.
Can you learn a request?
Yes, I am happy to learn a special request for your wedding ceremony and you are welcome to pick the songs I play at the ceremony.
How long do you take to set-up?
Approximately 15 minutes.
Do we need to provide you with anything?
Just a standard plug socket & a chair or stool.
Please Note: The fees indicated below are approximate and based on a central location for each county. They are intended to provide a rough guide only and exact quotes can only be given once the date and exact location of your event have been provided.
East Midlands
Derbyshire
£330.00
Leicestershire
£330.00
Lincolnshire
£360.00
Northamptonshire
£300.00
Nottinghamshire
£330.00
Rutland
£330.00
East
Cambridgeshire
£270.00
Norfolk
£360.00
Suffolk
£330.00
West Midlands
Gloucestershire
£330.00
Herefordshire
£330.00
Shropshire
£360.00
Staffordshire
£330.00
Warwickshire
£300.00
Worcestershire
£300.00
South East
Bedfordshire
£240.00
Berkshire
£240.00
Buckinghamshire
£240.00
East Sussex
£270.00
Essex
£270.00
Hampshire
£240.00
Hertfordshire
£240.00
Isle of Wight
£330.00
Kent
£270.00
Oxfordshire
£270.00
Surrey
£216.00
Sussex
£240.00
West Sussex
£240.00
London
£216.00
Middlesex
£240.00
South West
Cornwall
£420.00
Devon
£300.00
Dorset
£270.00
Somerset
£300.00
Wiltshire
£270.00