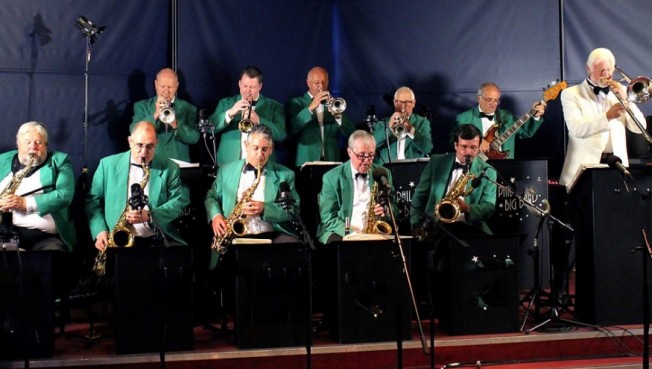 Location Glamorgan
Starting from POA
Phil's Big Band comprises 15 members, each of whom is a superb musician.
Their unique line up provides a wonderfully rich sound.
The band faultlessly recreates the sound of the Big Band era with all time classics such as String of Pearls, One O Clock Jump, Perfidia, Pennsylvania 65000 to name but a few.
Trumpeter Mike's superb original arrangements also include music which ranges from the Roaring Twenties right through to the present day.
Singers Heather and Brian add their own distinctive sounds to the bands repertoire.
Number of Reviews and Counting... 4!
Phil's Big Band Band is popular for all types of dances, functions and parties, with weddings being a speciality.
Phil has had over twenty five years as a professional trombonist. He currently runs his own Big Band, 7 piece Dance Band, Jazz Sextet, Walkabout Jazz Band, Brass Ensemble and the Welsh Brass Trio. He is bass trombonist with the National Chamber Orchestra of Wales and has performed in many orchestral concerts and TV programmes in recent years.
He has also worked with artists such as Leslie Garret, Jason Howard, Michael Ball, Rebecca Evans, Shan Cothi, Charlotte Church, Ronan Keating, Martine McCutcheon, Bryn Terfel, Dennis O'Neil and many others.
15 piece - Trumpets (x4), Saxophones (x5), Keyboards, Bass, Drums, Vocals (x2)... and Phil himself on Trombone!
Carribean Clipper
Nice And Easy V
September Song
Satin Doll
You The Night And The Music
Mack The Knife V
Woodchoppers Ball
Pennsylvania 65000
They Can't Take That Away From Me V
Stan Kenton Medley
Swingin The Petite Waltz
Take The A Train
Just In Time V
Opus One
Leave Us Leap
Welsh Medley
Cute
String Of Pearls
More V
Leroy Brown V
Splanky
For Once In My Life V
Jersey Bounce
South Rampart Street Parade
St.Louis Blues
Seventies Medley V
Let's Face The Music And Dance
I've Got You Under My Skin V
That Old Devil Called Love V
Bells Of Aberdovey
The Ash Grove
Bugeilio'r Gwenith Gwyn
Around The World V
My Hero
Over The Rainbow
Mancini Waltz Medley
Chattanooga Choo Choo V
Little Brown Jug
Caravan
Tuxedo Junction
Goodnigh Vienna
Jealousy
Wedding Cha Cha Cha
Hot Cha Cha Cha
Sweet And Gentle
Serenade
Somewhere
Summer Samba
Dorsey Duo
The Folks Who Live On The Hill V
You Make Me Feel So Young V
Mood Indigo
In The Mood
New York New York V
American Patrol
Trim Trom
Jumpin At The Woodside
So Deep Is The Night
Bye Bye Blackbird
A Foggy Day V
The Girl I Love V
You'll Never Know V
Fly Me To The Moon V
Gimme Some Lovin' V
Can't Buy Me Love V
Lonely Love
I Could Have Danced All Night V
Moonlight Serenade
Shoop Shoop Song V
My Guy V
I Just Called V
Rose Garden V
Adios
Perfect V
Lambada 76.The Heat Is On
Sunshine Medley V
I Will Survive V
Stupid Cupid/ Let's Dance V
Dancing In The Street V
Only A Rose
Don't Sit Under The Apple Tree V
Peanut Vendor
Jeepers Creepers V
Memories Of You
Begin The Beguine
Skyliner
Myfanwy
D.I.S.C.O. V
Unforgettable V
Blue Suede Shoes/ Alligator V
All Of Me V
The Very Thought Of You
Over The Rainbow(Vocal)
You Make Me So Very Happy V
Quando Quando
Laughing Samba
Tico Tico
Woman In Love/ Kiss Of Fire
My Heart Belongs To Daddy V
Rumba Royale Medley
Our Love Is Here To Stay
As Time Goes By V
Young Hearts Run Free. V
920 Special
Sky Boat Song/ Greensleeves Waltz
All That Jazz
Tea For Two Cha Cha
People Will Say We're In Love
You Don't Have To Say You Love Me V
Rumba Mix
This Could Be The Start Of Something Good
Sway
Boy From Ipanema V
Music To Watch Girls By
Soul Bossa Nova
Tequila
Mambo No.5
Livin' La Vida Loca V
In A Mellow Tone V
Broadway
Chanson D'Amour V
Don't Be That Way
Learnin' The Blues
Perfidia V
You've Got Possibilities V
Deep Purple
Charade V
Have You Met Miss Jones? V
Just The Way You Are.
Somethin' Stupid V
Beyond The Sea V
Too Marvelous For Words V
Its Not Unusual V
Valentine Moon V
Things V
What Now My Love V
L.A. Is My Lady
V = Vocals
Stephen Hay

, Private Party, Lower Cleeve Farm, Herefordshire
What joy to hear such well arranged and expertly played music. We thoroughly enjoyed our evening with them.
---
Alessandro Fisher

, Wedding, Berkshire
We could not be happier with Phil and his AMAZING big band. Right from the very outset things started well as he was very friendly in our conversations and happy to accommodate requests based on our tastes, as well as make his own suggestions (which we of course trusted given his experience!) When it came to the day itself the band were efficient at setting up and getting ready. Finally, the performance... WOW! 80% of the people invited to our wedding were professional musicians and the amount of positive comments was overwhelming. The band played lots of our favourites to keep us happy (including an amazing performance of In the Mood at end the evening), as well as plenty of classics to keep everyone on the dance floor (which, incidentally, was absolutely packed for the whole evening, which is something I've never witnessed before at a wedding, so that in itself is a testament to just how good and entertaining this band is). They even played a few strict tempo numbers which made our ballroom dancing friends very happy indeed. All in all the band and the vocalists were absolutely fantastic and we couldn't recommend them higher. They made our wedding all the more special and unique and we cannot thank them enough. Need a big band? Look no further! Phil's your man!!
---
Rosie Arkwright

, Charity, Bristol
Lovely sound, great Big Band - delighted!
---
Dave Coltman

, Private Party, Kent
We engaged Phil's six piece band and a singer, but we still got that big band sound. Phil and his band arrived on time, set up and then changed into smart attire within half an hour. Our guests had no idea we had engaged a band and when they began to play our celebrations took off. A whole evening of proper music. The singer? She was just the icing on the cake. We would recommend them to anyone. Alma & Dave Coltman
---
Previous years have seen performances with English and Welsh National Opera Companies, Dance Theatre of Harlem, English Ballet, Bournemouth Symphony Orchestra, Royal Philharmonic Orchestra, BBC Concert Orchestra, London Mozart Players, BBC Radio Band.
Television programmes have included Les Dawson, Morecombe and Wise, Dick Emery, Acker Bilk, David Essex, and there have also been tours with Tony Bennett, Isaac Hayes, Peanuts Hucko.
West end shows include 18 months in Chicago, a year in 'They're Playing My Song'. Regular deputy work in 'Evita', 'Jesus Christ Superstar', 'A Chorus Line', 'Joseph and his Amazing Technicolour Dreamcoat', 'Sound of Music', 'Fiddler on the Roof', 'Annie' and recently 'The Lion King' and 'Starlight Express'.
Nearly three years were spent as bass trombonist with the Syd Lawrence Orchestra and vocalist in the Serenaders where the love of big band music was no doubt formed.
The band's library encompasses a wide range of dance music with something to suit all tastes including jazz, swing, rock and roll, Latin-American, big band, pop music from the '60s to the present day, male and female vocals, as well as a vocal group.

The vast majority of the band's music library has been arranged by trumpeter Mike Blake. Mike is a prolific arranger and has been active in the South Wales music scene for many years. He is renowned as a superb jazz player and has appeared on many jazz stages across the country.
The band's vocalist, Heather Castle, sings a wide diversity of music, from the smooth and sultry 'That Old Devil Called Love', through favourites such as Dusty Springfield's 'I Only Want to be with You' and Tina Turner's 'Simply the Best' to the latest version of 'Stuck in the Middle with You'.
Phil's bass player, Funky Al Jones, is also well known as a jazz bassist throughout South Wales. You'll discover why he's called Funky when you see him playing!
Weddings are the band's speciality and they offer the complete package with 'disco' type lights and disco music as well as the amazing experience of a live big band.
Phil's Big Band is also available as a Jazz sextet.
Dixieland Jazz Band
This is a totally acoustic band (no electric instruments of any kind!) which recreates the sound of the New Orleans style jazz bands of yesteryear, playing favourites from the jazz giants such as Louis Armstrong, Count Basie and Kenny Ball - remember Midnight in Moscow?

Being an acoustic band means that all the players can walk around... and that includes the Tuba player!
If an indoor venue is more to your liking, then the Jazz Band becomes a more electric outfit, substituting a bass guitar for the tuba and a piano for the banjo! The Jazz Band has played at many venues across South Wales including local Jazz Society evenings.
Please Note: The fees indicated below are approximate and based on a central location for each county. They are intended to provide a rough guide only and exact quotes can only be given once the date and exact location of your event have been provided.