Warble Entertainment's
Phil's Big Band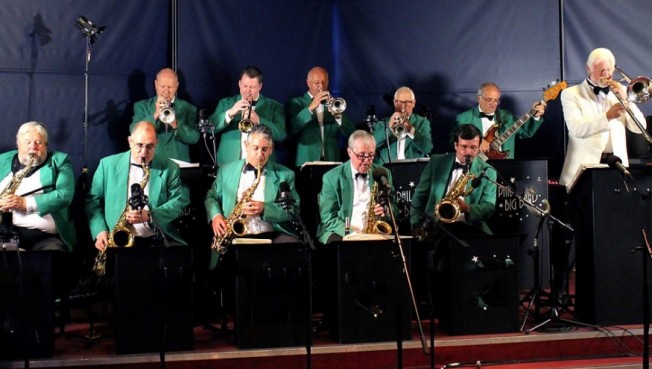 Location Glamorgan
Starting from POA
Phil's Big Band comprises 15 members, each of whom is a superb musician.
Their unique line up provides a wonderfully rich sound.
The band faultlessly recreates the sound of the Big Band era with all time classics such as String of Pearls, One O Clock Jump, Perfidia, Pennsylvania 65000 to name but a few.
Trumpeter Mike's superb original arrangements also include music which ranges from the Roaring Twenties right through to the present day.
Singers Heather and Brian add their own distinctive sounds to the bands repertoire.
4 reviews
Song List
Carribean Clipper
Nice And Easy V
September Song
Satin Doll
You The Night And The Music
Mack The Knife V
Woodchoppers Ball
Pennsylvania 65000
They Can't Take That Away From Me V
Stan Kenton Medley
Swingin The Petite Waltz
Take The A Train
Just In Time V
Opus One
Leave Us Leap
Welsh Medley
Cute
String Of Pearls
More V
Leroy Brown V
Splanky
For Once In My Life V
Jersey Bounce
South Rampart Street Parade
St.Louis Blues
Seventies Medley V
Let's Face The Music And Dance
I've Got You Under My Skin V
That Old Devil Called Love V
Bells Of Aberdovey
The Ash Grove
Bugeilio'r Gwenith Gwyn
Around The World V
My Hero
Over The Rainbow
Mancini Waltz Medley
Chattanooga Choo Choo V
Little Brown Jug
Caravan
Tuxedo Junction
Goodnigh Vienna
Jealousy
Wedding Cha Cha Cha
Hot Cha Cha Cha
Sweet And Gentle
Serenade
Somewhere
Summer Samba
Dorsey Duo
The Folks Who Live On The Hill V
You Make Me Feel So Young V
Mood Indigo
In The Mood
New York New York V
American Patrol
Trim Trom
Jumpin At The Woodside
So Deep Is The Night
Bye Bye Blackbird
A Foggy Day V
The Girl I Love V
You'll Never Know V
Fly Me To The Moon V
Gimme Some Lovin' V
Can't Buy Me Love V
Lonely Love
I Could Have Danced All Night V
Moonlight Serenade
Shoop Shoop Song V
My Guy V
I Just Called V
Rose Garden V
Adios
Perfect V
Lambada 76.The Heat Is On
Sunshine Medley V
I Will Survive V
Stupid Cupid/ Let's Dance V
Dancing In The Street V
Only A Rose
Don't Sit Under The Apple Tree V
Peanut Vendor
Jeepers Creepers V
Memories Of You
Begin The Beguine
Skyliner
Myfanwy
D.I.S.C.O. V
Unforgettable V
Blue Suede Shoes/ Alligator V
All Of Me V
The Very Thought Of You
Over The Rainbow(Vocal)
You Make Me So Very Happy V
Quando Quando
Laughing Samba
Tico Tico
Woman In Love/ Kiss Of Fire
My Heart Belongs To Daddy V
Rumba Royale Medley
Our Love Is Here To Stay
As Time Goes By V
Young Hearts Run Free. V
920 Special
Sky Boat Song/ Greensleeves Waltz
All That Jazz
Tea For Two Cha Cha
People Will Say We're In Love
You Don't Have To Say You Love Me V
Rumba Mix
This Could Be The Start Of Something Good
Sway
Boy From Ipanema V
Music To Watch Girls By
Soul Bossa Nova
Tequila
Mambo No.5
Livin' La Vida Loca V
In A Mellow Tone V
Broadway
Chanson D'Amour V
Don't Be That Way
Learnin' The Blues
Perfidia V
You've Got Possibilities V
Deep Purple
Charade V
Have You Met Miss Jones? V
Just The Way You Are.
Somethin' Stupid V
Beyond The Sea V
Too Marvelous For Words V
Its Not Unusual V
Valentine Moon V
Things V
What Now My Love V
L.A. Is My Lady
V = Vocals