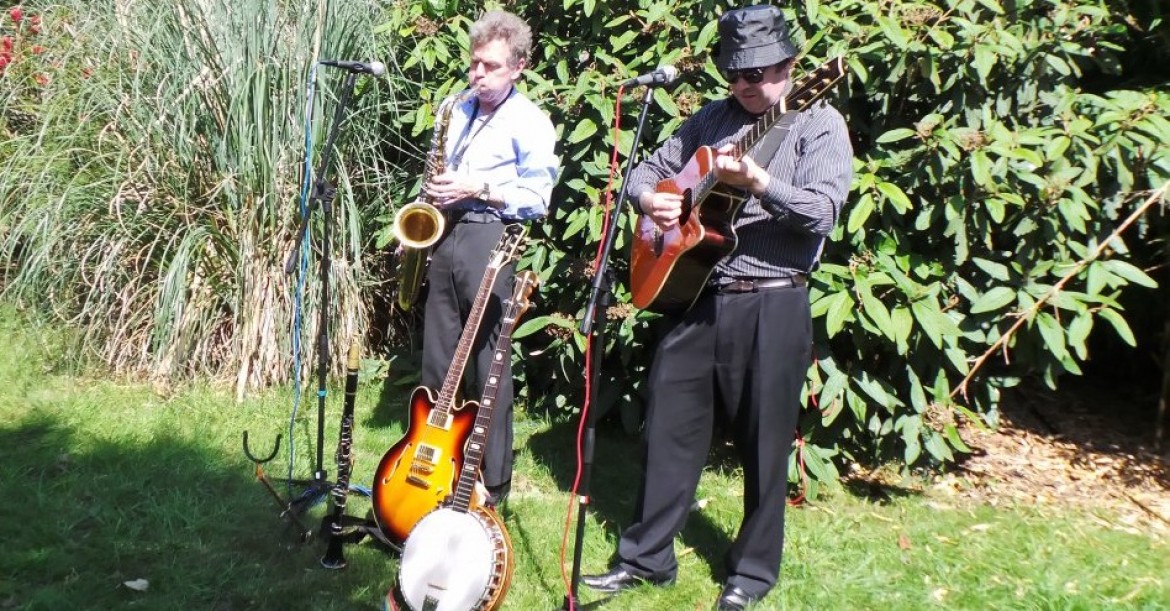 Location Cornwall
Starting from £210.00

Easy listening or background music.
The Playing Out Duo sing & play a big mix of easy listening or background music including popular trad & swing jazz and ballads from the 50's, 60's & various other things, or If proffered just play a specialised jazz set singing and playing popular tunes.
Ideal for Weddings, Restaurants, Hotels, Functions, Events, Corporate Events, Trade Shows or outside events like Fêtes, Food Shows & Family Events.
Instruments include, Vocals, Clarinet, Saxophone, Guitars, (Also Banjo If wanted). We can play with light backing tracks or acoustic).
As well as playing normal set times Playing Out can also play background spots all day at Trade Shows & events playing to different people. For weddings Playing Out are ideal for the arrival, when guest' s dine and have often played at the ceremony or if easy listening music is wanted through the reception.
Listen




Number of Reviews and Counting... 1!
As well as the electric set up the Playing Out also have a mobile battery amp set up if there no electric, which means the duo can easily move spots and play were there is no electric.
At many weddings Playing Out have been booked to play with the battery amps outside on arrival and sometimes go inside and play an electric set as well. The battery amps are also great for outside events around towns. This set up is also great for outside events and the band have played in shops, post offices and on trains, boats and once in a bakery.

PLAYING OUT SOLO
Everything above applies also with the solo act except the things below. The solo act is one half of the duo.
There is still lots of singing but with the duo vocals are split equally as well as some harmony's, this is not possible with the solo option. With the solo act there is no second guitar playing which does a lot of lead melodies. Also, there is no banjo option.
There are certain numbers that are only done in the duo not the solo act. These are marked on the repertoire list.
The recording clip featured on the profile is the duo not the solo act.
As well as the Duo & Solo act, The Acoustic version of the duo can become a Trio adding a Bass or Double Bass player.
JAZZ STANDARDS
When You're Smiling
All of Me
Sweet Georgia Brown
When The Saints Go Marching In
Ain't Misbehavin'
Summertime
Avalon
Hello Dolly
Stranger on The Shore
Satin Doll
On The Sunny side of The Street
Ice Cream You Scream
After You've Gone
King Of The Swingers
The Laughing Samba
Mac the Knife
Bourbon Street Parade
Blue Moon
Moon River
Bye Bye Blues
Bill Baily Won't You Please Come Home
Darktown Strutters Ball (Just Duo)
Bye Bye Blackbird (Just Duo)
Five Foot Two Eyes of Blue (Just Duo)
Down By The Riverside
Fly Me To The Moon (Just Duo)
Ain't She Sweet (Just Duo)
Someday You'll Sorry (Just Duo)
Sweet Sue (Just Duo)
Autumn Leaves (Just Duo)
Alexander's Ragtime Band (Just Duo)
Brother Can You Spare A Dime
Cheek To Cheek (Just Duo)
Georgia On My Mind (Just Duo)
Hey Good Looking
I'm Gonna Sit Write Down and Write Myself a Letter (Just Duo)
It don't mean a thing if it ain't got swing (Just Duo)
Dinah
Doctor Jazz
I Get a Kick Out Of You
I Got Rhythm (Just Duo)
Johnny & Mary (Just Duo)
Jump Jive & Wail (Just Duo)
Jambalia
Moondance (Just Duo)
Minor Swing (Just Duo)
Marching Through Georgia
Margie
My Blue Heaven (Just Duo)
Nagasaki
Fascinating Rhythm (Just Duo)
Pasadena
Please Don't Talk About Me (Just Duo)
Sunny
Sheik Of Araby (Just Duo)
Shine
The Girl From Ipanema (Just Duo)
The Lady is A Tramp (Just Duo)
Unforgettable (Just Duo)
Don' t Get Around Much Anymore (Just Duo)
Who's Sorry Now
You Rascal You
50's
All I Have To Do Is Dream
Bye Bye Love
Blueberry Hill
Keep A Knocking but You Can't Come In
Blue Suede Shoes
Living Doll
Maybe Baby
Rock Around The Clock (Just Duo)
Rave On
Rip It Up
Roll Over Beethoven (Just Duo)
Shake Rattle & Roll
Travelling Light
True Love Ways (Just Duo)
Whole Lotta Shakin' Goin' On
60's
Everybody's Talkin'
It's All Over Now
Stand By Me
Obladi Oblada
Please Release Me
Proud Mary
Apache
Baby Come Back
Colours
F. B. I (Just Duo)
Someone Who Loves You
Ticket To Ride
Tom Hark
Black Magic Woman (Just Duo)
With Every Beat of my Heart
90's ACOUSTIC BALLADS (Duo Only)
Cast No Shadow (A)
Lucky Man
Don't Look Back in Anger
The Drugs Don't Work
Babylon
Wonderwall
Why Does It Allays Rain On Me
COUNTRY
Blue Moon Of Kentucky
Folsom Prison Blues (Just Duo)
Hey Good Looking
I Walk The Line
I Recall A Gypsy Woman (Just Duo)
Jambalia
King Of The Road
Ring Of Fire (Just Duo)
Your Cheatin' Heart
WALTZES
Around The World
In The Blue Of The Night
Always
Carolina Moon
He'll Have To Go
Moon River
OTHER POP
Ain't No Sunshine (Just Duo)
Help me make It through the night.
Perfect (Just Duo)
Sunshine Day
Heather and John Acornley

, Wedding, Cornwall
We would like to say a very big thank to you for entertaining everyone at our wedding yesterday. Everyone enjoyed your singing and music from a young Noah who is under 2 years old to Kath who is 86 years old so what could be better!
---
Weddings, Events, Functions, etc. plus:

Cornwall Business Awards
The Trebarwith Hotel
Rose In Vale Country House
The Royal Duchy Hotel
The Palace Hotel
St. Michaels Hotel
The Lost Garden of Heligan
H.M.S. Drake Devanport
Bodmin & Wentford Railway
Camborne Show,
Murdoch Day
Cornwall Tourist Awards
Hustyns
Stonehouse Barracks
Falmouth Hotel
Corporate
Carrick District Council
Restormel Borough Council
Marks and Spencer
Tesco
Asda
Your Move
Boots
Anglian Windows
Carrick District Council
St.Austell Chamber of Commerce
Restormel Borough Council
Cornwall Highways
Car Launches for
Sabb
Range Rover
Chrysler
Renault
Jaguar
Outside Christmas Shopping
Plymouth
St. Austell
Camborne
Truro
Falmouth
Newquay
Penzance
Redruth
Just jazz or a mixture?
We sing & play a big mixture of popular music and we are also often booked just to play & sing popular jazz.
Requests?
We are happy to learn requests as long as we are given a week.
Setting up early?
We can arrive early If needed or set up in a short amount of time with out making any noise.
How much Stage space do you require?
The duo have worked it down to 2. 5 because we have played in shops small restaurants and once in a post office and other unusual places. A bit more room means we can take a slightly bigger set up. The solo act 2sq. metres.
Music between breaks?
If wanted we supply music on a CD player in the breaks or when requested.
Volume control?
This is one of our specialities. We are often are booked to play total background or louder If required.
Backing tracks or acoustic?
You have the option. When we play with backing tracks they are not to dominant and It's still a very live sound with various live instruments and vocals. Or we can just play and sing acoustic If wanted.
Setting up early?
We can arrive early If needed or set up in a short amount of time with out making any noise
Vocals or instrumental?
There are lots of vocals and both of us sing but If requested we can just play instrumentals.
Maximum playing time is two and a half hours. Break or breaks would be added on top of this.
For corporate and family events or anywhere were Playing Out are performing to different crowds throughout the day the duo can play background spots all day.
Please Note: The fees indicated below are approximate and based on a central location for each county. They are intended to provide a rough guide only and exact quotes can only be given once the date and exact location of your event have been provided.
South West
Cornwall
£210.00
Devon
£240.00
Dorset
£312.00
Bristol
£312.00