Warble Entertainment's
Playing Out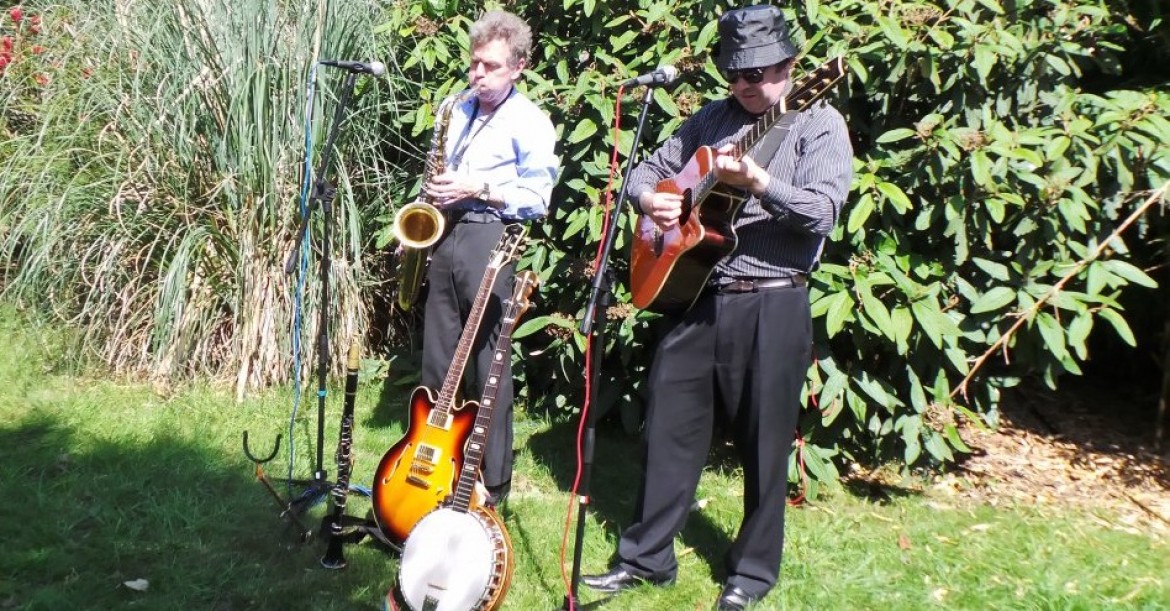 Location Cornwall
Starting from £210.00
Easy listening or background music.

The Playing Out Duo sing & play a big mix of easy listening or background music including popular trad & swing jazz and ballads from the 50's, 60's & various other things, or If proffered just play a specialised jazz set singing and playing popular tunes.
Ideal for Weddings, Restaurants, Hotels, Functions, Events, Corporate Events, Trade Shows or outside events like Fêtes, Food Shows & Family Events.
Instruments include, Vocals, Clarinet, Saxophone, Guitars, (Also Banjo If wanted). We can play with light backing tracks or acoustic.
As well as playing normal set times Playing Out can also play background spots all day at Trade Shows & events playing to different people. For weddings Playing Out are ideal for the arrival, when guest' s dine and have often played at the ceremony or if easy listening music is wanted through the reception.
The duo can fit into a very small space If needed.
1 reviews
Listen




Song List
JAZZ STANDARDS
When You're Smiling
All of Me
Sweet Georgia Brown
When The Saints Go Marching In
Ain't Misbehavin'
Summertime
Avalon
Hello Dolly
Stranger on The Shore
Satin Doll
On The Sunny side of The Street
Ice Cream You Scream
After You've Gone
King Of The Swingers
The Laughing Samba
Mac the Knife
Bourbon Street Parade
Blue Moon
Moon River
Bye Bye Blues
Bill Baily Won't You Please Come Home
Darktown Strutters Ball (Just Duo)
Bye Bye Blackbird (Just Duo)
Five Foot Two Eyes of Blue (Just Duo)
Down By The Riverside
Fly Me To The Moon (Just Duo)
Ain't She Sweet (Just Duo)
Someday You'll Sorry (Just Duo)
Sweet Sue (Just Duo)
Autumn Leaves (Just Duo)
Alexander's Ragtime Band (Just Duo)
Brother Can You Spare A Dime
Cheek To Cheek (Just Duo)
Georgia On My Mind (Just Duo)
Hey Good Looking
I'm Gonna Sit Write Down and Write Myself a Letter (Just Duo)
It don't mean a thing if it ain't got swing (Just Duo)
Dinah
Doctor Jazz
I Get a Kick Out Of You
I Got Rhythm (Just Duo)
Johnny & Mary (Just Duo)
Jump Jive & Wail (Just Duo)
Jambalia
Moondance (Just Duo)
Minor Swing (Just Duo)
Marching Through Georgia
Margie
My Blue Heaven (Just Duo)
Nagasaki
Fascinating Rhythm (Just Duo)
Pasadena
Please Don't Talk About Me (Just Duo)
Sunny
Sheik Of Araby (Just Duo)
Shine
The Girl From Ipanema (Just Duo)
The Lady is A Tramp (Just Duo)
Unforgettable (Just Duo)
Don' t Get Around Much Anymore (Just Duo)
Who's Sorry Now
You Rascal You
50's
All I Have To Do Is Dream
Bye Bye Love
Blueberry Hill
Keep A Knocking but You Can't Come In
Blue Suede Shoes
Living Doll
Maybe Baby
Rock Around The Clock (Just Duo)
Rave On
Rip It Up
Roll Over Beethoven (Just Duo)
Shake Rattle & Roll
Travelling Light
True Love Ways (Just Duo)
Whole Lotta Shakin' Goin' On
60's
Everybody's Talkin'
It's All Over Now
Stand By Me
Obladi Oblada
Please Release Me
Proud Mary
Apache
Baby Come Back
Colours
F. B. I (Just Duo)
Someone Who Loves You
Ticket To Ride
Tom Hark
Black Magic Woman (Just Duo)
With Every Beat of my Heart
90's ACOUSTIC BALLADS (Duo Only)
Cast No Shadow (A)
Lucky Man
Don't Look Back in Anger
The Drugs Don't Work
Babylon
Wonderwall
Why Does It Allays Rain On Me
COUNTRY
Blue Moon Of Kentucky
Folsom Prison Blues (Just Duo)
Hey Good Looking
I Walk The Line
I Recall A Gypsy Woman (Just Duo)
Jambalia
King Of The Road
Ring Of Fire (Just Duo)
Your Cheatin' Heart
WALTZES
Around The World
In The Blue Of The Night
Always
Carolina Moon
He'll Have To Go
Moon River
OTHER POP
Ain't No Sunshine (Just Duo)
Help me make It through the night.
Perfect (Just Duo)
Sunshine Day