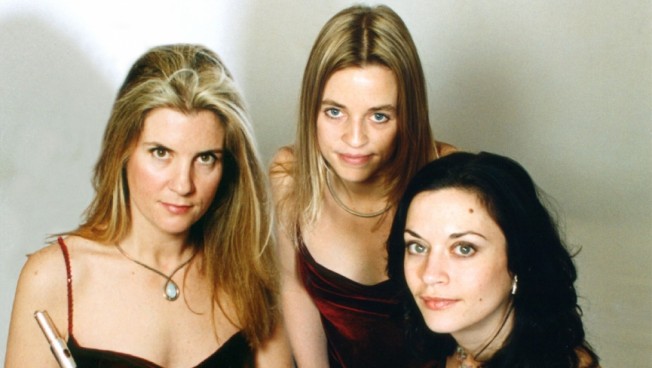 Location Hertfordshire
Starting from £576.00
Sapphire Wind Trio is a sophisticated all-female trio of Flute, Oboe and Clarinet based in London.
Their extensive range of music will suit all tastes whatever the occasion, and add a touch of sparkle and elegance to complete your wedding, corporate function or other memorable event.
Number of Reviews and Counting... 1!
Sapphire Wind Trio is the best choice for your champagne reception, corporate event, wedding or other special occasion. The professionalism and experience is assured, allowing your wedding or event to run smoothly with ease so you can enjoy your special day.
For your wedding The Sapphire Wind Trio set the scene, from the moment your guests arrive through to the the entrance of the bride, the signing of the register and the exit of the bride and groom and the wedding party.
For your corporate and special event The Sapphire Wind Trio is the perfect background music for drinks receptions and dinners. The Sapphire Wind Trio create beautiful music which creates exactly the right ambience.
In choosing The Sapphire Wind Trio you are ensuring that your guests receive a warm welcome and enjoy an atmospheric and beautiful event, with great memories of a wonderful evening. The Sapphire Wind Trio will light up your occasion, playing well known classical music through to light jazz, show tunes and tangos.
The Sapphire Wind Trio's exclusive arrangements for flute, oboe and clarinet are written by Richard Sidwell (Katherine Jenkins, Russell Watson, Children in Need and The Voice). The Sapphire Wind Trio have amassed a large repertoire of classical and light jazz which are all individually arranged and tailor-made for a unique music programme for your special event.
Sapphire Wind Trio is made up of Flute, Oboe and Clarinet.
However, Sapphire Wind Trio can also provide bookings for Solo Flute.
From Classical...
Jesu Joy of Mans Desiring — Bach
Pavane — Faure
Allegro Brilliante — Mozart
Viennese Sonata — Mozart (3 Movements)
Nutcracker Suite — Tchaikovsky
Overture
March Of The Toys
Dance Of The Sugar Plum Fairy
Flower Waltz
Dance Of The Reed Pipes
O Mio Babbino Caro — Puccini
Flower Duet — Delibes
Peer Gynt Suite
Morning
The Death Of Ase
Anitra's Dance
Haydn Trio (4 Movts)
Air On The G String — Bach
Swan Lake — Tchaikovsky
Scene
Corps De Ballet Waltz
Dance Of The Cygnets
Cavatina
Sheep May Safely Graze (Bach)
Water Music — Handel
The 4 Seasons (Spring) — Vivaldi
Canon In D — Pachelbel
Arrival of the Queen of Sheba
Eine Kleine Nachtmusik — Mozart
Carmen Suite — Bizet
Wedding March — Mendelssohn
To Show Medleys...
West Side Story — Bernstein
Overture
Maria
America
There's A Place For Us Somewhere
Gershwin Medley
Summertime
They Can't Take That Away
Our Love
A Foggy Day
It Ain't Necessarily So
Lloyd Weber Medley
Jesus Christ Superstar
I Don't Know How To Love Him
Memories
Love Changes Everything
Fiddler On The Roof
Matchmaker
If I Were A Rich Man
Sunrise Sunset Waltz
Wedding Dance
Duke Ellington Medley
Don't Get Around Much Any More
Satin Doll
Mood Indigo
Do Nothing Till You Hear From Me
Carmen Suite
My Fair Lady Medley
Wouldn't It Be Loverly
I've Grown Accustomed To Her Face
I'm Getting Married
On The Street Where I Live
I Could Have Danced All Night
To Light Jazz...
Bye Bye Blackbird
Nice Work If You Can Get It
Charleston (The Blackbottom)
Top Hat White Tails
Anything Goes
Honeysuckle Rose
Fly Me To The Moon
Smoke Gets In Your Eyes
Moon River
Tea For Two
Someone To Watch Over Me
I Got Rhythm
Autumn Leaves
Aint Misbehavin'
Jeepers Creepers
Stormy Weather
Take The 'A' Train
Take Five
Honeysuckle Rose
Mexican Hat Dance
Keith Marsh - The Saddlers' Company

, Corporate, London
I just wanted to touch base with you and express our gratitude for the fantastic music that you played here recently. The even ran extremely smoothly, helped enormously by the fact that all three of you were at all times professional and helpful.
---
Some of Sapphire Wind Trio's clients include BP Plc, Sucden Financial Ltd, Searcy's Plc, Goldman Sachs Int, Bank of New York Mellon, Jaguar, Merill Lynch, Apollo Man International LLP, Spectra, Nominet UK and Deloitte.
Sapphire Wind Trio is more than pleased to select suitable music for your wedding ceremony but if you would prefer to choose your own then we are happy to offer advice and assistance with this. You are always welcome to contact and discuss your requirements, including personalised arrangements of your favourite songs. If there's a song that's special to you and isn't in the usual repertoire we can have this commissioned by our arranger for you.
We provide our own lights and stand covers, so only need three chairs.
We also have Public Liability.
Sapphire Wind Trio usually plays for up to 3 hours per booking with two short breaks.
However, Sapphire Wind Trio can play for longer if required for an additional fee.
Please Note: The fees indicated below are approximate and based on a central location for each county. They are intended to provide a rough guide only and exact quotes can only be given once the date and exact location of your event have been provided.
South East
Bedfordshire
£576.00
Berkshire
£576.00
Buckinghamshire
£576.00
East Sussex
£600.00
Essex
£576.00
Hampshire
£600.00
Hertfordshire
£576.00
Kent
£600.00
Oxfordshire
£600.00
Surrey
£576.00
Sussex
£600.00
West Sussex
£600.00
London
£576.00
Middlesex
£576.00