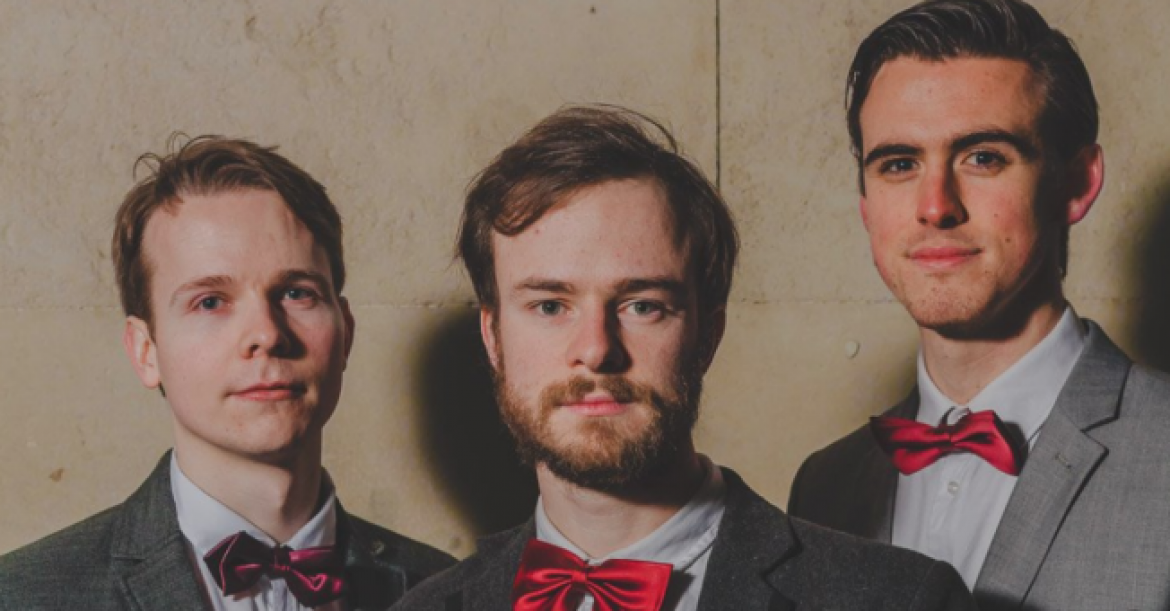 Location London
Starting from £1,200.00
Scarlet delivers a comprehensive music service for your special day, delivering everything you need in one package.
Providing music for your whole wedding day, booking Scarlet gives you acoustic acts for your wedding breakfast and reception, a full band for your evening celebrations and a DJ to keep everything flowing!
Number of Reviews and Counting... 1!
Scarlet provides music for all parts of your wedding day. Ceremony, Drinks Reception, Wedding Breakfast, Evening Party and Late Night DJ Sets.
Meet Andy, Lewis and Dawson.
Together they make up Scarlet, a band founded on a love of music. With over seven years in the industry and playing to clients like Shell, P&G, Sony and Universal, not to mention hundreds of weddings and corporate functions, they're the real deal.
Lewis
One of Warbles standout performers for the last four years, Lewis is an acoustic entertainer specialising creating a relaxed and fun atmosphere for your afternoon. Add Lewis to the Ceremony as well so he can sing you down the isle to your favourite song.
Dawson
Also on Warbles books since 2011, Dawson is a vitruoso Pianist and our very own cheeky scouser to boot. He's great at relaxing your guests and keeping things cool in the wedding breakfast.
Scarlet
Scarlet are really something to behold. Lewis and Dawson are joined by guitarist and sound engineer Andy for a big energy, big hits show. With a wide and varied repertoire ranging from The Beatles to Bruno Mars, Springsteen to the Stereophonics, theres something for everyone in our set. Guaranteed to get you up and dancing.
Scarlet DJ's
The Party continues with the DJ's after the band. We've got one of the best sound systems the industry has to offer and it'll keep you going right until carriages, or someone turns the power off!
Vocals, Guitar, Bass
Keys, Backing Vocals
Lead Guitar, Bass, Backing Vocals
BAND REPERTOIRE
STEREOPHONICS - DAKOTA
PETER BJORN & JOHN - YOUNG FOLKS
COLDPLAY - CLOCKS
MOVES LIKE JAGGER - MAROON 5
KEANE - EVERYBODY'S CHANGING
TAKE THAT - SHINE
DIRE STRAITS - WALK OF LIFE
PROCLAIMERS - 500 MILES
JAMES - SIT DOWN
OASIS - DONT LOOK BACK IN ANGER
PAOLO NUTINI - PENCIL FULL OF LEAD
PAUL SIMON - CALL ME AL
THE EAGLES - TAKE IT EASY
VAN MORRISSON - BROWN EYED GIRL
THE LUMINEERS - HO HEY
THE MONKEYS - IM A BELIEVER
BLUR - PARKLIFE
PULP - DISCO 2000
TOPLOADER - DANCING IN THE MOONLIGHT
EAGLE EYE CHERRY - SAVE TONIGHT
BRUCE SPRINGSTEEN - DANCING IN THE DARK
THE KILLERS - MR BRIGHTSIDE
GIRLS ALOUD - LOVE MACHINE
KAISER CHIEFS - I PREDICT A RIOT
ARCTIC MONKEYS - I BET YOU LOOK GOOD ON THE DANCE FLOOR
DAFT PUNK - GET LUCKY
PHARRELL WILLIAMS - HAPPY
MICHAEL JACKSON - BILLIE JEAN
AMY WINEHOUSE - VALERIE
THE JAM - LITTLE TOWN CALLED MALICE
SNOW PATROL - CHASING CARS
SNOW PATROL - RUN
THE BEATLES - HEY JUDE
COLDPLAY - YELLOW
SUPERGRASS - ALRIGHT
BOWIE - REBEL REBEL
BASTILLE - POMPEI
RAZORLIGHT - GOLDEN TOUCH
THE KOOKS - SHE MOVES IN HER OWN WAY
FRATELLIS - CHELSEA DAGGER
OUTKAST - HEY YA
THE KILLERS - ALL THESE THINGS THAT I'VE DONE
THE BEATLES - WITH A LITTLE HELP FROM MY FRIENDS
THE BEATLES - HERE COMES THE SUN
THE BEATLES - COME TOGETHER
THE BEATLES - SAW HER STANDING THERE
THE BEACH BOYS - WOULDN'T IT BE NICE
THE BEACH BOYS - GOD ONLY KNOWS
FEEDER - BUCK RODGERS
GREENDAY - BASKET CASE
BLINK 182 - ALL THE SMALL THINGS
FRANZ FERDINAND - TAKE ME OUT
GEORGE HARRISON - GOT MY MIND SET ON YOU
BILLY JOEL - UPTOWN GIRL
R.E.M - ITS THE END OF THE WORLD
THE CORAL - DREAMING OF YOU
THE BUGGLES - VIDEO KILLED THE RADIO STAR
ELTON JOHN - YOUR SONG
ELTON JOHN - TINY DANCER
SPICE GIRLS - WANNABE (ON REQUEST)
BRITNEY SPEARS - TOXIC
ONE DIRECTION - LIVE WHILE WE'RE YOUNG
ELBOW - ONE DAY LIKE THIS
THE FEELING - NEVER BE LONELY
David Taverstock

, Wedding, Surrey
I'd just like to say thank you once again, boys, on your incredible performance and how easy it was. The whole day was so easy and you made it so special for us. Simple booking, great communication and exactly what we were looking for in a wedding band. All the best for the rest of the summer!
---
Shell
Lionel Richie
Mr Terry Bramhall (Keepmoat)
Boots
P&G
John Lewis
You say you're a four piece band... where's the fourth one?
Andy, Dawson and Lewis are the main players in the band. We use three different drummers to ensure we have maximum availability. We all play together regularly and all our drummers, Dom, Rich and Chris are top notch.
What does a standard day look like?
A typical days service will look like this. (all times and musicians are just an example)
Ceremony - Lewis or Dawson provide music tailored to what you'd like in your service. A special song to walk down the aisle to or music for the signing of the register. (12pm)
Drinks Reception - 2x45 minutes from Lewis or Dawson (2pm)
Wedding Breakfast - 2x45 minutes from Lewis or Dawson (4pm)
Evening Party - 2x1 hour from Scarlet (8pm)
Scarlet DJ's - 2 hours from Scarlet DJs (10:30pm-12:30am)
Do you have a lighting rig?
We have a fully comprehensive lighting rig. Further lighting is available on request.
Ceremony - Tailored to fit
Drinks Reception - 2 x 45 Minutes
Wedding Breakfast - 2 x 45 Minutes
Evening Party - 2 x 1 hour
DJ's - 2 Hours
Please Note: The fees indicated below are approximate and based on a central location for each county. They are intended to provide a rough guide only and exact quotes can only be given once the date and exact location of your event have been provided.
Scotland
Glasgow
£1,800.00
Edinburgh
£1,800.00
North East
Durham
£1,860.00
Northumberland
£1,860.00
Tyne and Wear
£1,860.00
Yorkshire
£1,800.00
Leeds
£1,800.00
North West
Cheshire
£1,800.00
Cumbria
£1,860.00
Lancashire
£1,800.00
Merseyside
£1,800.00
East Midlands
Derbyshire
£1,740.00
Leicestershire
£1,740.00
Lincolnshire
£1,740.00
Northamptonshire
£1,740.00
Nottinghamshire
£1,740.00
Rutland
£1,740.00
East
Cambridgeshire
£1,440.00
Norfolk
£1,500.00
Suffolk
£1,500.00
Wales
Wrexham
£1,440.00
Cardiff
£1,500.00
West Midlands
Gloucestershire
£1,440.00
Herefordshire
£1,440.00
Shropshire
£1,440.00
Staffordshire
£1,440.00
Warwickshire
£1,440.00
Worcestershire
£1,440.00
Birmingham
£1,440.00
South East
Bedfordshire
£1,320.00
Berkshire
£1,320.00
Buckinghamshire
£1,320.00
East Sussex
£1,320.00
Essex
£1,320.00
Hampshire
£1,320.00
Hertfordshire
£1,320.00
Isle of Wight
£1,620.00
Kent
£1,320.00
Oxfordshire
£1,320.00
Surrey
£1,320.00
Sussex
£1,320.00
West Sussex
£1,320.00
London
£1,200.00
Middlesex
£1,320.00
South West
Cornwall
£1,560.00
Devon
£1,500.00
Dorset
£1,500.00
Somerset
£1,500.00
Wiltshire
£1,500.00