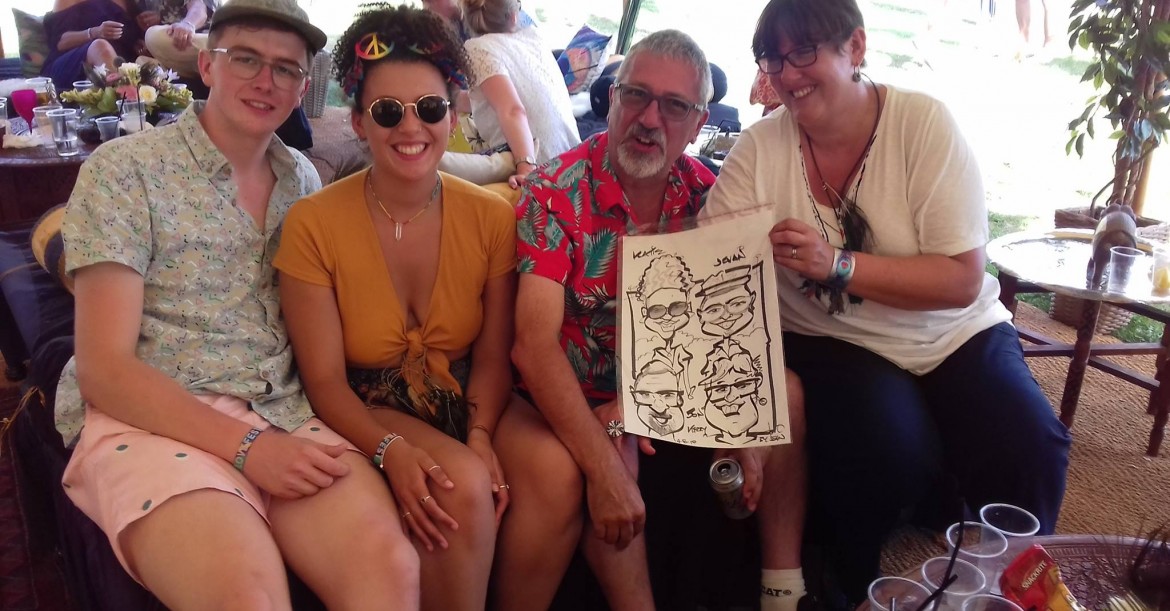 Location West Sussex
Starting from £234.00

Sean is a professional and friendly leading UK caricaturist and will delight your guests with his humorous, non-offensive caricatures. Well established within the industry, with over 27 years of experience and so he is immediately able to put guests at ease. He creates fantastic likenesses in just minutes which makes him one of the most in demand caricaturists. He will ensure your event is a success with his amazing caricature entertainment.
He is a brilliant addition to any event, adding the fun factor to Weddings, Parties, Corporate Events, Military Events, Balls, and Trade Shows. Most of Sean's bookings are from personal recommendations from his many clients.
There are no age limits to people being drawn - from babies to seniors - all will be instantly recognisable in their caricature pictures, providing lots of laughter.
Sean is a Caricaturist based in West Sussex, but available to book throughout England and beyond.
In summary, if you are looking for an experienced leading caricaturist then Sean is the entertainer for you and your event.
PRE-DRAWN CARICATURES
Ideal for Birthdays, Anniversaries, Retirement, Leaving, Xmas. Getting started is as simople as sending a couple of good quality photos and some brief information of what you would like on the artwork including background and/or props, and he will sketch, draw or paint a full A3 Sized Caricature of the person. All Caricatures are completed in 2 weeks or less, and you will also receive regular progress reports! Images are sent digitally creating a host of opportunities to gift including mugs and t-shirts... or simply get it printed and framed for the perfect present!
Number of Reviews and Counting... 33!
Hand drawn Black and white ink caricatures, size A3, Sean will sketch the whole person and his / her hobby or interest. Amazing the guests who gather to watch his creations, providing lots of laughter. Caricatures are humorous but non-offensive. Sean produces 10 plus per hour. He can draw individuals, couples or groups.
Also Sean can provide digital colour caricatures using an Ipad. These can include a company logo or name, venue and date and are ideal for trade shows, conventions and product launches.
Sean can also produce studio caricatures from your photos and ideas in black / white or full colour - hand-painted, or digital. Ideal for promotions, Gifts, Invitations and Guest message boards at weddings and parties.
Children: Children love to have their caricature drawn and can be sketched as anything they wish to be such as a footballer or singer or princess etc...
Sean is able to mix and mingle or got table to table or be in a static area.
In summary, Sean can provide black/white caricatures on paper giving event guests a unique gift to keep, or colour digital caricatures e-mailed to the guest to use on social media and print out.
Jasmine Plowright

, Private Party, Hindu Temple, Crawley, West Sussex
Sean came to our NHS Staff Party for the Surrey and Sussex Vaccination Programme, he was great fun and incredibly patient with a never-ending stream of requests for his fantastic (and kind) caricatures. We'll be framing them and putting them in the office and at our sites for all to enjoy. After 9 months and 400,000 vaccinations, the team are pretty tired and this was just the lift they needed as we prepare for Phase 3 of the vaccination programme. We'll definitely ask for Sean for future events. Thank you!
---
Rachel Matthews

, Wedding, Angel House, Hove, East Sussex
Fab artist, fun, punctual, booking was nice & easy to arrange. Very efficient company.
---
Jon Stanfield

, Wedding, The Papermill, Kent
Sean was a huge hit amongst our guests. His artwork is fantastic and we would love to have him back for future events. Thank you!
---
Kimberley Portas - Palmers Solicitors

, Festival, Essex
Sean was excellent, it brought a busy crowd to our stall at our event and everyone was so happy with what Sean did.
---
David Ryan

, Military Event, 4 Medical Regiment, Hampshire
Sean was outstanding. He turned up in plenty of time to get all set up and he managed to get everyone drawn. His drawings were amazing and everyone was very happy with them. I will definitely be booking Sean again and thank you to Warble Entertainment for finding him for an amazing night.
---
Joseph Hallinan

, Birthday Party, The Three Compasses, Kent
Thank you for providing Sean . He was punctual, and an excellent addition to our evening entertainment. Everyone was very happy and amused by the caricatures! I would not hesitate to recommend him to other parties!
---
Barbara Childs Hopkins

, Birthday Party, Millstream Hotel, Bosham, West Sussex
Your responses were immediate and you were able to provide Sean who was appreciated by my guests and certainly by my Grandsons. Everything happened like it should!
---
Sophie Mold

, Birthday Party, West Sussex
Five out of five for Sean.
---
Paul Williams

, Birthday Party, Surrey
All good. Would recommend Sean.
---
Denny Kitchingham

, Wedding, Old Thorns Manor Hotel, Hampshire, Hampshire
Excellent.
---
Frances Dowty

, Private Party, Hampshire
His caricature of our captains is about to be framed for posterity!
---
Matthew King

, Wedding, The Windsor Hotel, West Sussex
Everyone was so pleased with their portraits, we recommend Sean to anyone as he's done an amazing job for our wedding.
---
Ray Loftus

, Wedding, East Sussex
If you want a caricaturist Sean is the one to have. Nothing was too much trouble and everyone was astounded by his results. Excellent.
---
Sarah Baker

, Wedding, East Sussex
Sean was fantastic at our wedding. All our guests loved him and his pictures were absolutely excellent. He was friendly and professional and it was a lovely keepsake for our guests from our day. I would recommend Sean to anyone for their event!
---
Sarah Kenworthy - Xpression Events

, Other, London
Sean was very friendly and worked very well. Fingers crossed he enjoyed working with us too. I didn't actually get to see any of his drawings but i assume everyone was very pleased with them!!
---
Sophie Mold

, Private Party, Surrey
Everything was fantastic, from start to finish. I couldn't have asked for more. Just wish I had hired Sean for longer!
---
Kayleigh Batt

, Wedding, Hampshire
Booking was really easy and quick. All communication was clear and when he showed up, he was on time and got straight to it. His work was brilliant and could not have been happier!!
---
Shaun and Holly

, Wedding, East Sussex
Sean was brilliant at our wedding. Arrived on time and spent 3 hours entertaining our guests. Had lots of great feedback from our guests and the pictures look great. Highly recommended.
---
Lawrence Barwick - Campaign

, Corporate, Surrey
Sean was perfect for our event, he had a lot of clients to get through and his caricatures were top quality. A friendly guy too, helped to make our event a big success.
---
Sally Rollinson

, Wedding, West Sussex
What a lovely guy. Everybody commented on how great he was!
---
Julie Walsh

, Private Party, West Sussex
Excellent!
---
Liz Lee

, Wedding, East Sussex
Really great drawings and very pleasant, many thanks.
---
Ashleigh Sheen

, Wedding, Kent
Thank you so much! Our guests loved Sean. A very talented man :)
---
Jennie Johnson

, Wedding, Surrey
End to end great service, pro-active to make sure everything ran seamlessly. Loved the pictures on the day, great fun and everyone loved it! Thank you.
---
Helen Nash

, Wedding, West Sussex
Hi Jennie - It was a great idea hiring Sean - we all enjoyed having something different to remember the evening with. It was a pleasure having Sean as part of our day and felt the cost was reasonable making it a viable option to consider hiring entertainment again. We would recommend him to friends etc.
---
Helen Scott

, Wedding, West Sussex
My wedding guests really enjoyed the personalised drawings of themselves. Sean drew them with backgrounds that meant something. A great idea for a wedding.
---
Tracey Frost - HLW International Ltd

, Corporate, London
Sean was excellent, he was friendly and him being at our event was a great success!
---
Commander Gale

, Military Event, West Sussex
Hi Sean, just to let you know, HRH The Duke of York has viewed your latest artwork and is going to make it copyright of the Crown. We thank you for helping to improve air-safety with your amazing cartoon caricature artwork.
---
Katie and Jason

, Wedding, Hampshire
Dear Sean, Thank you very much for all your hard work on our wedding day, we're really sorry we didn't get to thank you properly on the day. We had the most amazing day. Our guests were absolutely delighted with their caricatures. Many of them have got them framed and have hung them in pride of place in their homes. My Mum and Dad have hung theirs in the loo, as they have gathered a bit of caricature collection in there over the years. My Mum was thrilled that their new addition included her favourite hat. I have to say it is a very good likeness of both of them and it has really has captured their joy on what my Mum has now dubbed the 'best day of her life'.
---
Katie Goble

, Wedding, Hampshire
Sean did a wonderful job at our Wedding and all our guests who had caricatures done were thoroughly delighted. Many guests have chosen to frame their finished caricature and now have them hanging in pride of place in their homes and offices. Having a caricature artist like Sean at our wedding created a real talking point and guests have commented on how nice it was to have something for the guests to do during the drinks reception to break the ice.
---
Dennis Ball

, Private Party, Kent
The most important comment is that our guests found Sean friendly and relaxing and obviously very talented at his Art. Would recommend him as a change from discos etc.
---
Julie Post

, Wedding, Surrey
Sean arrived and introduced himself to me. He then cracked on with entertaining the guests with his unbelievably quick and amusing drawings. All my friends now have these drawings as their profile pics on Facebook! Honestly I couldn't fault him. He just kept going one after the other for 4 hours. Completing probably about 1 every couple of minutes. I was so glad I picked him and my wedding will always be known for his presence amongst other things. There was a queue at one point and I did hear guests asking if they needed to pay! If you want a little gift for all your guests then I highly recommend Sean. All my guests took away a gift in the pictures. Highly recommended :-)
---
Kim Burt

, Wedding, Hampshire
Sean was a fantastic addition to our wedding, he was very good with everyone and the pictures he drew were amazing! He was loved that much by our guests we asked him to stay another hour!! Really pleased with what we received and will definately recommended to people in the future! Many thanks, Mr & Mrs Harvey
---
Sean has attended many VIP events and met and caricatured some very famous people including: John Hurt, Bruce Forsythe, Peter Andre, Charley Boorman, Esther Rantzen, David Ginola, Kevin Keegan, Lorraine Chase, Ken Livingstone, Tony Hadley, Michelle Heaton and many more
Prestigious venues: The Savoy, Dorchester, Chelsea FC, Wembley, Amex, Westminster Plaza Hotel, Grand Hotel, Buxted Hotel, Conrad Hotel, Hickstead Royal Garden
Worthing Dome, Ghyll Manor, Hotel Avisford, Royal Marines Museum and more
Many many Armed Forces Events - Sandhurst, HMS Nelson, Collingsby, Tidworth Barracks etc.
Clients include: Virgin, Mercedes-Benz, Skoda, Goodwood FOS, Vector Aerospace, HMS Nelson, Butlins. Porsche, Chelsea FC,Southern Water, LABC,Royal Navy,
Salesforce, Gemini Print, Freemasons, Post Office, Honeywell, Fontwell, Ride London, Royal Air Force, Holiday Inn, Defense Academy, plus many more
Charities: Breast Cancer, Help for Heroes, Terrence Higgins, St Barnabus, Chestnut tree house, The Alex Childrens Hospital, RNLI, Wadars,
Based in Sussex, but will travel
Professional, reliable, experienced and friendly, putting guests immediately at ease
No guest charge
Caricatures are Non-Offensive
10 per hour - ink - black/white A3 high quality paper and then put in a sleeve to keep it in good condition
8 per hour - Digital Ipad cariatures - e-mailed to guests in colour
Weddings, Parties, Corporate Events, Balls, Dinners, Awards, Conferences, Trade Shows. Military Events
Trade Fairs - Sean will attract people to your stall
2.5 hours - This is the usual booking time, but Sean is flexible and will adapt to your requirements
Sean will mingle and sketch live on the spot, or go table to table, or be in a seated area
Weddings - Guest Board, Best-Man Caricature done in the studio prior to the wedding for you to frame and present
27 years experience
Arrival in time to start at your requested time.
Will stay for the hours that you require
Please Note: The fees indicated below are approximate and based on a central location for each county. They are intended to provide a rough guide only and exact quotes can only be given once the date and exact location of your event have been provided.
North West
Manchester
£420.00
Lancashire
£420.00
East
Cambridgeshire
£354.00
Norfolk
£354.00
Suffolk
£354.00
Norwich
£354.00
West Midlands
Herefordshire
£324.00
Shropshire
£324.00
Staffordshire
£324.00
Warwickshire
£324.00
Worcestershire
£324.00
Birmingham
£408.00
South East
Bedfordshire
£288.00
Berkshire
£288.00
Buckinghamshire
£288.00
East Sussex
£234.00
Essex
£288.00
Hampshire
£270.00
Hertfordshire
£312.00
Isle of Wight
£300.00
Kent
£288.00
Oxfordshire
£288.00
Surrey
£270.00
Sussex
£234.00
West Sussex
£234.00
London
£288.00
Middlesex
£288.00
South West
Devon
£324.00
Dorset
£324.00
Somerset
£324.00
Wiltshire
£324.00
Bath
£354.00
Bristol
£384.00