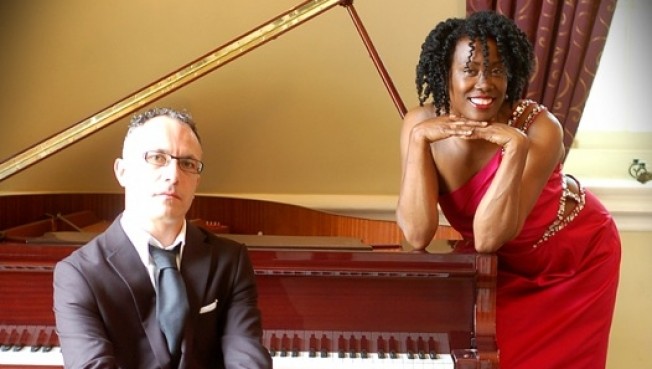 Location Hertfordshire
Starting from £480.00
Silky Smooth is a dynamic Jazz duo of vocals and piano based in Hertfordshire, but available UK Wide.
Silky Smooth perform popular vintage chic lounge classics, happy clappy, finger snappy dance numbers and Jazzy contemporary songs using Jive Swing, Latin Jazz and Bossa Nova rhythms.
Number of Reviews and Counting... 1!
An award winning duo
Trademark smokey, smooth vocals and virtuoso piano playing
Lively and highly entertaining duo
Professionals with over 20 years collective live performancing experience
Vast range of styles to suit every occasion - from mellow and intimate to upbeat songs to get you dancing!
Versatile repertoire from 1920s through to the present day
Cater for parties, black tie functions, weddings, corporate events and intimate ceremonies
Duo - Vocals and Piano
Trio - Vocals, Piano and Saxophone
Trio - Vocals, Piano and Clarinet
SWING
A Fine Romance – Ella Fitzgerald
Ain't Misbehaving – Fats Waller
Ain't What You Do It's The Way That You Do It – Ella Fitzgerald
All Of Me – Sarah Vaughn
Almost Like Being In Love – Frank Sinatra
Autumn Leaves – Diana Drall
Better Than Anything – Natalie Cole
Blue Skies – Eva Cassidy
Can't Buy Me Love - Beatles
Can't Help Loving Dat Man – Billie Holiday
Can't Take That Away From Me – George Gerswhin
Cherokee – Dee Dee Brigdewater
Deed I Do – Diana Krall
Do Nothing Til You Hear From Me – Duke Ellington
Dream A Little Dream Of Me – Mama Cass
Fascinating Rhythm – George Gerswhin
Favourite Things – Julie Andrews
Fever – Peggy Lee
Flintstones
Fly Me To The Moon – Frank Sinatra
Honeysuckle Rose – Fats Waller
I Can't Give You Anything Else But Love – Doris Day
I'm Beginning To See The Light – Duke Ellington
I'm In The Mood For Love – Dorothy Fields
It Don't Mean a Thing – Duke Ellington
Let there be love – Nat King Cole
Let's Fall In Love – Nat King Cole
Mean To Me – Sarah Vaughan
Moondance – Van Morrison
Moon River –Audrey Hepburn
My Baby Just Cares For Me – Nina Simone
Nice work if you can get it – Cole Porter
Night and Day – Ella Fitzgerald
On The Street Where You Live – Nat King Cole
One For My Baby And One More For The Road – Frank Sinatra
Ooh what cha doing to me – Sarah Vaughan
Paper Moon – Ella Fitzgerald
Pennies from heaven – Anita O'Day
Perdido – Duke Ellington
Que Sera Sera – Doris Day
Sentimental Journery – Doris Day
Sentimental reasons – Nat King Cole
Somebody Loves Me – Peggy Lee
Someone to watch Over Me - George Gerswhin
Straighten up and fly right – Nat King Cole
The Lady Is A Tramp – Lena Horne
The Nearness Of You – Norah Jones
Them There Eyes – Billie Holiday
These Foolish Things – Billie Holiday
The Very Thought Of You – Dick Haymes
The Way You Make Me Feel – Michael Jackson
Too Darn Hot – Ella Fitzgerald
Walk On By – Dionne Warwick
What Is This Thing Called Love – Cole Porter
WhenYou Wish Upon A Star – Linda Ronstadt
You'd Be So Nice To Come Home To – Dinah Shore
You Go To My Head - Linda Ronstadt
BOSSA NOVA & LATIN
And I Love Her - Beatles
A Night In Tunisia – Dizzie Gillespie
Afro Blue – Diane Reeves
Besame Mucho – Andrea Bocelli
Black Orpheus – Antonio Carlos Jobim
Body And Soul – Billie Holiday
Bossa Nova Baby – Elvis Presley
Boy From Ipanema -Astrud Gilberto
Can't Take My Eyes Off You – Andy Williams
Corner Of The Earth - Jamiroquai
Desafinado – Ella Fitzgerald
Dindi – Astrud Gilberto
East Of The Sun – Diana Drall
Everything – Michael Buble
Guantanamera – The Sandpipers
Green Dolphin Street – Dinah Washington
Just The Two Of Us – Bill Withers
I Got Life – Nina Simone
I Wish I Knew How It Would Be To Be Free – Nina Simone
Killing Me Softly – Roberta Flack
La Bamba – Ritchie Valens
Mas Que Nada – Sergio Mendes
Night And Day – Cole porter
No Return – Kinks
One Note Samba –Astrud Gilberto
Oye Come Ova - Santana
Perhaps Perhaps, Perhaps – Doris Day
Quiet Nights Of Quiet Stars – Diana Krall
Smooth Operator - Sade
Softly As In A Morning Sunrise – Diane Reeves
So Nice -Bebel Gilberto
Spain – Al Jarreau
Summertime – George Gerswhin
Sway – Dean Martin
The Look Of Love – Diana Krall
This Masquerade – George Benson
What A Difference A Day Made – Dinah Washington
BALLADS
Autumn Leaves – Eva Cassidy
Angel Eyes – Frank Sinatra
Blue Moon – Billie Holiday
Body And Soul – Carmen MacRae
Chasing Pavements - Adele
Come Rain Or Cone - Ray Charles
Crazy – Patsy Kline
Cry Me A River – Michael Buble
East Of The Sun – Diana Krall
First Time Ever I Saw Your Face – Roberta Flack
Get Here – Oleta Adams
Home – Michale Buble
I Only have Eyes For You
Like A Star – Corinne Bailey-Rae
Love For Sale – Ella Fitzgerald
Lover Man (Oh Where Can You Be) – Billie Holiday
Mad About The Boy – Dinah Washington
Make You Feel My Love - Adele
Misty – Sarah Vaughan
Moody's Mood For Love – James Moody
My Funny Valentine – Chet Baker
Natural Woman – Carol King
Nature Boy – Nat King Cole
Out Of Reach - Gabrielle
Over The Rainbow – Eva Cassidy
Stormy Weather – Lean Horne
Someone Like You - Adele
That Ole Devil Called Love – Alison Moyer
The Man I Love – Lena Horne
Wonderful World – Louis Armstong
When I Fall In Love – Nat King Cole
You Don't Know What Love Is – Etta James
BLUES
Big Bad Handsome Man – Imelda May
Black Coffee – Peggy Lee
Back To Black – Amy Winehouse
Do Right – Peggy Lee
Feeling Good – Nina Simone
Fine And Mellow – Billie Holiday
Georgia – Ray Charles
God Bless The Child – Billie Holiday
Good Morning Heartache –Sarah Vaughan
Hit The Road Jack – Ray Charles
I'm Just A Lucky So And So - Duke Ellington
Is You Is Or Is You Ain't My Baby – Louis Jordan
I Wish I Knew How It Would Feel To Be Free – Nina Simone
Mamma Do – Pixie Lott
Minnie The Moocher – Cab Calloway
My Mama Done Tol' Me – Cab Calloway
One Scotch, One Bourbon, One Beer – Rudy Toombs
Peel Me A Grape – Diana Krall
Your Love Is King - Sade
CHA CHA CHA
Kiss Me Honey Honey – Shirley Bassey
Under The Boardwalk – The Drifters
Martin & Shirlie Kemp

, Wedding, Hertfordshire
It was fantastic to hear Esta warming the church and relaxing all the guests and when she sang 'Signed Sealed Delivered' as the Bride & Groom signed the wedding certificate, it was the perfect end to a wonderful service and they made it even more special!
---
Emirates Stadium, Highbury
Theatre Royal Stratford
The NEC , Birmingham
Hush, Mayfair
The Colony Club, Mayfair
Coq D'argent, Bank
Beetle & Wedge, Oxford
Jagz – Ascot
Gordon Craig Theatre, Stevenage
Are you able to learn requests and at what extra charge (if any)?
We only charge for the cost of buying the sheet music but ordinarily there would be no extra charge for one or two songs if given plently of notice.
Do you offer any extras? i.e. DJ service, extra musicians etc? And, if so, at what cost?
We offer two types of Trio:
Trio – Vocals, Keyboards and Saxophone
Trio – Vocals, Keyboards and Clarinet
Do you provide pre-recorded music between sets?
Yes, we provide music between sets using a CD player to compliment the music we play. Alternatively, you can provide us with your own iPod or CD!
Are there any specific requirements?
We would appreciate a safe dressing room where we can leave a change of clothes and store our instrument cases.
Are you fully self-contained with your own PA & Lighting?
Yes we are fully self-contained. See details below.
PA: 800 watt PA system - 2 x 15 inch 400w powered speakers and Yamaha MG166CX passive mixer, 1 x Mackie Active SRM 350 speaker 200W
Lighting: 2 x Prolight LEDJ Stratos Wash/ Flood Panels.
How many electrical sockets do you require?
5 sockets
Do you have PAT certification for any electrical equipment and Public Liability Insurance.
Yes, all our equipment is fully PAT tested and we have Public Liability Insurance.
How much time do you require to set up and sound check/pack up?
45 minutes to set up and sound check
40 minutes to pack up
How much Stage space do you require?
Approximately 4m x 3m
Please Note: The fees indicated below are approximate and based on a central location for each county. They are intended to provide a rough guide only and exact quotes can only be given once the date and exact location of your event have been provided.
East
Cambridgeshire
£480.00
South East
Bedfordshire
£480.00
Berkshire
£480.00
Buckinghamshire
£480.00
Essex
£480.00
Hertfordshire
£480.00
Oxfordshire
£480.00
London
£480.00
Middlesex
£480.00