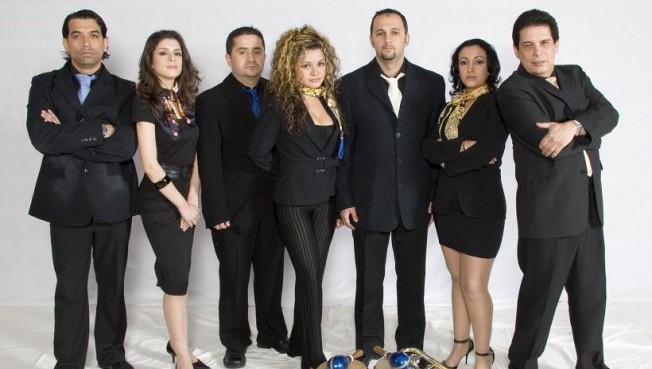 Location London
Starting from POA
Son Real is one of Londons leading Latin American Dance Bands. Created in the summer of 2006 with collective talents from England and Colombia the bands electric repertoire is passionate, dynamic and eminently danceable. From the characteristically hot blooded tempos of Cuban Salsa and Brazilian Lambada, the traditional folk rhythms of Colombia and Merengue from Puerto Rico and The Dominican Republic. Son Real's charm can undoubtedly be found in its enthralling rhythms which capture every listener leaving them yearning for more.
Listen




Number of Reviews and Counting... 1!
"¡Esto es Son Real!" - This is Son Real – THE REAL DEAL!
Son real is one of London's most innovative and contemporary Latin bands around today. Created in January 2006, Son Real aims to create a fresh sound representative of the UK's love affair with the "Latin spirit".
Musically, Son Real orchestra is collaboration between British and Colombian musicians. Their style is modern yet remains true to traditional tropical roots: Salsa in all of its variations, traditional folk rhythms like cumbia and plena, the infectious sounds of merengue and urban Latin beats like reggeatton.
Son Real's 7-14 piece bands are comprised of a Latin Rhythms section: piano, bass and traditional Latin percussion and the all important brass section. Vocally it is fronted by three female vocalists, engaging audiences with their own unique vocal styling and harmonies, as well as vibrant and dynamic stage performances. Their presence on the scene offers a much needed female perspective in Latin music today.
Son Real has had the pleasure of performing at Europe's biggest Latin American festival held over the summer in London 'Carnaval del Pueblo', 'West End Live' and the British Grand Prix. Son Real also performs at the many 'Salsa nights' held around the UK such as 'Strictly Salsa UK'. The band has performed at various corporate functions for companies such as Tesco, B.T. and Iberia and diplomatic receptions (Mexican Embassy). Son Real has also had the pleasure of being invited to represent Colombia in the annual 'World Cultures Festival' held in Fuenjirola (Spain).
Son Real's charm can undoubtedly be found in its enthralling rhythms which capture every listener leaving them yearning for more.
7 piece- piano, bass, Latin percussion, brass section, three female vocalists
Besame Mucho
La Capullito De Aleli
Puerto Vallarta
Quizas Quizas
Cumbia -Mix - Poppurri
Donde Estas
Las Calenas
El Negro Jose
La Gota Fria
Piel Morena
Colombia Tierra Querida
Yo Me Llamo Cumbia
El Barranquillero
Tic-Tac
Killing Me Softly
I Need To Know
I Will Survive
Lets Get Loud
Yesterday
Cuando Cuando
Last Dance
Like A Woman
Mi Tierr
Garrapicho
Guantanamera
Volare
Bambole
Lambada
Hay Mama
Fruta Fresca
Cuba Quiero Bailar La Salsa
Cuando Cuando
Tequila
Brazil
Oye Como Va
Macarena
Mambo No 5
Nadie Se Muere
Cayetano
El Tgueron
Me Miras Y Te Miro
Tu Sonrisa
Morena Ven
Esa Morena
La Quiero Morir
Suavemente
La Burrita De Eliseo
Oye
Maria 123
La Copa De La Vida
La Bomba
La Vida Loca
Carnaval
Cali Pachanguero
Detalles
Una Aventura
Cali Aji
Bamboleo
Mala Mujer
Hasta Que Te Conoci
Caballo Viejo
El Forastero
Lloraras
Etnia
El Preso
Lola
La Fiestabde Blas
La Bamba
La Canoa Rancha
Corazon Espinado
Canto A La Montana
No Me Dejes De Querer
El Carretero
La Murga De Panama
Mar De Amores
La Noche
Palmira Senorial
El Sanjuanero
La Velas Encendidas
Tu Carnito
Si Una Vez
Siento
Bajo La Lluvia
Sergio El Bailador
La Del Mono Colorado
Que Buena Son
La Suavecita
Le Pipiripau
La Bala
La Pollera Colora
Peil Morena
La Bolita
El Cable
El Baile Del Perrito
El Venado
La Ventanita
Yo No Fui
No Rompas Mas Mi Pobre Corazo
El Tiburon
La Chona
No Bailes De Caballito
La Mula Bronca
La Banda Borracha
La Hierba Se Movia
La Culebra
Caminos De Michoacan
El Mamabo No 8
Juana La Cubana
Camaron Pelao
La Yakesita
La Cadenita
Finca De Adobe
Camelia La Texana
Camaron Pelao
Que No Quede Huella
Como Te Voy A Olvidar
Mi Amor Por Ti
Los Caminos De La Vida
El Pavido Navido
Lupe
La Plaga
El Mudo
Perfume De Gardenias
Mi Razon
Maria Bonita
Si Nos Dejane
Oliver and Tracey Greenfield

, Private Party, Cornwall
Thank you for the salsa band in Cornwall. They were fantastic and we had such a wonderful day and evening.
---
Son Real has toured France, Italy, Spain, and Tunisia and the band has performed for personalities such as Prince Charles, for musicians such as, Elton John, Eric Clapton, and for stars of film and television including Joan Collins and Roger Moore. The act has also become a spicy ingredient at hotels, clubs and many pop stars' parties. Son Real is a very well known band in the United Kingdom spreading the Latin fever from small to big audiences. They have been invited to appear at El Carnaval del Pueblo Festival, The Barbican Centre, The South Bank and The Edinburgh festival plus several TV shows.
Son Real is available in many guises and are able to augment to a 14 piece if required, and to give the WOW factor to any event!
Please Note: The fees indicated below are approximate and based on a central location for each county. They are intended to provide a rough guide only and exact quotes can only be given once the date and exact location of your event have been provided.