Stevie Wonder - Stevie Wonder Tribute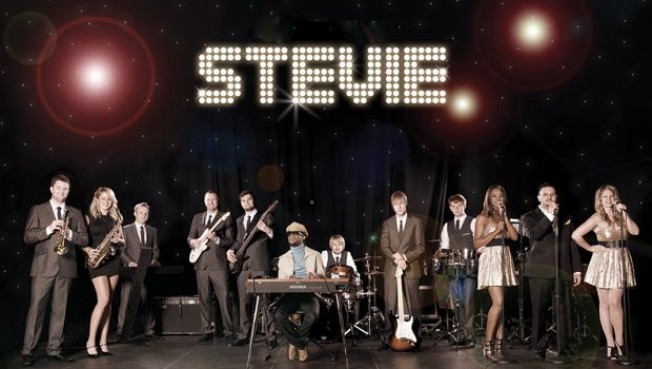 Location Hampshire
Starting from £3,300.00

Quite simply the ultimate live tribute to the fantastic sounds of Stevie Wonder! This sensational 11-piece live band is as close to seeing and hearing the real thing as you can get! From Supersition to Sir Duke, all the hits are covered in this incredible show.
Book now for a unique night that is guaranteed to be one to remember!
Listen




Stevie Wonder - Stevie Wonder Tribute
Number of Reviews and Counting... 1!
Introducing the most authentic Stevie Wonder Tribute act you will find playing anywhere in the world! With a sensational 10-piece live band backing the incredible Zion as Stevie, this act recreates the current Stevie Wonder live show with incredible accuracy, energy and skill!
You will enjoy a musical journey through decades of all the biggest and best Stevie Wonder hits, including Superstition, I Just Called To Say I Love You, I Wish, Signed Sealed Delivered, Sir Duke and many more!!!
The band is packed full of the best young musicians in the UK, including UK Young Drummer Of The Year James Birt and a host of others who are regulars for TV, radio and recording sessions, as well as backing major artists on tour and at major festivals.
From the 1st beat to the last you will be mesmerized by this stunning line-up of musicians who have such passion and enthusiasm for the music to match the ability needed to reproduce such an incredible show! And, to complete the package, the band look as good as they sound! Absolutely awesome!!!
Stevie
Drums
Bass
Keyboard
Lead Guitar
Rhythm Guitar
Trumpet
Sax
2 x Female Vocalists
1 x Male Vocalist
Uptight (Everything's Alright)
For Once In My Life
Signed, Sealed, Delivered I'm Yours
Never Had A Dream Come True
Yester-Me, Yester-You, Yesterday I
Was Made To Love Her
Knocks Me Off My Feet
For Your Love
If You Really Love Me
Pastime Paradise
Don't You Worry 'Bout A Thing
All I Do Lately
My Cherie Amour
Do I Do
Higher Ground
Master Blaster (Jammin')
I Ain't Gonna Stand For It We Can Work It Out
I Wish
Ribbon In The Sky
Overjoyed
Part-Time Lover
Isn't She Lovely
You Are The Sunshine Of My Life
Living For The City
I Just Called To Say I Love You
Happy Birthday
Superstition
As
Sir Duke
Ben

, Festival, Hampshire
Thank you ever so much for performing at our Summer Festival! You were awesome. People have not stopped raving about how much they enjoyed Stevie! I'm sure your tour is going to be a great success. I hope to work with you again!
---
Cambridge University, Nett UK, Ferneham Hall, Fairfield Halls, Petersfield In The Square Festival, Portsmouth City Council, Martlet's Hall, Haslemere Hall, Wyvern Theatre, Hall For Cornwall & many more!!!
How many of you are there in the band?
11 in the full show, but we can also do a solo act or 3-piece with backing tracks.
How long do you take to set-up?
2-3 hours for the full band with our PA.
What time do you play?
Any time to suit you, standard prices are for 1 x 60 or 75 min show or 2 x 45 min sets and a midnight finish.
How long do you play for?
We can perform up to 2 x 45 min sets, but find a 1 x 75min set works well.
Do you have your own PA and lighting?
Yes - all included in the price.
Do you have Public Liability Insurance and PAT tested equipment?
Yes.
How much space do you require?
For the 11-piece band approximately 7m x 3m minimum.
How much power do you require?
2 x 13 amp sockets is fine for our system.
Do I need to provide food/drinks?
Ideally soft drinks and a hot meal or buffet. But, this is certainly not a deal breaker so if you can't provide this, just let us know in advance and we'll bring food & drink with us.
1 x 60 or 75 min show
2 x 45 min sets
Please Note: The fees indicated below are approximate and based on a central location for each county. They are intended to provide a rough guide only and exact quotes can only be given once the date and exact location of your event have been provided.
North East
Durham
£3,600.00
Northumberland
£3,720.00
North Yorkshire
£3,600.00
South Yorkshire
£3,600.00
Tyne and Wear
£3,600.00
West Yorkshire
£3,600.00
Yorkshire
£3,600.00
North West
Cheshire
£3,600.00
Cumbria
£3,720.00
Manchester
£3,600.00
Lancashire
£3,600.00
Merseyside
£3,600.00
East Midlands
Derbyshire
£3,540.00
Leicestershire
£3,540.00
Lincolnshire
£3,540.00
Northamptonshire
£3,480.00
Nottinghamshire
£3,540.00
Rutland
£3,540.00
East
Cambridgeshire
£3,540.00
Norfolk
£3,600.00
Suffolk
£3,600.00
Wales
Cardigan
£3,600.00
Brecon
£3,600.00
Carmarthen
£3,600.00
Glamorgan
£3,540.00
Monmouth
£3,540.00
Pembroke
£3,600.00
West Midlands
Gloucestershire
£3,480.00
Herefordshire
£3,480.00
Shropshire
£3,540.00
Staffordshire
£3,600.00
Warwickshire
£3,480.00
Worcestershire
£3,480.00
South East
Bedfordshire
£3,420.00
Berkshire
£3,300.00
Buckinghamshire
£3,420.00
East Sussex
£3,420.00
Essex
£3,420.00
Hampshire
£3,300.00
Hertfordshire
£3,300.00
Isle of Wight
£3,540.00
Kent
£3,420.00
Oxfordshire
£3,300.00
Surrey
£3,300.00
Sussex
£3,420.00
West Sussex
£3,300.00
London
£3,300.00
Middlesex
£3,300.00
South West
Cornwall
£3,600.00
Devon
£3,480.00
Dorset
£3,300.00
Somerset
£3,420.00
Wiltshire
£3,300.00