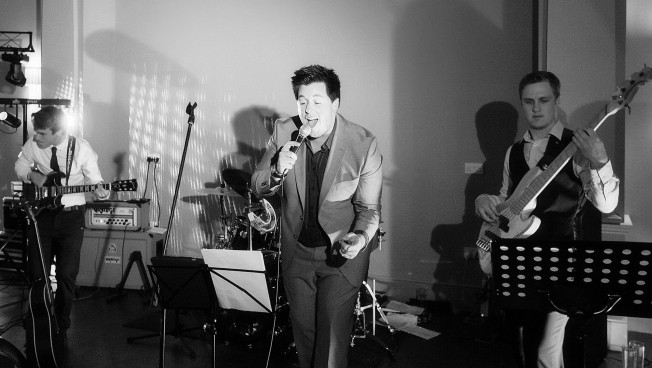 Location Cambridgeshire
Starting from £1,320.00
Superstition! Are an exciting 4 peice function band specialising in Weddings and Parties. Their extensive repertoire covers everything from 50's Rock and Roll to Mowtown, Funk, Disco, Pop and Modern Chart Hits.
There is something for everyone and you are bound to be on your feet!
Number of Reviews and Counting... 1!
With over 9 years experience playing for hundreds of weddings and for companies such as The BBC, Virgin and John Lewis, you can be sure you are hiring a band that will provide top quality wedding entertainment to keep your guests on the dance floor all night long.
When hiring a wedding band for hire, you want to be sure that the bands song list will have a huge variation of music catering for all ages.
Superstition! provide this with a huge song list ranging from Bruno Mars, Michael Buble, Jessie J, Kings Of Leon and Take That all the way through to The Beatles, Queen and Michael Jackson, there is always something for everyone to enjoy. The band also offers a request service making sure your favourite songs are not missed off of their set list for your event.
Complete with a professional quality sound and lighting system that can cater from between 50 – 700 capacity and a complimentary Dj service, all of your entertainment is covered by Superstition!, all in an affordable package ensuring your evening runs smoothly.
4 Piece Band - Male Vocals, Drums, Bass, Guitar
Superstition! can provide a 2 - 4 piece acoustic set for your afternoon event. Very popular while your guests arrive or after your service during drinks.
Superstition! can provide a solo piano performance during your day too. A particular favourite during dinner!
50's
Little Richard - Good Golly Miss Molly
Bill Haley and the Comets - Rock Around The Clock
Chuck Berry - Johnny Be Goode
Jerry Lee Lewis - Great Balls of Fire
Elvis - Blue Suede Shoes
60's
Van Morrison - Brown Eyed Girl
The Beatles - I wanna Hold Your Hand
The Monkees - I'm A Believer
Ray Charlies - Hit The Road
The Beatles - Twist and Shout
Ray Charles - Shake Your Tailfeather
Wilson Pickett - Mustang Sally
Otis Reading - Dock OF The Bay
Classic Rock
Free - Alight Now
Queen - I Want To Break Free
Guns and Roses - Sweet Child Of Mine
Bon Jovi - Living on a Prayer
Aerosmith - Walk This Way
Modern Chart Hits
The Killers - Somebody Told Me
Maroon 5 - Moves Like Jagger
Take That - Never Forget
Lady Ga Ga - Bad Romance
Foo Fighters - Learn To Fly
Red Hot Chilli Peppers - Californication
First Dances...
Snow Patrol - Chasing Cars
Jason Mraz - I'm Yours
Bon Jovi - Always
Take That - Rule The World
Aerosmith - Dont Want to Miss a Thing
Robbie Williams - Angels
Jackie Stuart - John Lewis PLC

, Corporate, Cambridgeshire
Absolutely Fantastic! Superstition! never fail to bring excellent entertainment to every event! The party was fantastic thanks to the high level of entertainment Matt provided. Versatile set, and a very full sound.
---
John Lewis PLC
Virgin
Aldi
BBC RADIO
Reflective lighting LTD
International Displays
Mars
Sony Entertainment
Digital Village
Norfolk Motor Show
Lite FM
Of Course we do! We can accept requests as we realise how important these are for your event.
Do You Have Everything You Need To Perform?
Yes, the band is fully self-contained with PA and Lighting.
Available Afternoon Sets
Available Evening Sets
2 x 1 hour
3 x 1 hour
2 x 45 mins
3 x 45 mins
Please Note: The fees indicated below are approximate and based on a central location for each county. They are intended to provide a rough guide only and exact quotes can only be given once the date and exact location of your event have been provided.
Scotland
Aberdeen
£2,400.00
Inverness
£2,400.00
Perth
£2,400.00
Sutherland
£2,400.00
Ayrshire
£2,040.00
Fife
£2,040.00
Stirlingshire
£2,040.00
West Lothian
£2,040.00
Dumfries-shire
£1,920.00
East Lothian
£1,920.00
Lanarkshire
£1,920.00
Midlothian
£1,920.00
North East
Durham
£1,680.00
Northumberland
£1,800.00
North Yorkshire
£1,740.00
South Yorkshire
£1,800.00
Tyne and Wear
£1,800.00
West Yorkshire
£1,800.00
Yorkshire
£1,800.00
North West
Cheshire
£1,800.00
Cumbria
£1,800.00
Manchester
£1,800.00
Lancashire
£1,800.00
Merseyside
£1,800.00
East Midlands
Derbyshire
£1,500.00
Leicestershire
£1,560.00
Lincolnshire
£1,440.00
Northamptonshire
£1,440.00
Nottinghamshire
£1,680.00
Rutland
£1,560.00
East
Cambridgeshire
£1,320.00
Norfolk
£1,320.00
Suffolk
£1,440.00
Wales
Anglesey
£1,800.00
Caernarvonshire
£1,800.00
Denbigh
£1,800.00
Flint
£1,800.00
Cardigan
£1,680.00
Brecon
£1,560.00
Carmarthen
£1,560.00
Glamorgan
£1,560.00
Monmouth
£1,560.00
Pembroke
£1,560.00
West Midlands
Gloucestershire
£1,560.00
Herefordshire
£1,560.00
Shropshire
£1,560.00
Staffordshire
£1,560.00
Warwickshire
£1,440.00
Worcestershire
£1,440.00
South East
Bedfordshire
£1,380.00
Berkshire
£1,440.00
Buckinghamshire
£1,440.00
East Sussex
£1,440.00
Essex
£1,440.00
Hampshire
£1,440.00
Hertfordshire
£1,440.00
Isle of Wight
£3,000.00
Kent
£1,440.00
Oxfordshire
£1,440.00
Surrey
£1,500.00
Sussex
£1,500.00
West Sussex
£1,500.00
London
£1,440.00
Middlesex
£1,500.00
South West
Cornwall
£1,800.00
Devon
£1,800.00
Dorset
£1,800.00
Somerset
£1,800.00
Wiltshire
£1,500.00