Warble Entertainment's
Susannah Electric Violinist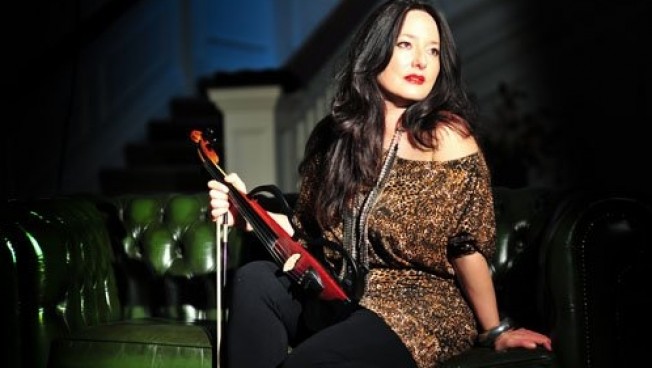 Location Middlesex
Starting from £330.00
Glamorous classical and electric solo violinist providing outstanding contemporary high class music for any occasion. A great alternative to a string quartet to keep costs down! Susannah provides her own PA and performs with good quality backing tracks. She can also dress suitably for any occasion whether it be for a champagne reception, awards ceremony or a small gathering with friends and family.
8 reviews
Song List
Repertoire: Susannah can perform virtually any piece of music you wish. If you cannot find what you are looking for on the list, please ask for details. Often there would be minimal extra charge to acquire and perform new music.
Entrance songs for ceremonies (songs marked with an asterix *) are always played without backing track accompaniment on solo violin where only a single melody line will be heard. There is a limited choice for entrance songs and always need to be discussed for suitability.
Classical
Pie Jesu - Faure
* Canon in D - Pachelbel
Ave Maria - Gounod
Ave Maria - Schubert
Meditation from "Thais" - Massenet
* Wedding March - Mendelssohn
* Wedding March - Wagner
Ode to Joy - Beethoven
Air on a G String - Bach
*Arrival of the Queen of Sheba - Handel
*O Mio Babbino Caro - Puccini
*Trumpet Voluntary - Clarke
Pavane - Faure
*Jesu Joy of Man`s Desiring - Bach
Jerusalem (hymn) - Parry
Largo (Aria from Xerxes) - Handel
Habanera
Morning from Peer Gynt - Grieg
* Chanson du Matin - Elgar
Chanson Boheme - Bizet
Farandole - Bizet
Gymnopedie No 1. Erik Satie
* Jupiter (theme from the Hovis advert) by Holst
* Largo from New World Symphony - by Dvorak
Siciliano, Sonata no.4 in C minor-Bach
Intermezzo Op.117 no.1- Brahms
Allegro moderato - Dvorak
Berceuse op.16 - Gabriel Faure
Allegro - Fiocco
Sonata in F Major - Handel
Allegro from Sonata in Eminor - Mozart
Allegro Molto from Sonatina in D major - Schubert
Allegro from Concerto in A minor - Vivaldi
The Four Seasons - Vivaldi (certain movts)
Jazz
Come Fly With Me - Frank Sinatra
Feeling Good - Nina Simone
Georgia On My Mind - Ray Charles
Fly me to the Moon
Can`t Take My Eyes off You
My Way - Frank Sinatra
Pretty Woman - Roy Orbison
But Not For Me
I Got Rhythm
I`ll Build a Stairway to Paradise
Love Walked In
The Man I Love
Nice Work if You can Get It
Oh, Lady Be Good!
Someone to Watch Over Me
Summertime
They Can`t Take That Awayfrom Me
Pop
Ashes to Ashes - David Bowie
Can`t Get You Out of My Head - Kylie
Careless Whisper - George Michael
Clocks - Coldplay
Viva La Vida - Coldplay
Fix You - Coldplay
Now We Are Free - Gladiator Theme Tune
Stayin Alive - Bee Gees
I Got You - James Brown
Mrs Robinson - Simon & Garfunkel
Rule The World - Take That
She Said - Plan B
My Heart Will go On (From the film Titanic)
Scarborough Fair
Green Onions - Booker T
Moondance - Van Morrison
Hello - Lionel Richie
Lady In Red - Chris De Burgh
A Love Before Time - Theme Tune From "Crouching Tiger Hidden Dragon"
Everything I Do I Do It For You- Bryan Adams
*Fields of Gold - Eva Cassidy
Kissing You (Love theme from Romeo & Juliet) - Desree
Over the Rainbow - Eva Cassidy
Chi Mai - Ennio Morricone
* She - Elvis Costello
Jai Ho - from Slumdog Millionaire
Palladio - Karl Jenkins
Lately - Stevie Wonder
Hoppipolla - Sigur Ros
Warwick Avenue - Duffy
Chasing Pavements - Adele
Brown Eyed Girl - Van Morrison
Beautiful - Christina Aguilera
She`s The One - Robbie Williams
Feel - Robbie Williams
Run - Leona Lewis
All This Time - Michelle
Born to Try - Delta Goodrem
The Closest Thing To Crazy - Katie Melua
Cry Me a River - Justin Timberlake
Leave Right Now - Will Young
Life For Rent - Dido
Mad World
Something Beautiful - Ribbie Williams
The Voice Within - Christina Aguilera
There must Be an Angel - Eurythmics
Someone Like You - Adele
Marry You - Bruno Mars
Blue Eyes - Elton John
Crocodile Rock - Elton John
Don`t Let The Sun Go Down On Me - Elton John
Goodbye Yellow Brick Road - Elton John
I Guess That`s Why They Call It The Blues - Elton John
I`m Still Standing - Elton John
Rocket Man - Elton John
Sacrifice - Elton John
Someone Saved My Life Tonight - Elton John
Tiny Dancer - Elton John
Dancing Queen - ABBA
Fernando - ABBA
Knowing Me Knowing You - ABBA
Mamma Mia - ABBA
Money Money Money - ABBA
Super Trouper - ABBA
Take a Chance on Me - ABBA
Thank You for the Music - ABBA
The Name of the Game - ABBA
The Winner Takes it All - ABBA
Waterloo - ABBA
Musicals (Andrew Lloyd Webber)
As if We Never Said Goodbye - Sunset Boulevard
Close Every Door - Joseph
Don`t cry For Me Argentina - Evita
Love Changes Everything = Aspects of Love
Memory - Cats
The Phantom Of The Opera
Pie Jesu - Requiem
Superstar - Jesus Christ Superstar
Unexpected Song - Song & Dance/ Tell Me on a Sunday
Whistle Down the Wind
Latin
Libertango - Astor Piazzolla
La Cucaracha
Ay Ay Ay
La Bamba
Cielito Lindo (Mexican Hat Dance)
Guantanamera (Rumba)
Habanera (tango)
El Manisero
Song of the Jet (Bossa Nova)
Volare
Wave - Antonio Carlos Jobin
Todos Buenos Aires - Astor Piazzolla
James Bond
Diamonds Are Forever
For Your Eyes Only
From Russia With Love
Goldfinger
James Bond Theme
Live and Let Die
Nobody Does it Better
On Her Majexty`s Secret Service
Thunderball
Tomorrow Never Dies
The World Is Not Enough
You Only Live Twice
Astor Piazzolla:
Ausencias
SinRumbo
Los Suenos
Milonga for three
Milonga picaresque
Street Tango
Vuelvo al sur
Mumki
Ouverture
Duo 1
Libertango
Chinese Violin Solos
Irish jigs and Reels