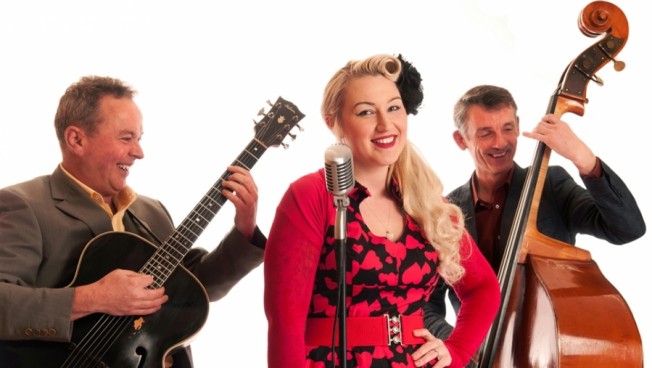 Location Lincolnshire
Starting from £720.00

S'Wonderful are a fantastic 3 piece jazz trio based in Lincolnshire, who provide stylish musical ambience to weddings, parties and corporate events.
Listen




Number of Reviews and Counting... 1!
With a natural rapport and a passion for jazz, this ensemble works seamlessly together. Their excellent musicality combined with charismatic performances are wonderful to watch and listen to.
Playing a mixture of classic jazz and more modern numbers, S'Wonderful will bring style and sophistication to any event.
All members of S'Wonderful are professional musicians and have a long list of impressive credentials. Having worked with some of the top names in jazz and pop, including Jamie Cullum, Kenny Wheeler, Blur & The Drifters, their professionalism is unrivalled
S'Wonderful can provide the perfect musical accompaniment to drinks receptions, parties and corporate events.
For sparkling entertainment, book S'Wondeful today!
The nucleus of S'Wonderful comprises:
Female Vocals
Guitar
Double Bass
Additional instruments such as Trumpet, Saxophone, Accordian and/or Drums can be added to enhance the trio option.
All of me
At Last
Autumn leaves
Big bad handsome man
Chega de saudade
come away with me
Crazy Rhythm
Cry me a river
C'est ci bon
Do nothing til you hear from me
Dream a little dream of me
Exactly like you
Everytime we say goodbye
Frim fram sauce
Georgia on my mind
You're getting to be a habit with me
How insensitive
Hit the road Jack
I can't give you anything but love
I don't know enough about you
I love Paris
It had to be you
It don't mean a thing
I've got to see you again
Let there be loveLa vie en rose
Mad about the boy
My funny valentine
No regrets
September in the rain
Somewhere over the rainbow
Summertime
Sweet Sue
S'wonderfulThe nearness of you
The girl from Ipanema
Them there eyes
There aint nobody here but us chickens
There is no greater love
Til there was you
Too marvelous for words
Too darn hot
Turn Me On
Why Don't You Do Right
Emma Hainsworth

, Wedding, Rutland
Very happy with everything.
---
2 x 60s, 3 x 40s or similar to suit the event.
Please Note: The fees indicated below are approximate and based on a central location for each county. They are intended to provide a rough guide only and exact quotes can only be given once the date and exact location of your event have been provided.
Scotland
Aberdeen
£1,200.00
Inverness
£1,440.00
Perth
£1,440.00
Sutherland
£1,440.00
Ayrshire
£1,200.00
Fife
£1,200.00
Stirlingshire
£1,440.00
West Lothian
£1,440.00
Dumfries-shire
£1,200.00
East Lothian
£1,200.00
Lanarkshire
£1,440.00
Midlothian
£1,440.00
Glasgow
£1,200.00
Edinburgh
£1,200.00
Foreign Locations
Europe
£2,400.00
Rest of the world
£3,600.00
North East
Durham
£840.00
Northumberland
£960.00
North Yorkshire
£840.00
South Yorkshire
£780.00
Tyne and Wear
£960.00
West Yorkshire
£780.00
Yorkshire
£780.00
East Yorkshire
£780.00
Leeds
£840.00
North West
Cheshire
£960.00
Cumbria
£960.00
Manchester
£840.00
Lancashire
£840.00
Merseyside
£960.00
Liverpool
£960.00
East Midlands
Derbyshire
£840.00
Leicestershire
£960.00
Lincolnshire
£840.00
Northamptonshire
£840.00
Nottinghamshire
£720.00
Rutland
£840.00
East
Cambridgeshire
£960.00
Norfolk
£840.00
Suffolk
£960.00
Norwich
£840.00
Wales
Anglesey
£1,200.00
Caernarvonshire
£1,200.00
Denbigh
£1,200.00
Flint
£1,200.00
Cardigan
£1,200.00
Brecon
£1,200.00
Carmarthen
£1,200.00
Glamorgan
£1,200.00
Monmouth
£1,200.00
Pembroke
£1,200.00
Wrexham
£1,200.00
Cardiff
£1,200.00
West Midlands
Gloucestershire
£960.00
Herefordshire
£960.00
Shropshire
£960.00
Staffordshire
£960.00
Warwickshire
£960.00
Worcestershire
£960.00
Birmingham
£960.00
South East
Bedfordshire
£960.00
Berkshire
£960.00
Buckinghamshire
£960.00
East Sussex
£1,080.00
Essex
£960.00
Hampshire
£1,200.00
Hertfordshire
£1,080.00
Isle of Wight
£1,200.00
Kent
£1,020.00
Oxfordshire
£1,080.00
Surrey
£1,200.00
Sussex
£1,200.00
West Sussex
£1,200.00
London
£1,200.00
Middlesex
£1,080.00
South West
Cornwall
£1,200.00
Devon
£1,200.00
Dorset
£1,200.00
Somerset
£1,200.00
Wiltshire
£1,200.00
Bath
£1,200.00
Bristol
£1,200.00