The Beatles - The Beatalls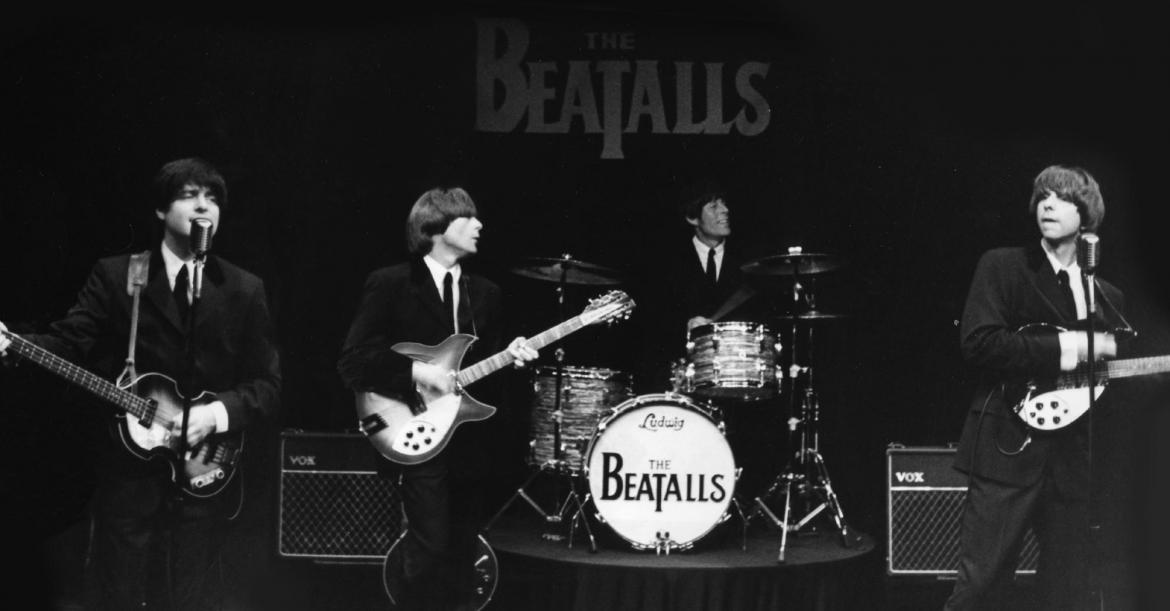 Location Leicestershire
Starting from £1,380.00
The Beatalls are four experienced musicians and true Beatle fans.
They play the music of The Beatles accurately using the same vintage equipment as the original fab foursome.
This band put on a stunning show with each individual taking on the correct parts of John, Paul, George and Ringo.
Their sets can be designed to complement all types of event with Beatles songs
The Beatles - The Beatalls
Number of Reviews and Counting... 2!
It's great when an act conjures up the sound and image of The Beatles, but can any band begin to generate the excitement and energy of the original Fab Four? The Beatalls get closer than most, evidenced with front-page coverage in Liverpool's press after capturing the imagination of the crowds during the Mathew Street Festival.
Not that audiences have to imagine too hard. These four lads have earned their many rave reviews by being "stunningly exact to the recordings". As you might expect, they pay equal, meticulous attention to their gear too. But suggesting the atmosphere of those heady, groundbreaking 60's takes more than just attention to detail.
Before performing at the Cavern last year, "Paul" described the band's passion for The Beatles music as part of an interview for BBC radio. "We love playing The Beatles and to do it at the Cavern is a dream come true. It's so exciting to be part of this great Liverpool music event". This passion was obvious to all who saw The Beatalls that evening and throughout the festival. It will continue to be displayed in all The Beatalls performances, because as far as they are concerned, it is the extra ingredient for creating the total Beatle experience.
4 Piece Band of John, Paul, George and Ringo
The Beatalls typically deliver a great selection of the hits as well as many of The Beatles well known album tracks. The Beatalls have an extensive repertoire so can tailor their sets to the needs of the customer.
Owen and June Epstein

, Private Party, London
Was an unusual gig for them. Andy was so easy to work with. Although their music was a gentle backdrop to the memorial evening, a number of people commented on how good they sounded and how appropriate they had kept their presence. Please let them know that we appreciated their role and we are now great fans. If anyone needs a reference, would be happy to support the Beatalls and if June and I ever have a party, we know who to invite. And thanks for your support.
---
Simon Poole - Radio 2

, Venue Club, Leicestershire
The Beatalls are phenomenal and I'd recommend them to anyone. Such incredibly realistic performances and their attention to detail is second to none...
---
The Beatalls have been asked to Liverpool on many occasions including a concert to 13,000 in Chevasse Park.
Here are just a few of the many venues the Beatalls have performed at; The Cavern Club - Liverpool, The Adelphi Hotel – Liverpool, The Docks Nightclub (Opening J. Lennon Airport) - Lisbon, Portugal, Shiek Reshida Auditorium – Dubai, The Singapore Formula 1 Grand Prix paddocks, numerous outdoor events (National Trust sites etc.), Nottingham University, Leicester University, Oxford University, Derby University, Hull University, Leeds University, Loughborough University, Merton College – Oxford, Exeter College – Oxford, two separate stints in Buenis Aires - Argentina, many theatres across UK, Leicester and Lincoln racecourses, Reghed Underground Village – Penrith, The Ramada Hotel – Manchester, The Print Works – Manchester, Glen Eagles Golf Club and Hotel – Scotland, The Commodore International – Nottingham, Rock City – Nottingham, The Maze – Nottingham, Sgt Peppers – Derby, numerous stately homes and hotels across the UK...
We undertake numerous events, parties and functions across the UK and beyond and provide a very thorough and professional approach to guarantee a successful evening. Most importantly we provide a very authentic Beatles show, performing from a huge repertoire of Beatles numbers and incorporating costume change to reflect different periods of The Beatles music too.
Excellent sound quality with volume appropriate to the venue is a major consideration and we deliver the right level of impact regardless of the event size as we have a selection of sound systems. We ensure customer satisfaction by bringing our own pro sound engineering team so there is full control whilst we play, we also have our own band lighting to complete the live music atmosphere.
Our experience means we are always conscientious once set up and conduct ourselves with respect to our surroundings and clients. The band has Public Liability insurance and we have PAT certification for our electrical equipment.
Typically, The Beatalls perform two separate sets of up to an hour each with costume changes too, but they can deliver more sets or a single show performances depending upon customer requirements.
Please Note: The fees indicated below are approximate and based on a central location for each county. They are intended to provide a rough guide only and exact quotes can only be given once the date and exact location of your event have been provided.
North East
Durham
£1,500.00
Northumberland
£1,620.00
North Yorkshire
£1,560.00
South Yorkshire
£1,410.00
Tyne and Wear
£1,620.00
West Yorkshire
£1,500.00
Yorkshire
£1,500.00
North West
Cheshire
£1,440.00
Cumbria
£1,620.00
Manchester
£1,440.00
Lancashire
£1,500.00
Merseyside
£1,440.00
East Midlands
Derbyshire
£1,380.00
Leicestershire
£1,380.00
Lincolnshire
£1,410.00
Northamptonshire
£1,410.00
Nottinghamshire
£1,380.00
Rutland
£1,410.00
East
Cambridgeshire
£1,410.00
Norfolk
£1,500.00
Suffolk
£1,500.00
Wales
Cardigan
£1,530.00
Brecon
£1,530.00
Carmarthen
£1,620.00
Glamorgan
£1,530.00
Monmouth
£1,500.00
Pembroke
£1,620.00
West Midlands
Gloucestershire
£1,410.00
Herefordshire
£1,410.00
Shropshire
£1,410.00
Staffordshire
£1,410.00
Warwickshire
£1,410.00
Worcestershire
£1,410.00
South East
Bedfordshire
£1,410.00
Berkshire
£1,410.00
Buckinghamshire
£1,410.00
East Sussex
£1,560.00
Essex
£1,500.00
Hampshire
£1,560.00
Hertfordshire
£1,410.00
Kent
£1,560.00
Oxfordshire
£1,410.00
Surrey
£1,560.00
Sussex
£1,560.00
West Sussex
£1,560.00
London
£1,560.00
Middlesex
£1,560.00
South West
Dorset
£1,500.00
Somerset
£1,500.00
Wiltshire
£1,500.00