The Cheshire Wedding Harpist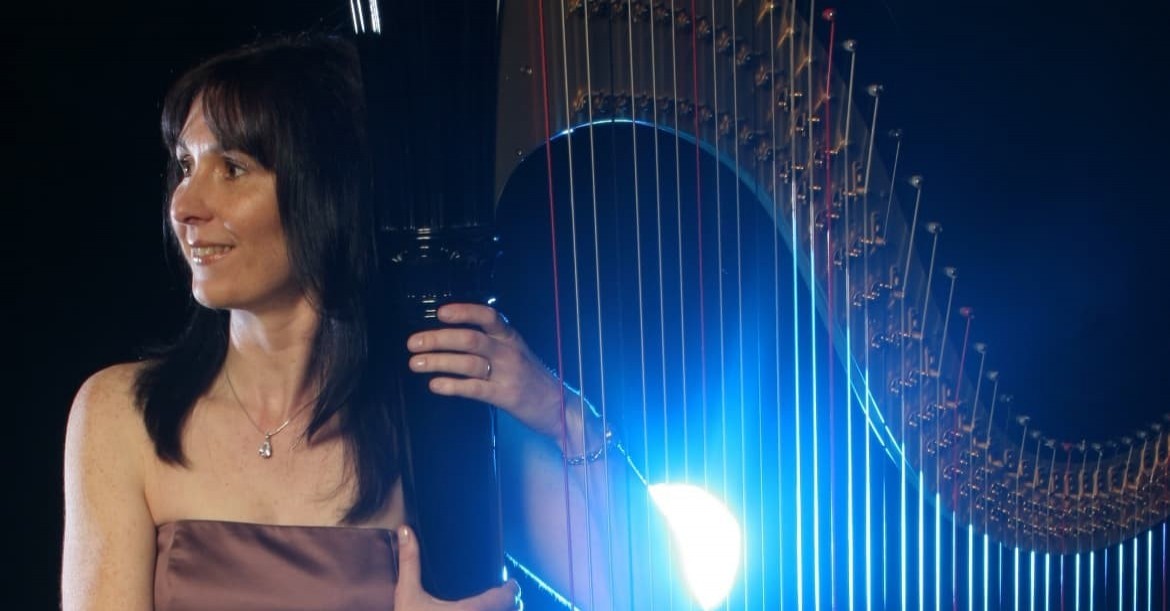 Location Cheshire
Starting from £270.00
The Cheshire Wedding Harpist is a professional harpist of many years experience, available for weddings and functions in Cheshire, Merseyside, Greater Manchester, Lancashire, Shropshire, Staffordshire and North Wales.
She offers a wide repertoire of music in different styles from classical, to Celtic, to modern, tailored for the particular special occasion and helping to create the perfect ambience for your event.
*Based in the North West, The Cheshire Wedding Harpist is a highly sought after Wedding Harpist... Book early*
The Cheshire Wedding Harpist
Number of Reviews and Counting... 13!
Having gained a Bachelor of Music degree from Edinburgh University in 1984, The Cheshire Wedding Harpist continued her studies on the harp with renowned harpists Eira-Lynn Jones and Elinor Bennett, to achieve a Performers' Diploma (DipABRSM), followed by a Masters degree at the University of Wales in harp performance and the study of music of the Celtic countries.
Whatever the occasion, this Harpists' musicianship and professionalism are always very well-received, as can be seen from the many testimonials by delighted previous clients.
Classical
Air on a G String (Bach)
Allegro (Handel)
Au Bord du Ruisseau (Renie)
Ave Maria (Schubert)
Balcony Scene (from 'Romeo and Juliet') (Craig Armstrong)
Canon in D (Pachelbel)
Cavatina (Myers)
Chaconne (Clarke)
Chanson dans la Nuit (Salzedo)
Flower Duet (Delibes)
Gabriel's Oboe (from 'The Mission') (Morricone)
Gymnopedie No. 1 (Satie)
'Hornpipe' from 'Water Music' (Handel)
I Giorni (Ludovico Einaudi)
Largo from 'Winter', from 'The Four Seasons' (Vivaldi)
'Morning' from Peer Gynt (Grieg)
Nocturne (Glinka)
Passacaille (Handel)
Pavane (Fauré)
Pie Jesu (Lloyd Webber)
Prelude in C (J S Bach)
Prelude No. 3 (Tournier)
Rhapsody on a Theme of Paganini, 18th Variation (Rachmaninoff)
Ricordo Ancor ('Pelagia's Song' from 'Captain Corelli's Mandolin') (Warbeck)
River Flows in You (Yiruma)
'The Godfather' Love Theme (Nino Rota)
The Queen of Sheba (Handel)
Time to Say Goodbye (Con te partirò) (Sartori)
To a Wild Rose (MacDowell)
Popular / Easy Listening
A Thousand Years (from 'The Twilight Saga - Breaking Dawn') (Christina Perri)
A Whiter Shade of Pale (Procol Harum)
A Whole New World (from Disney's 'Aladdin') (Menken)
All I Ask of You (from 'Phantom of the Opera') (Lloyd Webber)
All of Me (John Legend)
All the Things You Are (Kern/Hammerstein)
Always (Jon Bon Jovi)
Amazed (Lonestar)
And I Love Her (The Beatles)
Aniron (from 'Lord of the Rings') (Enya)
Annie's Song (John Denver)
Beauty and the Beast (Menken)
Blue Moon (Rodgers/Hart)
Can't Help Falling in Love (Elvis Presley)
Can You Feel the Love Tonight? (from Disney's 'The Lion King') (Elton John)
Cavatina (Myers)
Circle of Life (Elton John)
Clocks (Coldplay)
Crazy Little Thing Called Love (Queen)
Endless Love (Lionel Ritchie)
Evening Falls (Enya)
Everything I Do (Bryan Adams)
Fields of Gold (Sting)
Flightless Bird, American Mouth (from 'The Twilight Saga: Breaking Dawn') (Samuel Beam)
For the Love of a Princess (from 'Braveheart') (Horner)
From This Moment On (Shania Twain)
Greatest Day (Take That)
Have I Told You Lately That I Love You? (Van Morrison)
Heaven (Bryan Adams)
Hedwig's Theme (from 'Harry Potter') (Williams)
Hey Jude (The Beatles)
How Long Will I Love You? (Ellie Goulding)
I Get a Kick Out of You (Porter)
I Giorni (Ludovico Einaudi)
I'm Yours (Jason Mraz)
In My Life (The Beatles)
Into the West (from 'Lord of the Rings') (Shore/Walsh)
I Won't Give Up (Jason Mraz)
Kissing You (from 'Romeo and Juliet') (Des'ree)
Love Me Tender (Elvis Presley)
Married Life (theme from Disney/Pixar's 'Up') (Giacchino)
Marry You (Bruno Mars)
May It Be (Enya)
Moon River (Mancini/Mercer)
My Heart Will Go On (from 'Titanic') (Horner)
North (the 'Visit Scotland' advert) (Paul Mounsey)
Nothing Else Matters (Metallica)
One Day Like This (Elbow)
Over the Rainbow (Arlen/Harburg)
Paradise (Coldplay)
Right Here Waiting (Richard Marx)
River Flows in You (Yiruma)
Skyfall (Adele)
The Last Thing On My Mind (Tom Paxton)
The Wind Beneath My Wings (Henley/Silbar)
Think of Me (from 'Phantom of the Opera') (Lloyd Webber)
Time to Say Goodbye (Con te partirò) (Sartori)
To Make You Feel My Love(Dylan/ Adele cover)
Truly Madly Deeply (Savage Garden)
Unchained Melody (North/Zaret)
Waterfall (Stone Roses)
Watermark (Enya)
What a Wonderful World (Louis Armstrong)
Wherever You Are: The Military Wives' Prayer (Mealor)
Wonderful Tonight (Eric Clapton)
You'll Never Walk Alone (Rodgers/Hammerstein)
You Raise Me Up - Westlife (Lovland/Graham)
Your Song (Elton John)
You're Beautiful (James Blunt)
You're Still the One (Shania Twain)
Traditional Music of the British Isles
Andowin at da Bow (Trad.)
Ar Lan y Môr (Trad.)
Berwyn (Delyth Evans)
Bugeilio'r Gwenith Gwyn (Watching the Wheat) (Trad.)
Calon Lan (James/Hughes)
Cariad Pur (True Love) (Delyth Evans)
Carolan's Concerto (O'Carolan)
Carolan's Welcome (O'Carolan)
Cockles and Mussels (Trad.)
Cruit gun Cheis, Ceall gun Aba (A Harp without a Key) (Kennedy)
Dafydd y Garreg Wen (David of the White Rock) (Trad.)
Danny Boy (Trad.)
Don Oiche Ud I mBheithil (The Night in Bethlehem) (Trad.)
Down by the Salley Gardens (Trad.)
Eleanor Plunkett (O'Carolan)
Give Me Your Hand (Trad.)
Greensleeves(Trad.) C
Lament for a Blind Harper (Stevenson)
Last Rose of Summer (Trad.)
Llety'r Bugail ('The Shepherd's Abode') (Trad.)
Llydaw (Brittany) (Trad.)
Lord Galway's Lamentation (O'Carolan)
Merch Megan (Megan's Daughter) (Trad.)
My Lagan Love (Trad.)
My Love is Like a Red, Red, Rose (Trad.)
Och Nan Och, 'smi fo leireadh (Trad.)
Scarborough Fair (Trad.)
She Moved Through the Fair (Trad.)
Suo Gân (Trad.)
The Ancient Sports of the Glen (Trad.)
The Bard of Armagh (Trad.)
The Fields of Athenry
The Galway Piper (Trad.)
The Lark in the Clear Air (Trad.)
The Last Rose of Summer
The Leaving of Liverpool (Trad.)
The Mermaid's Song (Trad.)
The Swan (McKay)
The Walls of Liscarroll (Trad.)
Walsh's Hornpipe (Trad.)
Y Deryn Pur (The Gentle Bird) (Trad.)
Bollywood / Asian
Chukar Mere Manko
Chura Liya Hai
Guzaarish
Kal Ho Naa Ho
Khabi Kushi Khabi Ghum
Kuch Kuch Hotha Hai
Meri Mehbooba
Om Jai Jagdisha Hare
Pehla Nasha
Pehli Nazar Mein (from 'Race')
Piyu Bole
Pyar Diwana Hota Hai
Tuje Dekha To Ye Jaana Sanam
Tujhko Jo Paya
Tum Hi Ho (from 'Aashiqui 2')
Jewish
Artsa Alinu
Chorsha ha Eucaliptus
Dodi Li ('I Am My Beloved's')
Erev Shel Shoshanim
Hava Nagila
Hevenu Shalom
Hine Ma Tov
Jerusalem of Gold
Kadosh
Kozatzke
L'cha Dodi
Mi Yitnami Of
Oseh Shalom
Sh'ma Yisroeyl
Sunrise, Sunset (from 'Fiddler on the Roof') (Bock/Harnick)
Christmas Repertoire
Away in a Manger
Have Yourself a Merry Little Christmas
In the Bleak Midwinter
Silent Night
Walking in the Air
We Three Kings of Orient Are
When a Child is Born
White Christmas
Richard Morgan

, Wedding, Inglewood Manor, Cheshire, Cheshire
The Cheshire Wedding Harpist was simply fantastic. We selected our music for the Wedding ceremony, then left the rest of the choices to her experience and we are so glad we did, many of our guests told how much they really enjoyed her performance. Highly recommend.
---
David and Cora

, Wedding, Nottinghamshire
I would like to take this opportunity to say a huge thank you on behalf of Cora and I for last Friday. All of our guests have said how fantastic it was and how nice it was to have a touch of class to the proceedings. We couldn't have asked for more.
---
Vanda McParlin

, Wedding, Inglewood Manor, Cheshire, Cheshire
Five Stars!
---
Sarah Goodier

, Wedding, Vale Royal Abbey, Cheshire
Excellent service, even when my original harpist had to cancel I never felt stressed as you reassured me you would find a replacement within a short space of time you had.
---
Jonathan Bulmer

, Wedding, Cheshire
Very professional, friendly and talented. She helped make our wedding day extra special.
---
Stuart Warburton

, Wedding, Merseyside
The Cheshire Wedding Harpist made our wedding magical. The beautiful music gently filled the room to make for a magical ambiance. We can not recommend highly enough the magic that the harp music brought to our wedding. Thank you so much.
---
Hayley

, Wedding, Cheshire
Sorry for the late message as I have been on my honeymoon. Just wanted to say a massive thank you. Everyone really enjoyed you playing at our wedding. Just a shame I had to have so many photos done so couldn't listen to you as much as I wanted!!!! Thanks again.
---
Emma Johnson

, Wedding, Manchester
Hi Matt, would just like to say thank you to The Cheshire Wedding Harpist for doing such a perfect job on my wedding day, can you please pass on my thanks to her as unfortunately I did not get to thank her in person and feel quite bad about that.
---
Joanne Mccarthy

, Wedding, Cheshire
Absolutely amazing harpist. We had so many compliments about her, she was sensational xxxx
---
Cara Smith

, Wedding, Shropshire
As the bride I was very nervous but once the music began I suddenly felt quite calm and collected. Quoting my new in laws, The Cheshire Wedding Harpist played "beautifully" and was "absolutely fabulous" :) thank you so much, the music made our whole experience magical.
---
Katie Howarth

, Wedding, Clwyd
We hired The Cheshire Wedding Harpist for our wedding. We wanted something to entertain our guests whilst we had our pictures taken, and I must say she entertained From start to finish. The variety of music she played was exceptional. Our guests could not praise her enough. She was very professional throughout and made everyone feel at ease. We highly recommend The Cheshire Wedding Harpist for any event, she was absolutely brilliant. Thank you.
---
Lyndsey Marie Sweeney

, Wedding, Flint
The Cheshire Wedding Harpist added a wonderful touch to our wedding ceremony, she played as our guests arrived until after our ceremony. She was very easy to book through Warble and made contact with me at the expected time. She was very friendly and a pleasure to have playing at our ceremony. She was able to offer a wide range of musical choices from classic to modern and played these exceptionally well. I would recommend her to anyone.
---
Steve and Jilly Bartell

, Wedding, Shropshire
Hi Matt, Jilly and I just wanted to say what a difference it made to our day having the wonderful Cheshire Wedding Harpist playing the harp, and the evening entertainment done by Adrian, they both in their own way made our day perfect. And please thank Adrian for our wedding CD what a lovely thought. And lastly how over the last couple of months, how helpful you have been Matt. Thank you once again, our kindest regards.
---
The Cheshire Wedding Harpist has established a busy and successful career as a freelance harpist, with such diverse engagements as a cocktail evening for the Duke of Westminster to a Valentines' 'Singles Evening' for Safeway Supermarket, as well as numerous weddings and corporate events.
Weddings
Choosing the perfect music is a very important part of your wedding day. Of all the instruments, the harp really comes into its own in helping to achieve the right ambience, turning your special day into a graceful and emotional occasion that you and your guests will remember forever.
Creating a relaxed, calm atmosphere when played before and during the Ceremony, the harp will lend an air of simple elegance, enhancing those special moments with its rich, romantic sound and dramatic visual impact.
After the Ceremony, its beautiful tones will permeate unobtrusively while guests mingle and chat during the Champagne Reception and/or Wedding Breakfast.
The following packages are available:
- Ceremony (approx. 25-60 mins)
- Drinks Reception (1 hour)
- Wedding Breakfast (2 hours)
- Ceremony and Drinks Reception (approx. 2 hours from start of Ceremony)
- Drinks Reception and Wedding Breakfast (3 hours)
- Ceremony and Wedding Breakfast (approx. 4-5 hours from start of Ceremony, with break during Drinks Reception)

The Wedding Ceremony- For a church service, or a civil marriage/ partnership, music can be provided at the following points: prior to the Ceremony for the arrival of guests (about 10-15 minutes), for the entrance of the bride, the signing of the register and the exit of the couple. The choice of music is a personal one, though some suggestions may be found in the sample set list.
The Drinks Reception- The harp can help provide a focal point and interest and a welcoming ambience during this rather busy point in the day's proceedings, while guests are chatting and photographs are being taken. When the weather is warm it is possible to take the harp outside if that is where the guests are, provided there is a shady, warm and dry spot available, and that there is no threat of rain.
The Wedding Breakfast- The Chester Harpist will usually start playing during the 'receiving line', as guests are being individually greeted by the bride and groom before entering the room. She will then continue playing throughout the meal until coffee is served, taking one short break halfway.
Please Note: The fees indicated below are approximate and based on a central location for each county. They are intended to provide a rough guide only and exact quotes can only be given once the date and exact location of your event have been provided.
North East
North Yorkshire
£330.00
South Yorkshire
£312.00
West Yorkshire
£312.00
Yorkshire
£348.00
East Yorkshire
£360.00
Leeds
£318.00
North West
Cheshire
£270.00
Cumbria
£336.00
Manchester
£270.00
Lancashire
£282.00
Merseyside
£270.00
Liverpool
£270.00
East Midlands
Derbyshire
£300.00
Leicestershire
£366.00
Nottinghamshire
£324.00
Wales
Anglesey
£312.00
Caernarvonshire
£300.00
Denbigh
£270.00
Flint
£270.00
Cardigan
£324.00
Brecon
£336.00
Monmouth
£348.00
Wrexham
£270.00
West Midlands
Herefordshire
£330.00
Shropshire
£276.00
Staffordshire
£306.00
Warwickshire
£360.00
Worcestershire
£324.00
Birmingham
£336.00