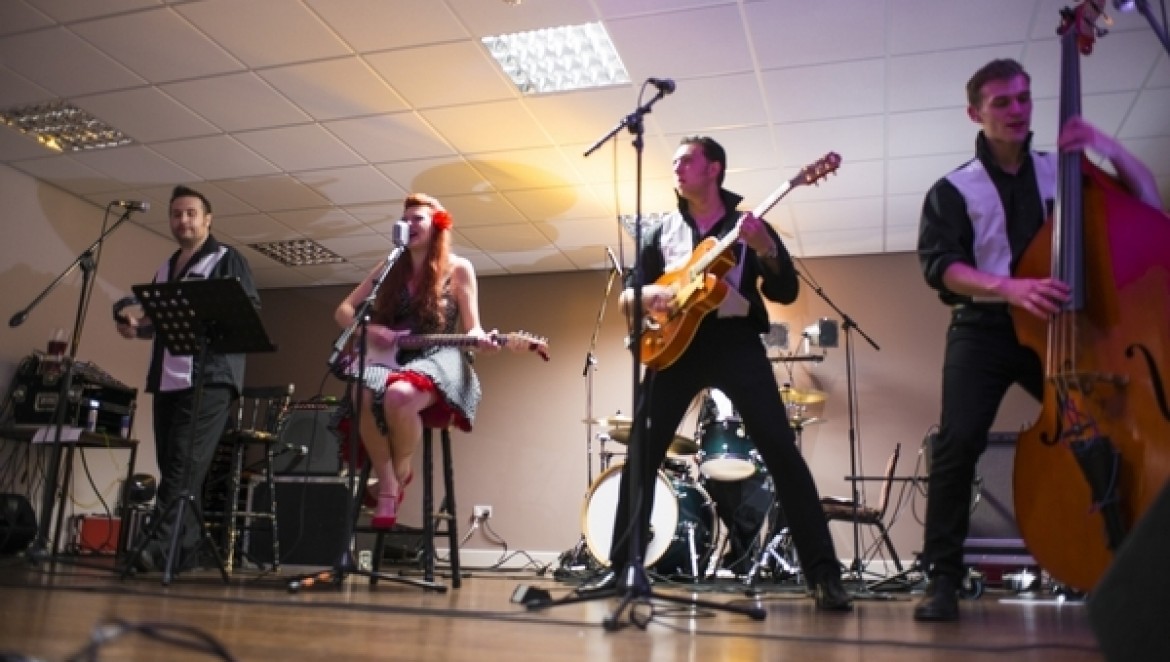 Location Leicestershire
Starting from £1,200.00
The Del Quiffs are a five piece Rock 'n' Roll style band who cover songs from the 1950's and 1960's.

The Del Quiffs cover songs from many artists and perform many different styles from back in the day including Rock 'n' Roll, Doo Wop, Rockabilly and the odd 60's rock and pop songs.
Number of Reviews and Counting... 4!
The Del Quiffs have been together for over 7 years and with extensive gigging all around the Midlands they have experience and know how to entertain a crowd.
The Del Quiffs are a young band playing old songs - songs which were originally performed by the younger generation and because of that, the band can deliver energetic and upbeat performances from it's musicians. The band are versatile and can adapt to most venues and spaces and have experience at all kinds of event. From weddings to corporate events, festivals to private parties, The Del Quiffs will bring the sound and style of the golden era to any event!
Lead Vocals
Lead Guitar & Backing vocals
Sound Engineer & Lead Backing
Bass Guitar, Double bass & Backing vocals
Drums
Repertoire Includes
Wipeout- The Safaris
Reet Petite -Jackie Wilson
Johnny B Goode - Chuck Berry
Hold Tight - Dave Dee, Dozy, Beaky, Mick & Titch
Dynamo - Si Cranstoun
Move It – Cliff Richard
Tear Me Up - Ricky Nelson
At The Hop - Danny and the Juniors
Wonderful World - Sam Cooke
Folsom Prison Blues - Johnny Cash
Why - The Cues
La Bamba - Richie Valens
Hippy Hippy Shake - The Swingin' Blue Jeans
Here Comes Me Baby - The Tremeloes
The Wanderer - Dion and The Belmont's
Price Of Love - The Everly Brothers
I Saw Her Standing There - The Beatles
Chantilly Lace – The Big Bopper
Hound Dog – Elvis Presley
Great Pretender – The Platters
Midnight hour - Wilson Pickett
Black Cadillac - Joyce Green
Train Kept A Rollin' –Johnny Burnett
Blue Suede Shoes - Elvis Presley
Gone Gone Gone - Charlie Feathers
Shake Rattle and Roll - Bill Haley and the Comets
Jelly Bean - Eddie Cochran
1950s Pin Up Girl - Si Cranstoun
The Twist - Chubby Checker
Roll Over Beethoven - Chuck Berry
Sara Griffiths

, Wedding, Birmingham
I genuinely don't know where to begin. The Del Quiffs were absolutely amazing and the complete highlight of our wedding. We asked a lot of them on the day and they delivered on every front. Even stepping in as judges for our baking competition which was above and beyond! Our guests were full of compliments for them at the end of the night as they completely blew everyone away. A massive thank you for learning a special song for me and my Dad. It meant a lot. A lot of people commented that I looked like I was having the time of my life dancing away and they weren't wrong. This is no ordinary Rock and Roll band. Full of energy, full of tricks and absolutely bursting with talent. Hire this band and you will never regret it!!
---
Daniela Laterza

, Wedding, London
Superb, just absolutely cracking. The thing you need to know about this band is how much energy they bring to the gig. It's hugely contagious and they had everyone up and dancing in under 5 minutes. Come the end of the gig we've seen the lead guitarist playing solos behind his head and leaping off the furniture, stonking drum solos, and pretty much all of the guests doing the Twist and Shout. Absolutely spot on in every respect, I lost track of how many people told me how good they were. They're also really nice people and turned up exactly when they would, set up and got out with very little fuss. They were really helpful with the pre-show stuff, picking out set-lists and confirming details, and even learnt a new song for our first dance. So yes, highly recommended. Hurry up and book them already.
---
Bryn Evans - Fresh Inns LTD

, Private Party, Denbigh
Really quick response and really helped me out for my cancelled band! The Del Quiffs were brilliant and everyone commented on how good they were. I will definitely use Warble again in the future. Thank you.
---
Ivan Ball

, Venue Club, Leicestershire
Thank you all for your great music - it was fantastic! Everyone we have spoken to said "WOW what a great band!" .Ivan and myself send you all a big hug for your donated time to our Air Ambulance Charity evening - you helped us make a great deal of money.The first time we heard you play we were smitten, but at our venue with the big concert room you looked and sounded wonderful. CHEERS GUYS.
---
Hermitage FM
Woodcote Steam Rally
NW Leicestershire District Council
Heather Music Festival
Mallory Park Racing Circui
The Ffestiniog & Welsh Highland Railways
HME Collective
Thringstone Music Festival
Royal British Legion Club
Saffron Lane Estate
Do the band have Sound and Lighting?
Yes, The Del Quiffs are completely self contained with a full sound set up suitable for most venues. We also have lighting that is fitting and sets the tone for the vibe we create onstage.
Are the band fully insured?
Yes, We can supply certification of Public Liability and Equipment Safety testing on booking confirmation.
What do I need to provide?
The band need a minimum of 2 x 13amp sockets and ample performance area.

Do the band provide music in between sets?
We supply music that's to a 50's and 60's theme that is play through the sound system through an Ipod before, inbetween and after all of our sets.
2 x 45 Minutes
3 x 30 Minutes
2 x 60 Minutes
Please Note: The fees indicated below are approximate and based on a central location for each county. They are intended to provide a rough guide only and exact quotes can only be given once the date and exact location of your event have been provided.
Scotland
Aberdeen
£1,500.00
Inverness
£1,500.00
Perth
£1,500.00
Sutherland
£1,500.00
Ayrshire
£1,500.00
Fife
£1,500.00
Stirlingshire
£1,500.00
Dumfries-shire
£1,500.00
East Lothian
£1,500.00
Lanarkshire
£1,500.00
Midlothian
£1,500.00
Glasgow
£1,500.00
Edinburgh
£1,500.00
Dundee
£1,500.00
Foreign Locations
Europe
£6,000.00
Rest of the world
£9,600.00
North East
Durham
£1,320.00
Northumberland
£1,320.00
North Yorkshire
£1,320.00
South Yorkshire
£1,320.00
Tyne and Wear
£1,320.00
West Yorkshire
£1,320.00
Yorkshire
£1,320.00
East Yorkshire
£1,320.00
Leeds
£1,320.00
North West
Cheshire
£1,200.00
Cumbria
£1,320.00
Manchester
£1,320.00
Lancashire
£1,320.00
Merseyside
£1,320.00
Liverpool
£1,320.00
East Midlands
Derbyshire
£1,200.00
Leicestershire
£1,200.00
Lincolnshire
£1,200.00
Northamptonshire
£1,200.00
Nottinghamshire
£1,200.00
Rutland
£1,200.00
East
Cambridgeshire
£1,320.00
Norfolk
£1,320.00
Suffolk
£1,320.00
Norwich
£1,320.00
Wales
Anglesey
£1,500.00
Caernarvonshire
£1,380.00
Denbigh
£1,380.00
Flint
£1,380.00
Cardigan
£1,380.00
Brecon
£1,380.00
Carmarthen
£1,380.00
Glamorgan
£1,380.00
Monmouth
£1,380.00
Pembroke
£1,380.00
Wrexham
£1,380.00
Cardiff
£1,380.00
West Midlands
Gloucestershire
£1,320.00
Herefordshire
£1,320.00
Shropshire
£1,320.00
Staffordshire
£1,320.00
Warwickshire
£1,320.00
Worcestershire
£1,320.00
Birmingham
£1,320.00
South East
Bedfordshire
£1,380.00
Berkshire
£1,380.00
Buckinghamshire
£1,380.00
East Sussex
£1,380.00
Essex
£1,380.00
Hampshire
£1,380.00
Hertfordshire
£1,380.00
Isle of Wight
£1,500.00
Kent
£1,380.00
Oxfordshire
£1,380.00
Surrey
£1,380.00
Sussex
£1,380.00
West Sussex
£1,380.00
London
£1,500.00
Middlesex
£1,380.00
South West
Cornwall
£1,500.00
Devon
£1,500.00
Dorset
£1,380.00
Somerset
£1,380.00
Wiltshire
£1,380.00
Bath
£1,380.00
Bristol
£1,380.00