Warble Entertainment's
The Honey B's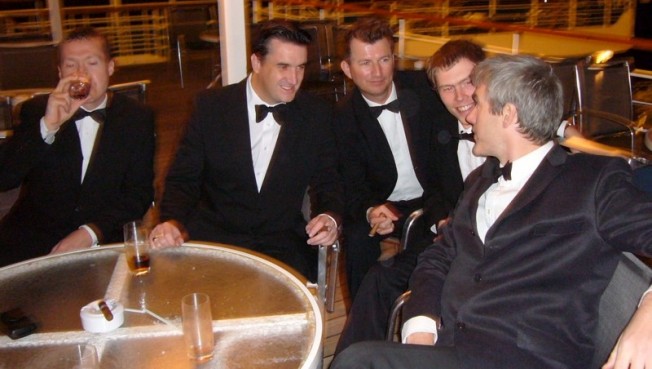 Location Lancashire
Starting from POA
Need a swing band for your wedding reception, private party or special corporate business event? Then The Honey B's are the swing band for you.
With their vast repertoire, these boys will keep you entertained.
They can keep the mood mellow with the smooth sound of Dominics unique voice, or pump up the sound for the party people.
Whatever you require, this band will deliver... with style... imagine, if you will, "two shots of Dean Martin croon, a slice of Frank Sinatra swing, blend that together with a healthy dash of good old Elvis ... Bang! you have it".
Highly Recommended!
1 reviews
Song List
Swingin'
Fly Me To The Moon
Sway
Come Fly With Me
Beyond The Sea
Mack The Knife
Volare
My Kind Of Girl
Just A Gigolo
Oh Marie
Amore
Nothing's Too Good
More
My Baby
Hey There
The Summer Wind
Isle Of Capri
Under My Skin
Simple Life
Blackbird
L.O.V.E.
Two Sleepy People
Pretend
Sit Right Down
Let Me Go
Fools Fall In Love
Love Letters
Pennies From Heaven
Secret Love
Careless Hands
On The St Where You Live
Easy

The Way You Look ToNight
Moon River
Mona Lisa
Nearness Of You
Girl From Ipanema
Berkley Square
Blue Moon
Stranger On The Shore
Story Of Love
True Love Ways
Slow Boat To China
Till There Was You
Perdido
I Get Along Without You
Miss Otis Regrets
Heart And Soul
Time After Time
I Know Why
Dream A Little Dream
A Tear
Let There Be Love
Perfidia
You Send Me
Fun

Quando Quando Quando
Can't Take My Eyes Of
You
Iko Iko
Buona Sera
Angelina Zooma
Americano
Night Train
Istanbul
Ugly Woman
Little Old Wine Drinker
Waltzing Matilda
Fever
Harlem Nocturne
Fireball XL-5
Leroy Brown
Gold Finger
Clementine
Gyp The Cat
Memories Are Made Of
This
Whisky Chaser
Bim Bam
South Of The Border
Little Egypt
Baby Elephant Walk
Birth Of The Blues
Mr Bojangles
Rock'n'Roll
Bossanova Baby
Splish Splash
Multiplication
Yeah Yeah
Return To Sender
Tequila
Dream Lover
My Girl
If I Had A Hammer
Rock Around The Clock
Great Balls Of Fire
Johnny B Good
Land Of 1000 Dancers
Such A Night
Things
Concrete And Clay
Reet Petite
See You Later Alligator
Wild Saxophone
Rock This Town
Latest Flame
Highway Patrol
Twist And Shout
She Was Just 17
Viva Las Vegas