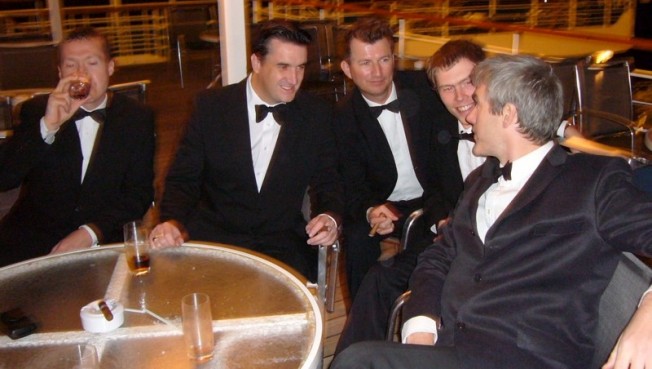 Location Lancashire
Starting from POA
Need a swing band for your wedding reception, private party or special corporate business event? Then The Honey B's are the swing band for you.
With their vast repertoire, these boys will keep you entertained.
They can keep the mood mellow with the smooth sound of Dominics unique voice, or pump up the sound for the party people.
Whatever you require, this band will deliver... with style... imagine, if you will, "two shots of Dean Martin croon, a slice of Frank Sinatra swing, blend that together with a healthy dash of good old Elvis ... Bang! you have it".
Highly Recommended!
Number of Reviews and Counting... 1!
This is Swing but not as you know it!
The Honey B's swingin' show-band have quickly established themselves as one of the most in-demand acts in the UK. Since bursting onto the scene in 2005, they have racked up an impressive list of show dates from Blenheim Palace to a headline show at the Abu Dhabi International Jazz Festival. Dominic and wing-man Nigel McGill have also firmly established themselves as the 'must have' act on the celebrity circuit with a client list including Simon Cowell and friends, West End stars Ruthie Henshall and Tim Howar, and the cast of Coronation Street amongst others. Throughout the UK their energetic floor show and swingin' rhythms have been featured at many corporate events for clients including Zurich Insurance, the Halifax (HBOS) and the World Refining Association.
Not just content to build an audience in the UK, Dominic and the Honey Bs jumpin' rhythms reached the USA and beyond in 2007 with their music featured on the soundtrack for Hollywood film Dorm Daze II and several American television series including Brothers and Sisters and MTV's hit show Runs House. Dominic's version of 'SWAY' was recently used in a new Russian movie "Hitler Kaput" and is also available on the soundtrack. Dominic has a long-standing reputation as one of the leading lights on the Australia Swing circuit. His weekly energetic shows at Sydney's Harbourside Casino from it's opening became part of Australia's musical landscape. Dominic's albums received extensive airplay on Australia's national radio network ABC Radio, and he was awarded the accolade of Best New Swing Club Act in 2002.
Dominic's reputation reached as far as the USA where he was invited to appear alongside Las Vegas stars for the New York launch of the largest cruise ship in the world - the Grand Princess. After seventeen years in Australia, Dominic bid farewell and returned to his native England but not before playing a farewell show at the Rugby World Cup Final in Sydney.
Dominic's new Musical Director and fellow Australian Nigel McGill gained recognition in the UK as conductor for the 2003 national tour of the Nelson Riddle Orchestra. He has worked as Musical Director in the UK and USA for artists such as Lorna Luft, Al Martino and Las Vegas star Bob Anderson and currently his big band performs nightly for the hit West End show 'Ratpack - Live from Las Vegas' at venues all over the UK and Europe. Nigel's distinctive saxophone playing has been featured in jazz ensembles, big bands and orchestras at festivals across the UK, Australia and Japan and has even been featured on the successful American hit show 24.
5 Piece- Male Vocals / Guitar, Saxophone, Drums, Double Bass, Piano / Keyboards
Plus, larger options available (ask your Agent at time of enquiry)
Swingin'
Fly Me To The Moon
Sway
Come Fly With Me
Beyond The Sea
Mack The Knife
Volare
My Kind Of Girl
Just A Gigolo
Oh Marie
Amore
Nothing's Too Good
More
My Baby
Hey There
The Summer Wind
Isle Of Capri
Under My Skin
Simple Life
Blackbird
L.O.V.E.
Two Sleepy People
Pretend
Sit Right Down
Let Me Go
Fools Fall In Love
Love Letters
Pennies From Heaven
Secret Love
Careless Hands
On The St Where You Live
Easy

The Way You Look ToNight
Moon River
Mona Lisa
Nearness Of You
Girl From Ipanema
Berkley Square
Blue Moon
Stranger On The Shore
Story Of Love
True Love Ways
Slow Boat To China
Till There Was You
Perdido
I Get Along Without You
Miss Otis Regrets
Heart And Soul
Time After Time
I Know Why
Dream A Little Dream
A Tear
Let There Be Love
Perfidia
You Send Me
Fun

Quando Quando Quando
Can't Take My Eyes Of
You
Iko Iko
Buona Sera
Angelina Zooma
Americano
Night Train
Istanbul
Ugly Woman
Little Old Wine Drinker
Waltzing Matilda
Fever
Harlem Nocturne
Fireball XL-5
Leroy Brown
Gold Finger
Clementine
Gyp The Cat
Memories Are Made Of
This
Whisky Chaser
Bim Bam
South Of The Border
Little Egypt
Baby Elephant Walk
Birth Of The Blues
Mr Bojangles
Rock'n'Roll
Bossanova Baby
Splish Splash
Multiplication
Yeah Yeah
Return To Sender
Tequila
Dream Lover
My Girl
If I Had A Hammer
Rock Around The Clock
Great Balls Of Fire
Johnny B Good
Land Of 1000 Dancers
Such A Night
Things
Concrete And Clay
Reet Petite
See You Later Alligator
Wild Saxophone
Rock This Town
Latest Flame
Highway Patrol
Twist And Shout
She Was Just 17
Viva Las Vegas
Pip & Anthony

, Wedding, West Yorkshire
We are just returned from our honeymoon and wanted to say an absolutely massive thank you for your fantastic set at our wedding on 3rd December. Beyond brilliant - was one of the best features of our day - we loved it - everybody loved it and we can't imagine our wedding without you. We will always remember it, and know that it kicked off a brilliant party in the best way possible - a massive surprise I think for most people, got them very much warmed up and into the party spirit, which is exactly what we were hoping for, but it totally exceeded our expectations. Really hope logistics worked out okay for you and that you weren't freezing in the barn! Lovely to meet you all, thanks for being so nice to us on the day despite potential high-maintenance involvement! Thank you very, very, very much!! And thank you Marie for your help and patience with my pre-wedding nerves! Happy Christmas to you all!
---
Recent clients include: ITV - Simon Cowell, Lord & Lady Devon, Cast of Coronation St, Claridges (London), Abu Dhabi Jazz Festival, West End Star Ruthie Henshall, Princess Cruises, Royal Flying Doctors Service, Make a Wish Foundation, The Grosvenor Hotel (London), Zurich Insurance, The Savoy (London), World Refining Association, Goodwood Festival of Speed.
Please Note: The fees indicated below are approximate and based on a central location for each county. They are intended to provide a rough guide only and exact quotes can only be given once the date and exact location of your event have been provided.