The Hugh Jorgan Ceilidh Band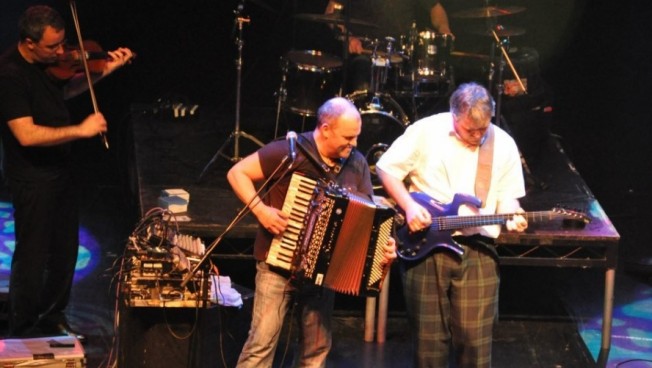 Location Glasgow
Starting from POA
The World's Rockiest Ceilidh Band
Scottish traditional reels and jigs with a rocky twist, the tunes mashed up with rock songs and riffs. The Dashing White Sergeant merged with Pink Floyd, Strip the Willow with Kasabian and Deep Purple and other grooves and feels. Extensive repertoire of traditional Ceilidh dances from jigs, reels, waltzes, marches. Full of surprises they have many unusual and bizarre ceilidh dances if you're up for it! All dances are professionally "called", and if you're all ceilidhed out, they have a repertoire of rock and pop covers, all played live with no backing tracks. All mistakes are real! This all done with a wicked sense of humour.
Tunes murdered, Guests insulted indiscriminately. No prisoners taken. Made in Scotland.
Listen




The Hugh Jorgan Ceilidh Band
Number of Reviews and Counting... 1!
The World's Rockiest Ceilidh Band.
The Hugh Jorgan Ceilidh Band have, for over a trillion years, been playing for weddings and events in some of the most prestigious venues at home and overseas. They've played for numerous A-list celebs, corporations and blue chip clients. If you want the very best ceilidh with top class professional musicians and a highly experienced dance caller then look no further. If you want a wild party with a Scottish flavour anywhere in the world, call your Warble agent. And if you can't handle a full-on Hugh Jorgan ceilidh for a whole evening there are the covers of great pop & rock songs, all played live. No cheesy backing tracks. It's like two bands rolled into one. With a unique approach to ceilidh music blending cajun and rock influences while still remaining solidly rooted in the Scottish tradition. It's all about sense of humour and everyone having a fantastic time.
With a state-of-the-art sound system, adaptable to suit small, intimate weddings and functions to large events in the biggest ballrooms. This, along with the very latest LED and laser stage lighting puts the icing on the cake ensuring that your event is a memorable one. All the favourite ceilidh dances are catered for as well as Scottish Country Dances if requested. Guests are talked through the steps of all ceilidh dances so that everyone can participate and nobody is left out. Call or email for a full list of dances and the latest setlist of pop and rock songs. The core is a 3-piece band with midi accordion (& vocals), guitar & drums (& vocals) but if you want to "go large" you can have the 4-piece band with a superb fiddler. Perfect for weddings, parties, graduation balls, festivals and corporate events.
David - Accordion, Midi, efx, Vocals, Dance Calling/MC
Gordon - Drums, Vocals
Tom - Guitar
Dave - Fiddle (option)
Ceilidh Dances
The Gay Gordons
The Grand March
Dashing White Sergeant
Canadian Barn Dance
Strip the Willow
Military Two-Step
St.Bernards Waltz
Eightsome Reel
Highland Schottische
Pride of Erin Waltz
Virginia Reel
Gaelic Waltz
Circassian Circle
Eve Three-Step
Cumberland Square Eight
Hoolihan's Jig (Hooligans' Jig!!)
The Flying Scotsman
Orcadian Strip the Willow
The Swedish Masquerade
The Riverside Jig
Circles Four
The Siege of Ennis
The band "call" or give instructions for all the above dances so that everyone is included. Most of the ceilidh dances are very easy to learn very quickly. So if you can't tell the difference between a Dashing White Sergeant and a Haggis Supper, the band's expert dance caller will have you reeling around the dancefloor like an expert!
The band also play for many Scottish Country Dances if guests know the steps. Some examples are:
Hamilton House
The Duke of Perth
Reel of the 51st Division
Songs
Crazy Little Thing Called Love - Queen
Upside Down - Paloma Faith
I Feel Fine - Beatles
Honky Tonk Women - Stones (Our own cajuny version..)
Another Brick in the Wall (mashup in Dashing White Sergeant set..)
Bad Moon Rising - Creedence Clearwater Revival
Satisfaction - Stones I Saw Her Standing There - Beatles
Ten out of Ten - Paolo Nutini
Pencil Full of Lead - Paolo Nutini
Chelsea Dagger - The Fratellis
Loch Lomond - A (bluesy/zydeco style)
Rockin all over the World - Status Quo
Caroline - Status Quo
Smoke on the Water- Deep Purple
Summer of 69 - Bryan Adams
Dakota - Stereophonics
Walk of Life - Dire Straits
Candy - Paolo Nutini
500 Miles - The Proclaimers
Highway To Hell - AC/DC
Norman Colville

, Wedding, Edinburgh
Davie, what can I say, you guys are the most amazing team, the whole night was absolutely fantastic, couldn't have asked for anything better. Only problem was I ran out of shoogleness and had to get a breather and realised I was missing more while I was outside, what a bummer! Please be assured that I will be giving out loads of recommendations, and I hope very much to hire your services again at some time in the future!
---
HJCB have played for Holywood A-listers and supermodels who cannot be named as well as large corporations, at home and overseas from Glasgow, London, Paris, Dubai, Abu Dhabi, Florence, Pisa, Moscow, St. Petersburg, Brussels, Baku, Bahrain and countless places in-between.
They've played at major festivals, product launches, St. Andrew Society balls, parliament openings, parties, parties, parties and numerous other excuses people have for a knees-up.
Do you have all your own equipment or do we need to supply anything?
We are completely self-sufficient with our own PA system and stage lights. Our PA is a state-of-the-art active sound system that can split into 3 different sizes to suit all venues from small, intimate venues, medium-sized function suites and halls up to the biggest ballrooms. Our stage lighting is a mixture of traditional tungsten "parcans", the latest LED pars and laser systems. All equipment is PAT tested for electrical safety, which is now a requirement for most of the quality venues. We do require 2 x 13A 240V sockets to power our systems.
Do you give instructions for the ceilidh dances?
Yes. Our expert caller will guide your guests through the steps of all the dances. So if you've never been to a ceilidh before and don't know the difference between a Dashing White Sergeant and a Haggis Supper our caller will have you shoogling around the floor like an expert in no time. At most functions there's a mixture of experienced dancers, novices and people who have never been to a ceilidh before. Our aim is to include everyone so each evening is treated individually, where, with our 17 years' experience enables us to strike the perfect balance between instruction, participation, insults and humiliation (!!) and participation. It's all done with a wicked sense of humour and in a relaxed and informal style. For some international corporate events our dance caller will actually demonstrate dances from the dancefloor with the help of a suitable volunteer and a headset radio microphone.
We also take pride in the fact that we can encourage guests on to the dancefloor even if they are a tad reluctant at first. Really – if we can't get a dancefloor filled – nobody can.
Do you play any music during the buffet break?
Yes, we have a portable CD Player and an iPod in our kit, which we use for playing background music during any breaks. We have some compilation playlists already made up but if you would like to make up one of your own on your iPod or mp3 player, we'll connect it to our sound system for you. This music can either be background music, or, if you wish, louder and more upbeat if you wish to create a disco atmosphere. If you do, we'll turn our LED stage lights around to light the dance floor and switch them on to "sound-to-light" to create the full disco effect.
Will you learn a tune or a song for our first dance?
Yes, we'll learn a tune for you if you have a specific request. Please give us as much notice as possible for this. For traditional Scottish tunes we can often sight-read and play them the first time we see them but it's better if we get to know them better to do them justice. Chances are we already know the tune anyway.If you want us to learn a song for your first dance that's usually ok too but we definitely need plenty notice because many songs have complicated arrangements with many parts since many "chart" bands use numerous musicians on their recordings. We have to adapt the arrangements to suit our instrumentation, which is more often the 3-piece band. However, people are always amazed at the full sound we produce with just the three of us. Occasionally we do have to say to clients that a particular song would be best left to the original artistes (we'd hate to murder a great song…) and the option is there to play the song from CD or iPod.
What's so unique about the band?
One of the unique things about us is that we can play pop/rock covers. Primarily, we are a ceilidh band so play all the ceilidh music and call the dances all night for a full evening's ceilidh if required. But, we can play a set of ceilidh tunes and a set of cover songs, or mix and match as the evening progresses. We can read a crowd and adapt our music each night to suit any event. We've years of experience so know instinctively how to adapt. There are very few bands that can play both styles properly and convincingly. We've heard some excellent covers bands who'll play a short ceilidh set during the evening but any we've heard were not able to play the ceilidh stuff very well. And we've heard excellent ceilidh bands that played some covers, and while their ceilidh stuff was right on the money, their cover songs were weak. We pride ourselves in being able to cover both bases extremely well. All that, of course, as well as our extremely professional approach, expert dance calling and compering, and of course our stunning good looks. Yes, and we're very modest.
We are the ideal party band.
The schedule varies depending on the type of booking. Typically, the band play from 8pm 'til Midnight with a 30 minute break for Weddings. Playing times for corporate events and other functions vary considerably so please give as much detail as possible when enquiring
Please Note: The fees indicated below are approximate and based on a central location for each county. They are intended to provide a rough guide only and exact quotes can only be given once the date and exact location of your event have been provided.