Warble Entertainment's
The Hugh Jorgan Ceilidh Band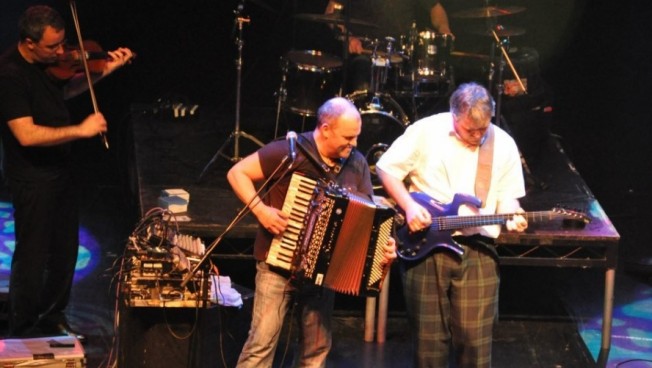 Location Glasgow
Starting from POA
The World's Rockiest Ceilidh Band
Scottish traditional reels and jigs with a rocky twist, the tunes mashed up with rock songs and riffs. The Dashing White Sergeant merged with Pink Floyd, Strip the Willow with Kasabian and Deep Purple and other grooves and feels. Extensive repertoire of traditional Ceilidh dances from jigs, reels, waltzes, marches. Full of surprises they have many unusual and bizarre ceilidh dances if you're up for it! All dances are professionally "called", and if you're all ceilidhed out, they have a repertoire of rock and pop covers, all played live with no backing tracks. All mistakes are real! This all done with a wicked sense of humour.
Tunes murdered, Guests insulted indiscriminately. No prisoners taken. Made in Scotland.
1 reviews
Listen




Song List
Ceilidh Dances
The Gay Gordons
The Grand March
Dashing White Sergeant
Canadian Barn Dance
Strip the Willow
Military Two-Step
St.Bernards Waltz
Eightsome Reel
Highland Schottische
Pride of Erin Waltz
Virginia Reel
Gaelic Waltz
Circassian Circle
Eve Three-Step
Cumberland Square Eight
Hoolihan's Jig (Hooligans' Jig!!)
The Flying Scotsman
Orcadian Strip the Willow
The Swedish Masquerade
The Riverside Jig
Circles Four
The Siege of Ennis
The band "call" or give instructions for all the above dances so that everyone is included. Most of the ceilidh dances are very easy to learn very quickly. So if you can't tell the difference between a Dashing White Sergeant and a Haggis Supper, the band's expert dance caller will have you reeling around the dancefloor like an expert!
The band also play for many Scottish Country Dances if guests know the steps. Some examples are:
Hamilton House
The Duke of Perth
Reel of the 51st Division
Songs
Crazy Little Thing Called Love - Queen
Upside Down - Paloma Faith
I Feel Fine - Beatles
Honky Tonk Women - Stones (Our own cajuny version..)
Another Brick in the Wall (mashup in Dashing White Sergeant set..)
Bad Moon Rising - Creedence Clearwater Revival
Satisfaction - Stones I Saw Her Standing There - Beatles
Ten out of Ten - Paolo Nutini
Pencil Full of Lead - Paolo Nutini
Chelsea Dagger - The Fratellis
Loch Lomond - A (bluesy/zydeco style)
Rockin all over the World - Status Quo
Caroline - Status Quo
Smoke on the Water- Deep Purple
Summer of 69 - Bryan Adams
Dakota - Stereophonics
Walk of Life - Dire Straits
Candy - Paolo Nutini
500 Miles - The Proclaimers
Highway To Hell - AC/DC