Warble Entertainment's
The Jive Aces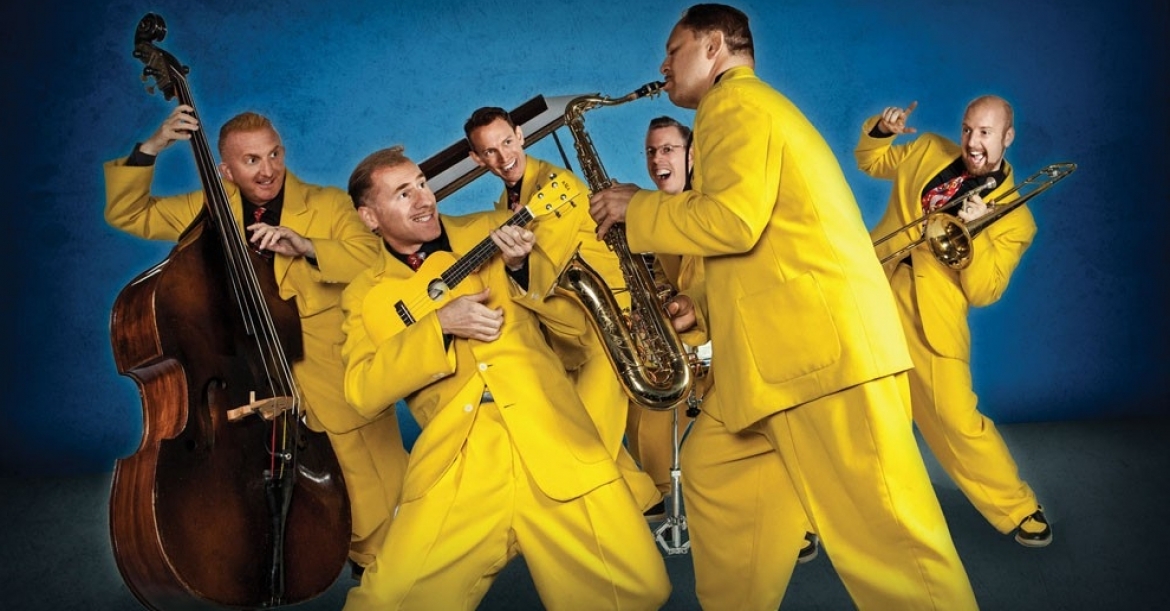 Location West Sussex
Starting from £4,200.00
The Jive Aces are the UK's top Jive & Swing band. Together for over a decade, this extremely popular six piece group have performed at thousands of festivals, theatres and events throughout the UK, Europe and USA, as well as Japan, Israel and the Caribbean, 30 countries in all. The Jive Aces are renowned for their high energy Jump Jive music (the exciting sound where Swing meets Rock 'n Roll) and spectacular stage show.
They combine a mixture of fresh arrangements of swing/Jive/R&B classics - songs made famous by such greats as Louis Prima, Cab Calloway, Bobby Darin, Louis Armstrong, Dean Martin, Big Joe Turner and Sammy Davis Jnr - along with a selection of superb swinging originals taken from their studio albums.
*Their repertoire stretches from the timeless tunes of the swing era, to the glitz and glitter of the Rat Pack along with a dash of rockin' Rhythm 'n' Blues* *Video in Full Profile*
1 reviews
Song List
The Jive Aces set includes a broad selection of swinging music, with songs made famous primarily in the 40's & 50's and all performed in The Jive Aces inimitable, high energy, style.
Accentuate The Positive
Ain't Misbehavin'
Ain't Nobody Here But Us Chickens
All Of Me
Basin Street Blues
Beyond The Sea
Big Noise From Winnetka
Blue Moon
Boogie Woogie Country Girl
Buona Serra
Caldonia
Chicken & The Hawk
Choo Choo Ch'Boogie
Danny Boy
Fever
Flyin' Home
Fly Me To The Moon
Giddy Up A Ding Dong
Hit The Road Jack
I Can't Give You Anything But Love
I'm Confessin'
In The Mood
Is You Is Or Is You Ain't My Baby?
It Don't Mean A Thing...
It Had To Be You
Jam Up
Jump, Jive & Wail
Just A Gigolo/I Ain't Got Nobody (Medley)
Lady Be Good
Lazy River
Lester Leaps In
Love Me Or Leave Me
Mack The Knife
Mambo Italiano
Minnie The Moocher
My Baby Just Cares For Me
Oh, Babe!
Oh, Marie!
Over The Rainbow
Pennies From Heaven
Rag Mop
Right Now, Right Now!
Rock & Roll Boogie
Route 66
Saint Louis Blues
Shake, Rattle & Roll
Shiek Of Araby
Sing, Sing, Sing
Singing In The Rain
Slow Boat To China
Sweet Georgia Brown
Summertime
Sunny Side Of The Street
Sway
Swingin' All Day
Tiger Rag
Volare
We'll Meet Again
Well Alright, Okay, You Win
When The Saints Go Marching In
When You're Smilin'
Original Songs Include:
Aces Swing
Clear Body, Clear Mind
Fish Fingers (The Professor's Boogie)
Imagination
I've Got Affinity For You
Jive Ace Boogie Woogie
Jive, Jive, Jive Aces
Long Distance Love Affair
Once More
Only Mugs Take Drugs
Planet Jive
Play On
Second Chance To Fly
Spectator
Start, Change & Stop
Three Cats Called Louis
Christmas Songs Include:
God Rest Ye Merry Gentlemen
I've Got My Love To Keep Me Warm
Jingle Bells
Let It Snow, Let It Snow, Let It Snow
Rockin' Around The Christmas Tree
Santa Claus Is Back In Town
White Christmas
White Hot Christmas