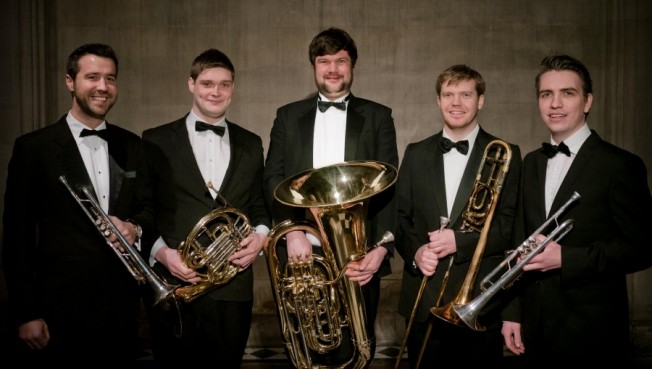 Location London
Starting from £990.00
The London Brass Quintet are a distinguished Brass Quintet, arranging & performing in multiple genres from Classical Standards right the way through to custom arrangements for TV & Film, perfect for any occasion.
Whether you're hosting a Wedding, Corporate Function, Private Exhibition or Background/Lobby, The London Brass Quintet provide a specifically tailored setlist to accommodate all your requirements for the event.
Number of Reviews and Counting... 2!
These five London brass musicians bring life to any event. With their unprecedented eye for detail and professionalism which sets them apart from the crowd, they come together to form the London Metropolitan Brass Quintet.
Like minded friends, Mark, David, Billy, Ryan and Kevin wanted to create a chamber music setting that brings the much loved sound of brass to your event. Exploring the possibilities of arranging some of your favorite tunes in TV, Film, Baroque masters, Classical works, marches, DixieLand, Big Band, The West End, and holiday favorites. The group has built an extensive library of repertoire suitable for any space at any time bringing the sound of brass to audiences up and down the UK.
A large part of the group's success has come from its unrivaled eye for detail and visual aspects of their performances. From Classical to Jazz, TV to the West End, LMBQ strive to create a uniquely engaging stage presence and rapport with audiences. Not only will you see precision to the highest level within their playing but a spontaneous love for what they are doing with an excitement within the group that comes with this chamber format.
Millions of people have already seen these fine individuals perform, be it on television, as part of a recording or maybe on one of London's West End stages. Playing with such artists as Sir Cliff Richard, Muse, Midnight Runners, Alexandra Burke, Tim Minchin, Craig David, Amy Pearson, Unkle, Pink Floyd the members of The London Brass Quintet are used to performing on some of the biggest platforms across the UK and Europe. Playing a diverse range of music is what makes these versatile musicians a real joy to watch as a chamber group. So it comes as no surprise that you will see them performing in London's West End on such shows as Jersey Boys, Legally Blonde, Spamalot, Dancing in the Streets, Rat Pack, West Side Story and Quadrophenia. On the Classical platform the group have made many appearances with some of the countries top orchestras including The Orchestra of the Royal Opera House, Covent Garden, Royal Philharmonic Orchestra, BBC National Orchestra of Wales, Bournemouth Symphony Orchestra, The Irish Film orchestra, RTE and the London Chamber Orchestra.
The London Brass Quintet is currently artist in residence at St John's the Divine in Kennington, London, working hard to develop projects within the local community where music is so alive amongst the youth community. With all members of the group receiving education at London's top music colleges The London Brass Quintet see education as a key part to what they do. On their travels they often pause to give master classes and teach young students and audiences about the music that they play.
With a very successful year under their belt, The London Brass Quintet are looking forward to a busy year bringing joy to many people throughout 2013. They look forward to seeing you at an event near you very soon!
Brass Quintet:
2 x Trumpets
French Horn
Trombone
Tuba
Classical
Barber Of Seville Overture
Music For The Royal Fireworks
Handel's Water Music
Music Hall Suite
Olympic Fanfare & Theme
Praeludium
Quintet No. 1 - Arnold
Quintet No. 1 - Ewald
Quintet No. 3 - Ewald
A Night On A Bare Mountain
Adagio
Divertissement
Embraceable You
Folk Song Suite
Frere Jacques
Fugue In G Major
Arrival Of The Queen Of Sheba
Ceremonial Suite
Jerusalem
Vivace Violin Concerto
Zarathustra Fanfare
Chanson De Matin
Battle Suite
Le Petit Negre
La Caccia From "The Seasons"
Slawischer Tanz
Suite Francaise
Struth
Light Jazz
The Pink Panther
The Quintessential Gershwin
Three Rags For Five
Hop Head
Ilkely Moor Bar Five
Ain't Misbehavin'
Basin Street Blues
St Louis Blues
Lightly Latin
MacArthur Park
Alexander's Ragtime Band
Just A Closer Walk
Laura
The Roaring Twenties
Putin On The Ritz
It Don't Mean A Thing If It Ain't Got…
My One & Only Love
Do Nothing Till You Here From Me
Moon Light Serenade
In The Mood
American Patrol
Popular
Ground Force
Singing In The Rain
West Side Story
Blackadder Goes Forth
Downton Abbey
Dads Army
The Incredibles
Sleepers Awake
Top Gear
Colonel Bogey March
Grandstand Theme
Red Dwarf
All You Need Is Love
Fawlty Towers
Buglers Holiday
The Waltons
Swing Low Sweet Chariot
One Foot In The Grave
The Acrobat
Open All Hours
Inspector Morse
The Great Escape
Keeping Up Appearances
Emmerdale
James Bond Theme
Hey Jude
Dallas
Coronation Street
Last of the Summer Wine
Sophie Fenner

, Charity, Alexandra Palace, London
5/5!
---
Dan Baker

, Corporate, Cornwall
A very professional group with a terrific sound!
---
Venues - IndigO2, Barbican, Albert Hall, Ronnie Scotts, Wembley, The Emirates
Artists - Sir Cliff Richard, Pink Floyd, Muse, Alexandra Burke, Tim Minchin, Craig David, Amy Pearson, Unkle
Companies - Sony, Yahoo, NFL
Do you offer a self-contained performance?
Yes, if needed we can provide a PA for our performance but usually quintets are not miced up.
Can you extend your set on the day if we wish?
Yes, diary permitting.
Are we able to request a particular song/piece for you to perform?
Of course, LBQ arrange & perform their material - just contact Warble with your request.
Standard Performance Length: 2 x 60mins or 3 x 40mins
Please contact Warble for any specific performance times/themes
Please Note: The fees indicated below are approximate and based on a central location for each county. They are intended to provide a rough guide only and exact quotes can only be given once the date and exact location of your event have been provided.
South East
London
£990.00