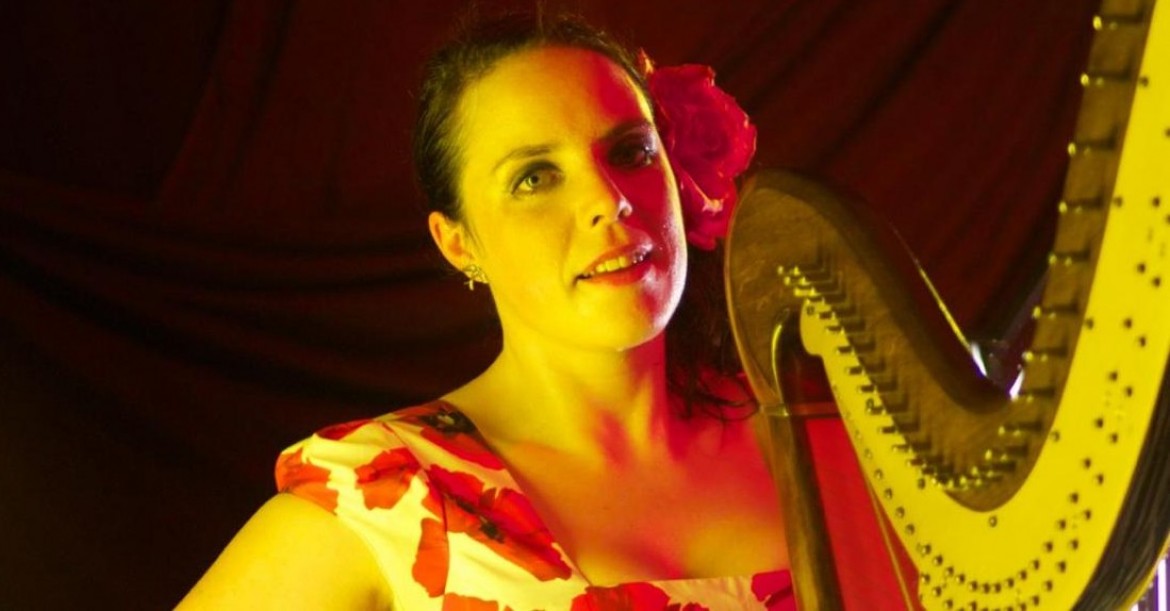 Location London
Starting from £240.00
The London Harpist is a vibrant young harpist with an exciting, modern twist on the standard repertoire.
Based in London and available for functions and weddings mainly around the South East, she brings flair to any special event.
Happy to play requests her repertoire stretches from the classics including Bach and Debussy to more modern fare such as Metallica, Muse, Michael Jackson and Nirvana, as well as swinging jazz standards.
*Perfect for all occasions*
Number of Reviews and Counting... 19!
Taught by World Harp Festival winner Alison Nicholls, The London Harpist plays in a variety of styles from classical to jazz, pop to electronica and keeps herself busy with gigs, session work, weddings and functions.
She also currently plays with the bands Sunday Driver and the Shadow Orchestra.
Classical And Traditional
Bach – Air On A G String, Prelude In C, Jesu Joy Of Man's Desiring
Pachelbel – Canon In D
Debussy – La Fille Aux Cheveux De Lin, Arabesque
Handel – Arrival Of The Queen Of Sheba
Satie – Gymnopedie No. 1
Hasselmans – Serenade Melancolique
Renie – Esquisse
Tournier – Etude 'Au Matin'
Glinka – Nocturne
Vivaldi - Winter 'Largo' From The Four Seasons
Puccini – Mio Babbino Caro
Traditional – La Paloma, The Ash Grove, Londonderry Air (Danny Boy)
Greensleeves
Morricone – Gabriel's Oboe
Jazz And Easy-Listening
Misty
My Funny Valentine
Blue Moon
Ain't Misbehaving
Wonderful World
My Way
Moon River
Dream A Little Dream Of Me
New York, New York
Over The Rainbow
Unforgettable
Summertime
God Bless The Child
Bring Me Sunshine
Raindrops Keep Falling On My Head
Pop And Heavy Metal

Madonna – Material Girl
Enya – By Your Shore
Sting/Eva Cassidy – Fields Of Gold
Elton John – Your Song
Nirvana – Smells Like Teen Spirit
Metallica – Enter Sandman
Guns'n'Roses – Sweet Child O'Mine
Lionel Richie – Endless Love
Amy Winehouse – Love Is A Losing Game
Muse – Starlight
Michael Jackson – Billie Jean
Simon And Garfunkel – Bridge Over Troubled Water
The Carpenters – Close To You
Alan Johnson

, Birthday Party, Hertfordshire
Very well received by myself and my guests. A lovely lady. Excellent programme set the scene for us all to relax and enjoy
---
Joanne Hynd

, Wedding, Pendley Manor, Tring, Hertfordshire
Kat is a beautiful harpist, and her music is a real delight to listen to, all of the guests at the wedding commented on how wonderful her playing was. I would definitely recommend her.
---
Rebecca Chandler

, Private Party, Private event, London
Kat was absolutely brilliant, really professional and very talented! Arrived in plenty of time to set up and sounded amazing. Thank you very much! :)
---
Veronica Gilding

, Wedding, Hampden House, Buckinghamshire, Buckinghamshire
Kat, the London Harpist played beautifully at my daughters wedding. She had contacted us before the event and triple checked the timing and venue. She had set up before we arrived and was unobtrusive to the event but could be heard quite clearly in the background. Highly recommend.
---
Simon Fairchild

, Wedding, Essex
Amazing! The London Harpist really is so talented and made our day extra special. She was really helpful with queries on the playlist and responded very promptly to emails. Can't thank her enough and would 100% recommend her to others.
---
Nicky Wills

, Wedding, Cambridgeshire
Absolute pleasure to deal with The London Harpist who played all of our song choices for our wedding amazingly. All of our guests commented on how amazing she was and how beautiful the harp sounded in the background. Thank you - You made our day even more special.
---
Zia Lewindon

, Wedding, London
I booked the London Harpist to play at my (wedding) drinks reception. She was excellent, very professional and completely self-sufficient so I had nothing to worry about before seeing her at the venue! Booking her through the website was easy and I had some lovely comments about her from my guests after the wedding. Thanks very much to The London Harpist and Warble Entertainment for this little touch of class at my drinks!
---
Alison Belcher

, Wedding, Berkshire
The London Harpist was excellent. We received many positive comments from our guests. Will certainly recommend Warble Entertainment as a booking agent. Excellent service all round.
---
Rosanna Cirillo

, Wedding, Middlesex
We cannot recommend Kat highly enough! The whole experience was made so easy from start to finish. Kat was happy to play the songs we had requested which were not on her repertoire and she even sent a recording of my walking down the aisle music before the day. We have had so many comments from our guests about how beautifully Kat played. We would not hesitate to recommend The London Harpist to any of our friends getting married in the future! Thanks again!
---
Susie Thompson

, Wedding, London
The London Harpist delivered a beautiful performance during our wedding. She really helped to give the ceremony the classy style, romance and fun we were looking for. Warble Entertainment and The London Harpist were very quick to respond to any queries or issues we had, making the booking process very easy - we highly recommend them both.
---
Laura McCormack

, Wedding, London
The harpist was excellent and lots of guests commented on how good the music was. Kat's timing of the aisle song was perfect. Thank you!
---
Jonathan Cooper

, Wedding, Essex
Absolutely amazing performance - the atmosphere for the reception was sophisticated, classy and elegant, and the music provided by the London Harpist was a huge part of this. We would highly recommend The London Harpist for any similar event in future and we would have her perform for us again without hesitation! Thank you for giving us the reception we were hoping for and more - it allowed our celebration to start the way we intended to go on and the whole evening was just spectacular! Thank you so much again.
---
Theresa Marchant and Michael Smith

, Wedding, Essex
Absolutely fantastic, played like a dream and would definitely recommend her to friends. Great communication and everyone at my wedding said how gracefully she played. Very professional.
---
Vouty Mattar

, Private Party, London
The London Harpist was extremely professional, everybody at the party enjoyed her music. I will strongly recommend her.
---
Phoebe Scriven - Happen Ltd

, Private Party, London
The London Harpist was absolutely fantastic and a big hit with everyone! Many thanks
---
Ashley Brown - Easy Avenues

, Private Party, London
It all went well evidently, the guests really enjoyed her, and if we needed to book again, we certainly would re-book.
---
Debbie Maith

, Wedding, Bedfordshire
The London Harpist was fabulous, all of our guests commented on how beautiful her playing was and it really added to the atmosphere of our wedding. She was very professional and I would recommend her unreservedly to anyone thinking about having a harpist at their event. Warble Entertainment were also fantastic and I would like to thank Tracey for always being so prompt and organised and putting my mind at rest. We had the most wonderful day and you really helped to make it special. Many thanks.
---
Jasprit Bains

, Wedding, London
I was extremely happy with the whole service. From the booking to the actual delivery. The London Harpist was prompt and played wonderfully. All of my family and friends enjoyed her music. Thank you very much for helping to create a memorable wedding. Jas
---
Mr & Mrs Fowler

, Wedding, London
The London Harpist played through our wedding breakfast for a whole couple of hours and to absolute perfection until the end. Playing a range from tradtional classical music to modern day classics creating a delightful ambiance for our meal and certainly made our day feel extra special giving it that wow factor. The London Harpist was extremely professional, super quick to respond with any of of our questions and even learnt a song not part of her repertoire. The well deserved magnitude of an applause from our guests said it all. I would recommend both The London Harpist and Warble highly.
---
The London Harpist was the resident harpist at the Spitz Bistro in Spitalfields, East London, for several years.
She has played at numerous weddings and functions, for clients including the charity Cancer Research UK.
The London Harpist is happy to play at weddings – either religious or non-religious - and can provide music before, during and after the ceremony, including reception drinks and dinner.
She is willing to tackle most requests, especially more unconventional choices - recent requests range from Metallica to Morecambe & Wise.
Please Note: The fees indicated below are approximate and based on a central location for each county. They are intended to provide a rough guide only and exact quotes can only be given once the date and exact location of your event have been provided.
East
Cambridgeshire
£240.00
Norfolk
£240.00
Suffolk
£240.00
South East
Bedfordshire
£240.00
Berkshire
£240.00
Buckinghamshire
£240.00
East Sussex
£240.00
Essex
£240.00
Hampshire
£240.00
Hertfordshire
£240.00
Isle of Wight
£240.00
Kent
£240.00
Oxfordshire
£240.00
Surrey
£240.00
Sussex
£240.00
West Sussex
£240.00
London
£240.00
Middlesex
£240.00