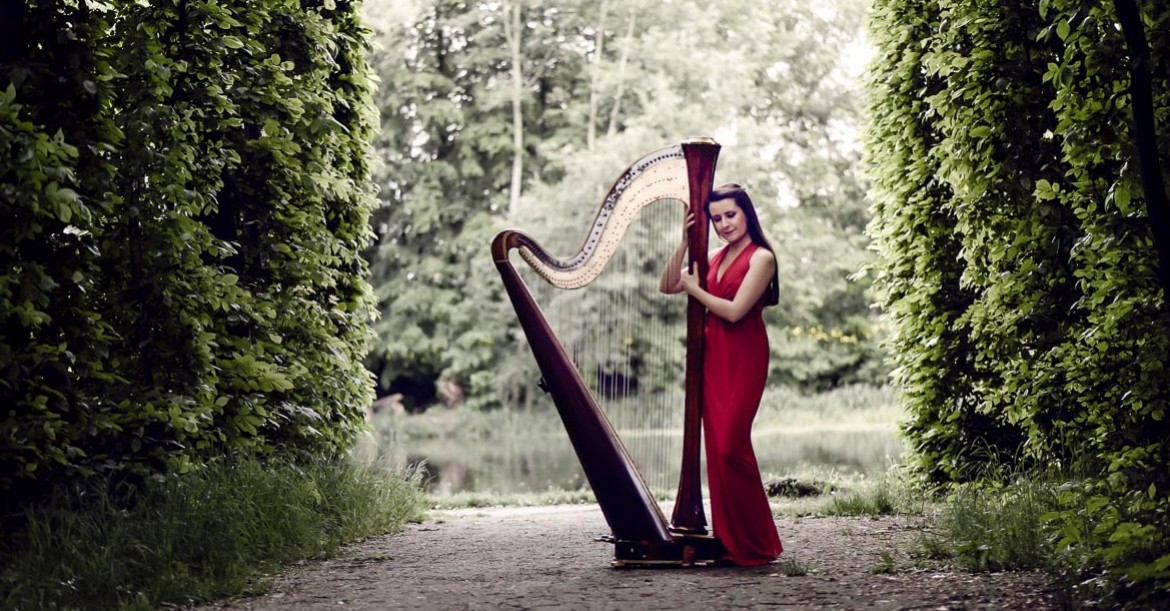 Location Midlothian
Starting from £300.00

The Lothian Harpist is an award-winning musician with a wide range of repertoire. Perfect for every occasion!
As a fully professional and highly trained harpist, The Lothian Harpist provides the highest standard of harp playing. She always works closely with her clients to ensure the choice of music adds to the atmosphere and helps the day run smoothly. She is also happy to arrange and learn music you would like to request if it is not part of her standard repertoire.
Number of Reviews and Counting... 1!
The Lothian Harpist has over a decade's experience performing for weddings, functions and corporate events. With repertoire ranging from classical to jazz and pop she will make sure that the atmosphere at your event will be exactly how you want it to be.
She has worked with orchestras in UK and abroad, including London Philharmonic Orchestra, City of London Sinfonia, Polish National Radio Symphony Orchestra and many others. She made recordings under famous conductors such as Kristjan Järvi and Krzysztof Penderecki as well as broadcast on BBC. She has performed at high-profilve venues in UK and abroad, among others:
Royal Enclosure for the Royal Ascot

Usher Hall

Royal Festival Hall

National Gallery

Vienna Musikverein

St Paul's Cathedral

Windsor Castle

Tate Modern

Oslo Concert Hall

Berlin Konzerthaus
She also regularly performs background music to accompany Afternoon Tea at 4 and 5 star hotels such as The Waldorf Hilton, Sofitel, Intercontinental.
Classical
Andres Duke
Andres Muscade, Vanille, Cannelle from the cycle "Epices"
Bach, CPE Sonata in G Major
Bach, JS Suite in E Minor (BWV 996)
Bach, JS (tr. Renié) Piece en sol
Bach, JS Art Thou with Me
Bach, JS Jesu, Joy of Man's Desiring
Bach, JS Minuet in G
Bach, JS Sheep May Safely Graze
Bach, JS Andante from the Violin Sonata No. 2
Bach/Gounod Prelude in C / Ave Maria
Britten Suite for Harp op. 83
Caplet Deux divertissements
Croft Ground
Clarke Trumpet Voluntary
Corelli Adagio from Concerto Grosso in G Minor
Corelli Sarabande from Concerto Grosso in B flat Major
Debussy Arabesque no 1
Debussy La fille aux cheveux de lin
Delibes Flower Duet from Lake
Fauré Impromptu op. 86
Fauré Une châtelaine en sa tour…
Glinka Nocturne
Gluck Dance of the Blessed Spirits
Grieg Morning Mood
Händel Air from Water Music
Händel Lascia ch'io Pianga from Rinaldo
Händel Ombra mai fu from Serse
Hasselmans La Source
MacDowell To a Wild Rose
Massenet Meditation from Thaïs
Mendelssohn Wedding March from Midsummer's Night Dream
Mozart Minuet in F
Naegeli Blest Be the Tie that Binds
Pachelbel Canon in D
Purcell Trumpet Tune
Respighi Siciliana
Satie Gymnopedie no 1
Vivaldi Largo from Winter
Wagner Here Comes the Bride from Lohengrin
Jazz and Shows
Armstrong, Louis We Have All the Time in the World
Armstrong, Louise What a Wonderful World
Brubeck/Desmond Take Five
Carmichael Georgia on My Mind
Carousel You'll Never Walk Alone
Cats Memory
Deer Hunter Cavatina
Ellington Don't Get Around Much Anymore
Finian's Rainbow Look to the Rainbow
Funny Girl People
Gershwin Embraceable You
Gershwin I Got Rhythm
Gershwin Love Walked In
Gershwin Oh, Lady Be Good!
Gershwin Someone to Watch Over Me
Guglielmi La Vie en Rose
Hudson Moonglow
Ice Castles Looking Through the Eyes of Love
I Do, I Do My Cup Runneth Over
Jesus Christ Superstar I Don't Know How to Love Him
Jones At Last
Miller Moonlight Serenade
Nat King Cole When I Fall in Love
New Faces A Nightingale Sang in Berkeley Square
No, Nanette Tea for Two
Phantom of the Opera All I Ask of You
Phantom of the Opera Music of the Night
Phantom of the Opera Think of Me
Porter Every Time We Say Goodbye
Rodgers Bewitched, Bothered, Bewildered
Rodgers My Funny Valentine
Romberg Softly, As In a Morning Sunrise
Sinatra Fly Me to the Moon
Sinatra Moon River
Sinatra Where or When
Sinatra Strangers in the Night
Sinatra The Way You Look Tonight
Wizard of Oz Somewhere Over the Rainbow
Folk and traditional
Annie Laurie
Auld Lang Syne
Ay Waukin O
Baloo Baleerie
The Birks of Aberfeldy
The Blue Bells of Scotland
The Boatie Rows
Bonnie Bell
Bonnie Dundee
Bonnie Wee Thing
Braw Braw Lads
Buy Broom Besoms
Ca' The Yowes To The Knowes
Charlie Is My Darling
Comin' Thro' The Rye
Corn Rigs Are Bonnie
O Danny Boy
Dumbarton's Drums
Duncan Gray
Flow Gently Sweet Afton
The Flowers O' The Forest
Green Grow the Rashes O!
Greensleeves
Hame, Hame, Hame
Hieland Laddie
Ho Ro My Nut-Brown Maiden
I Aince Lo'ed a Lass
I'll Ay Ca' In by Yon Toun
Jock O'Hazeldean
John Anderson My Jo
The Keel Row
Kelvin Grove
Land O' The Leal
Lassie Wi' The Lint-White Locks
Last Rose of Summer
The Lea Rig
Leezie Lindsay
Loch Lomond
Loch Tay Boat Song
A Man's A Man for A' That
My Heart's In the Highlands
My Love is Like a Red Red Rose
My Love She's But a Lassie Yet
My Nanie O
Rantin' Rovin' Robin
A Rosebud by My Early Walk
The Rowan Tree
Scarborough Fair
Scotland the Brave
Scots Wha Hae
Skye Boat Song
Wae's Me for Prince Charlie
The White Cockade
Will Ye No Come Back Again
Ye Banks And Braes
Laurie and Michael

, Wedding, Glasgow
The Lothian Harpist was brilliant! Nothing was too much trouble and she spoke with us over the phone and through emails to advise us upon our options for song choices. She learnt two new songs that we requested and played them and the rest of her repertoire absolutely beautifully! All of our guests commented on how fabulous the music was. I can't recommend her highly enough for whatever event you are considering. A truly lovely person and a fantastically talented harp player.
---
What harp do you play?
For weddings, I use either a pedal harp (pictured above) or a smaller harp with levers, also known as clarsach. Generally speaking, modern repertoire works better on the pedal harp whilst clarsach is more suitable for traditional songs. However, the latter requires less space (see below) which makes it more suitable for smaller venues. If you expect many guests, I would advise to choose a pedal harp as the sound of the bigger instrument will carry better.
How much space does the harp need?
Pedal (concert) harp needs an area of 2m x 3m, lever harp requires about 2m x 2m.
Would you be able to play my favourite song on the harp?
I am always happy to add new pieces to my repertoire. Please let me know at least one month before the ceremony about any special requests to allow the time for me to purchase and learn the music.
Can you play outside?
Yes, providing there is suitable protection against sun and it is not too cold. I also need a flat, dry surface to position the harp on (not gravel or grass). Additional fees may apply.
How do you transport your harp?
For longer journeys, the harp travels in an estate car with back seats folded down. For short distances (for example from the car park to the venue) I move my instrument using a special trolley designed for moving the harps.
Can you move from one area to another during a wedding day?
Yes - please let me know in advance and allow enough time to move the harp. In most situations I am happy to do this on my own, however I may need help from staff at the venue if there are many stairs on the way and no lifts in the building. Additional charges may apply if I am required to drive to another venue.
What do you wear when playing at weddings?
I usually wear a long elegant dress. Please let me know if you would like me to wear an outfit that matches your chosen colour scheme.
1 x 60 Minutes
2 x 45 Minutes
3 x 40 Minutes
Please Note: The fees indicated below are approximate and based on a central location for each county. They are intended to provide a rough guide only and exact quotes can only be given once the date and exact location of your event have been provided.
Scotland
Aberdeen
£456.00
Perth
£336.00
Sutherland
£396.00
Fife
£336.00
Stirlingshire
£336.00
West Lothian
£336.00
East Lothian
£300.00
Midlothian
£300.00
Glasgow
£336.00
Edinburgh
£300.00
Dundee
£312.00
Foreign Locations
Europe
£420.00
Rest of the world
£540.00
North East
Durham
£420.00
Tyne and Wear
£396.00
North West
Cumbria
£420.00
Manchester
£480.00