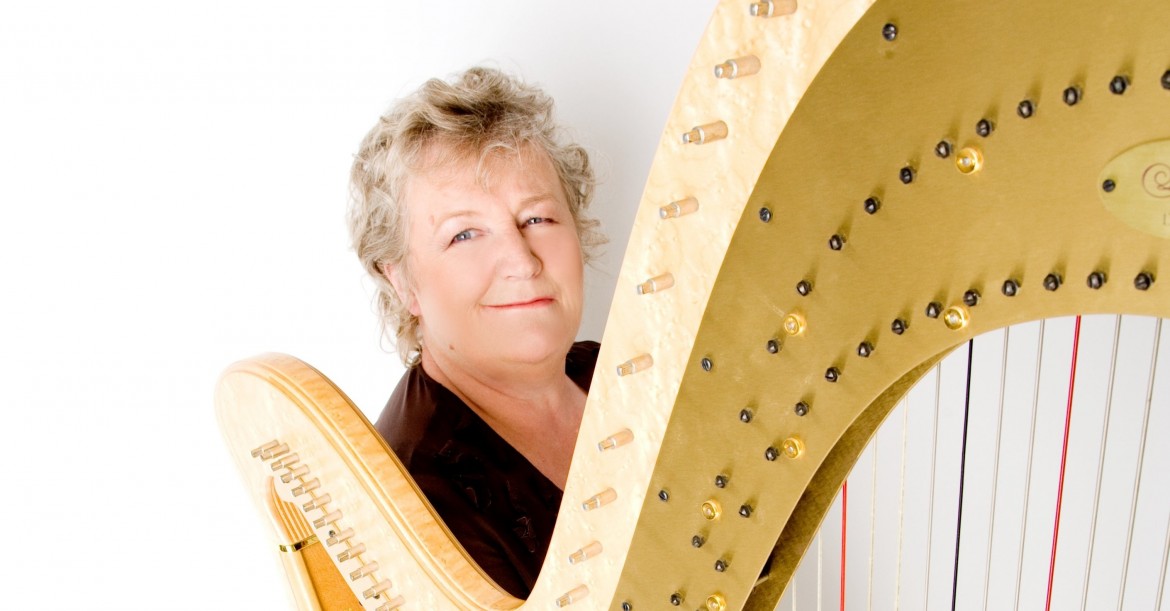 Location Northamptonshire
Starting from £210.00
The Northamptonshire Harpist is a pofessional harpist who has been a very popular choice for weddings and other events over the last ten years, often playing for over 60 weddings a year. Her beautiful harp music brings atmosphere, from weddings, civil partnerships, drinks reception and dinners to corporate events, funerals and memorial services. She enjoys helping people choose the music they want for their event.
The Northamptonshire Harpist offers an extensive and very varied repertoire from light classical to atmospheric Celtic, and from popular to jazz and folk, on pedal harp, celtic harp or electro-harp.
*The Northamptonshire Harpist is a fantastic Harpist and enjoys helping people choose the music they want for their occasion*
Number of Reviews and Counting... 6!
The Northamptonshire Harpist has been a popular choice to play at weddings and other events for over a decade, often playing for over 60 weddings a year. She has a wide reperotire, mostly played on her elegant antique gilded pedal harp, but alternatively sometimes using her smaller Celtic harp if requested, or her larger modern pedal harp.
She is very experienced at helping you choose the music you want to add a personal touch and make your day special. It is often possible for her to add one or two new pieces to her repertoire for an occasion, either from music or by ear from a recording.
"You were so sensitive to everything that was happening" – Registrar's comment.
"All of our guests loved the music and the ambience it created, you are extremely talented. It was everything I wanted and more, just beautiful." - Client comment
The Northamptonshire Harpist's training and experience as a music therapist have enhanced her musicianship, and she improvises when appropriate - often getting positive feedback from clients and their guests when she does this, and enabling her to tailor the music to suit the timing of the occasion.
She has a wide repertoire, from classical to pop and modern, jazz standards and music from stage and film, as well as traditional and contemporary arrangements of celtic music and folk tunes from around the British Isles. When requested, the Northamptonshire Harpist sings at ceremonies, self-accompanied on the harp or unaccompanied.
For smaller places, the Northamptonshire Harpist sometimes plays her smaller celtic harp - e.g. she has played for ceremonies in a summer house set in beautiful gardens, and even on a Thames barge! She is also happy to play her celtic harp for events with Irish or Scottish connections, or for those who just enjoy celtic and traditional folk music.
Some Wedding Ceremony Favourites:
Canon In D
Arrival Of Queen Of Sheba
Bridal Chorus (Here Comes The Bride)
Wedding March
Fields Of Gold
Songbird
From This Moment
A Thousand Years
The First Time Ever I Saw Your Face
Carolan's Concerto
Classical Music for ceremonies and background:
Air on a G String
Gavotte from French Suite no. 5 - Bach
Air from Goldberg Variations - Bach
Adagio for Strings - (Barber)
Prelude in C - J.S..Bach
Fur Elise - Beethoven
Mandolin Sonata - Beethoven
Mazurka no.2 - Chopin
Chaconne - Jeremiah Clarke
Giga - Corelli
La Fille aux Cheveux de Lin - Debussy
Flower Duet (from Lachme) - Delibes
Sonatina - Dussek
I Giorni - Ludovico Einaudi
Air from the Water Music - Handel
Arrival of the Queen of Sheba - Handel
Harmonious Blacksmith - Handel
Harp Concerto - Handel
Gabriel's Oboe (from The Mission)
Variations on a Theme by Mozart - Mozart (Arr. Le Dentu)
Cavatina (from the Deerhunter) - Stanley Myers
Canon in D (Pachelbel's Canon) - Pachelbel
O Mio Babbino Caro - Puccini
Hornpipe (The Hole in the Wall) - Purcell
Rhapsody on a Theme of Paganini (Variation 18) - Rachmaninov
Gymnopedie No. 1 - Eric Satie
Andante from Concerto for 2 Mandolins - Vivaldi
Music from The Four Seasons - Vivaldi
plus, other less known but beautiful music
Tunes From Film, TV, Shows And Musicals:

My Heart Will Go On
May It Be
In Dreams
Concerning Hobbits
Aniron
Music From "Amelie"
Ashokan Farewell
Edelweiss
Les Miserables- Castle on a Cloud
My Favourite Things
Love Changes Everything
All I Ask Of You
Angel Of Music
Memory
Phantom Of The Opera
I Don't Know How To Love Him
Pie Jesu
Don't Cry For Me Argentina
Disney Tunes:
A Whole New World
Beauty And The Beast
Everybody Wants To Be A Cat
Classic Love Songs And Jazz Standards:

Moon River
Blue Moon
Fly Me To The Moon
Black Orpheus
When I Fall In Love
It Had To Be You
Unchained Melody
Isn't She Lovely
I Get A Kick Out Of You
A Nightingale Sang in Berkeley Square
Misty
Summertime
As Time Goes By
Take Five
Somewhere Over The Rainbow
Autumn Leaves
Classic and Modern Pop:
Ain't no Sunshine
Music from Amelie
Angels
Annie's Song
Ashokan Farewell
As Time Goes By
Autumn Leaves
Beatles Songs including
All my Loving
All You Need is Love
And I Love her
Eleanor Rigby
Here There and Everywhere
Hey Jude
In My Life
Let it Be
The Long and Winding Road
We can Work it Out
With a Little Help from my Friends
Yesterday
Black Orpheus
Can You Feel the Love Tonight
Can't help falling in love with you (Elvis Presley)
Castle on a Cloud from Les Miserables
Cavatina (from The Deer Hunter)
Chasing cars – Snow Patrol
Cinema Paradiso – Love Theme
Don't Cry for me Argentina
Enya songs eg Orinoco Flow
Fields of Gold
The First Time Ever I saw your Face
Fly Me to the Moon
Gabriel's Oboe (The Mission)
Greensleeves
Hallelujah (Leonard Cohen/Jeff Buckley)
Have I Told You Lately
Isn't She Lovely (Stevie Wonder)
It had to be you
It's a Wonderful World
Just Say Yes – Snow Patrol
Last of the Mohicans – main theme
Leaving on a Jet Plane
Les Miserables – Castle on a Cloud
Love me Tender
Love Story
Lloyd Webber – including:-
Aspects of Love - Love Changes Everything
Cats - Memory
Evita - Don't cry for me Argentina
Jesus Christ Superstar - I Don't know How to Love Him
PieJesu
All I Ask of You
Angel of music
Think of Me
Music of the Night
Phantom of the Opera
Marble Halls (Enya)
Maria (West Side Story)
Make You Feel My Love – Adele/Bob Dylan
Marry You – Bruno Mars
Misty
Moon River
My Favourite Things
My Heart will Go On (Titanic)
A Nightingale Sang in Berkeley Square
Norwegian Wood
Nothing Else Matters (Metallica)
Orinoco Flow
Runaway
She
Somewhere over the Rainbow
Songbird (Eva Cassidy)
Summertime
Sunshine on my Shoulders
Sweet Child o' Mine (Gund 'n' Roses)
Take 5 (Dave Brubeck)
Tears in Heaven (Eric Clapton)
A Time for Us
Times Like These (Foo Fighters)
Unchained Melody
We Go Together
We've only just begun (Carpenters)
When I fall in love
Winter Winds (Mumford & Sons)
Wonderful tonight (Eric Clapton)
Wonderwall (Oasis)
Wooden Heart
Yesterday
You Do Something to Me
You'll Never Walk Alone
You're Beautiful
Your Song (Elton John)
Celtic Tunes:

Irish
Danny Boy
She Moved Through The Fair
My Lagan Love
The Spinning Wheel
When Irish Eyes Are Smiling
The Cuillin
Carrickfergus
Fields Of Athenry
Star Of The County Down
Sally Gardens
I Know My Love
The Quiet Land Of Erin
Many Tunes By O'Carolan
And many other slow airs, songs and dance tunes

Scottish
Ye Banks And Braes
Ca' The Yowes
Eriskay Love Lilt
Morning Has Broken
Scotland The Brave
Dark Island
Skye Boat Song
Loch Lomond
Mairi's Wedding
My Love Is Like A Red, Red Rose
Cock Of The North
Songs By Robert Burns
And Many Other Songs, Airs and Dance Tunes

Welsh Tunes
The Ash Grove
All Through The Night
Land Of My Fathers
Men Of Harlech
David Of The White Rock
Cader Idris
And Many Others
English Tunes
Scarborough Fair
Greensleeves
The Water Is Wide
And Many Others
Vocal Song Examples for Ceremony:
Fields Of Gold
The First Time Ever I Saw Your Face
You Raise Me Up
My Lagan Love
She Moved Through The Fair
Amazing Grace
Lord Of All Hopefulness
Christmas Tunes & Carols, Including:
All Hail To The Days
The Angel Gabriel
Angelus Ad Virginem
Away In A Manger
Angels From The Realms Of Glory
Boars Head Carol
Coventry Carol
Ding Dong Merrily On High
Down In Yon Forest (Corpus Christi Carol)
First Nowell
God Rest Ye Merry Gentlemen
Good King Wenceslas
Green Growth The Holly
Hark The Herald Angels Sing
Here We Come A Wassailing
Holly And The Ivy
In Dulci Jubilo
I Saw Three Ships
I Wonder As I Wander
In The Bleak Midwinter
It Came Upon The Midnight Clear
Jesus Christ The Apple Tree
Nos Galan (Deck The Halls)
O Come All Ye Faithful
Silent Night
Sussex Carol
This Is The Truth Sent From Above
Tomorrow Shall Be My Dancing Day
Unto Us A Boy Is Born
Wassail, Wassail, All Over The Town
We Three Kings
Wexford Carol
While Shepherds Watched
Also Other Popular Christmas Music
Including
Auld Lang Syne
Christmas Is Coming
Have Yourself A Merry Little Christmas
Jingle Bells
Let It Snow
Little Drummer Boy
Pastorale From "Christmas Concerto" By Corelli
Rudolph The Red Nosed Reindeer
The Twelve Days Of Christmas
We're Walking In The Air From "The Snowman"
We Wish You A Merry Christmas
White Christmas
Winter Wonderland
Please ask if your favourite is not here. If there is a song you would particularly like included, it is very often possible for The Northamptonshire Harpist to create an arrangement.
Nicola Manigan

, Wedding, Northamptonshire
Elizabeth was brilliant. The guests all said to me that having the harpist at the wedding was a beautiful touch, the sun was shining and they sat and drank and listened to her playing. Liz was a lovely lady and very easy to get along with, we are so pleased she played at our wedding. Nothing was to much trouble she helped us to choose songs and although it was very hot she still played for everyone. Thank you so much Liz would recommend to anyone!!!
---
Hannah & Scott Dickinson

, Wedding, Northamptonshire
We were absolutely delighted that The Northamptonshire Harpist was able to play at our wedding. Her performance was beautiful and made the ceremony all the more personal and special. It's fair to say that neither myself or Scott fully took in The Northamptonshire Harpist's music on the day as we battled with our nerves & emotions but as we were lucky enough to have a video of the event we've been able to fully appreciate her music since! Apologies that it's taken us a few weeks to send through this note but we really are very grateful to The Northamptonshire Harpist & would wholeheartedly recommend her to others. Wishing you & The Northamptonshire Harpist all the best.
---
Emma Lauria - NFU Mutual

, Corporate, Warwickshire
Apologies for the delay in responding but my colleagues and I had a meeting yesterday to review the event. We were very happy with The Northamptonshire Harpist's performance, professionalism and she was a great contribution to the atmosphere created throughout the evening.
---
Lisa Rabson

, Wedding, Berkshire
We were thrilled with our choice of the 'Northamptonshire Harpist'. From the beginning she was both friendly and professional and this made such a difference as planning a wedding can be hetic, so having someone who understood and made things easy was great! Walking down the isle to my chosen song was incredibly calming and we received numerous positive comments on having a harpist. I would highly recommend the 'Northamptonshire Harpist' thank you again.
---
Fionnuala Ryan

, Wedding, Warwickshire
The Northamptonshire Harpist exceeded my expectations when playing the harp at our wedding reception. She took the time to contact me before our wedding providing samples of music to help us choose a repertoire and even checked what our colour scheme was! I would highly recommend the Northamptonshire Harpist to play at anyone's wedding or function. She is extremely talented, very professional and added to the atmosphere of our wedding day.
---
Angela Bambury

, Wedding, Oxfordshire
Dear Northamptonshire Harpist, Just a quick note to thank you so much for playing at our wedding breakfast at The Bay Tree on 11th February. We have had so many comments from our guests saying how much they enjoyed the harp music. You provided the perfect mix of classical and modern music which appealed to all. Thank you very much. I was sorry not to have come and spoken with you personally, a bit tied up and bustled along by the joys of the day - but I trust Pete conveyed our sincere thanks before you left. I will not hesitate in recommending you to anyone who may wish to book a harpist for an occasion in the future. Thanks again and I hope you had a safe journey back.
---
The Northamptonshire Harpist has played at Kensingotn Palace, the Tower of London, Warwick Castle and a host of venues in Northamptonshire and the surrounding counties.
As well as playing for hundreds of weddings,The Northamptonshire Harpist relaxes delegates over dinner at conferences and plays for other corporate events.
The Northamptonshire Harpist plays a varied repertoire for weddings, civil partnerships, drinks receptions, dinners, corporate events and other functions - from light classical to atmospheric Celtic, and from popular to jazz and folk. She has a friendly approach, and enjoys helping people find the music they want for their occasion. You can discuss the music for your event with her- she can help you choose music that fits well for different situations. It is often also possible for her to add one or two new pieces that are special to you to her repertoire for your occasion.
If requested, she can include more of particular styles to suit individual preferences, emphasising the classical or popular side of her repertoire. On other occasions, for example for a family with Irish roots, she has played mostly Irish music on her Celtic harp when requested- and similarly for people with Scottish or Welsh connections.
Harp music is excellent for many stages of a wedding day.
You may choose to have the harp playing for some or all of the following parts of the day:
The Ceremony (civil-1 hour, church - up to 1½ hours)
This is to include calm music for 10-15 minutes as guests assemble, music for the entry, during the signing of the register and photographs, for the exit, and while guests leave.
The Drinks Reception (1 - 2 hours)
You can choose to emphasise any of the styles of music which The Northamptonshire Harpist plays, or she can play a general mix of music- something for all age groups and a variety of tastes.
The Meal (approx. 2 hours including the line-up)
Often people prefer more classical and calm music early in the proceedings, then choosing lighter and more upbeat music as the day progresses. Again, the choice of musical styles is yours.
The Northamptonshire Harpist also offers the following packages
- Ceremony & Drinks Reception (2 hours or more)
- Drinks Reception & Wedding Breakfast (usually at least 3 hours)
- Ceremony & Wedding Breakfast (usually 4-5 hours from start of ceremony)
Civil ceremony 45 mins -1 hour
Church ceremony usually 1 1/2 hours
Drinks receptios 1 - 2 hours
Wedding breakfasts and dinners 2 hours
Civil ceremony & drinks reception
Civil ceremony & wedding breakfast
Other combinations possible
Please Note: The fees indicated below are approximate and based on a central location for each county. They are intended to provide a rough guide only and exact quotes can only be given once the date and exact location of your event have been provided.
East Midlands
Derbyshire
£300.00
Leicestershire
£234.00
Lincolnshire
£360.00
Northamptonshire
£210.00
Nottinghamshire
£312.00
Rutland
£240.00
East
Cambridgeshire
£240.00
West Midlands
Gloucestershire
£360.00
Warwickshire
£234.00
South East
Bedfordshire
£240.00
Berkshire
£336.00
Buckinghamshire
£240.00
Hertfordshire
£264.00
Oxfordshire
£240.00