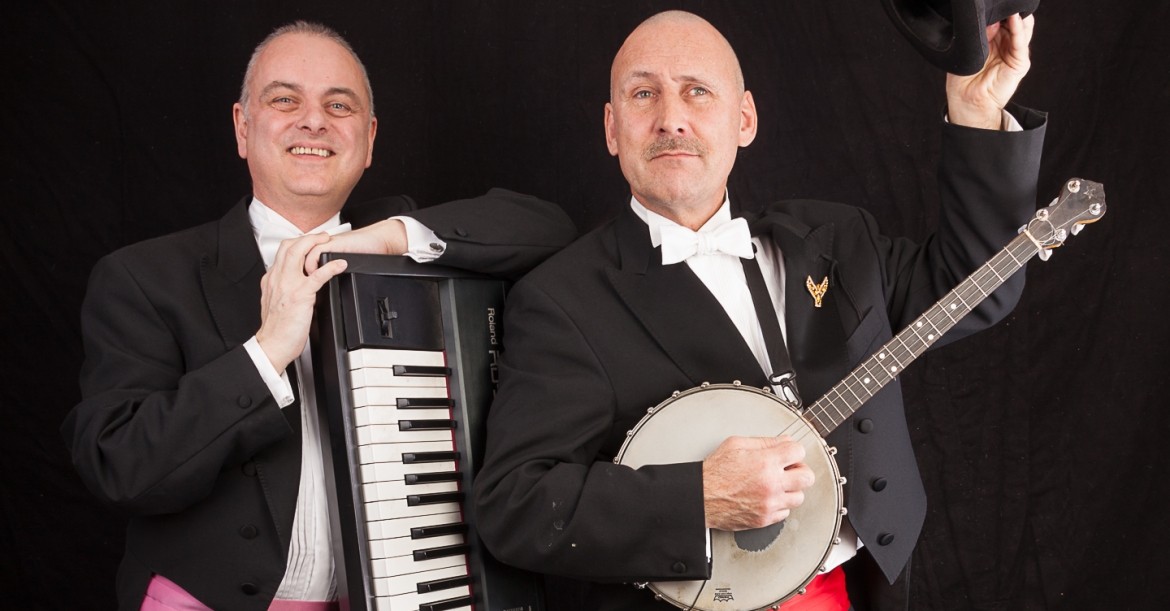 Location Manchester
Starting from £540.00

The Postmodern Duo perform pop and rock hits in vintage styles from the quirky twenties to the swinging sixties, in costume and in character.
They are experienced, professional, but most of all - fun and entertaining.
Number of Reviews and Counting... 2!
The Postmodern Duo have a wealth of experience performing vintage music for weddings and parties, with larger bands. They are now playing rock anthems and pop classics in a variety of interesting and entertaining vintage styles - as a duo. It's fabulous, familier music, with a twist. The duo create a warm, light hearted and fun ambience. They're great for drinks receptions, during dinner, for entertainment or for small parties. They always look the part in either white tie and tails, or white tuxedos with black tie.
Pianist
Singer/Banjo/Trumpet/Percussion
They can add a double bass player, and or saxophone/clarinet player
It's my Life - Bon Jovi
The eye of the Tiger - Survivor
Smells like Teen Spirit - Nirvana
Blame it on the Boogie - Michael Jackson
Heart of Glass - Blondie
Never gonna give you up - Rick Astley
Every Breath you Take - The Police
Like a Virgin - Madonna
Light my Fire - The Doors
Careless Whisper - George Michael
Jump - Van Halen
True - Spandau Ballet
Empire State of Mind - Alicia Keys
Hard Days Night - The Beatles
Dancing Queen - Abba
YMCA - Village People
Can't Take My Eyes Offa You - Andy Williams
Love is in the Air - John Paul Jones
It's Not Unusual - Tom Jones
Rupinder Drew

, Birthday Party, Warwickshire
The band were brilliant - the music was fantastic and better than what we had expected. The 3 specific songs we asked them to play were sung wonderfully and of course with their own unique style. The looks on peoples' faces when Dad's Army theme tune played and Hysteria by Black Sabbath was brilliant! Simon was very approachable and accommodating and he didn't hesitate to do whatever he could to make things work. The volume and pace of music was perfect for the size of the venue and type of party it was. I would absolutely not hesitate in booking them again. Thank you!
---
Mick H

, Private Party, Lancashire
Just a quick note to say an enormous thanks to The Postmodern Duo for their professional work on Saturday - music was brilliant, they were very accommodating and we heard nothing but compliments from the guests. Helped make the day very special!
---
Booths Supermarket - for special events eg Mothers' day
Beamish Park Golf Club - 50th Birthday Party
Broadoaks Country House, Windermere - Wedding
Llandderfel, Bala - Birthday Party
The Postmodern Duo is fully self contained - they bring all their own equipment - they just need a socket to plug into near the set up
They'll bring an electric piano, small PA, two Parkan floor lights and other instruments
If the client could provide a changing room, that would be great , but they can manage without!
The duo are happy to learn a song for a special moment - such as walking up the aisle, or for a first dance, for example
The duo can set up and break down quickly and discreetly. (Approximately 30 minutes to set up and 10 minutes to break down)
Please Note: The fees indicated below are approximate and based on a central location for each county. They are intended to provide a rough guide only and exact quotes can only be given once the date and exact location of your event have been provided.
Scotland
Glasgow
£660.00
Edinburgh
£660.00
North East
Durham
£660.00
Northumberland
£660.00
North Yorkshire
£600.00
South Yorkshire
£540.00
Tyne and Wear
£600.00
West Yorkshire
£540.00
Yorkshire
£540.00
East Yorkshire
£600.00
Leeds
£540.00
North West
Cheshire
£540.00
Cumbria
£540.00
Manchester
£540.00
Lancashire
£540.00
Merseyside
£540.00
Liverpool
£540.00
East Midlands
Derbyshire
£600.00
Leicestershire
£600.00
Lincolnshire
£660.00
Northamptonshire
£660.00
Nottinghamshire
£600.00
Rutland
£720.00
Wales
Anglesey
£600.00
Denbigh
£540.00
Flint
£540.00
Brecon
£720.00
Glamorgan
£720.00
Monmouth
£720.00
Wrexham
£540.00
Cardiff
£720.00
West Midlands
Gloucestershire
£660.00
Herefordshire
£660.00
Shropshire
£540.00
Staffordshire
£540.00
Warwickshire
£600.00
Worcestershire
£600.00
Birmingham
£600.00
South East
Bedfordshire
£720.00
Berkshire
£720.00
Buckinghamshire
£720.00
East Sussex
£720.00
Essex
£720.00
Hampshire
£720.00
Hertfordshire
£720.00
Isle of Wight
£720.00
Kent
£720.00
Oxfordshire
£720.00
Surrey
£720.00
Sussex
£720.00
West Sussex
£720.00
London
£720.00
Middlesex
£720.00
South West
Somerset
£720.00
Wiltshire
£720.00
Bath
£720.00
Bristol
£720.00