Warble Entertainment's
The Scottish Harpist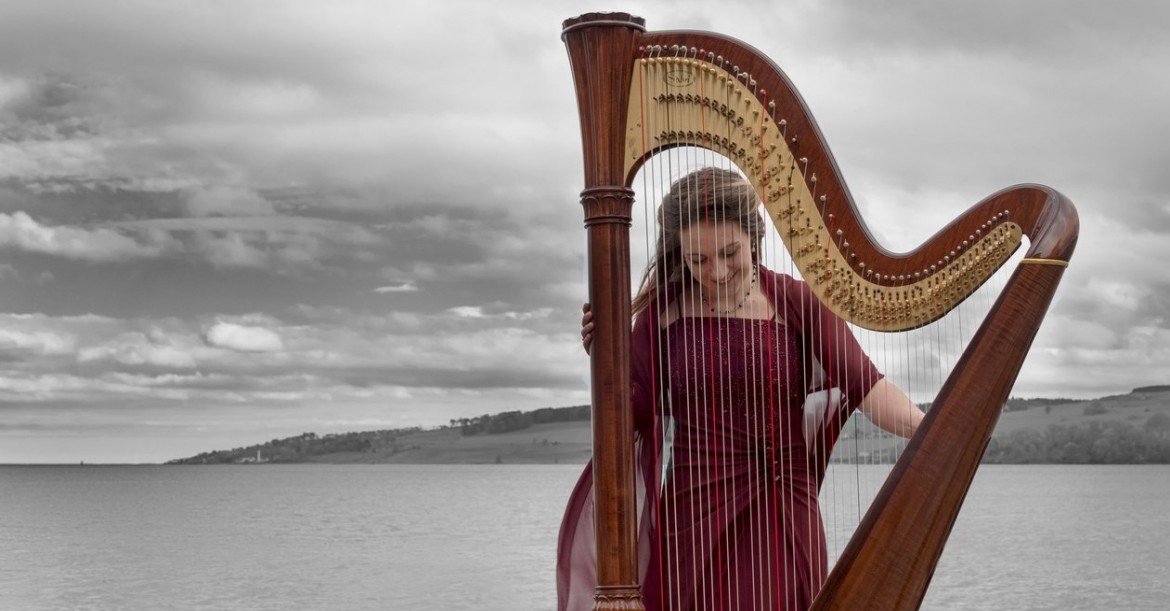 Location Glasgow
Starting from POA
The Scottish Harpist is an exceptionally talented harpist, that plays both the Concert and Celtic Harp. An extensive repertoire including popular hits, classics, jazz, film and traditional music ensures something for all tastes.
The Scottish Harpist adapts her performance to each client's individual requirements and tastes to add a touch of elegance to your occassion.
A true virtuoso on the harp.
5 reviews
Song List
Classical
Arrival of the Queen of Sheba
Ave Maria - Schubert
Bridal March - Wagner
Canon in D
Caro Mio Ben - Giordani (made famous by Pavarotti)
Ecossaise - Beethoven
Fur Elise - Beethoven
Gymnopedie No.1 - Satie
Jesu Joy Of Man's Desiring - Bach
Little Serenade - Haydn
Minuet in G - Bach
O Mio Babbino Caro - Puccini
O Perfect Love - Barnby
Ode to Joy - Beethoven
Pavane & Variations - Cabezon
Prelude in C - Bach
Sarabande from Violin Partita No. 1 - Bach
Sonata in C minor - Dussek
Spring (from the Four Seasons) - Vivaldi
The Little Fountain - O Pratt
The Minstrel's Adieu - Thomas
Theme et variations - Kulhau
Time To Say Goodbye - Sartori (made famous by Bocelli)
Variations on a Theme of Mozart - Glinka
Watching the Wheat - Thomas
Popular Hits
A Sky Full of Stars - Coldplay
A Thousand Years - Christina Perri
Airplanes - B.O.B. feat. Hayley Williams
All of Me – John Legend
Angels - Robbie Williams
Annie's Song - John Denver
Blowing in the Wind - Bob Dylan
Bridge Over Troubled Water - Simon and Garfunkel
Budapest - George Ezra
California Girls - Katy Perry
Call Me Maybe - Carly Rae Jespen
Can't Help Falling In Love - Elvis Presley
Chasing Cars - Snow Patrol
Clocks - Coldplay
Come What May - Elton John
Counting Stars – One Republic
Crazy For You - Madonna
Despacito - Luis Fonsi
Domino - Jessie J
Don't Let the Sun Go Down On Me - Elton John
Don't Stop Believin' - Journey
Eternal Flame - The Bangles
Every Breath You Take - Sting
Everybody Hurts - R.E.M.
Everytime - Britney Spears
Everytime We Touch - Cascada
Fast Car - Tracey Chapman
Feel - Robbie Williams
Fields of Gold - Eva Cassidy
Fireflies - Owl City
Fly Me To The Moon - Frank Sinatra
Flying without Wings - Westlife
Four Five Seconds - Rihanna, Kanye West, Paul McCartney
Ghost – Ella Henderson
Glad You Came - The Wanted
Hallelujah - Jeff Buckley
Havana - Camila Cabello
Heaven - Bryan Adams
Hello - Adele
Hoppipola - Sigur Ros
I Can See Clearly Now - Johnny Nash
I Don't Want To Miss A Thing - Aerosmith
I Will Always Love You - Whitney Houston
Imagine - John Lennon
Just The Way You Are - Bruno Mars
Killing Me Softly With His Song - Roberta Flack
Lean On Me - Bill Withers
Let Her Go - Passenger
Let It Be - The Beatles
Love Is All Around
Love Me Like You Do - Ellie Goulding
Love Me Tender - Elvis Presley
Love Story - Taylor Swift
Mad World - Gary Jules
Marry You - Bruno Mars
Moves Like Jagger - Maroon 5
My Immortal - Evanescence
No Matter What - Boyzone
Nothing Compares To You - Sinead O'Connor
Nothing Else Matters - Metallica
One Moment in Time - Whitney Houston
Perfect - Ed Sheeran
Photograph - Ed Sheeran
Porcelain - Moby
Rolling In The Deep - Adele
Rude – Magic
Run - Snow Patrol
Sailing - Rod Stewart
See You Again - Wiz Khalifa
Set Fire To The Rain - Adele
Seven Years - Lukas Graham
She Will Be Loved - Maroon 5
Sing (Jubilee song) - Gary Barlow
Skinny Love - Birdy
Smile - Charlie Chaplin
Someone Like You - Adele
Something I Need - Ben Haenow
Something Stupid - Frank Sinatra
Stand By Me - Ben E. King
Stay With Me – Sam Smith
Summer of '69 - Byran Adams
Tears in Heaven - Eric Clapton
Telephone - Lady Gaga
The A Team - Ed Sheeran
The Climb - Miley Cyrus
The Edge Of Glory - Lady Gaga
The Rose - Bette Midler
The Scientist - Coldplay
Time After Time - Cyndi Lauper
To Make You Feel My Love - Bob Dylan
Unchained Melody - Righteous Brothers
Uptown Funk - Mark Ronson ft. Bruno Mars
Viva La Vida - Coldplay
Waiting for Love - Avicii
Walking in Memphis - Marc Cohn
We Found Love - Rhiannah
What a Wonderful World - Louis Armstrong
When You Say Nothing At All - Ronan Keating
Wherever You Will Go - The Calling
Winter - Tori Amos
With A Little Help From My Friends - The Beatles
With Or Without You - U2
Yesterday - The Beatles
You Raise Me Up - Westlife
You are My Sunshine - Ray Charles
You're Beautiful - James Blunt
You've Got The Love - Florence & The Machine
Your Song - Elton John
Film Music
A Whole New World (from 'Aladdin')
As Long As He Needs Me (from 'Oliver')
Be Our Guest (from 'Beauty and the Beast')
Can You Feel the Love Tonight (from 'The Lion King')
City of Stars (from 'La La Land')
Colours of the Wind (from 'Pocahontas')
Edelweiss (from 'The Sound Of Music')
Feather Theme (from 'Forrest Gump')
For the Love of a Princess (from 'Braveheart')
I See The Light (from 'Tangled')
Let It Go (from 'Frozen')
Love Changes Everything (from 'Aspects of Love')
May It Be (from 'Lord of the Rings')
May It Be (from 'Lord Of The Rings')
Memory (from 'Cats')
Mia & Sebastian's Theme (from 'La La Land')
Moon River (from 'Breakfast at Tiffany's')
My Heart Will Go On (from 'Titanic')
Over the Rainbow (from 'The Wizard of Oz')
Pure Imagination (from Willy Wonka and the Chocolate Factory)
Tale Old As Time (from 'Beauty and the Beast')
The Portrait (from 'Titanic')
The Wind Beneath My Wings (from 'Beaches')
Theme from 'Chariots of Fire'
Theme from 'Game of Thrones'
Theme from 'Pirates of the Caribbean'
Theme from 'The Pink Panther'
Theme from 'Up'
Tomorrow (from 'Annie')
When You Wish Upon A Star (from 'Pinocchio')
Traditional
Ae Fond Kiss (Scottish)
All Through the Night (Welsh)
Amazing Grace (English)
Ashokan Farewell (Scottish)
Auld Lang Syne (Scottish)
Banks of the Ohio (American)
Brian Boru's March (Irish)
Da Slockit Light (Scottish)
French Boure (French)
Greensleeves (English)
Hamnatang (Scottish)
Hey Bystra Woda (Polish)
Highland Wedding (Scottish)
House of the Rising Sun (American)
Isle Of Aigas (Scottish)
John O'Connor (Irish)
Leaving Stoer (Scottish)
Loch Lomond (Scottish)
Londonderry Air/Danny Boy (Irish)
Looking at a Rainbow Through A Dirty Window (Scottish)
Lord Willoughby (English)
Mairi's Wedding (Scottish)
Mingulay Boat Song (Scottish)
Miss Drummond of Perth (Scottish)
Morning Has Broken (English)
My Bonnie Lies Over The Ocean (Scottish)
My Love is Like a Red, Red Rose (Scottish)
Neil Gow's Lament (Scottish)
Sands Of Holsta (Scottish)
Scotland The Brave (Scottish)
Sileas (Scottish)
Skye Boat Song (Scottish)
The Ash Grove (Welsh)
The Dark Island (Scottish)
The Distressed Soldier (Irish)
The Miller's Dance (English)
The Minstrel Boy (Irish)
The Queen's March (Welsh)
The Rising of the Lark (Welsh)
The Sally Gardens (Irish)
There Was a Lad (Scottish)
Water Sound Shore (Scottish)
Westering Home (Scottish)
Ye Banks and Braes (Scottish)
Light Music & Jazz
Baroque Flamenco - Henson - Conant
Fire Dance - Watkins
Harpicide at Midnight - Chertok
I Giorni - Einaudi
Le Onde - Einaudi
Maybe - Yirama
Mother's Journey - Tiersen
New Blues - Henson - Conant
On The Water - Stadler
Primavera - Einaudi
River Flows In You - Yirama
Song in the Night - Salzedo
Ten Past Two - Chertok
Theme from The Pink Panther
Tickled Pink - Stevenson
Una Mattina - Einaudi
Occasional
Auld Lang Syne - Robert Burns
Congratulations - Cliff Richard
God Save The Queen - anon.
Happy Birthday - anon.
O Flower Of Scotland - The Corries
Scotland The Brave - anon.
Seasonal
Angels from the Realm of Glory
Away In A Manger
Calypso Carol
Deck The Halls
Ding Dong Merrily On High
Fairytale Of New York
God Rest Ye Merry Gentlemen
Good King Wenceslas
Hark The Herald Angels Sing
Have Yourself A Merry Little Christmas
In The Bleak Mid-Winter
Jingle Bells
Joy To The World
Let It Snow
Little Donkey
Mary's Boy Child
O Come All Ye Faithful
O Holy Night
O Little Town Of Bethlehem
Once In Royal David's City
Santa Claus is Comin' To Town
See Amid The Winter's Snow
Silent Night
Step Into Christmas
The First Nowell
The Little Drummer Boy
Walking In The Air
We Three Kings
We Wish You A Merry Christmas
What Child Is This (Greensleeves)
When A Child Is Born
While Shepherds Watched
Compositions
A Highland Landscape
Back Home To Scotland
Calm Before War
Firth of Tay
Leap Year
Moira's Waltz
Mother's Lost Present
Powerscourt Air
Strike & The Aftermath
The Missing Recipe
The Waiting Game
Any requests can be accommodated.