Warble Entertainment's
The Warble Bandeoke Band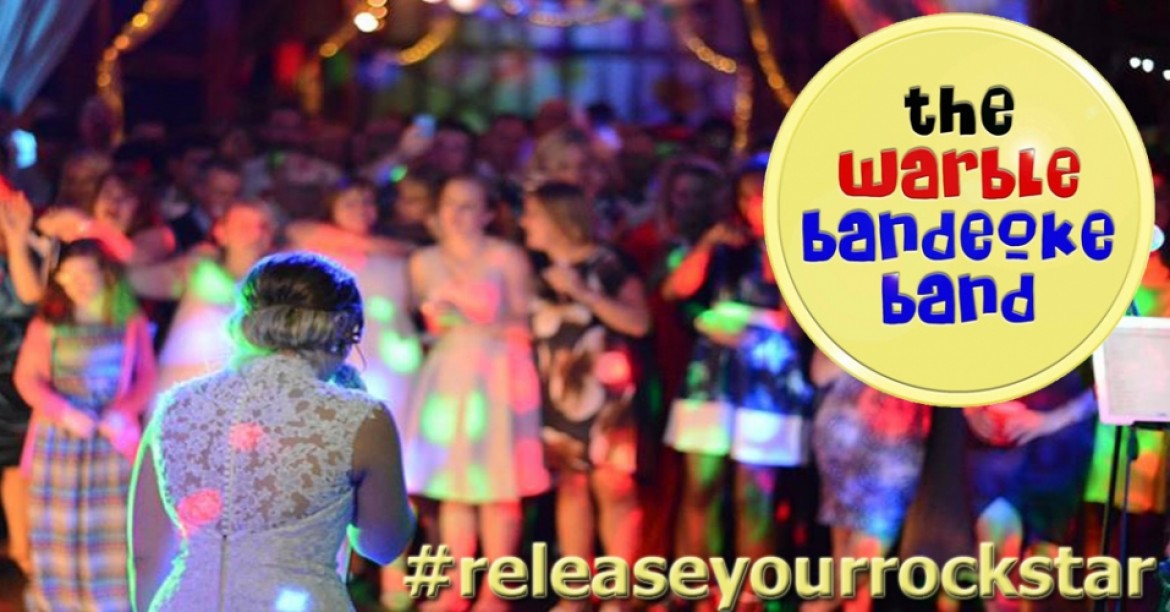 Location Shropshire
Starting from £960.00
Warble is home to the longest running, most rocking, party inducing, 5-minutes-of-fame-giving, bouncing, memory creating, guest interactive Bandeoke band in the WORLD. OK, well we might not know about the entire world, but we do know these guys are the best bar none at getting you and your guests into a party mood before smashing it through the roof (sometimes literally), creating a party neither you nor your guests will forget in a hurry.
Bandeoke is still a relatively new concept - at its most basic it could be described as karaoke with a live backing band. But it's so much more than simply singing a song with a rock and pop band. The guys will make you feel like a rockstar with their specialist PA, lighting, ridiculous conversation and dubious fashion sense.
This is as close to being a rockstar as you can get without actually going out, kidnapping and then impersonating Bono.
The Warble Bandeoke Band allows your guests, friends and family to enjoy 5 minutes of fame with a REAL LIVE BAND on stage!
49 reviews
Song List
The Warble Bandeoke Band allow you to reqest a song. So, if the song you're desperate to have a go with isn't on the list the band can learn it specifically for your night, at no extra charge. All they need is at least 3 weeks notice!
0-9
5 Colours In Her Hair - McFly
7 Nation Army - The White Stripes
8 Days A Week - The Beatles
9 to 5 - Dolly Parton
20th Century Boy - T.Rex
500 Miles - The Proclaimers
A
A Boy Named Sue - Johnny Cash
A Little Respect -Erasure
A Team - Ed Sheeran
Ace of Spades - Motörhead
All About That Bass - Meghan Trainor
All About You - McFly
All Star - Smash Mouth
All The Small Things - Blink 182
All These Things That I've Done - The Killers
Alright - Supergrass
Always a Woman To Me - Billy Joel
Amarillo - Tony Christie
America - Razorlight
American Idiot - Greenday
American Pie - Don McLean
Angels - Robbie Williams
Are You Gonna Be My Girl - Jet
Avenues & Alleyways - Tony Christie
B
Baby When You're Gone - Mel C & Bryan Adams
Back in the U.S.S.R - The Beatles
Back To Black - Amy Winehouse
Beautiful - Christina Aguilera
Billie Jean - Michael Jackson
Biology - Girls Aloud
Bitch - Meredith Brooks
Black Horse and The Cherry Tree - KT Tunstall
Blame it on the Boogie - Jackson 5
Bohemian Like You - Dandy Warhols
Breakfast at Tiffany's - Deep Blue Something
Brown Sugar - The Rolling Stones
Buck Rogers - Feeder
Build Me Up Buttercup - The Foundations
Burning Love - Elvis Presley
C
Celebrity Skin - Hole
Chasing Cars - Snow Patrol
Chelsea Dagger - The Fratellis
Cigarettes and Alcohol - Oasis
Clown - Emeli Sande
Common People - Pulp
Country House - Blur
Crazy - Gnarls Barkley
Crazy Little Thing Called Love - Queen
Crazy, Crazy Nights - Kiss
Creep - Radiohead
Cum On Feel The Noize - Slade
D
Dakota - Stereophonics
Dancing Queen - Abba
Daydream Believer - The Monkees
Daytripper - The Beatles
Delilah - Tom Jones
Disco 2000 - Pulp
Don't Go Breaking My Heart - Elton John & KeeKee Dee
Don't Look Back In Anger - Oasis
Don't Look Back Into The Sun - The Libertines
Don't Stop - Fleetwood Mac
Don't Stop Believing - Journey
Don't Stop Me Now - Queen
Don't You Want Me Baby - Human League
Dreaming of You - The Coral
E
Easy - Commodores
Edge of Glory - Lady Gaga
Ever Fallen In Love - The Buzzcocks
Everlong - Foo Fighters
Eye Of The Tiger - Survivor
F
Fever - Peggy Lee
Firework - Katy Perry
Folsom Prison Blues - Johnny Cash
Forget You - Cee-Lo Green
G
Get Back - The Beatles
Get Lucky - Daft Punk
Gimme All Your Lovin' - ZZ Top
Girl, You'll Be A Woman Soon - Neil Diamond
Girls and Boys - Blur
Girls Just Wanna Have Fun - Cyndi Lauper
Go Your Own Way - Fleetwood Mac
Golden Touch - Razorlight
Good Riddance (Time of Your Life) - Greenday
H
Hanging On The Telephone - Blondie
Happy - Pharrell
Hard To Handle - Otis Redding
Hit Me Baby One More Time - Britney Spears
Ho Hey! - The Lumineers
Holding Out For A Hero - Bonnie Tyler
How Long Will I Love You? - Ellie Goulding
I
I Believe In A Thing Called Love - The Darkness
I Bet You Look Good on the Dance Floor - Arctic Monkeys
I Feel Good - James Brown
I Fought the Law - The Clash
I Heard It Through The Grapevine - Marvin Gaye
I Kissed a Girl - Katy Perry
I Knew You Were Waiting - George Michael & Aretha Franklin
I Love Rock 'n' Roll - Joan Jett
I Predict A Riot - Kaiser Chiefs
I Saw Her Standing There - The Beatles
I Think We're Alone Now - Tiffany
I Want To Break Free - Queen
I Will Survive - Gloria Gayner
I'll Be There For You - The Rembrandts
I'll Stand By You - The Pretenders
I'm a Believer - The Monkees
If It Makes You Happy - Sheryl Crow
If You Wanna - The Vaccines
Ironic - Alanis Morissette
Islands In The Stream - Dolly Parton & Kenny Rodgers
It Must Be Love - Madness
It's Not Unusual - Tom Jones
J
Jailhouse Rock - Elvis Presley
Jar of Hearts - Christina Perri
Johnny B Goode -Chuck Berry
Just The Way You Are - Bruno Mars
K
Kiss Me - Sixpence None the Richer
Knocking On Heavens Door - Bob Dylan
L
Last Night - The Strokes
Lay All Your Love On Me - Abba
Let It Be - The Beatles
Let Me Entertain You - Robbie Williams
Like A Virgin - Madonna
Livin' On A Prayer - Bon Jovi
Love Machine - Girls Aloud
Love On The Rocks - Neil Diamond
Lovecats - The Cure
Lovely Day - Bill Withers
M
Mack The Knife - Bobby Darin
Make Me Smile - Steve Harley
Mardy Bum - Arctic Monkeys
Material Girl - Madonna
Mercy - Duffy
Molly's Chambers - Kings of Leon
Mona Lisa - Brad Paisley
Monster - The Automatic
Mr Brightside - The Killers
Mr Jones - Counting Crows
Mustang Sally - The Commitments
My Brown Eyed Girl - Van Morrison
My Generation - The Who
My Way - Frank Sinatra
N
National Express - The Divine Comedy
Natural Woman - Aretha Franklin
No One Knows - Queens Of The Stone Age
No Woman No Cry - Bob Marley
Nobody Does It Better - Carly Simon
Nothing's Gonna Stop Us Now - Starship
O
One Day Like This - Elbow
One Way Or Another - Blondie
P
Parklife - Blur
Pencil Full Of Lead - Paolo Nutini
Perfect - Fairground Attraction
Perfect Day - Lou Reed
Picking Up The Pieces - Paloma Faith
Price Tag - Jessie J
Put Your Hands On - Reef
R
Ring of Fire - Johnny Cash
Rock 'n' Roll Star - Oasis
Rockin' All Over The World - Status Quo
Rocks - Primal Scream
Rolling In The Deep - Adele
Ruby - Kaiser Chiefs
Rule The World - Take That
Run - Snow Patrol
S
Satisfaction - The Rolling Stones
Sex On Fire - Kings of Leon
Shake It Off - Taylor Swift
Sharp Dressed Man - ZZ Top
Shine - Take That
Shining Light - Ash
Should I Stay or Should I Go - The Clash
Shout - Lulu
Simply The Best - Tina Turner
Since You've Been Gone - Kelly Clarkson
Sit Down - James
Sk8er Boi - Avril Lavigne
Smells Like Teen Spirit - Nirvana
So What - Pink
Someone Like You - Adele
Somewhere Only We Know - Keane
Song 2 - Blur
Stand By Me - Ben E. King
Stayin' Alive - The Bee Gees
Stuck In The Middle With You - Stealers Wheel
Suddenly I See - K.T Tunstall
Summer of 69 - Bryan Adams
Sunny Afternoon - The Kinks
Superstition - Stevie Wonder
Suspicious Minds - Elvis Presley
Sweet Caroline - Neil Diamond
Sweet Child o' Mine - Guns 'n' Roses
Sweet Home Alabama - Lynyrd Skynyrd
Sympathy For The Devil - The Rolling Stones
T
Take Me Out - Franz Ferdinand
Teenage Dirtbag - Wheetus
Teenage Kicks - The Undertones
Thinking Out Loud - Ed Sheeran
Total Eclipse of The Heart - Bonnie Tyler
Town Called Malice - The Jam
Treasure - Bruno Mars
Try A Little Tenderness - Otis Redding
Twist and Shout - The Beatles
U
Umbrella - Rihanna
Use Somebody - Kings of Leon
V
Valerie - Mark Ronson & Amy Winehouse
Vertigo - U2
Videogames - Lana Del Rey
Video Killed The Radio Star - Buggles
Viva La Vida - Coldplay
W
Walking On Sunshine - Katrina & The Waves
Wannabe - Spice Girls
Warwick Avenue - Duffy
We Are the Champions - Queen
We Love To Boogie - T Rex
What You Know - 2 Door Cinema Club
Wherever You Will Go - The Calling
Who Knew - Pink
Why Does It Always Rain On Me? - Travis
Wish You Were Here - Pink Floyd
With or Without You - U2
Wonderful Tonight - Eric Clapton
Wonderwall - Oasis
Y
Year 3000 - Busted
Yellow - Coldplay
You & Me Song - Wannadies
You Do Something To Me - Paul Weller
You Really Got Me - The Kinks
You Were Always On My Mind - Elvis Presley
Young Hearts Run Free - Candi Staton
Your Song - Elton John
Z
Ziggy Stardust - David Bowie