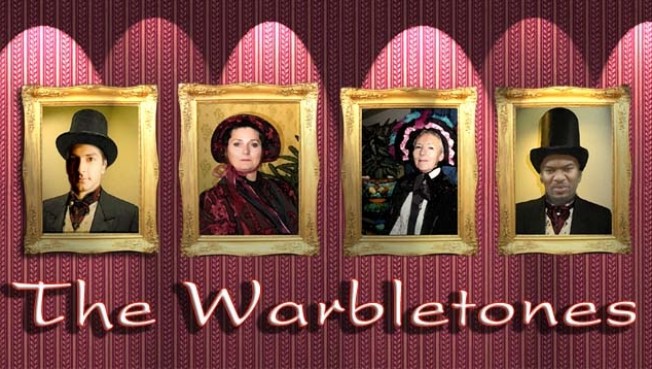 Location Birmingham
Starting from £330.00

1, 2 or 4 professional singers offering the very best in vocal music from Opera to West End, Carols and Church music.
Perfect for Dinner Parties, Weddings and Corporate or promotional events.
Listen




Number of Reviews and Counting... 7!
The Warbletones are a team of singers who peform all over England and Europe in Opera and Oratorio as well as working as session singers for commercial television and radio. They are an ensemble of singers who perform either solo,duo or as a small group or choir in multiples or Four.
The Warbletones can dress in themed costumes to match your event or, can dress in evening wear for your corporate event.
The Warbletones are just happy as background music as they are as a focal point. They are the perfect meet and greet act, after dinner entertainment or ideal for promotional events.
Or, why not re-write the words to a carol and The Warbletones will sing it for you?
For church services The Warbletones lead the hymns and perform one / two special pieces at key moments.
For Christmas events they can put a programme together of traditional and / or contempoary Christmas music with or without backing tracks or accompaniment. The Warbletones bring carol sheet for audience participation if required.
You can book one, two, four or any multiple of 4 singers
Ave Maria Gounod and Scubert
Panis Angelicus
I was Glad
Some Enchanted Evening
The Lord Bless you and Keep You
I can't Help Fallin in Love With You
Fields of Gold
Practically all traditional carols
White Christmas
Winter Wonderland
The Christmas Song
Baby it's Cold Outside
Carol of the Bells
the 12 days of Christmas
Scarlet Ribbons
I'll be home for Christmas
Let there be peace on Earth
Silver Bells
... and many, many more...
Hayley Walker

, Wedding, Hampton Manor, Birmingham
The Warbletones were absolutely fantastic!!! They played at our December wedding and we had so many comments about how great they were. Everything from the costumes, to their wonderful voices, to the song choices made them the perfect addition for our winter wedding! The Warbletones were flexible in terms of our needs and I can't thank them enough for being part of our special day!
---
Elizabeth Atkin

, Wedding, All Saints Church, Derbyshire
The Warbletones were perfect. I can not express enough how wonderful the act were. The Pearl Fishers duet was everything I could have wished for, the hymns were sung with such passion - it was unforgettable. Thank you so very much! You made the dreams of a Bride reality.
---
Julian Dow - Eastgate Shopping Centre

, Corporate, Gloucestershire
Always really professional and accommodating.
---
Charlotte Alsop

, Wedding, Shropshire
What a class act! I hired The Warbletones for our winter wedding as an act to keep guests entertained between the wedding breakfast and the evening reception and they did this perfectly. Although the atmosphere was very loud with people talking, everyone still appreciated how beautiful it sounded and very festive. I had so many comments from people saying how much they enjoyed this part of my day! Thank you so much for performing at our wedding!
---
Gemma Read

, Wedding, Warwickshire
Outstanding, thank you for being at our wedding.
---
Gemma Read

, Wedding, Warwickshire
Outstanding!
---
Grace Bennett

, Wedding, West Midlands
Fantastic in every respect - many of our guests told me that they were moved to tears by the performance of 'Wonderful World' in particular. A highly professional and talented group of musicians who delivered a really polished performance - I would not hesitate in recommending them to others.
---
BUPA
The Black Country Museum
Birmingham Council House
Selfridges Birmingham and Manchester
Pele and Bobby Charlton
The Mailbox
The Elvetham Hotel
We have our own PA but do also perform where appropriate accoustically.
We work with backing tracks or you can choose at an extra charge from Pianist / String Trio / Harp or DJ. The performers will form part of the act after playing through your meal or drinks reception. We are also happy to work with the church organist for weddings.
We dress in Evening dress, Victorian costume, Novelty Christmas Tree / Cracker outfits or Winter Woolies.
A typical Christmas programme will consist or traditional carols, modern swing numbers, audience participation and a bonkers 12 days of Christmas!
The Warbletones perform for approximately 2 x 25 minutes or 1 x 40 mins and can tailor the programme if required by mutual arrangement
Wedding services or funerals - The Warbletones lead the hymns and perform up to 3 choral pieces through the ceremony
Extra time can be negotiated at extra charge
Please Note: The fees indicated below are approximate and based on a central location for each county. They are intended to provide a rough guide only and exact quotes can only be given once the date and exact location of your event have been provided.
North East
Durham
£540.00
Northumberland
£540.00
North Yorkshire
£540.00
South Yorkshire
£540.00
Tyne and Wear
£540.00
West Yorkshire
£540.00
Yorkshire
£480.00
North West
Cheshire
£420.00
Cumbria
£540.00
Manchester
£540.00
Lancashire
£540.00
Merseyside
£540.00
East Midlands
Derbyshire
£360.00
Leicestershire
£360.00
Lincolnshire
£360.00
Northamptonshire
£360.00
Nottinghamshire
£360.00
Rutland
£360.00
East
Cambridgeshire
£360.00
Norfolk
£420.00
Suffolk
£420.00
Wales
Anglesey
£480.00
Caernarvonshire
£480.00
Denbigh
£480.00
Flint
£480.00
Cardigan
£420.00
Brecon
£480.00
Carmarthen
£540.00
Glamorgan
£600.00
Monmouth
£480.00
Pembroke
£600.00
West Midlands
Gloucestershire
£360.00
Herefordshire
£360.00
Shropshire
£360.00
Staffordshire
£360.00
Warwickshire
£360.00
Worcestershire
£360.00
South East
Bedfordshire
£420.00
Berkshire
£420.00
Buckinghamshire
£420.00
East Sussex
£480.00
Essex
£540.00
Hampshire
£600.00
Hertfordshire
£540.00
Isle of Wight
£720.00
Kent
£540.00
Oxfordshire
£480.00
Surrey
£540.00
Sussex
£600.00
West Sussex
£600.00
London
£540.00
Middlesex
£540.00
South West
Cornwall
£600.00
Devon
£600.00
Dorset
£600.00
Somerset
£600.00
Wiltshire
£540.00