Warble Entertainment's
The West Wales Harpist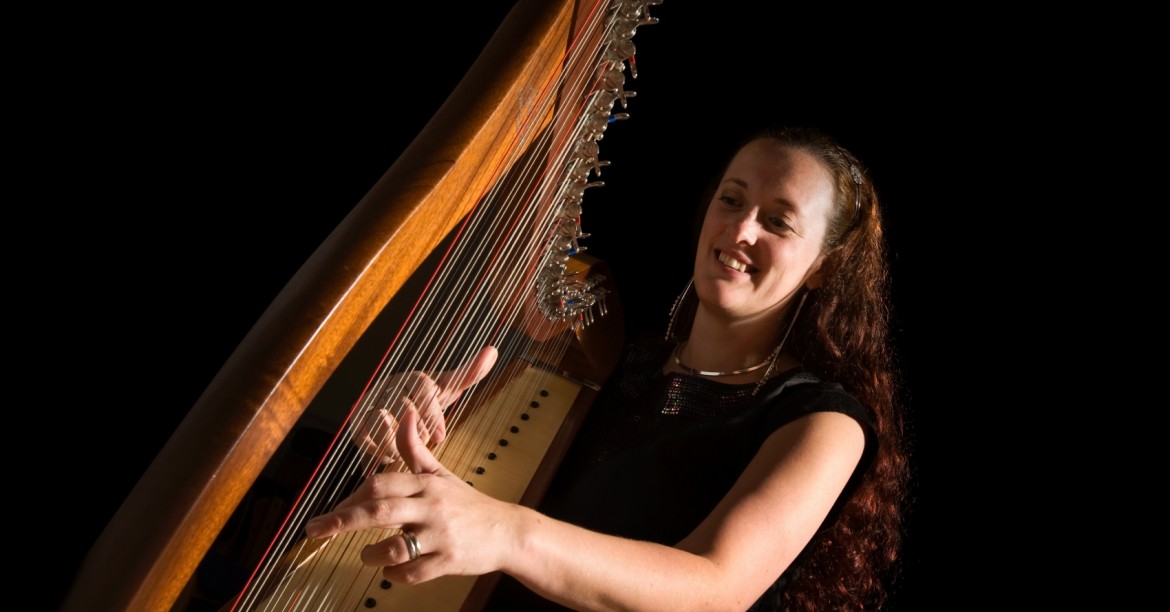 Location Carmarthen
Starting from £210.00
You've set the scene, the table's laid, the drinks poured and the speeches prepared. Why not add the finishing touch by employing a live harpist? First impressions count and as your guests enter the room the harp instantly becomes a focal point, a conversation starter and mood setter.
The West Wales Harpist plays a Celtic harp and has many years of performing experience. The West Wales Harpist's repertoire ranges from Classical (Ave Maria) to Popular (Coldplay, Take That, etc.) to Traditional (Scoittish, Welsh and Irish folk) to Medieval and Renaissance. If you have a particular theme for your wedding just ask and The West Wales Harpist can not only provide the music but often the appropriate outfit too (e.g. historical).
The West Wales Harpist can also provide singing (many pieces are either instrumental or harp and voice) and music on the flute. Whatever you wish for, the overall sound is magical and mesmerising and will add that extra special Sparkle to you Event!
8 reviews
Song List
Classical
Ave Maria - Bach/Gounod
Canon in D - Pachelbel
Flower Duet - Delibes
Water Music - Handel
Jesu Joy of Mans Desiring - Bach
Wedding March (from Midsummers Nights Dream) Mendelssohn
Wedding March - Wagner
Trumpet Voluntary - Clarke
Arrival of the Queen of Sheba - Handel
The Four seasons (excerts) - Vivaldi
Ode to Joy - Beethoven
Panis Angelicus - Franck
Clair de Lune - Debussy
Ave Maria - Schubert
Overture to La Traviata - Verdi
Jupiter - Holst
Eine Kleine Nachtmusik - Mozart
La Donna e mobile - Verdi
Largo from the New World Symphony - Dvorak
Musetta's Waltz - Puccini
Bolero - Ravel
Theme from Sonata K331 – Mozart
Adagio in G minor – Albioni
Dona Nobis Pacem – Anon
Drink to me with thine eyes only – Anon
Jesulein Suss – Bach
Meditation – Thais
Clarinet Concerto (Theme) – Mozart
Fantasie Impromptu – Chopin
La Ci Darem La Mano (from Don Giovanni) – Mozart
Minuet in G – Bach
Polovtsian Dance – Borodin
The Swan (Carnival of the animals) – Saint-Saens
The Skaters Waltz – Waldteufel
Theme from Swan Lake – Tchaikovsky
To a Wild Rose – MacDowell
Humeresque in G flat – Dvorak
Entr'acte (from Rosamunde) – Schubert
Pie Jesu – Lloyd Webber
Jesu Joy of Mans Desiring – Bach
Nimrod – Elgar
I giorni – Einaudi
Le onde - Einaudi
Popular
Fields of Gold - Sting
Annies Song - John Denver
Have I Told You Lately That I Love You? - Van Morrison
Cannonball - Damien Rice
Love is All Around - Reg Presley
Angels - Robbie Williams
Woman - John Lennon
Everything I do I do it for you - Bryan Adams
Chasing Cars - Snow Patrol
Yellow - Coldplay
Hallelujah - Cohen
Dreams - Priscilla Ahn
A Groovy Kinda Love - Phil Collins
Right Here Waiting for you - Richard Marx
Wonderful Tonight - Eric Clapton
Rose - The Feeling
Clocks – Coldplay
Here Comes the Sun – Harrison
Blowin' in the Wind – Dylan
She's the One - Robbie Williams
I Want to Know What Love is – Foreigner
The Most Beautiful Girl in the World – Prince
I Don't Wanna Miss a Thing – Warren
Make you feel my love – Adele
Fireflies – Owl City
You're my best friend – Queen
I'm yours – Mraz
Various Beatles – please contact me for details
Your Song – Elton John
You've got a friend in me – Newman
Rule the World – Take That
New York, New York – Ebb and Kander
Can't help falling in love – Presley
What a Wonderful World – Armstrong
Viva la Vida – Coldplay
Time of your life (Good Riddance) - Greenday
Traditional
Skye Boat Song - Scottish Trad
Greensleeves - Henry VIII (supposedly!)
Ash Grove – Welsh Trad
She Moved thru the Fair - Trad
Raglan Road - Trad
Bressey Lullaby - Shetland Trad
Fairies Love Song - Hebridian Trad
Danny Boy - Irish Trad
Kerry Dance - Scottish Trad
The Outlandish Knight - Somerset Trad
My Luve is like a Red, Red Rose - Scottish Trad
Marble Halls - Trad
Galway Bay - Irish trad
Whiskey in the Jar - Irish trad
Wild Rover - Irish trad
Scarborough Fair – Trad
Eriskay Love Lilt - Hebridian Trad
The Four Mary's - Scottish Trad
All Through the Night – Welsh Trad
Loch Lomond - Scottish Trad
Amazing Grace – Trad
Various O'Carolan tunes
Dacw Ngariad – Welsh Trad
Somewhere Over the Rainbow – Arlen
Summertime – Porgy and Bess
Moon River – Mercer and Mancini
A Whole New World - Disney
Can You Feel the Love Tonight – Disney
Bright Eyes - Mike Batt
What a Wonderful World - Weiss/Thiele
All I ask of you – Lloyd Webber
Memory – Lloyd Webber
I Know Him So Well – Chess
Circle of Life – Disney
Pie Jesu – Lloyd Webber
Glasgow Love Theme – Love Actually
I will always love you – The Bodyguard
Mad World – Donnie Darko
Moon River – Breakfast at Tiffany's
My Heart will go on – Titanic
Take my Breath Away – Top Gun
Unchained Melody – Ghost
Gabriels Oboe - Morricone
Cinema Paradiso - Morricone
Film and Show Tunes
Somewhere Over the Rainbow – Arlen
Summertime – Porgy and Bess
Moon River – Mercer and Mancini
A Whole New World - Disney
Can You Feel the Love Tonight – Disney
Bright Eyes - Mike Batt
What a Wonderful World - Weiss/Thiele
All I ask of you – Lloyd Webber
Memory – Lloyd Webber
I Know Him So Well – Chess
Circle of Life – Disney
Pie Jesu – Lloyd Webber
Glasgow Love Theme – Love Actually
I will always love you – The Bodyguard
Mad World – Donnie Darko
Moon River – Breakfast at Tiffany's
My Heart will go on – Titanic
Take my Breath Away – Top Gun
Unchained Melody – Ghost
Gabriels Oboe - Morricone
Cinema Paradiso - Morricone