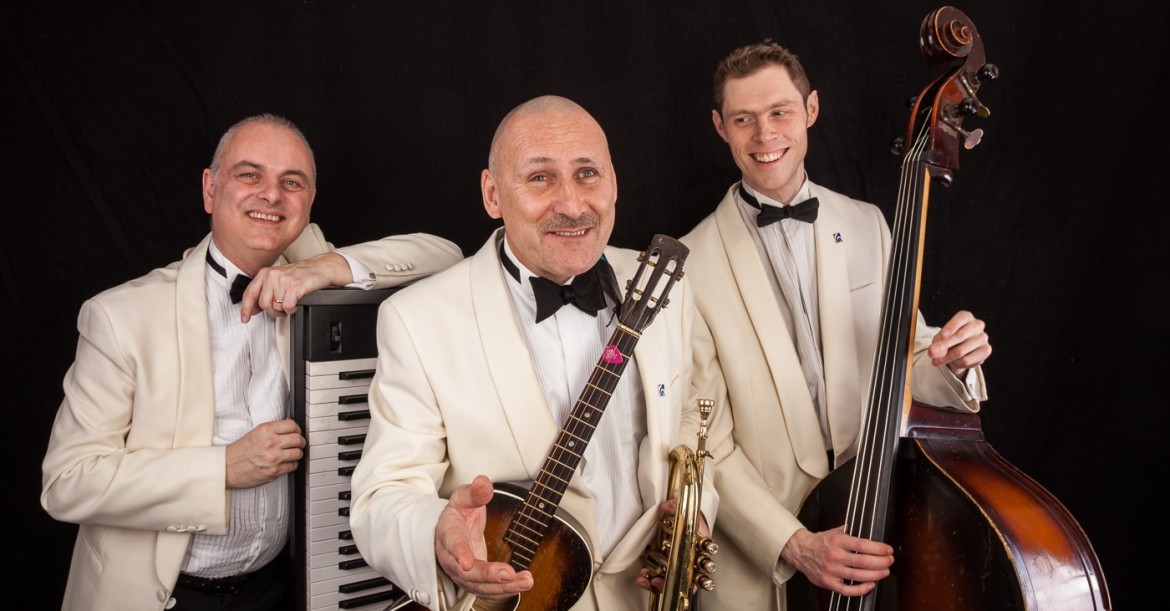 Location Manchester
Starting from £780.00

Trio Sinatra are here to get your party started with a swing, performing an exuberant celebration of the music and spirit of the Sinatra, The Rat Pack, and their contemporaries.
Listen




Number of Reviews and Counting... 2!
Trio Sinatra's music is song-based and accessible, appealing to a wide range of tastes and people of all ages.
The musicians are very experienced and versatile and have a large repertoire of Sinatra songs and styles which means they can keep your guests well entertained. They even have a selection of well known pop and rock songs - performed in post-modern swing style. They are also flexible - each performance is tailored to your event, your guests and of course, your personal preferences.
Singer/trumpet/tenor guitar/percussion, Piano, Double Bass.
Trio Sinatra can add Saxophone and or Drums, or play as a duo with just Singer/trumpet/tenor guitar/percussion, and Piano.
Frank Sinatra
Fly Me to the Moon
Come Fly With Me
Witchcraft
I've Got You Under My Skin
You Make Me Feel So Young
Strangers in the Night
The Lady is a Tramp
Mac the Knife
Beyond the Sea
New York New York
My Way
Cheek to Cheek
The Way You Look Tonight
I Left My Heart in San Francisco
I Get a Kick Out of You
Makin' Whoopee, Blue Skies
Begin The Beguine
Blue Moon
Brazil
Bye Bye Blackbird
The Continental
Something Stupid
All of Me
Almost Like Being in Love
Anything Goes
Bad Bad Leroy Brown
Are You Lonesome Tonight
As time Goes By
Don't Get Around Much Anymore
A Fine Romance
A Foggy day in London Town
I Only Have Eyes for You
Have You Met Miss Jones
It Had to be You
Let's Face the Music and Dance
Let's Do It Lt's fall in Love
It Happened in Monterey
Our Love is Here to Stay
Moonriver
The Nearness of You
A Nightingale Sang in Berkley Square
Oh Look at Me Now
Old Devil Moon
Night and Day
Pennies from Heaven
Polka Dots and Moonbeams
Satin Doll
Slow Boat to China
Stardust
Stompin' at the Savoy
Someone to Watch Over Me
Tea For Two
These Foolish Things
My Foolish Heart
Too Marvellous for Words
The Very Thought of You
Wrap Your Troubles in Dreams
Young at Heart
You're Getting to be a Habit With Me
You Must Have been a Beautiful Baby
Party Floor Fillers
Can't Take My Eyes Offa You (Andy Williams)
Love Is In The Air (John Paul Jones)
It's Not Unusual (Tom Jones)
A Hard Days Night (Beatles - Ramsey Lewis Style)
Oye Como Va (Santana)
I'm In The Mood For Love (Sca version)
Moon Dance (Van Morisson)
King of the Swingers (The Jungle Book)
Route 66 (Chuck Berry)
Rock Around the Clock (Bill Haley)
Teddy Bear (Elvis Presley)
Return to Sender (Elvis Presley)
Hound Dog (Elvis Presley)
Are You Lonesome Tonight? (Elvis Presley)
In the Mood (Glenn Miller)
Chattanooga Choo Choo (Glenn Miller)
Moonlight Seranade (Glenn Miller)
Don't Sit Under The Apple Tree (Glenn Miller)
Mambo Italiano
Que Sera Sera
Tea for Two
Guantanamera
Girl from Ipanema
Oye Como Va
Quando Quando Quando
Cherry Pink and Apple Blossom White
La Vie En Rose (Cuban)
Brazil (Samba)
Minnie the Moocher
Louis Jordan (Jump Jive)
Choo Choo Ch'Boogie
Is You Is or Is You Ain't My Baby
Ain't Nobody Here But Us Chickens
I'm Looking For a Woman That Only Drinks Lemonade
If You're So Smart How Come You Aint Rich
How Long Must I Wait For You
Chartreuse
The Tambouritsa Boogie
Ray Charles
Hallelujah I Just Love Her So
Georgia On My Mind
Born Free
Muddy Waters
Hoochie Coochie Man
Mojo Working
Dean Martin
Memories are Made of This
That's Amore
Volare
Sway
My Baby Just Cares for Me
Love Me or Leave Me
A Foggy Day Iin London Town)
Quando Quando Quando
The More I See You
I've Got You Under My Skin
Mac the Knife
Beyond the Sea
What a Difference a Day Made
Singin' in the Rain
Blame It On My Youth
I Get a Kick Out of You
Ole Devil Moon
Let's Face the Music and Dance
Let There be Love
Mona Lisa
A Nightingale Sang in Berkley Square
It Had to be You
Recipe for Love
The Lady is a Tramp
Manhattan
I Get a Kick Out of You
Blue Moon
Summertime
Moonriver
I Left My Heart in San Francisco
From This Moment On
Night and Day
You Do Something to Me
Mac the Knife
Do Nothing 'til You Here From Me
They Can't Take That Away From Me
Have You Met Miss Jones
Beyond the Sea
Ben Driver

, Wedding, Goldsborough Hall - Yorkshire, North Yorkshire
Accommodating, wonderful group. The music was spot on for the mood and they came dressed for the occasion.
---
Danielle Garcia

, Private Party, Manchester
I just wanted to say a massive thank you for entertaining us at the event yesterday. Everyone had a fantastic time, we had so many positive comments about the band. You definitely created a fun and exciting afternoon and I'm sure everyone left with a spring in their step. Thank you once again, I'll definitely recommend Trio Sinatra for future events.
---
Darley Abbey
HMS Calliope, Gateshead
The Fence Gate Hotel
Manchester Masons
Beamish Museum, Beamish
Lolo's, Ramsbottom
Port Sunlight Village
How much space do the band need?
Trio Sinatra only need a 3 metre by 4 metre space and a plug socket.
How long does it take for the band to set up?
The trio can be up and ready to go in as little as 30 minutes.
Can extra Musicians be added?
Yes, There is the option to add musicians - see the line-up section for details.
2 x 60 Minutes
3 x 40 Minutes
Please Note: The fees indicated below are approximate and based on a central location for each county. They are intended to provide a rough guide only and exact quotes can only be given once the date and exact location of your event have been provided.
Scotland
Glasgow
£1,080.00
Edinburgh
£1,080.00
Foreign Locations
Europe
£1,800.00
Rest of the world
£1,800.00
North East
Durham
£960.00
Northumberland
£1,080.00
North Yorkshire
£900.00
South Yorkshire
£780.00
Tyne and Wear
£960.00
West Yorkshire
£780.00
Yorkshire
£840.00
East Yorkshire
£900.00
Leeds
£780.00
North West
Cheshire
£780.00
Cumbria
£900.00
Manchester
£780.00
Lancashire
£780.00
Merseyside
£780.00
Liverpool
£780.00
East Midlands
Derbyshire
£780.00
Leicestershire
£900.00
Lincolnshire
£900.00
Northamptonshire
£960.00
Nottinghamshire
£900.00
Rutland
£960.00
East
Cambridgeshire
£1,080.00
Norfolk
£1,080.00
Suffolk
£1,080.00
Norwich
£1,080.00
Wales
Anglesey
£840.00
Caernarvonshire
£960.00
Denbigh
£780.00
Flint
£780.00
Brecon
£1,080.00
Glamorgan
£1,080.00
Monmouth
£1,080.00
Wrexham
£780.00
Cardiff
£1,080.00
West Midlands
Gloucestershire
£960.00
Herefordshire
£960.00
Shropshire
£900.00
Staffordshire
£780.00
Warwickshire
£900.00
Worcestershire
£960.00
Birmingham
£900.00
South East
Bedfordshire
£1,080.00
Berkshire
£1,080.00
Buckinghamshire
£1,080.00
East Sussex
£1,080.00
Essex
£1,080.00
Hampshire
£1,080.00
Hertfordshire
£1,080.00
Isle of Wight
£1,080.00
Kent
£1,080.00
Oxfordshire
£1,080.00
Surrey
£1,080.00
Sussex
£1,080.00
West Sussex
£1,080.00
London
£1,080.00
Middlesex
£1,080.00
South West
Devon
£1,080.00
Dorset
£1,080.00
Somerset
£1,080.00
Wiltshire
£1,080.00
Bath
£1,080.00
Bristol
£1,080.00