Warble Entertainment's
ABBA - The Girls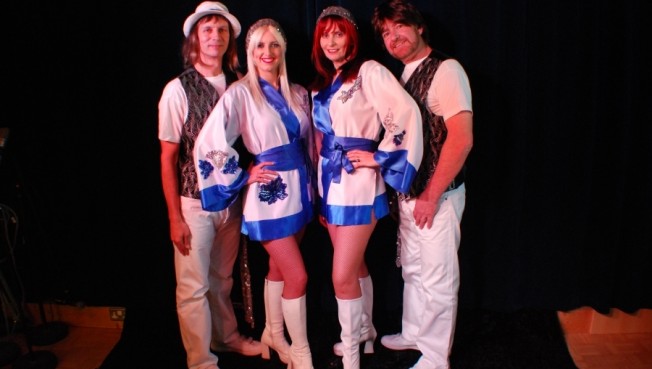 Location London
Starting from £660.00
The Girls are the original Abba Tribute duo established in 1995.
The idea of an Abba Tribute duo was conceived by The Girls' Kim Graham.
Such is their success that they have performed all over the world at more than 3000 gigs!
From large outdoor concerts (biggest audience 80,000) Live TV work, turned on Christmas lights, Radio jingles the list really is endless.
The Girls are available for all events including: Corporate, Private parties, weddings, hotels, summer seasons, theatres.
*The Girls tribute is available as a duo or 4 piece option*
4 reviews
Listen




Song List
1. Dancing Queen
2. Waterloo
3. Mamma Mia
4. Mamma Mia (Dance Version)
5. S.O.S
6. Knowing Me Knowing You
7. Take A Chance On Me
8. Money Money Money
9. Gimme Gimme Gimme (A Man After Midnight)
10. Does Your Mother Know?
11. One Of Us (Is Crying)
12. Thank You For The Music
13. Chiqitita
14. Super Trouper
15. Super Trouper (Dance Version)
16. Honey Honey
17. I Do. I Do. I Do. I Do. I Do
18. Angel Eyes
19. So Long
20. Ring Ring
21. When I Kissed The Teacher
22. Fernando
23. The Winner Takes It All
24. I Have A Dream
25. Summer Night City
26. Name Of The Game
27. As Good As New
28. Voulez Vouz
29. Happy New Year
30. Lay Your Love On Me
31. Money Money Money
32. Bang A Boomerang
33. Hole In Your Sole
34. Eagle
35. I Am A Marionette
36. Intermezzo
37. Nina. Pretty Ballerina
38. Dance (While The Music Goes On)
39. Tiger
40. The Visitors
41. When All Is Said And Done
42. Head Over Heels
43. Arrival
44. Andante Andante
45. Dum Dum Diddle
46. The Day Before You Came
47. On And On And On
48. Why Did It Have To Be Me?
49. Under Attack
50. I Wonder (Departure)
50. Move On
51. My Love My Life
52. Hey Hey Helen
53. One Man One Woman
54. Tropical Loveland
55. Rock Me
56. Another Town Another Train
57. Disillusion
58. He Is Your Brother
59. I Am Just A Girl
60. I've Been Waiting For You
61. Man In The Middle
62. I Saw It In The Mirror
63. Love Isn't Easy
64. People Need Love
65. Sitting In The Palm Tree
66. King Kong Song
67. My Mama Said
68. Watch Out
69. What About Livingstone
70. Gonna Sing You My Love Song
71. Suzy-Hang-Around
72. The King Has Lost His Crown
73. If It Wasn't For The Nights
74. Lovers (Live A Little Longer)
75. Kisses Of Fire
76. Me And I
77. Our Last Summer
78. The Piper
79. The Way Old Friends Do
80. Soldiers
81. I Let The Music Speak
82. Two For The Price Of One
83. Slipping Through My Fingers
84. Like An Angel Passing Through My Room

Tracks 1 – 31: Performed at most events.
Tracks 1 – 47: For Theatre style events and popular Abba weekends.
Tracks 48 – 84: Performed for Abba Fan Clubs that know album Tracks and do not want to hear the popular Abba songs.