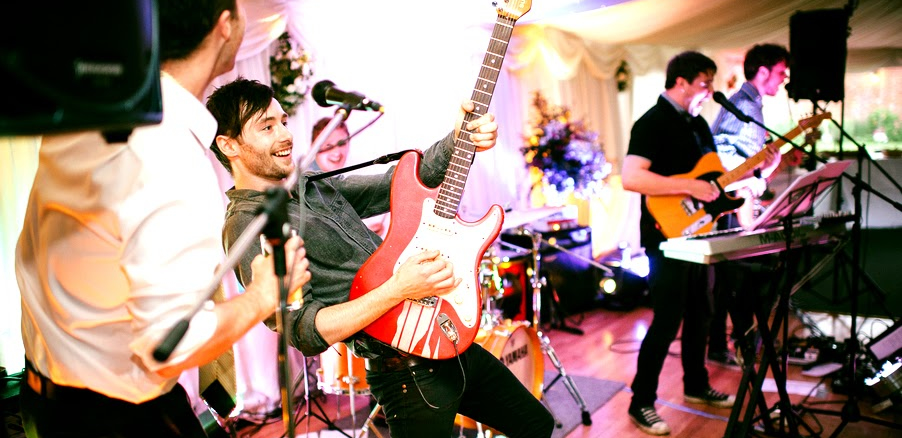 What is a rock and pop covers band and what do they do?
A cover band performing rock and pop songs is the perfect musical entertainment for private events, such as weddings or corporate functions where you want to get your guests on the dance floor. They perform chart hits from across all decades of popular music ranging from modern day floorfillers, for example, music by Kings of Leon, The Killers and Ed Sheeran, to timeless music by the likes of The Beatles, The Rolling Stones and Buddy Holly.
Group line-ups come in all shapes and sizes but the most popular are 3-5 piece acts, which include instrumentation such as male vocals, female vocals, both male and female vocals, guitar, bass, drums and keyboards. Whilst there are larger line-ups available that include brass instruments the more traditional 3-5 pieces are the most frequently booked.
How do they work at an Event?
A rock and pop band for hire will almost always be hired to perform in the evening, arrive between 5pm and 6pm, and will normally take between 1 – 2 hours to unload, set-up their equipment and have a soundcheck to ensure that the levels are correct. In the case of parties or corporate events this is often done before your guests arrive, or, in the case of weddings, as the room is turned around for the evening reception. If there is no turnaround time available for the performance room then alternate arrangements, such as an earlier arrival and set-up, should be made. Your Warble coordinator will be able to help with these details. If you have a list of questions to ask a wedding venue, enure you ask about space and room turnover for the band.
Whilst a stage is always great for a combo to perform on it is not a necessity as long as there is a solid, level space where they can set-up.
Cover acts tend to perform 2 hours of live music and split this as either 2 x 60 minute or 3 x 40 minute sets. Whilst some function bands will offer longer or shorter performance options, these are the most popular and well-received formats.
The first set will normally start at approximately 8.30pm-9pm and they will look to wind up the live music at roughly 11.30pm. Then, with a couple of encores or some perfectly timed classic anthems through the PA, the group will guide you and your guests to a midnight finish. Later finishes are available but should be discussed with your Warble coordinator at the time of enquiry.
Many acts are happy to be flexible with regards your events requirements so please just let us know and we can make suitable arrangements to ensure everything is perfect.
How much room will a band need?
As a guide a 3-piece act would require 3m x 3m. This will normally increase by an additional metre for every additional musician for hire in the band's line-up. For example, a 4-piece would require 4m x 3m and a 5-piece line-up would require 5m x 3m. Acts are happy to try and do everything they can to accommodate slightly smaller spaces so again, if you are unsure just check with your Warble coordinator.
Do I need to provide anything for the group?
Warble rock and pop party bands are self-contained and will provide everything they need to be able to perform for up to 150 guests. This will include all of their PA equipment, guitars, amplifiers, drums, keyboards, microphones, etc. And, in nearly all cases it will also include lighting for the performance area. If you are hosting a party or wedding with more than 150 guests speak to your Warble coordinator, as additional sound reinforcement may be required.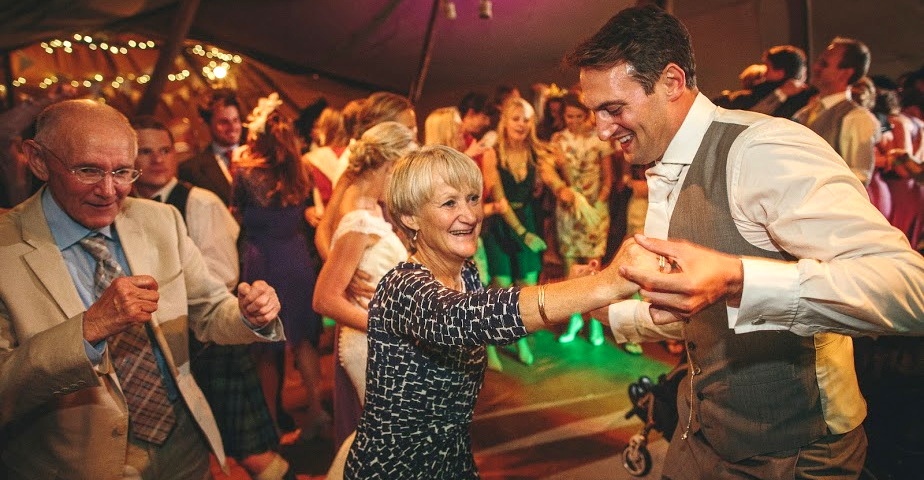 There are certain things that you will be expected to provide from a logistical point of view to help everything run smoothly on the day of the event itself. Firstly, the act will require parking for their vehicles at the venue. They will also need an adequate power supply close to the performance area to be in place. In addition, the group will probably need somewhere that they can change, store personal items and equipment cases and prepare for their performance.
And, finally, it's always worth remembering that they may have traveled a long way to perform at your event and after carrying heavy equipment around, setting up, soundchecking and then performing, breaking down equipment and heading home, it can be a very long and tiring day. If you want the band to perform at their absolute best keep them refreshed with soft drinks (tea, coffee, water, etc.) and food. They won't expect a three course meal, but something hot or a plate each from the buffet will really keep them at the top of their game and ready to bring the party to your event. The best time to feed them is before the first set, or, whilst they are taking a break.
Please feel free to speak to your Warble coordinator if you are unsure of any of the points above.
Can I have a say in what they play?
Warble cover bands are happy to chat through their set-list with you and discuss any songs that you would particularly like them to play and also any that you don't want them to perform. Many are also fine to learn a song or two for you free of charge, which is very handy for first dances at weddings. Please remember though that the groups have years of experience at filling dance floors and know what songs work best at which point and why so it is recommended to leave some things to their professional judgment and experience. The experience and knowledge of these musicians all contribute to the final price of hiring a cover band.
What happens when they aren't performing?
All Warble groups will provide pre-recorded music in-between their performances and until their contracted finish time as standard. This will normally be in the form of a CD or iPod mix. Some will also provide a DJ laptop service where they can mix tracks into one another and remove the gaps between songs. Additionally, there are acts that provide a full DJ service where you can make requests and they provide dancefloor lighting as a pro-DJ would. Speak to your Warble coordinator to find out what options any group you are interested in offer.
What Next…?
Take a look at the rock and pop bands available to hire for weddings, parties and functions below and once you have a short-list fill out our enquiry form for a free quote. Or, feel free to call one of our coordinators on 0845 643 9384 and we'll be happy to take some details and go through all of the booking options with you.