Wedding Entertainment Your Guests Will Love
Looking for inspiration for...
Your perfect day
You and your wedding
Warble Entertainment's Real Weddings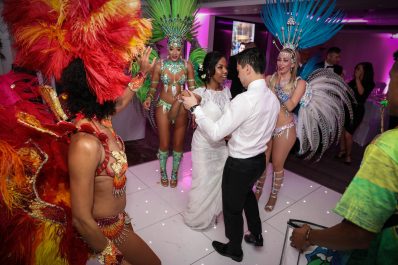 REAL BRIDES EXPERIENCES BOOKING WARBLE'S ACTS
Surprise Brazilian Dancers at San & Maria's Winter Wedding
August 22, 2019
We were so excited to help plan this massive surprise for San & Maria's winter wedding at Sofitel London St James. The happy couple planned a colourful surprise for their day with the fantastic and vibrant Brazilian Dancers! We got in…
Warble Entertainment's
Ideas, Helpful Hints and Tips
60+ MUST ASK Questions For Your Wedding Venue (Before Booking)
November 1, 2019
Booking your venue is one of the biggest tasks in planning your wedding.
During your visits, you will want to make sure that you've covered all questions to ask a wedding venue and circumstance to help you make the right decision.
…
Warble Entertainment's
Wedding Entertainment Ideas
Wedding Bands & Live Music
Live wedding entertainment doesn't get much better than wedding bands and live music. Hiring a wedding band and music entertainment is easier than ever. Get this right, and you really can have a show-stopping musical finale to your big day.
Booking a wedding band is a process, but is also one of the most enjoyable and exciting parts of your wedding planning! There is something special about live music, it can generate so much energy and emotion in a room. With this in mind, it's a good idea to put a lot of thought into what wedding band you choose.
The most popular style of wedding band available is the 'Rock & Pop Cover Band' archetype. These bands will have something for everyone, and can really bring a proper lively gig atmosphere! There are so many styles of wedding bands available such as festival style folk bands, soul bands and much more. Our agents will help you find a band, you and your guests will love!
The best wedding bands will make sure you're getting value for your money. Find out what extras the band offer as part of their package! Do they provide a DJ set in between and after sets? Can they learn your first dance song or maybe even provide an acoustic set earlier in the day? Most wedding bands will have these extras as part of their fee or additional packages.
Wedding Reception Entertainment
Entertainment for a wedding reception is perfect for creating memorable moments. There are so many gaps and lulls throughout a wedding which means that guests can easily get bored, tired, hungry, or a combination of all three! The most common wedding 'lull' is the drinks reception. These lulls can be alleviated, or better yet, become the highlights of your wedding day by a little forward thinking.
Breaking the ice with the right reception entertainment ideas is really important on your wedding day. Some of us are social chameleons and can talk for England with anyone and everyone! Others may be a little more reserved - especially with the nerve-wracking idea of two sides of the family coming together, having to make small talk. These social interactions are notoriously a little bit awkward. A talking point is sometimes needed, and this is where your wedding reception entertainers come in.
You have the opportunity to think outside the box here. Walkabout entertainers are always a top choice for fun entertainment at a wedding reception. They have the ability to roam the space and work up close with guests. Wedding magicians and caricaturists are both extremely popular for wedding receptions and certainly provide a talking point for guests.
Live music is also really popular during the wedding reception. You can be really open here about what styles you have, but definitely hold back on trying to create a lively party experience just yet. That can come later! Instead, look towards different styles of performers. Maybe solo acoustic singers who can provide some background music for a reception or even percussionists for something a little different.
Wedding DJ's
Hiring a wedding DJ is one of the most popular wedding entertainment options in the UK. DJ's for weddings are perfect entertainers for taking song requests from guests, having amazing sound systems and providing the best in DJ lighting rigs and equipment.
DJ's are one of the most versatile wedding entertainers out there. You can bring amazing music for all of your guests, or find specific wedding tests with Ibiza club style DJ's, Vintage DJ's and much, much more.
If your wedding venue as a sound limiter or volume restrictions, a wedding DJ is a great idea. Most DJ's can work with any volume or decibel limiter. You can have a night of music and dancing without any worries on your wedding day.
A lot of couples struggle to decide whether they should have a band or a DJ entertainer for their evening wedding entertainment. The truth is that both have their strong points. Live music is something special and exciting, whereas wedding DJ's can be quite cost effective in comparison to a live band and are still amazing at filling a dance floor.
In recent years, however, the choice has widened to more than just having a band or a wedding DJ. There are fresh ideas with both DJ's and live musicians and entertainers such as saxophonists or percussionists collaborating together. The rise of Sax & DJ duos and trios is great for those that are stuck deciding between a band or a wedding DJ.
Don't forget about the kids! Kids wedding entertainment is crucial if you're wondering how to keep children occupied on your wedding day.
Wedding entertainment for kids can mean many things. There are so many kids wedding entertainment ideas including kids' games, activities for kids to get involved in, kids wedding magicians and children's balloon modellers to keep kids busy.
Keeping kids entertained with activities and games on your wedding day is often overlooked. Keeping wedding entertainers in mind is really important. Chances are there are going to be children at your wedding. Whilst some couples choose to have a child-free day, and you won't be alone if this refers to you, for the most part, weddings do have some children attending. Even if it is a small cluster of bridesmaids or page boys, you will normally see little people running around probably with a (slightly) harassed looking adult not far behind them!
Unique Wedding Entertainment
The beauty of modern wedding entertainment is in its freedom. You really can have anything. This is often where you'll see awesome and unique wedding entertainment being used as a way to break the ice.
Your alternative wedding entertainment options are vast, so see what you can find and love. From living trees to celebrity lookalikes or fire performers, there is a crazy and wonderful world of unusual wedding entertainers you can hire to help you stand out. Anything goes, so look for something that represents your personality as the couple in love! You can get quirky, be creative, shock, surprise, amuse and amaze with the right wedding entertainment.
There are many reasons to look for something different for a wedding. Everyone wants to be original and the best way to make a statement on your wedding day is through your entertainment. Searching for unique wedding entertainment can bring up some interesting ideas to take your wedding to the next level - looking for that perfect photo opportunity.
Awesome ways to entertain your guests
Wedding Entertainment FAQ's
What are the types of wedding entertainment?
There are many different types of wedding entertainment including:
Wedding Bands
DJ's
Magicians
Caricaturists
Lookalikes
Fire Performers
Surprise Singing Waiters
Face Painters
Acoustic Singers
Harpists
Saxophonists & Saxophone Players
Dancers
Pianists
Violinists
How can I make my wedding unique?
There are some great ways to make your wedding unique. Unique wedding entertainment ideas include:
Celebrity Lookalikes
Beatboxers
Stilt Walkers
Mariachi Bands
Stunt & Circus Performers
Casino Tables
Mind Readers & Hypnotists
Light Up LED Musicians
Fire Eaters
Silent Disco
Jugglers
Murder Mystery
How can I surprise my wedding guests?
Surprise wedding entertainment is a great way to surprise your guest with unexpected moments. Catch your guests off guard by having a celebrity lookalike gatecrash your wedding speeches. Whether this is Captain Jack Sparrow, Gordon Ramsay or Del Boy, they are sure to cause a commotion!
Surprise singing waiters are also a fun wedding idea. They will pose as wedding staff undercover and then burst into song out of nowhere. These moments can make your wedding day stand out.
How much does wedding entertainment cost?
A good rule of thumb for professional wedding musicians and wedding entertainment in the UK is that the cost per musician or performer is usually around £200 to £300. When we do the math then you can expect duos in the region of £400 to £600 and full four piece or larger bands to be around £1000.
Before you book something it's good to know how much you can expect to pay. Live bands and wedding entertainment come in all shapes and sizes, and therefore, prices can vary.
What are some popular wedding ceremony music ideas?
Popular wedding ceremony musicians include solo guitarists, string quartets and harpists. You will notice that all of these wedding entertainment options are great as a 'backdrop'. You don't want anything too overpowering here, just something that augments the already romantic atmosphere.
If you have the opportunity to have your aisle walk song played live by a musician or sung by a choir, you absolutely should, you'll love it! It creates such incredible memories and this moment will be unique to you.
Is it better to have a band or a DJ at a wedding?
For a long time, this has been an internal debate for couples looking to book their evening wedding entertainment. The truth is that both have their strong points. Live music is something special and exciting, whereas wedding DJs be quite cost effective in comparison to a live band and still fill a dance floor.
Recently, the choice has widened to more than just having a wedding band or a DJ. Both DJ's and live musicians such as saxophonists or percussionists are collaborating together. The rise of Saxophone & DJ groups is great for those that are stuck deciding between a band or a DJ.
How long does a wedding band play for?
Most commonly, wedding bands will offer either 2 x 60 minute sets or 3 x 40 minute sets. Our advice is that 2 x 60 minute sets should be what you aim for.
Think about the flow of your night. With three separate sets of 40 minutes, you're moving your wedding entertainment on and off stage with more breaks. With 2 x 60 minutes, the band are only having to bring your guests onto the dance floor a couple of times. Breaking things up and making them do this an extra time just fragments your night.
INSTAGRAM #WARBLEWEDDINGS