Looking for helpful tips for organising entertainment for a top event?
Read our Blog
Singing Waiters
Hire singing waiters and waitresses to surprise your guests. Perfect wedding entertainment and ideal for corporate functions, our shock singers will make your event a talking point! Surprise waiters with guitars or singing firemen and policemen... even a surprise cleaning crew!! Warble Entertainment Agency provide singers that burst into classical song, musical tunes and even pop hits to events throughout the UK.
Read more

What Are Singing Waiters?
Singing waiters for weddings are simply one of the most exciting and unique wedding entertainment ideas that you can hire for your big day.
The surprise element of these secret singers creates a 'flash mob' moment of shock and amazement! The best singing waiters will disguise themselves as undercover waiting staff, venue staff and even your own guests.
Secret singers are experts at planning the ultimate surprise at your wedding. Everything is prearranged and the singing waiters will blend in seamlessly at your wedding until the opportune moment to burst out into song and surprise your guests!
Not only do surprise singing waiters have to be great performers and vocalists, they also have to be great actors in order to sell themselves as real venue staff. These surprise wedding singers are a fantastic idea for the wedding breakfast and are mostly normally seen at the end of the meal. No one is expecting a surprise performance here and guests can really be caught off guard with a well planned singing flash mob!
How Do Surprise Singing Waiters Actually Work On The Day?
Each surprise will play out differently depending on the situation or event. Different styles of singing waiters will also run each event in their own way.
Most surprise singers will blend in and camouflage themselves with the real waiting staff at your wedding or party. The secret singers are not only talented performers but are trained waiting staff! This means that they can wear exactly the same uniform as the venue staff and carry out all the same duties as a professional waiter.
The best singing waiters in the UK are able to be completely convincing and will own the role! Your guests won't suspect a thing. Once you hire singing waiters, all you have to do is sit back and watch the madness unfold!
Secret wedding singers will initially mix in with the party and build a rapport with your guests as waiting staff. This enhances the impact of the surprise once the real performance begins.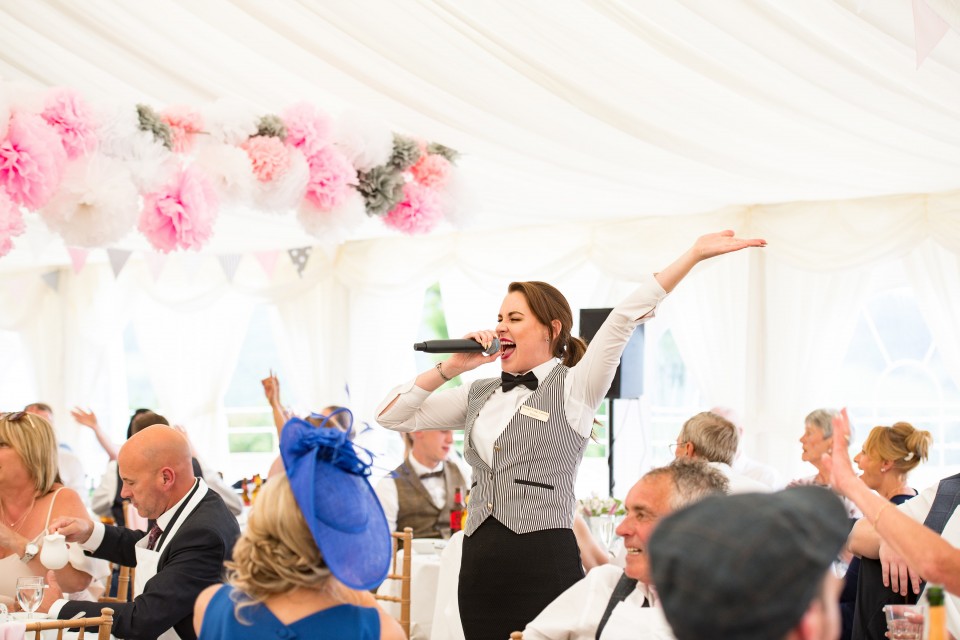 Your singing waiters group will usually arrive between 1 – 2 hours before you and your guests. During this time, they will discreetly set up a sound system, sound check at the wedding venue and prepare their uniforms or costumes to look the part of a waiter! Singing waiters allow themselves this time so there is no chance that your surprise will be ruined or spoiled.
When the secret singing waiters performance begins, there is usually some kind of commotion or big moment to help begin the performance. Different singing waiters like to pull this off in different ways. Some will pretend that a big scene or an argument is happening, only to flip the tables and burst into song! Other singing waiters may trip over on purpose and drop cutlery to cause a big scene. This big surprise moment is why the singing waiters work so well! Subverting expectations can create great memories for all of your wedding guests with live music and songs for them to enjoy and sing along to.
How Many Singing Waiters Can You Hire?
Singing waiter packages can range from duos all the way to groups of 6 or more surprise singers.
Depending on your preference, you can hire mixtures of male and female singers to perform as singing waiters at a wedding or event.
How Much Do Singing Waiters Cost For a Wedding?
The price of live wedding singers and singing waiters prices in the UK is determined by the number of singers booked, plus experience. The average cost for a singing waiters trio in the UK is £980.
Prices for the best singing waiters can be higher due to the level of experience and performance quality. Costs may also be higher on peak wedding dates or affected by travel times and distance.
There are a number of varying cost factors and things to navigate when booking a live performer such as singing waiters for a wedding. Learn more about how prices are structured for wedding singers by checking out our average wedding musician costs guide.
What Kind of Music Do Singing Waiters Perform?
Professional singing waiters are able to perform a wide range of songs in a variety of styles.
Most secret singers groups will have a lengthy repertoire of songs to choose from and will also be able to advise on sets and genres that work particularly well.
Many secret singers in the UK are trained in musical theatre and classical singing. This gives them both the acting and vocal training to be able to perform in such a convincing manner! Despite this classical and musical theatre background, many of the songs that singing waiters perform at a wedding can range from current chart music, swing, Christmas songs, popular covers and more.
Some singing waiters groups are able to take requests or learn additional songs as long as they are given enough notice to prepare. This could mean backing tracks, rehearsals and of course being able to fit the song into their style and work it into an exciting set for you and your guests. Some songs may also not be suitable for specific secret singers depending on the line up that you have chosen for your wedding or event.
The best advice when hiring singing waiters is to trust your chosen performers to recommend the ideal set list for your event. Secret singers are professionals and have loads of experience in tailoring the perfect set to create the biggest impact.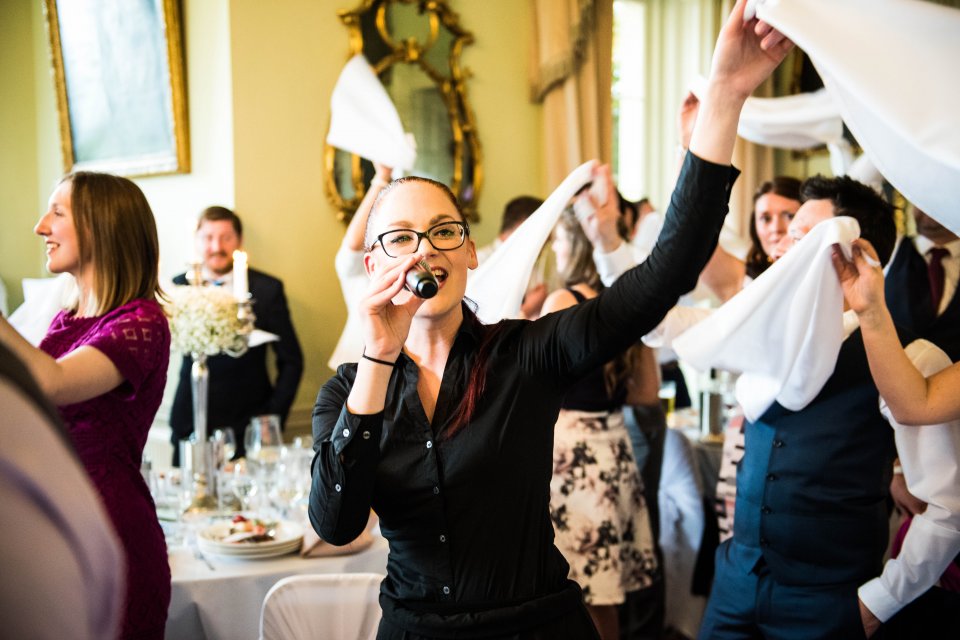 How Long Can Singing Waiters Sing For?
After the initial surprise, singing waiters for weddings will usually perform a live show that lasts around 30 minutes.
Whilst surprise wedding singers can offer longer set times or additional sets, most secret singers find that the slot of 20-30 minutes is ideal for the biggest impact! This leaves the biggest impression on your guests and ensures that everyone is suitably entertained. The set will feature a variety of songs that build up to a big finale.
Should I Tell My Wedding Venue If I Hire Singing Waiters?
When speaking to your wedding venue or asking your wedding venue questions, you should absolutely let them know if you have hired any surprise entertainment or secret wedding singers for your big day.
Your venue should be aware and also happy for singing servers to perform at the venue. As this type of surprise wedding entertainment relies upon good communication between the wedding venue and your entertainment, it is important to make them aware.
The singing waiters will be blend in as part of the regular waiting staff at the venue. The wedding venue should be aware that secret singers for a wedding are professional and extremely experienced at performing as waiting staff. They will not need access to kitchens and will not help with serving food, instead they will help with serving drinks and wine to guests and tables. The wedding venue should also be aware that the singing waiters will not and do not intend to supplant any of the existing waiting staff at the venue!
All secret singer groups for hire at Warble Entertainment will have the relevant public liability insurance certificates required to perform at wedding venues in the UK.
To ensure that the surprise goes off as planned, the singing waiters will also directly be in touch with your venue before the wedding or event. This means that they can plan this incredible moment along with the venue, and answer any questions that the venue may have about the set up, performance or finer details.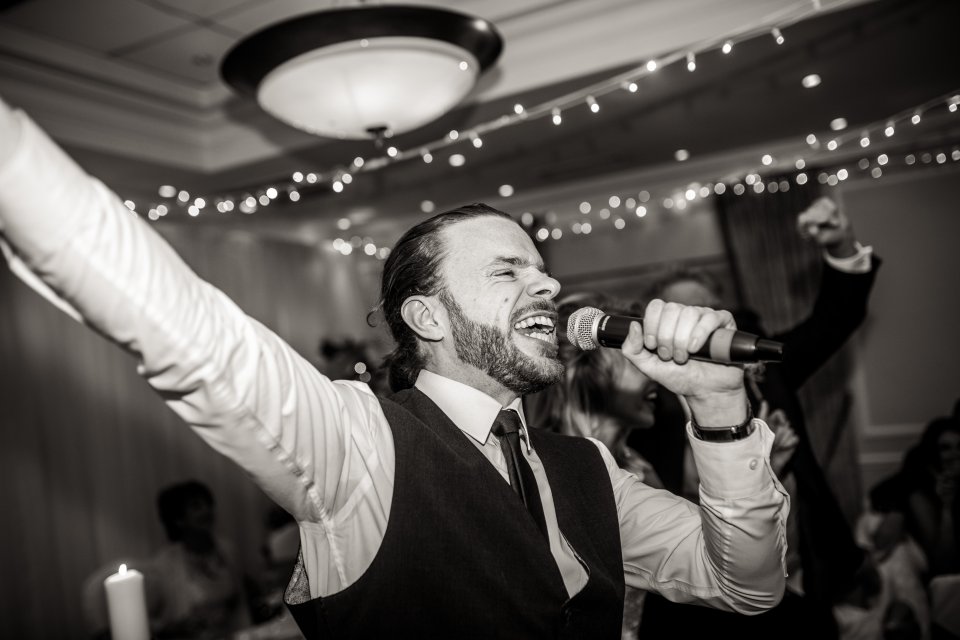 How Do I Keep the Singing Waiters a Surprise From My Guests and Who Can I Tell?
It's simple really, keep those lips sealed and don't tell a soul!
For singing waiters to have the best reaction possible, keep the imminent surprise to yourself for the most part. The less people know, the better.
There are a very small handful of people that could benefit from knowing about your surprise wedding entertainment. Of course, the venue should know about the singing waiters, but inform them to keep their lips sealed too!
You may also want to inform your photographer and videographer about any secret wedding singers you may have hired. If you have details of times and possibly where it will take place, this means that your wedding photographer and videographer will be able to prepare themselves to capture the big moment as your guests all turn around in shock and surprise!
You can trust singing waiters to ensure that the surprise remains confidential and falls upon as few ears as possible.
What Types of Events Can You Hire Singing Waiters For?
To give your guests incredible memories at your event, surprise wedding singers are an amazing idea. They are specialists in pulling off these big moments for all types of events and can appear at any time.
Singing waiters can be hired for a variety of events such as weddings, corporate events, private parties, awards ceremonies, birthday parties, bar/bat mitzvahs, charity events, festivals, retirement parties, proms and more celebrations! Any event that features a sit-down meal of any kind is usually a suitable candidate for singing waiters to perform at.
At What Point During an Event Do Singing Waiters Work Best?
When it comes to weddings, singing waiters typically work best during the meal. Most preferably during the dessert stage!
The best impact comes from the guests arriving at the meal and seeing the singing waiters as nothing other than the standard waiting staff at the venue. Selling this is important for the surprise to work later on. This gives the secret singers time to build a good relationship and rapport with your guests who have attended.
In regards to the singing or performance part of the act, nearing the end of the meal is the most popular time for singing waiters to perform at a wedding. During a wedding meal, guests will normally move in and out of the room and will naturally not be fixed to one point.
The end of a wedding meal is also a natural 'lull' or loss of spark in the day. Bringing the singing waiters in at this point is absolutely ideal to the success of your day. This means that the singing waiters can get the party started for your guests and keep the momentum flowing! Surprise wedding entertainment like this can be full of energy and works wonders for the atmosphere on a wedding day.
Singing waiters can also benefit the speeches part of the day if they are to perform just before them. This gets everyone in a great mood and perks up the room again after the meal. Of course, acts like secret wedding singers are extremely flexible and are willing to work at different parts of the day or alternative sets.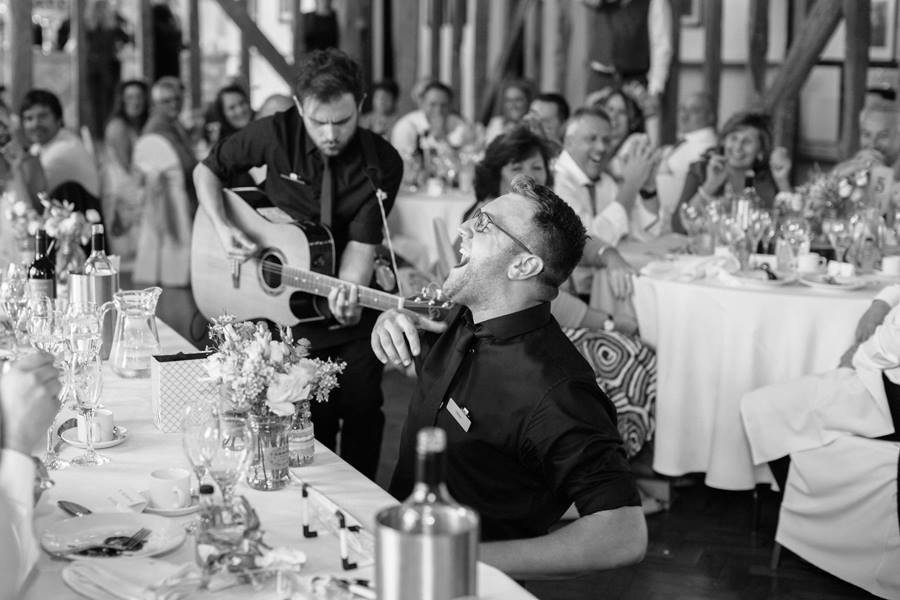 How Much Space Do Secret Singers for Weddings Need?
This does depend on the type of singing waiters act you've booked and the amount of singers in the group. Some acts perform with instrumentation such as guitars or a piano and others are purely singers that are connected up to a PA system within the venue.
The thing to consider with space for your singing waiters is that they are a lively and animated style of wedding entertainment. This means they will be moving around a lot, in between your guests, tables and maybe even on tables and chairs! For this reason, it is a good idea to have enough space for the singers to spread their wings and provide an amazing visual performance.
Once your singing waiters have been in touch with the venue, they will be able to iron out any logistics in terms of space, where to set up the PA and the ideal performance areas to exploit on your wedding day.
How Long Does It Take for Singing Waiters to Set Up?
Singing waiters are a slightly different to other live music acts for weddings in the way that they have to allow themselves more time to set up and prepare.
Their set up includes a lot of planning prior to the performance. Singing waiters will normally be able to set up in between 60 to 90 minutes overall, providing that the performance area is within a close enough distance to their parking spot.
This set up can include setting up their PA system, checking the sound works correctly within the venue and ensuring that any microphones or other sound equipment is hidden enough from unsuspecting guests. They will also use this time to change into the waiting staff uniform and make themselves familiar with the layout of the room.
What Are the Most Popular Types of Singing Waiters?
Singing waiters are versatile and many different styles are available to hire in the UK. From those that pose as regular waiting staff to singing waiters that perform as police officers or firemen, there is always a new way to surprise your guests!
Other secret singers or surprise entertainment here can be acts like Mariachi Bands or west end opera style singers that can provide an incredible set for your guests to remember.
© Warble Entertainment Agency | Company Number: 7406359