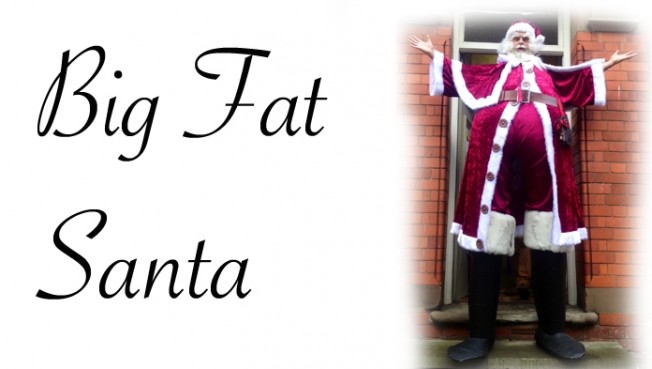 Location Oxfordshire
Starting from £420.00

Number of Reviews and Counting... 4!
Big Fat Santa is truly huge. His costume trousers are 7X... that's an 86 inch girth!
He always receives a great response and was only created last year so is a fab addition to any Christmas celebration!
8 foot tall and 4 foot wide he is quite simply the Biggest Santa There Is!!
Adam Clarke - AKD Steel and Son Ltd

, Private Party, Kent
Fantastic.
---
Trevor Brown

, Corporate, Lincolnshire
As this was for an open air event in the Town Centre, I was slightly worried that it would be hard for the act to come across to the public in the right way, forget the worries Big Fat Santa engaged with all ages keeping them fully entertained. I would have no reservations in booking Richard and his act again and cannot recommend him highly enough . As my committee have said already - "Can we have him back next year?". If you get the chance, go for Big Fat Santa.
---
Susan May - Volker Wessels

, Corporate, Hertfordshire
Big Fat Santa was excellent arrived on time, looked great and interacted with all the guests (who loved him)! He was dancing on the dance floor with everyone. I would highly recommend him.
---
Alison Brown - Insource

, Corporate, Berkshire
Thank you so much to Santa and the Naughty Elf (Brilliantly acted). I have had some wonderful comments from colleagues and it really made our Christmas Party! I would thoroughly recommend them to anyone wanting to add that something special to their event.
---
I mostly get asked if I will fit... and, the answer is mostly yes. Extensive testing has proven most normal doors can be accessed; it's only the dressing room that needs to be a bit spacey!
3 x 30 minutes, but, happy to negotiate.
Please Note: The fees indicated below are approximate and based on a central location for each county. They are intended to provide a rough guide only and exact quotes can only be given once the date and exact location of your event have been provided.
Scotland
Aberdeen
£900.00
Inverness
£900.00
Perth
£900.00
Sutherland
£900.00
Ayrshire
£780.00
Fife
£780.00
Stirlingshire
£780.00
West Lothian
£780.00
Dumfries-shire
£900.00
East Lothian
£900.00
Lanarkshire
£900.00
Midlothian
£900.00
Glasgow
£780.00
Edinburgh
£780.00
North East
Durham
£660.00
Northumberland
£540.00
North Yorkshire
£504.00
South Yorkshire
£504.00
Tyne and Wear
£660.00
West Yorkshire
£504.00
Yorkshire
£504.00
East Yorkshire
£540.00
Leeds
£480.00
North West
Cheshire
£504.00
Cumbria
£600.00
Manchester
£480.00
Lancashire
£480.00
Merseyside
£480.00
Liverpool
£480.00
East Midlands
Derbyshire
£480.00
Leicestershire
£480.00
Lincolnshire
£504.00
Northamptonshire
£456.00
Nottinghamshire
£480.00
Rutland
£480.00
East
Cambridgeshire
£480.00
Norfolk
£528.00
Suffolk
£504.00
Norwich
£516.00
Wales
Anglesey
£540.00
Caernarvonshire
£540.00
Denbigh
£504.00
Flint
£492.00
Cardigan
£528.00
Brecon
£492.00
Carmarthen
£504.00
Glamorgan
£492.00
Monmouth
£504.00
Pembroke
£540.00
Wrexham
£540.00
Cardiff
£504.00
West Midlands
Gloucestershire
£480.00
Herefordshire
£504.00
Shropshire
£456.00
Staffordshire
£456.00
Warwickshire
£456.00
Worcestershire
£456.00
Birmingham
£480.00
South East
Bedfordshire
£456.00
Berkshire
£444.00
Buckinghamshire
£444.00
East Sussex
£492.00
Essex
£504.00
Hampshire
£504.00
Hertfordshire
£456.00
Isle of Wight
£540.00
Kent
£480.00
Oxfordshire
£420.00
Surrey
£432.00
Sussex
£480.00
West Sussex
£480.00
London
£432.00
Middlesex
£432.00
South West
Cornwall
£540.00
Devon
£516.00
Dorset
£516.00
Somerset
£504.00
Wiltshire
£480.00
Bath
£456.00
Bristol
£456.00