Creative Ice Sculptures & Luges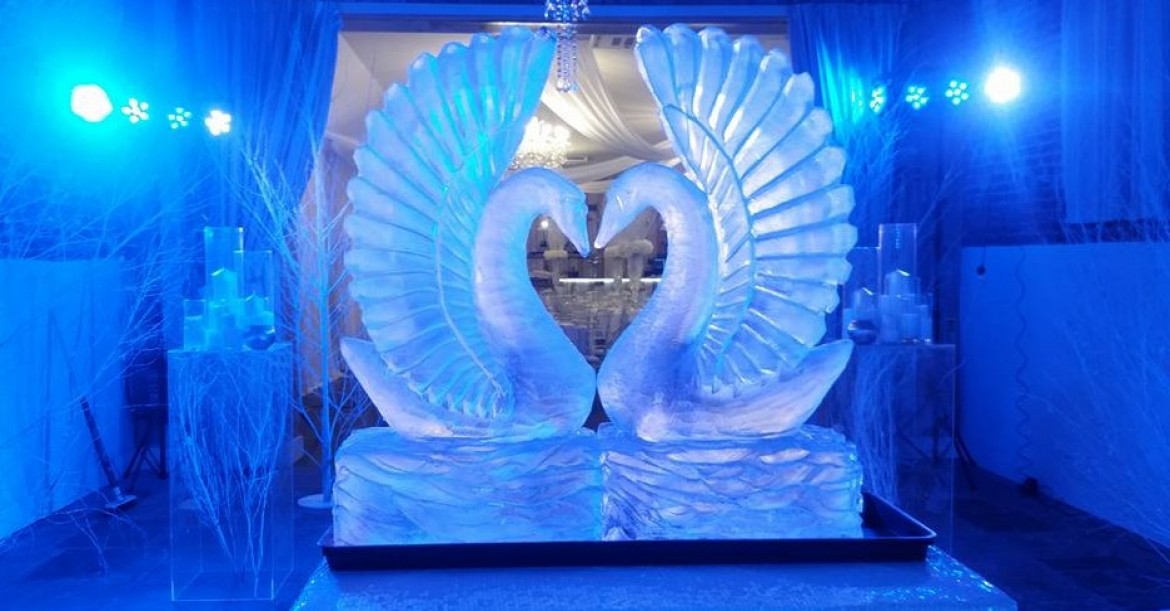 Location UK Wide
Starting from £390.00

Ice sculptures and luges are an elegant creation that are custom made - so no two are the same. Company logos, wedding symbols, animals, numbers for parties... the only limit is your imagination.
Creative Ice Sculptures & Luges
Number of Reviews and Counting... 1!
Ice sculptures are without a doubt the ultimate statement at a wedding, a corporate function or a themed event. Ice will attract attention and provide a memorable focal and talking point... It's not called 'breaking the ice' for no reason!
A vodka luge or ice luge is a piece of ice, carved into the shape required to make a ice luge sculpture. The ice sculpture is then drilled, so that shots of vodka or spirit can be poured through from the top and then caught by glass or mouth at the exit point.
Whether you are building an ice room, hosting ice team building exercises, looking for ice sculptures for a wedding, a party or other event. You can have something to match your event, if there in nothing from the designs offered, you can have your ice sculptures made to a bespoke design.
Gary

, Private Party, Essex
Many thanks for supplying the luge for Saturday - it was an absolutely superb feature and saw some massive action on the vodka/rum punch/wine/beer (in fact by the end - just about anything was going down it!!). Brilliant.
---
Rolex
O2
BMW
Three
Audi
Royal Air Force
Royal Navy
Google
Sony
Energizer
and many more...
How big is the piece of ice to work from?
Standard pieces of ice are 1m x 0.5m
Do I need to provide anything?
Make sure the surface for the ice sculpture is sturdy and level- in a marquee this can be difficult since the ground may not be as level as as say your patio. We provide the drain tray but you will need a bucket for catching the drainage water that the ice sculpture will create during the length of the event.

Where should I display the creation?
Choose a dark background if possible for your ice sculpture display area - there is a reason jewellers display diamonds on a black or dark blue background - it makes the item stand out so much better!
Please Note: The fees indicated below are approximate and based on a central location for each county. They are intended to provide a rough guide only and exact quotes can only be given once the date and exact location of your event have been provided.
North East
Durham
£390.00
Northumberland
£390.00
North Yorkshire
£390.00
South Yorkshire
£390.00
Tyne and Wear
£390.00
West Yorkshire
£390.00
Yorkshire
£390.00
East Yorkshire
£390.00
Leeds
£390.00
North West
Cheshire
£390.00
Cumbria
£390.00
Manchester
£390.00
Lancashire
£390.00
Merseyside
£390.00
Liverpool
£390.00
East Midlands
Derbyshire
£390.00
Leicestershire
£390.00
Northamptonshire
£390.00
Nottinghamshire
£390.00
Rutland
£390.00
East
Cambridgeshire
£390.00
Norfolk
£390.00
Suffolk
£390.00
Norwich
£390.00
Wales
Anglesey
£390.00
Caernarvonshire
£390.00
Denbigh
£390.00
Flint
£390.00
Cardigan
£390.00
Brecon
£390.00
Carmarthen
£390.00
Glamorgan
£390.00
Monmouth
£390.00
Pembroke
£390.00
Wrexham
£390.00
Cardiff
£390.00
West Midlands
Gloucestershire
£390.00
Herefordshire
£390.00
Shropshire
£390.00
Staffordshire
£390.00
Warwickshire
£390.00
Worcestershire
£390.00
Birmingham
£390.00
South East
Bedfordshire
£390.00
Berkshire
£390.00
Buckinghamshire
£390.00
East Sussex
£390.00
Essex
£390.00
Hampshire
£390.00
Hertfordshire
£390.00
Kent
£390.00
Oxfordshire
£390.00
Surrey
£390.00
Sussex
£390.00
West Sussex
£390.00
London
£390.00
Middlesex
£390.00
South West
Dorset
£390.00
Somerset
£390.00
Wiltshire
£390.00
Bath
£390.00
Bristol
£390.00