Warble Entertainment's
Reggie Floyd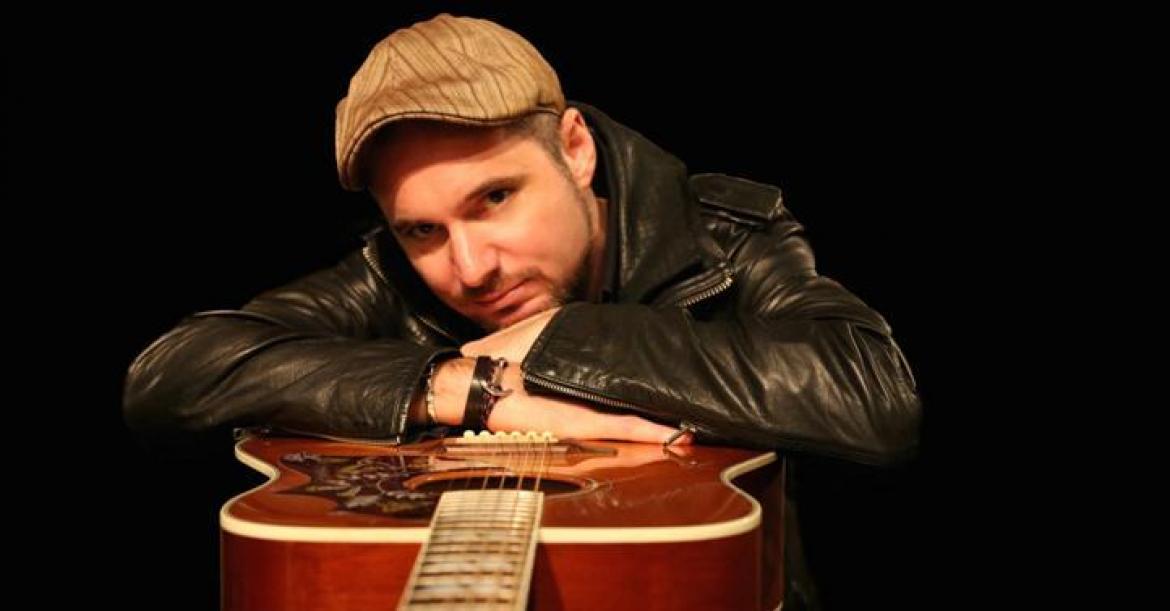 Location Hertfordshire
Starting from £300.00
Reggie Floyd is a fantastic entertainer with excellent credentials. Performing over 200 gigs per year (worldwide) you can be sure of a memorable, world class act from this seasoned professional.
* World class solo vocalist/guitarist and all-round entertainer.
* Hits from The Beatles & The Eagles through to Crowded House Snow Patrol and Green Day.
* Fantastic credentials having toured all over the world with established artists.
* TV appearances include Top Of The Pops CD:UK MTV TRL ITV Disney C4 & GMTV.
* Fully self contained with Professional PA system and lighting rig as standard.
* Equipment used to record that Reggie Floyd plays - Creating layered tracks live.
* Reggie Floyd encourages the audience to play percussion and sing with him too.
* Song requests can be learnt for first dance etc. FREE of charge.
* Music between sets free of charge.
* Available UK wide and internationally.
"A fine & powerful voice" Jeff Smith, Head Of Music, BBC Radio 2
"Simply Outstanding" Ray Jones, Director of Time Out London
12 reviews
Song List
50s/60s
All You Need Is Love - The Beatles
All Along The Watchtower - Jimi Hendrix
A Little Help From My Friends - Joe Cocker
Blowing In The Wind - Bob Dylan
Brown Eyed Girl - Van Morrison
Believer - The Monkees
Daydream Believer -The Monkees
First Time I Ever Saw Your Face - Johnny Cash
Folsom Prison Blues - Johnny Cash
Get Back - The Beatles
Good Golly Miss Molly - Little Richard
Hard Times - Ray Charles
Here Comes The Sun - The Beatles
Hey Jude - The Beatles
House Of The Rising Sun - The Animals
I Feel Fine - The Beatles
Johnny B Goode - Chuck Berry
Lola - The Kinks
My Back Pages - Bob Dylan
Mr Tambourine Man - The Byrds
Mrs Robinson - Simon & Garfunkel
Mustang Sally - Joe Cocker
Paint It Black - The Rolling Stones
I walk The Line - Johnny Cash
Suspicious Minds - Elvis Presley
Stand By Me - Ben E King
Ring Of Fire - Johnny Cash
The Boxer - Simon & Garfunkel
The Thrill Has Gone - BB King
Thats Alright Mamma - Elvis Presley
Walk The Line - Johnny Cash
While My Guitar Gently Weeps - The Beatles
70s

Ain't No Sunshine - Bill Withers
American Pie - Don Mclean
Baby I Love Your Way - Peter Frampton
Bad Moon Rising - Creedence Clearwater
Behind Blue Eyes - The Who
Crazy Little Thing Called Love - Queen
Dancing In The Moonlight - Thin Lizzy
Easy - The Commodores
Father & Son - Cat Steven's
First Cut Is The Deepest - Rod Stewart
Hand Jive - Eric Clapton
Handbags And Gladrags - Rod Stewart
Hotel California - The Eagles
Horse With No Name - Neil Young
Hush - Deep Purple
Is This Love - Bob Marley
I Shot The Sheriff - Eric Clapton
Jealous Guy - John Lennon
Knocking On Heavens Door - Eric Clapton
Layla - Eric Clapton
Lay Down Sally - Eric Clapton
Little Wing - Jimi Hendrix
Living Next Door To Alice - Smokie
Long Train Running - The Doobie Brothers
The Man Who Sold The World - David Bowie
No Woman No Cry - Bob Marley
Proud Mary - Creedance Clearwater
Rockin In The Free World - Neil Young
Running On Faith - Eric Clapton
Starman - David Bowie
Streets Of London - Ralph McTell
Sweet Home Alabama - Lynyrd Sknyrd
Sweet Caroline - Neil Diamond
Stuck In The Middle - Stealers Wheel
Take Me Home Country Roads - John Denver
The City Of New Orleans - Johnny Cash
The Gambler - Kenny Rogers
The Guitar Man - Bread
The Joker - Steve Winwood
The Wonder Of You - Elvis Presley
Unknown Legend - Neil Young
Whiskey In The Jar - Thin Lizzy
White Xmas - Sex Pistols
Wish You Were Here - Pink Floyd
Wonderful Tonight - Eric Clapton
Ziggy Stardust - David Bowie
80s
500 Miles - The Proclaimers
Ever Fallen In Love - The Buzzcocks
Englishman In New York - Sting
Everybody's Talking - Harry Nilsson
Fairy Tale In New York - The Pogues
Fast Car - Tracey Chapman
Feel Like Making Love - Bad Company
Fields Of Gold - Sting
Friday I'm In Love - The Cure
Freebird - Lynyrd Skynyrd
Free Falling - Tom Petty
Livin On A Prayer - Bon Jovi
Man On The Moon - R.E.M
Message In A Bottle - The Police
Must Be Love - Madness
Nothing Ever Happens - Del Amitre
Ordinary World - Duran Duran
Patience - Guns 'n' Roses
Respect - Erasure
Romeo & Juliet - Dire Straits
Running To Stand Still - U2
Running On Faith - Eric Clapton
Summer Of 69 - Brian Adams
Sweet Child O Mine - Guns 'n' Roses
Three Little Birds - Bob Marley
Walking In Memphis - Mark Cohn
With Or Without You - U2
90s
74-75 - The Connell's
Sit Down - James
Angels - Robbie Williams
Amazed - Lonestar
Are You Gonna Go My Way - Lenny Kravitz
Babylon - David Grey
Be Mine - David Grey
Basket Case - Green Day
Bitter Sweet Symphony - Richard Ashcroft
Better Be Home Soon - Crowded House
Breakfast At Tiffany's - Deep Blue Something
Champagne Supernova - Oasis
Change The World - Eric Clapton
Creep - Radiohead
Don't Look Back In Anger - Oasis
Feel - Robbie Williams
Footloose - Kenny Loggins
Good Riddance -Green Day
How Long - Paul Carrick
Iris - The Goo Goo Dolls
Losing My Religion - R.E.M
Lucky Man - The Verve
Mr Jones - Counting Crows
One - U2
Rocks - Primal Scream
Save Tonight - Eagle Eye Cherry
Secret Smile - Semisonic
Something To Me - Paul Weller
Still Got The Blues - Gary Moore/Eric Clapton
Tears In Heaven - Eric Clapton
There She Goes - The La's
Truly Madly Deeply - Savage Garden
Under The Bridge - Red Hot Chilli Peppers
Weather With You - Crowded House
Wonderwall - Oasis
You & Me Song - Wannadies
00s
A Team - Ed Sheeran
Ace Of Spades (Acoustic) - Lemmy
Better Together - Jack Johnson
Blowers Daughter - Damien Rice
Breakdown - Jack Johnson
Cannonball - Damien Rice
Californication - Red Hot Chilli Peppers
Can't Get You Out Of My Head - Kylie
Chasing Cars - Snow Patrol
Clocks - Coldplay
Crazy - Gnarles Barkley
Dreaming of You - The Coral
Everybody's Changing - Keane
Fill My Little World - The Feeling
Good People - Jack Johnson
Gravity - John Mayer
Gravity - Embrace
Green Eyes - Coldplay
Golden Touch - Razorlight
Half The World Away - Oasis
Hey There Delilah - Plain White T's
Ho Hey - Lumineers
High & Dry - Radiohead
Hurt - Johnny Cash
I Predict A Riot - Kaiser Chiefs
I'm Yours - Jason Mraz
I'm Yours - The Script
Let Her Go - Passenger
Mad World - Gary Jules
Mr Brightside - Killers
Red - Daniel Merriweather
Run - Snow Patrol
Sail Away - David Gray
Smile Like You Mean It - The Killers
Somewhere Only We Know - Keane/Lilly Allen
Superstar - Jamelia
Take Your Mama - The Scissor Sisters
The Parting Glass - Irish Traditional/Ed Sheeran
Times Like These - Foo Fighters
The Importance Of Being Idle - Oasis
Valerie - The Zutons
You're All I Have - Snow Patrol
What Makes You Beautiful - One Direction
Wake Me Up - Avicci