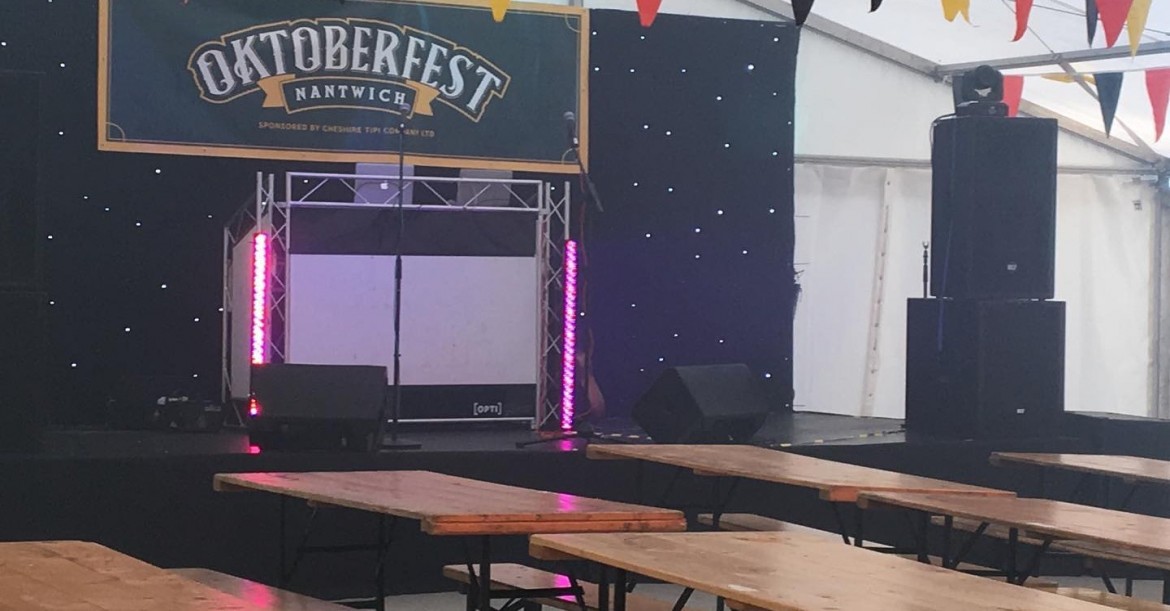 Location Cheshire
Starting from POA
Perfect for awards evenings, live band performances, festivals and much more.
Stages can be set up and tailored to most sizes.
Most of the stages stand 0.5m high and can come with stairs, handrail and a stage curtain where required, making the staging look professional. The stages can be used in most locations, from a a marquee and tipi to a wedding venue or conference room. They will be delivered and set up before any of your guests arrive and prices include delivery and set up.
The stages are available in a range of different sizes and provide a focussed area to the room which is perfect for awards evenings, comedy shows or music performance. Stage skirting is available to wrap the stage or dimensions can be given in advance if you wish to use a personalised one.
PA system and lighting can also be provided.
How long do they take to be set up?
Depends on the size of stage, but please allow a couple of hours for safe set up and testing.
How tall are the stages?
Stages are generally set up to a height of 0.5m but other sizes are available.

Can I combine with stage lighting?
Stages can be set up to your needs and lights can be provided on trusses or complemented with moving head lights.

Do you provide lecturns for on the stage?
Yes, and this can also be lit for an eye catching centre-piece to the stage.
Additional add-on's include:
Hand rail
Stage skirt
Backdrops
Truss
Please Note: The fees indicated below are approximate and based on a central location for each county. They are intended to provide a rough guide only and exact quotes can only be given once the date and exact location of your event have been provided.
Foreign Locations
Europe
£0.00
Rest of the world
£0.00
North East
West Yorkshire
£360.00
Leeds
£360.00
North West
Cheshire
£300.00
Manchester
£300.00
Lancashire
£480.00
Merseyside
£360.00
Liverpool
£360.00
East Midlands
Derbyshire
£480.00
Nottinghamshire
£480.00
West Midlands
Shropshire
£360.00
Staffordshire
£300.00
Birmingham
£480.00