The Beatles - The Cheatles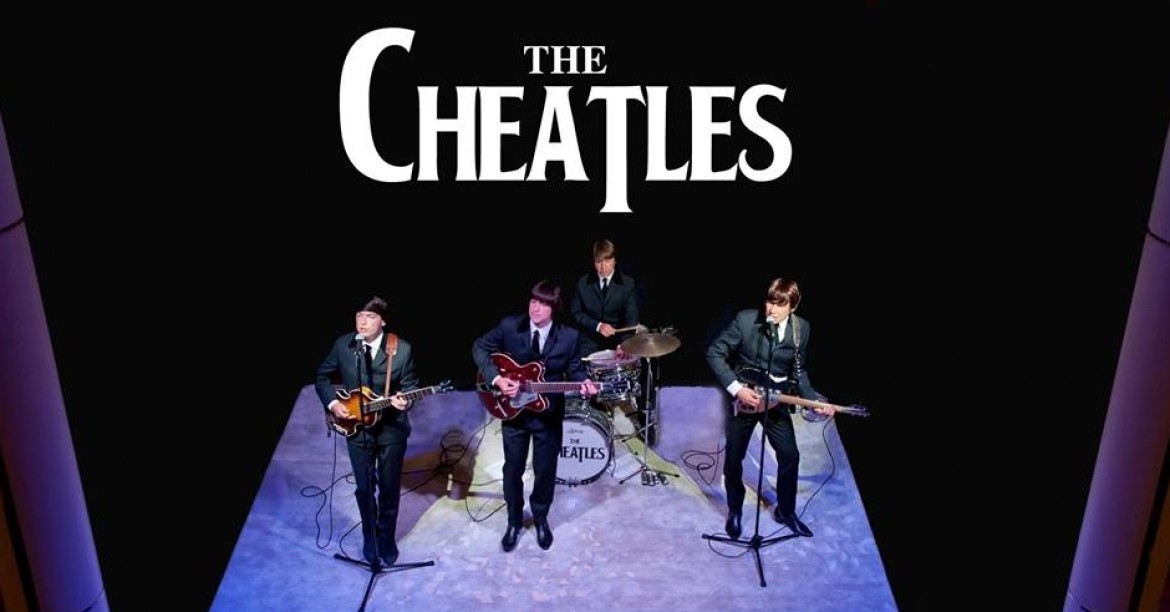 Location Manchester
Starting from POA
There are Beatles bands and then there's The Cheatles.......
A five-star act from the North West of England. Startlingly authentic....
The Beatles - The Cheatles
Number of Reviews and Counting... 1!
The Cheatles recreate the original look and feel of The Fab Four with the utmost precision. The look is sharp and the harmonies are second to none.
Performing a set of early Beatles classics, The Cheatles can also call upon some hidden gems, some of the choice 'B' sides and many of the best Beatles album tracks that never get played live!
Having firmly established themselves as one of the UK's very finest vintage Beatles acts, they've generated quite a following. Performing for, and in some cases with, some of the biggest household names, they are the VIP's choice for entertainment. In a market with so many options this is no mean feat! Just some of those names include The Oscars, Formula One, Liverpool International Beatles festival, Tribfest, Cunard, Jamie Oliver, Paul Scholes, Gary Neville, Alex Ferguson the Hong Kong Jockey club, David Tennant, John Major, Nelson Mandela, The BBC. ITV, Britains Got Talent and many many more!
More recent news sees The Cheatles partner with the exclusive F1 at Silverstone and Cunard on their transatlantic and world voyages...............'we hope you will enjoy the show'
4 Piece - Male Vocals, Guitar, Bass, Drums
Rich Leyshon

, Venue Club, Dorset
Tracey, First of all, I hope that the Fab Beatles have recovered from their difficulties without any distress or injury! Next, please accept my grateful thanks for having another Beatles tribute ready to step into the breach. Obviously the unexpected can happen at any time and it is to your credit that you had a suitable replacement act lined up before you called me up with the bad news. The Cheatles had a terrible journey to get to us, had to divert across country and arrived just prior to the point at which I was going to call myself an ambulance! The guys set themselves up with consummate professionalism, managed to blag a sandwich to keep them alive and were on stage bang on time. Their performance was excellent and I have not heard a single negative comment from any of the audience who enjoyed a thoroughly fantastic evening. So, my sincere thanks to you for helping to prevent a disaster and to the lads who did such a great job. I will have no hesitation in recommending your agency in the future and I hope that we are able to use your services again.
---
The band has entertained many top clients over the past ten years, including: Nelson Mandela, BBC, ITV, Manchester United, John Major, Margaret Thatcher, British Telecom, Hong Kong Convention Centre, Hong Kong Jockey Club, Hong Kong Bankers Club, Citibank, Hard Rock Cafe - Chicago, Emirates Airline, HSBC, Sheik Omar, Camelot, Land Securities, The Stereophonics, ICI, British American Tobacco, Aston Villa Football Club, West Bromich Albion Football Club, Manchester City Football Club, And Many More...!!!!
Please Note: The fees indicated below are approximate and based on a central location for each county. They are intended to provide a rough guide only and exact quotes can only be given once the date and exact location of your event have been provided.