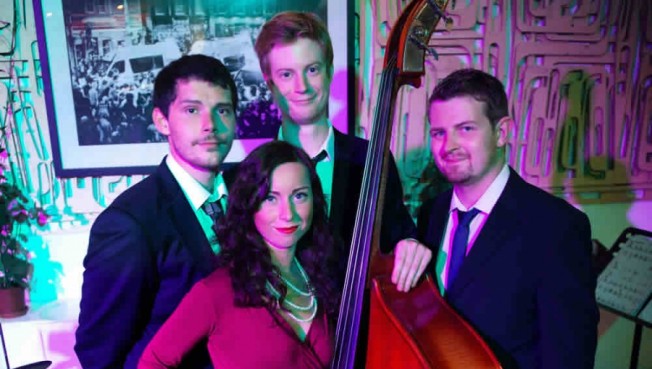 Location Somerset
Starting from £660.00
Jazz, Soul, Swing and Gatsby with everything from sophisticated Jazz duos and trios for high end dinners or drinks receptions, to full quintets with drums and a trumpet or saxophone player.
Whether you want to add a touch of class to your event, or keep your guests dancing all night to swinging solos that will take you right back to the twenties, The Pennies have it all!
Number of Reviews and Counting... 5!
'The Pennies' Jazz musicians perform a range of Jazz, Swing, Soul, Gatsby and Jive, through the ages, including upbeat swingers to get the party going and stunning ballads that will blow your guests away. Whether you're after glitzy glam twenties and Gatsby music, or 40s, war time songs, we have traditional shows, with appropriate costume, perfect for any party.
Duo - Sophisticated vocals and piano duo to add a touch of class to that high-end dinner.
Trio - Mellow vocals, piano and upright bass trio for a summer garden party or to enhance the mood in the bar.
Quartet - Upbeat quartet with vocals, piano, upright bass and drums for that swinging themed party.
Quintet - Authentic swing quintet with vocals, piano, upright bass, drums and a trumpet or saxophone player, with roaring solos that will guarantee to get the party going!
Please note - Prices quoted are for the starting duo line up.
Duo - Vocals and Piano
Trio - Vocals, Piano, Bass
Quartet - Vocals, Piano, Bass, Drums
Quintet - Vocals, Piano, Bass, Drums, trumpet or saxophone player.
Half Swing and Gatsby and half Funk, Soul, Pop and Motown to tick all the boxes! One hour of Swing and Gatsby, and one hour of Funk, Soul, Pop and Motown with DJ up until midnight.
Jazz Swing and Gatsby quintet with lead vocals, piano, double bass, drums and saxophone, to be followed by the Funk and Soul band with lead vocals, piano, bass, drums and guitar. This is a great option to please everyone as it ticks all the boxes, and keeps everyone on the dance floor all night.
Jazz / Popular
Just The Two Of Us – (Bill Withers)
Let's Face The Music And Dance – (Nat King Cole)
Let There Be Love (Nat King Cole)
Let's Do It - (Let's Fall In Love) – (Ella Fitzgerald)
Can't Take My Eye's Off You - (Lauren Hill)
My Baby Just Cares For Me - (Nina Simone)
Come Away With Me - (Nora Jones)
Feeling Good - (Nina Simone)
The house Of The Rising Sun (Nina Simone)
Fever (Peggy Lee)
He's a Tramp - (Peggy Lee)
I Put A Spell On You (Nina Simone)
Baby I'm A Fool - (Melody Gardot)
Why Don't You Do RIght - (Peggy Lee)
Let's Stay Together - (Al Green)
Son of a Preacher Man - (Dusty Springfield)
Don't Know Why - (Nora Jones)
Sitting On The Dock Of The Bay - (Otis Reading)
Mess Around - (Ray Charles)
My Girl - (The Temptations)
Overjoyed - (Stevie Wonder)
Take Another Little Piece Of My Heart - (Dusty Springfield)
Signed Sealed Delivered – (Stevie Wonder)
I Got A Woman - (Ray Charles)
Over The Rainbow – (Judy Garland)
I Wish – (Steveie Wonder)
Hushaby Mountain – (Dick Van Dyke)
Valerie – (Amy Winehouse)
Hit The Road Jack - (Ray Charles)
Street Life – (Randy Crawford)
Sir Duke – (Stevie Wonder)
Who Will Comfort Me - (Melody Gardot)
Goodnight - (Melody Gardot)
If the Birds Were Mine - (Melody Gardot)
Standards
Summertime
Mood Indigo
Love Me Or Leave Me
They All Laughed
Is you is or is you ain't
Stepping out with my baby
It don't mean a thing
Pennies from Heaven
At Last
All of me
Get happy
Baubles, Bangles and Beads
Why don't you do right
I got rhythm
Straighten up and fly right
Blue skies
I found a new baby
Nature Boy
Lullaby Of Bird Land
Teach Me Tonight
Too Close For Comfort
Bewitched Bothered And Bewildered
Straighten Up And Fly Right
But Not For Me
Fly Me To The Moon
Somewhere over the Rainbow
Pennies From Heaven
The Nearness Of You
Desifinado
Caravan
Lush Life
Girl From Ipanima
Stardust
Honeysuckle Rose
After You're Gone
Ain't Misbehavin
Black Coffee
Close You Eyes
Cry Me A River
Favela
Dream A Little Dream Of Me
For Once In My Life
I'm In The Mood For Love
Moon River
My Favourite Things
S'Wonderful
Softly
Taste Of Honey
What Is This Thing Called Love
When Your Smiling
Rebecca Freeman

, Wedding, Moxhull Hall Hotel, Warwickshire
Five Stars!
---
Ben Gower

, Private Party, Warwickshire
Great team, fun music, lovely voice!
---
Peter Brooks

, Wedding, St. Michaels Hotel and Spa, Cornwall, Cornwall
The Pennies performed for our wedding. Absolutely awesome performance. Excellent value for money and highly professional. So very pleased, with everything!
---
Carla Whitaker - Clinton Devon Estates

, Corporate, Devon
The Pennies were absolutely wonderful, they read the room brilliantly and added the perfect tone to our event. They sounded incredibly slick, exactly like their demo on your website and looked the part too. A joy to work with, I cannot recommend them enough. Thank you.
---
Russ and Sam Elling

, Private Party, Gloucestershire
Just a quick one to thank you guys for playing at our party. Russ and I had an amazing time and our guests keep telling us how fantastic you were. We wouldn't hesitate to recommend you again.
---
Do you have all your own PA equipment?
Yes, we have a top of the range PA suitable for audiences up to 500.
Do you have your own lighting?
Yes, we have a full lighting set up for the dance floor and the band.
How long are the sets?
We will play up to two hours of live music per band if you book either the party band or the Funk band separately. If you book Jazz as an add on to the main party band, in the form of a duo or trio, we will perform 2 x 1 hour minute sets of live party music, and 2 x 45 minute sets of live Jazz music.
Do you DJ in between sets?
Yes, we play appropriate DJ music through the PA in between and after our sets. We can take requests or hone each playlist to your liking or you can share your own Spotify playlist with us and we'll play it through our PA. Alternatively if you'd like to bring your own playlist on an iPod we have all the right cables to plug it in to our mixing desk to be played through our speakers.
How long does it take to set up?
We will need an hour and a half to set up from start to finish including doing a sound check. However, we would usually arrive at the venue two and a half hours before our first set, to allow time to have dinner, and to change into our costume, ready for the performance.
Will you help with the music schedule?
Yes, we will help from start to finish with scheduling and anything else we can advise on. We have done this many times and are happy to walk you through the process step by step including providing a sample schedule to help you plan your event.
How far will you travel?
We will travel anywhere you like but after 200 miles we will charge extra for the travel time. It's worth getting a quote, no matter how far you venue location is, as we will always try to give a good deal whenever we can.
How much space do you need?
For the jazz duo we will need about 2 metres squared. For the trio we will need about 2 x 4 metres. For bands bigger than a quartet we will need at least 3 x 5 metres.
Will you learn our first dance or special song?
Yes, we will always learn a first dance or special song of your choice. It can be anything you like, although it's worth bearing in mind that we may be limited by the instruments we have depending on which band option you book.
What will you wear?
We have various costumes that are appropriate for different occasions including Gatsby themed costumes and masquerade ball outfits. You are welcome to suggest a theme or costume to us prior to the event, but our appearances will always be impeccable whatever the occasion.
Can we use your sound system for speeches?
Yes you can use our PA for speeches although, if you have just booked evening entertainment, we usually arrive after the speeches have finished. We can either arrange an early arrival that will cost extra, or if you book the jazz duo or trio for the day time, for a similar price we will already be there with all of our equipment. This way you will have music for the whole day of your event including use of the PA whenever you need it.
What are your requirements on the day of the event?
A stage or dry, flat area to set up and perform. This performance area should be at least 3 x 5 meters.

A hot meal and refreshments for each band member in each separate band on the day of the event.

A secure dressing room and seated area for food and refreshments.

Parking facilities with access to performance area for loading.

The band will require a minimum of an hour and a half in the performance area to set up and sound check before the start of the performance.

Safe supply of electricity – minimum of 2 x 13 amp sockets.
2 x 45 minute sets with a half hour break is standard but we will cater our set times as per the request of the client.
Please Note: The fees indicated below are approximate and based on a central location for each county. They are intended to provide a rough guide only and exact quotes can only be given once the date and exact location of your event have been provided.
East Midlands
Derbyshire
£660.00
Leicestershire
£660.00
Lincolnshire
£660.00
Northamptonshire
£660.00
Nottinghamshire
£660.00
Rutland
£660.00
East
Cambridgeshire
£660.00
Norfolk
£900.00
Suffolk
£900.00
Norwich
£900.00
Wales
Anglesey
£660.00
Caernarvonshire
£660.00
Denbigh
£660.00
Flint
£660.00
Cardigan
£660.00
Brecon
£660.00
Carmarthen
£660.00
Glamorgan
£660.00
Monmouth
£660.00
Pembroke
£660.00
West Midlands
Gloucestershire
£660.00
Herefordshire
£660.00
Shropshire
£660.00
Staffordshire
£660.00
Warwickshire
£660.00
Worcestershire
£660.00
Birmingham
£660.00
South East
Bedfordshire
£660.00
Berkshire
£660.00
Buckinghamshire
£660.00
East Sussex
£660.00
Essex
£660.00
Hampshire
£660.00
Hertfordshire
£660.00
Isle of Wight
£660.00
Kent
£660.00
Oxfordshire
£660.00
Surrey
£660.00
Sussex
£660.00
West Sussex
£660.00
London
£660.00
Middlesex
£660.00
South West
Cornwall
£660.00
Devon
£660.00
Dorset
£660.00
Somerset
£660.00
Wiltshire
£660.00
Bath
£660.00
Bristol
£660.00