80s Tribute Band - 80s Mix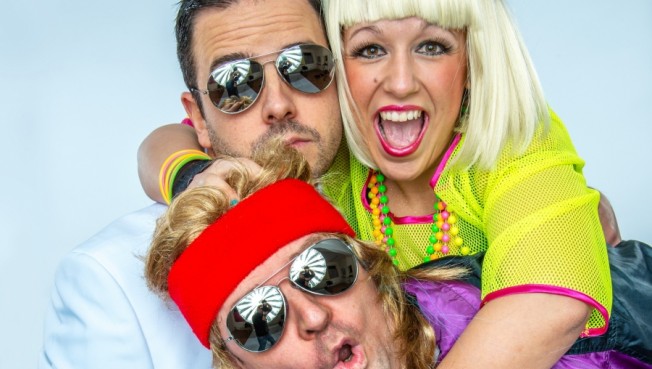 Location Warwickshire
Starting from £780.00
80's mix are fun and upbeat hark back to the days on wild hair, keytars and Baywatch!
Listen




80s Tribute Band - 80s Mix
Number of Reviews and Counting... 2!
If your life is tedious and you crave to go back to the time where things were great... 4 TV Channels... 10 sweets in a 10p mix and you could watch Baywatch, Gladiators and Blind Date back to back on a Saturday night... then maybe you should travel on a musical journey back to the good times & party with 80's Mix
A fantastic 80's party featuring hits such as:
Girls Just Wanna Have Fun
Walk like an Egyptian
Heaven is a Place on Earth
Gold
Call Me
Aint Nobody
All Night Long
I Want to Break Free
Living on a Prayer
& Many More...
Vocals
Guitar
Drums
Self-Produced backing to enhance the live sound.
All The 80's Hits

Ain't Nobody – Chaka Khan
All Night Long – Lionel Richie
Don't Stop Believing – Journey
Call Me - Blondie
Fame – Irene Cara
Girls Just Wanna Have Fun – Cyndi Lauper
Gold – Spandau Ballet
Here I Go Again – Whitesnake
Heaven Is A Place On Earth – Belinda Carlisle
I Want To Break Free – Queen
Jump – Van Halen
Livin' On A Prayer – Bon Jovi
Mickey – Tony Basil
Never Too Much – Luther Vandross
Purple Rain - Prince
Run To You – Bryan Adams
Sweet Child Of Mine – Guns 'n' Roses
Thriller– Michael Jackson
Video Killed The Radio Star – Buggles
Walk Like An Egyptian – The Bangles
You Shook Me All Night Long – AC/DC
Francesca Dumbleton

, Birthday Party, Warwickshire
The band were brilliant. Great communication, the sets they played were amazing and they contacted me themselves to ask for feedback.
---
Tom Hardy

, Private Party, Birmingham
Loved the show & thanks for getting us all involved. A fantastic party, a great band & the 80's tunes rocked!!
---
Haven
Park Dean
Sony Playstation
Hilton Hotels
Village Hotels
Thomson Holidays
O2
Walt Disney
& Many More...
1 x 45 mins or 1 x 60 mins
Additional sets
1 x extra mixed music set
1 x extra tribute or themed set
Please Note: The fees indicated below are approximate and based on a central location for each county. They are intended to provide a rough guide only and exact quotes can only be given once the date and exact location of your event have been provided.
Scotland
Aberdeen
£1,560.00
Inverness
£1,560.00
Perth
£1,560.00
Sutherland
£1,560.00
Ayrshire
£1,440.00
Fife
£1,440.00
Stirlingshire
£1,440.00
West Lothian
£1,440.00
Dumfries-shire
£1,440.00
East Lothian
£1,440.00
Lanarkshire
£1,440.00
Midlothian
£1,440.00
North East
Durham
£1,080.00
Northumberland
£1,080.00
North Yorkshire
£1,080.00
South Yorkshire
£1,080.00
Tyne and Wear
£1,080.00
West Yorkshire
£1,080.00
Yorkshire
£1,080.00
North West
Cheshire
£1,080.00
Cumbria
£1,080.00
Manchester
£1,080.00
Lancashire
£1,080.00
Merseyside
£1,080.00
East Midlands
Derbyshire
£900.00
Leicestershire
£900.00
Lincolnshire
£960.00
Northamptonshire
£900.00
Nottinghamshire
£960.00
Rutland
£1,080.00
East
Cambridgeshire
£1,080.00
Norfolk
£1,080.00
Suffolk
£1,080.00
Wales
Anglesey
£1,080.00
Caernarvonshire
£1,080.00
Denbigh
£1,080.00
Flint
£1,080.00
Cardigan
£1,200.00
Brecon
£1,080.00
Carmarthen
£1,080.00
Glamorgan
£1,080.00
Monmouth
£1,080.00
Pembroke
£1,080.00
West Midlands
Gloucestershire
£960.00
Herefordshire
£960.00
Shropshire
£960.00
Staffordshire
£900.00
Warwickshire
£780.00
Worcestershire
£900.00
South East
Bedfordshire
£1,080.00
Berkshire
£1,080.00
Buckinghamshire
£1,080.00
East Sussex
£1,080.00
Essex
£1,080.00
Hampshire
£1,080.00
Hertfordshire
£1,080.00
Isle of Wight
£1,200.00
Kent
£1,080.00
Oxfordshire
£1,080.00
Surrey
£1,200.00
Sussex
£1,080.00
West Sussex
£1,080.00
London
£1,440.00
Middlesex
£1,080.00
South West
Cornwall
£1,200.00
Devon
£1,200.00
Dorset
£1,200.00
Somerset
£1,200.00
Wiltshire
£1,200.00