Warble Entertainment's
Andrew G The Magician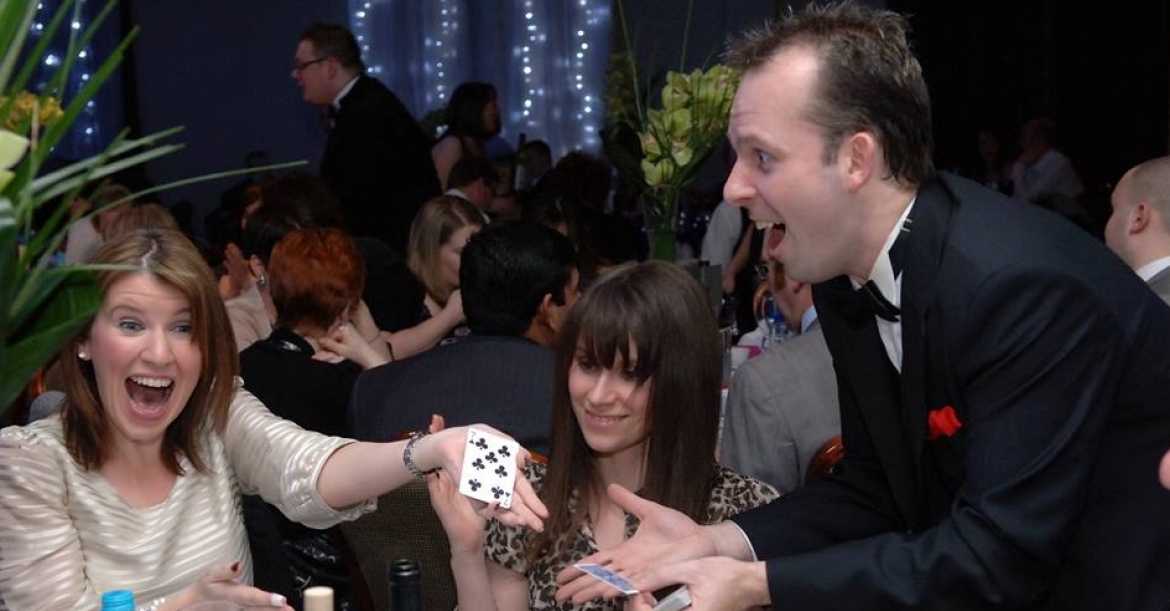 Location Lancashire
Starting from £420.00
Location Lancashire
Starting from £420.00
Introduction
Get a feel for them
Intro
Andrew is a premier UK close-up / table magician, cabaret stage magician, trade show exhibition performer and illusionist is perfect for your next important private, corporate event or wedding reception.
He is recognised as one of the most commercial illusionists and Close-up Table Magicians in the UK and is available for hire to perform his incredible interactive close up magic and mind blowing illusion show.
*Andrew has been performing professionally for over 19 years and guarantees to add the WOW factor to any event*
7 reviews
Andrew G The Magician
Number of Reviews and Counting... 7!
Andrew has been performing professionally for over 19 years at corporate events, weddings, product launches, PR events, trade show exhibitions, conferences, seminars, arena events, award ceremonies, wrap parties, on TV and at exclusive private parties in and around over 30 countries.
Andrew has also been invited to perform at high profile events such as Colleen McLoughlin's 21st Birthday party which was featured in Hello Magazine and all of the national tabloids such as the Daily Mail, Daily Express, Daily Star, The Sun, Heat Magazine, FHM and more. It's exclusive guest list included Wayne Rooney, Steven Gerrard and the SugaBabes.
His stage cabaret magic and illusion show has wowed audiences across the world by using some of the most incredible illusions and unique creative theatrical effects to produce a world class performance. This grand scale illusion show can truly add the X Factor to any event.
Andrew's solo stand up stage magic show includes hilarious audience participation along with some elegant classic magic routines. It is perfect for any event where a smaller more informal show is required, possibly after dinner or as magical addition to a whole evening's entertainment.
The performances have also involved directors and CEO's of major companies and incorporated logos and messages in order to deliver unique corporate marketing campaigns.
Andrew's mix and mingle magic, table magic and close up magic has been baffling audiences right under their noses and entertaining thousands of people every year in the UK and across the world. It is truly an interactive art form including spellbinding card tricks, coin magic, mentalist mind reading and sleight of hand wizardry.
It has been used at welcome drinks receptions, dinner parties, gala banquets, wedding receptions and intimate theatre performances.
Andrew close up magician is proud to be one of the leading exponents in the commercial close up magic industry in the UK today. Close up magic is a truly interactive art form with the incredible magic tricks taking place in close quarters, right under the audience's noses.
Nigel Gregory

, Corporate Event, Cardiff
Professional, corporately very comfortable and a superb magician that left our guests scratching their heads in disbelief! I wouldn't have any hesitation in booking this Andrew in the future.
---
Scott Partridge

, Wedding Event, Peckforton Castle, Cheshire
Andrew G was brilliant with all our guests young and old at our wedding. All the comments from our guests were very positive. I would recommend him highly.
---
Vicky Welch

, Birthday Party Event, Liverpool
Absolutely fantastic, everyone was amazed at his skills and they have not stopped talking about it.
---
Janine Timson

, Wedding Event, Cheshire
He was absolutely amazing, all my guests where thrilled, he is a lovely man, money well spent.
---
Amanda Taylor - Southport Flower Show

, Charity Event, Merseyside
Andrew was brilliant, can't recommend him highly enough! Very professional but with a friendly manner. Our guests loved him.
---
Joanne Green

, Corporate Event, Leeds
Hello Andrew, I would just like to thank you for everything on Saturday. The event was a great success and it was nice to see you get so many tables on their feet applauding and cheering. I was certainly impressed with the magic tricks you performed at my table and was amazed at how you knew my card was the five of hearts.
---
Joanne Green - Redmayne-Bentley LLP

, Corporate Event, Leeds
Excellent entertainer, got the whole table engaged and laughing. Amazing magic tricks and slight of hand, was watching closely and have no idea how he did them. Really worked the room and made sure he got around every table.
---
Some of Andrew's many revious clients include:
Calvin Klein, Man Utd FC, Audi, Bentley, Liverpool FC, Everton FC, BBC, Woslely UK, Chyrslyer, NCP, NSPCC, Princes Trust, BP, Pinnacle Films, Daily Telegraph, Lloyds TSB, TNT, 3m, Green Banana Training, Virgin, ICI, Astra Zenica, Blackpool Pleasure Beach, Sanofi – Synthelabo, Bellway, Nissan, JJB, Rotary International, BAE Systems, Blackpool Tower, Miss Singapore Beauty Pageant, Merseyside Fire & Rescue, Royal Bank Of Scotland, Bolton Wanderers FC, Stageworks Worldwide Productions, Trafford Centre, Bupa, Camelot, Hilton Group.
Illusion:
Illusion is an area of grand scale of magic that only a small group of magicians perform successfully in the commercial entertainment industry today. It truly is making the impossible possible and has a lasting impact and creates that sheer 'Wow' factor on anyone who is lucky enough to witness it.
Andrew is one of the driving forces of contemporary breathtaking illusionary in the UK today.
Having appeared in numerous theatre shows, cabaret floor shows and major corporate events, he has over 12 years of professional experience in this field. Andrew finished in the top three at the British Magical Championships and stunned an international audience with his performance.
His clever blend of state of the art illusions and magic with dynamic choreography, mime and a fast, spell binding soundtrack - it is no wonder that Andrew is a much sought after commodity when it comes to booking top class entertainment for prestigious events.
With his team of top class, stunning dancers; Andrew produces magical scenes in which the mystery unfolds in a creative and spellbinding way. He is constantly striving to develop new and more dynamic ways to present his Illusion spectacular and often works with companies to develop corporate themes, messages and logos into his presentations, making it a unique marketing tool for PR events and corporate branding stunts.
His widely regarded by his peers as one of the most dynamic and creative thinking magicians and recently wowed a 3500 strong crowd of magicians from around the world with his aria ballet scene where a beautiful ballerina floats into the air.
Close-Up Magic:
Close Up magic is a unique form of entertainment that can have a truly astounding impact on the clients or guests at your next important event.
The magic is witnessed in intimate surroundings as Andrew mixes and mingles around your receptions or dinner parties introducing himself and acting as an ice breaker to proceedings.
Andrew was recently invited to perform at Coleen McLoughlin's (Rooney) £500,000 21st Birthday party which was covered by Hello Magazine and hosted an array of A List celebrities and international footballers
These miraculous presentations include making a borrowed ring appearing on a locked chain in a flash or a signed card appearing in an inflated balloon chosen from the centre of the table.
His appearances at several major Pharmaceutical trade shows has seen him attracting crowds to the presentation stand giving them customised product related entertainment.
The astonishment created by close up magic leaves a lasting impact on anyone witnessing it. It's truly universal language spans internationally and has allowed Andrew to entertain numerous foreign dignitaries without the need for translation.
Add those powerful memories to your next important event by putting the magic in professional hands.
Experience the most incredible card tricks, coin tricks, mind reading stunts, interactive magic and miracles with borrowed objects...
Trade Show Magic:
Andrew's expertise in creating customised presentations is the ultimate marketing tool when organising your next trade show strategy.
Andrew's high impact, dynamic performances can be key in:
- maximising the volume of footfall to exhibition stands
- increasing company visibility and position within the show hall
- facilitating sales leads and communication with passing delegates
- delivering key company USP's within crowd stopping performances
Through close liaison with your company and by developing a unique magical marketing strategy Andrew can help you achieve your best results to date and gain a leading edge and visibility to customers over and above your competitors.
Please Note: The fees indicated below are approximate and based on a central location for each county. They are intended to provide a rough guide only and exact quotes can only be given once the date and exact location of your event have been provided.
Scotland
Ayrshire
£600.00
Dumfries-shire
£600.00
Glasgow
£600.00
Edinburgh
£600.00
Foreign Locations
Europe
£960.00
Rest of the world
£1,200.00
North East
Durham
£480.00
Northumberland
£540.00
North Yorkshire
£480.00
South Yorkshire
£480.00
Tyne and Wear
£540.00
West Yorkshire
£420.00
Yorkshire
£480.00
East Yorkshire
£480.00
Leeds
£420.00
North West
Cheshire
£420.00
Cumbria
£420.00
Manchester
£420.00
Lancashire
£420.00
Merseyside
£420.00
Liverpool
£420.00
East Midlands
Derbyshire
£600.00
Leicestershire
£600.00
Lincolnshire
£600.00
Northamptonshire
£600.00
Nottinghamshire
£600.00
Rutland
£600.00
East
Cambridgeshire
£720.00
Norfolk
£720.00
Suffolk
£720.00
Norwich
£720.00
Wales
Anglesey
£480.00
Caernarvonshire
£540.00
Denbigh
£540.00
Flint
£480.00
Cardigan
£540.00
Brecon
£480.00
Carmarthen
£540.00
Glamorgan
£540.00
Monmouth
£540.00
Pembroke
£540.00
Wrexham
£420.00
Cardiff
£540.00
West Midlands
Gloucestershire
£540.00
Herefordshire
£540.00
Shropshire
£540.00
Staffordshire
£540.00
Warwickshire
£540.00
Worcestershire
£540.00
Birmingham
£540.00
South East
Bedfordshire
£780.00
Berkshire
£780.00
Buckinghamshire
£780.00
East Sussex
£780.00
Essex
£780.00
Hampshire
£780.00
Hertfordshire
£780.00
Kent
£780.00
Oxfordshire
£780.00
Surrey
£780.00
Sussex
£780.00
West Sussex
£780.00
London
£780.00
Middlesex
£780.00
You may also like
Customers who have enquired for Andrew G The Magician have also been interested in the following magicians also available in Preston, Lancashire and the North West. For more information or further options, please call 0845 643 9384.