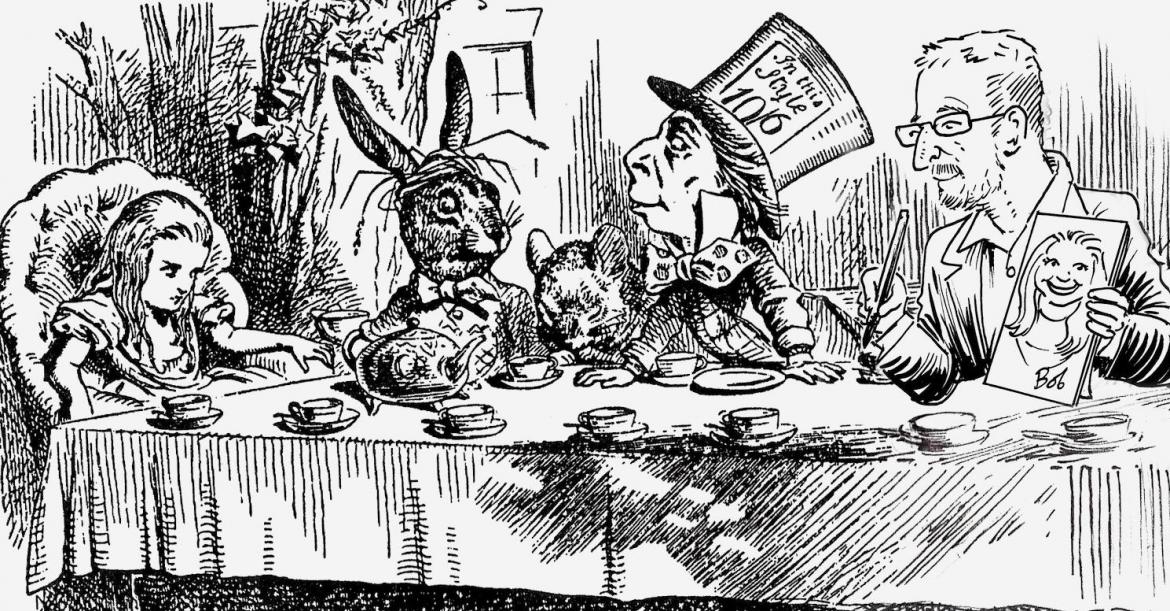 Location Derbyshire
Starting from £240.00
Bob is not your typical 'big nose/big teeth' caricaturist. With his sitters he likes to show a bit of sensitivity, get a good likeness, maybe add a bit of glamour while certainly having some fun – and all in five minutes!
Number of Reviews and Counting... 45!
Bob has been working as an instant caricaturist / portrait artist for around ten years, and as a freelance illustrator for a good deal longer. As such he can bring a lot of experience, professional technique and variety to his caricature work.
Bob is happy to be 'in character'; for fancy dress events and has been Rembrandt and a French Belle Epoque-style artist. He can therefore theme the caricatures; Bob has done things like 'Wild West' wanted posters, sketched people in the style of Van Gogh and Picasso and even drawn sitters as if they're characters from the Simpsons and Manga comics!
Adam T

, Other, Cheshire
Bob put together a digital caricature as a surprise gift recently and I cannot tell you how great he was to deal with. From start to finish, Bob was incredibly friendly, professional and he did everything to ensure that everything was as I expected (and then some) throughout the entire process. Nothing was too much trouble and the final result is incredible. As it was offered in digital form, I can get some serious mileage from it too. I'm currently plastering it on a canvas, keyrings, mugs and even some labels for wine bottles too. All in all, an amazing artist and fantastic service.
---
Johanna Ives

, Wedding, Belle Epoque Brasserie, Cheshire, Cheshire
Bob was very professional and what stood him out from other caricaturists for me, was his ability to do cartoon portraits without the over exaggerated cheesy grins and features everyone else seems to do.
---
Rachel Pike

, Wedding, AJBell Stadium, Manchester
Excellent artist, good attention to detail and pleasant communications.
---
Ash Carroll

, Wedding, Leicestershire
5/5
---
Heidi MacLeod

, Military Event, HQ ARRC Officers Mess, Gloucestershire
Bob stayed for longer than paid for and worked tirelessly throughout the evening!
---
Helen Atkinson

, Wedding, East Yorkshire
Bob was kept busy all night , people were keen to have their portraits done.
---
James Watling

, Wedding, The Bridge, Wetherby, Yorkshire
Helped to make the night to run smoothly and the guests found it brilliant that they had something to take home with them! Would highly recommend!!
---
Carol Gaisford

, Other, Two Trees Hilton, Manchester
Bob was a delight and went beyond the call of duty. Everyone was delighted with their pictures and his professionalism. Many thanks.
---
Annabelle Vallance - DFDS

, Corporate, Lincolnshire
Five out of five.
---
Dave Walstow - Creed Communications Ltd

, Corporate, Crewe Business Park, Cheshire
Five out of Five for Bob The Caricaturist.
---
Roslyn Larkin

, Wedding, Nottinghamshire
We booked Bob for our wedding afternoon entertainment. Our guests were very impressed and enjoyed having their drawings done. We would recommend him. Many thanks.
---
Simon Lewis

, Wedding, Arley Hall & Gardens, Cheshire, Cheshire
Brilliant feedback from guests, there was a queue for him all night, really nice guy too.
---
Rob McSorley - Xpression Events

, Other, Scunthorpe Motorshow, Lincolnshire
Fantastic! Really went well! Everyone enjoyed him!
---
Lucy Clowes

, Other, Yorkshire
Bob, was great to work with. There were some testing circumstances that Bob dealt with very well with a constant smile on his face. Thanks!
---
Helen Parrott

, Wedding, Nottinghamshire
Bob was a great addition to our wedding celebrations! He fit in well around the group and entertained us with his fab (and accurate!) drawings. Very impressed, thank you Bob!
---
Beatriz Santos - WTB Solicitors

, Corporate, Manchester
Thanks so much for a fantastic work!
---
Suki Sriemevan

, Birthday Party, Nottinghamshire
Very prompt, pleasant and did a pretty good job. A very good service done... Won't hesitate to hire again!
---
Lynette Moorcroft

, Wedding, Cheshire
Warble Entertainment were very helpful in arranging a suitable artist and the whole experience was very easy. Bob was fab, he communicated with me before the event and he arrived promptly at the venue. He mingled with our guests and did some very good sketches that everyone enjoyed. I have no problem recommending Bob to you for any event in the future.
---
Sheri Smith

, Birthday Party, Durham
Caricatures were fantastic! Bob had lots of patience as he did them from photos too. Would highly recommend. x
---
Julia Plowman

, Private Party, North Yorkshire
Excellent experience using Warble Entertainment. Very efficient and helpful. Bob was excellent, he worked really hard and his work was really good. My guests thought their pictures were great. Thank you.
---
Anoop Battoo

, Corporate, Staffordshire
Bob was a great artist, mingling well with all delegates. Gave true to life type drawings which were well received.
---
Donna Murphy

, Wedding, Liverpool
Bob arrived at West Tower venue looking very smart indeed, he was extremely courteous and blended in perfectly with the guests. Bob's caricaturist drawing proved very popular with everyone. Our guests queued to have themselves caricaturised. Totally amazing and a lot of fun. I would like to thank Bob for providing us with such entertainment and would welcome him back with open arms at any future event. THANKS BOB FROM US ALL, A REAL GEM XXXX.
---
Victoria Pirie

, Birthday Party, Leicestershire
Bob's pictures were very good and not the usual big nose, big teeth, big ears type. This meant that everyone was happy to sit without being made fun of.
---
Rob Biddiss

, Wedding, Derbyshire
Very good would recommend.
---
Claire Green

, Birthday Party, Warwickshire
The process to book was very straightforward and everything went smoothly. Thank you.
---
Selina Clark - LMS Highways Ltd

, Corporate, Warwickshire
Great Work! Great guy and fitted in well with our company day.
---
Sophie and Sandy Jordan

, Wedding, Merseyside
Bob was fantastic and we are so glad we chose him. His drawings were brilliant and we had so many positive comments from our guests. When we have another event we would not hesitate to hire him again.
---
Lucy Mcnulty

, Wedding, Nottinghamshire
The service was great. Bob called me to check details and arrived early and got settled in. The venue was a little different but Bob settled in and got drawing. Everyone loved the drawings and people were queuing up. 2 hours went by so fast and Bob made our guests happy with his drawings and even let the children do some of their own drawings. Thanks again Bob
---
Sharon Haslam

, Wedding, Derbyshire
Bob was amazing. He arrived early and drew lots of pictures. He was very friendly and is a superb artist. Thank you Bob so very much. I cannot recommend him highly enough. To sum him up with one word... EXCELLENT !!!!
---
Karen Sheen

, Wedding, Northamptonshire
Absolutely perfect! Lovely man, didn't stop drawing for 3 hours ... Captured most of our guests and always had a queue :)
---
Fiona Lucas

, Wedding, Leeds
Bob was great his work was fab and would definitely recommend to others.
---
Roy Whyatt

, Wedding, Cheshire
All I can say is that everybody loved their pictures. From Shaun "Hitchcock" Sweetmore, to the Superhero kids....... well done!!
---
Meryl Jones

, Wedding, Glamorgan
Bob was great entertainment at our wedding! A really lovely chap and all who had a drawing, highly praised him. He travelled a long way and was truly committed to the remit. Job well done Bob! Meryl & Jamie
---
Lucy Cannon

, Wedding, Nottinghamshire
Bob was great, people loved there drawings to take home. Would definitely recommend for a wedding as he made ours even better :)
---
Joanne Green - Redmayne-Bentley LLP

, Corporate, Leeds
Really attentive, got round the crowd and engaged with the audience. Added a different dimension to our evening.
---
Michael Wood

, Wedding, Staffordshire
Thank you so much for helping make our day perfect, our families loved you and are swapping and sharing giggles about their caricatures. Theresa & Michael Wood
---
Sara Ward

, Wedding, Cambridgeshire
Bob friendly, arrived ahead of performance so he could see where he wanted to work, started to mingle among the guests doing his drawings. Many were pleased with their pictures, pity I didn't get to speak to him before he left. Overall a good experience.
---
Jenny Dent

, Wedding, Derbyshire
Fabulous portraits, Bob was the talk of the evening. Great form of entertainment and everyone gets a souvenir.
---
Dennis Guthrie

, Birthday Party, West Midlands
All was good with Bob on the night, the people at the party thought it was a great idea and found him very unobtrusive. They carried on talking and eating while he was drawing away, Warble Entertainment were very quick and professional with everything, thank you for helping make our party a great success. Den
---
Maggie Allen

, Birthday Party, Warwickshire
Bob arrived on time, was very friendly and mingled well with guests, he asked first before doing caricatures - on the whole he was very good.
---
Gail Tomlinson

, Wedding, West Midlands
Bob arrived on time and came and introduced himself. He had already taken a quick look at the room where the evening reception was to be held and had selected a place to sit which he felt was well lit and suitable. I didn't really get an opportunity to meet with him again as he was so busy from the minute he started (and I was also busy with our guests!). However, the feedback from the guests was very positive and everyone was very pleased with their drawings. Thank you.
---
Hazel Duffin

, Birthday Party, Leicestershire
I booked Bob for my 50th birthday celebrations as I wanted all my friends to have a memento of the evening to take home with them. Bob was a nice guy. Prompt and very accommodating (he made sure that no-one was missed out). Our party of ladies were quite excitable and boisterous, but Bob was great and was an entertaining addition to the festivities. Thank you.
---
Andy Bayley

, Corporate, Cheshire
Bob was punctual and friendly and everone enjoyed his caricatures. His presence added that extra fun-factor to our event.
---
Jon Mills

, Charity, West Midlands
Thanks to Bob for attending our function and providing so many caricatures - the guests really appreciated them and it made the evening really different. We were very pleased with Bob's contribution to the evening, please pass on our thanks and very best wishes. Jon.
---
Pauline Varnals

, Corporate, West Yorkshire
Bob arrived on time, was polite and courteous and I left him to get on with his job. At around 9.10pm he came to me and said he was leaving and had received his cheque. I had left him to get on with his job and everyone seemed happy.
---
Past corporate clients have included Saatchi PR, AXA Insurance, Beachcomber Tours, Vodaphone, Next, Alliance & Leicester and BSkyB.
Bob has also worked for universities and student unions, such as Sheffield and Nottingham. Plus, stately homes and top London hotels, a power station and a Barrett show home!
Bob's most prestigious event was at the Houses of Parliament where he drew, among others, the laterLabour party leader, Ed Miliband.
How many caricatures can you draw and how long does each one take?
I average about 5-6 minutes per sketch, and I usually do well over 30 caricatures during a three-hour session. I can work standing, going table to table or at a fixed seated spot. I work on A4 paper, though I usually have an A3 pad handy for couples. My only real requirement is reasonable 'reading' light to work by – drawing under disco lights can be a bit tricky!
What else can I do?
I work as an illustrator, comic strip artist and designer. I can produced 'pre-event' artwork in a variety of styles for invites, display or something to frame as a present.
For evening events, Bob normally works a 2 or 3 hour session. With breaks, he can work across a whole day for an event like a fair or family fun day.
Please Note: The fees indicated below are approximate and based on a central location for each county. They are intended to provide a rough guide only and exact quotes can only be given once the date and exact location of your event have been provided.
North East
South Yorkshire
£276.00
North West
Cheshire
£300.00
Manchester
£300.00
East Midlands
Derbyshire
£240.00
Leicestershire
£240.00
Lincolnshire
£288.00
Northamptonshire
£288.00
Nottinghamshire
£240.00
Rutland
£264.00
East
Cambridgeshire
£300.00
West Midlands
Gloucestershire
£300.00
Staffordshire
£264.00
Warwickshire
£264.00
Worcestershire
£300.00
South East
Bedfordshire
£288.00
Hertfordshire
£288.00
Oxfordshire
£300.00
London
£300.00
Middlesex
£300.00