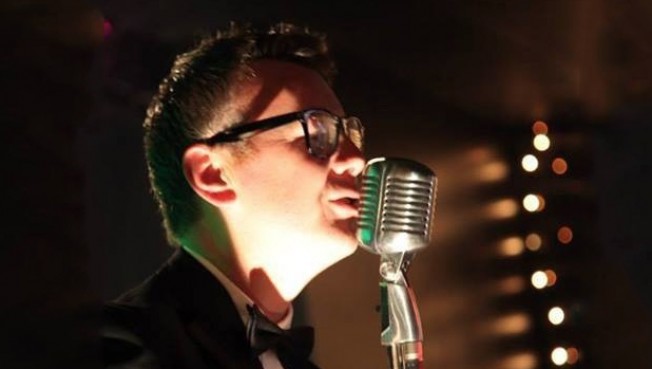 Location North Yorkshire
Starting from £300.00

Buddy Holly - The legend lives on!
With amazing vocals and outstanding guitar work, guaranteed to transport you back to the nostalgic Rock and Roll era of the late 1950's
Buddy performs the best of Buddy Holly and songs by Artistes connected to this Rock and Roll star, including Ritchie Valens, The Big Bopper, Chuck Berry, Elvis etc.
Listen




Number of Reviews and Counting... 12!
Experience a superb selection of Buddy's legendary hits and artistes connected to this Rock and Roll Star, including Rock and Roll classics like "That'll be the day" to truly romantic love songs such as "True Love Ways". This vesatile and energetic show will have audiences both young and old hopping and bopping in the aisles in no time at all.
A show packed with the feel good factor, will entertain and capture the hearts of thousands of Buddy fan, as the great songs just keep on coming, giving the impression that the clock has well and truly been turned back.
Standard Line Up
Optional
Oh Boy
That'll Be The Day
True Love Ways
Raining in my Heart
Maybe Baby
La Bamba
Blue Suede Shoes
Walk Right Back
Johnny B Goode
The Wanderer
Chantilly Lace
and many more.....
Jo Gleed-Owen

, Birthday Party, The Angel & Harlequin at Spinkhill, Derbyshire
Buddy was fantastic and made my folks 50th wedding anniversary extra special after a lunchtime sit down meal - everyone really enjoyed Buddy. A talented singer and guitar player and lovely engagement with guests. Would highly recommend - had several folk ask me after the event where I found Buddy and I told them Warble Entertainment, who have also been lovely to deal with.
---
Jill Bolton

, Venue Club, Davenham RBL, Cheshire
Excellent. Highly recommended.
---
Andy Wright

, Birthday Party, Leighton Buzzard Golf Club, Bedfordshire, Bedfordshire
Very good and covered a wide range of songs.
---
Jill Bolton

, Private Party, Davenham R.B.L., Cheshire
Excellent as always. Highly recommended.
---
Chloe Donnelly - Todmorden Carnival

, Charity, Vale Park, West Yorkshire
Great performance got most of the adults singing along with him and he was a pleasure to deal with.
---
Carol Mccarthy

, Venue Club, Camberley Heath Golf Club , Surrey
Great show, our customers really enjoyed themselves. Thank you!
---
Anne Barnes

, Venue Club, North Enfield Conservative Club, London
He was brilliant.
---
Jill Bolton

, Private Party, Davenham Royal British Legion, Cheshire
Contacted beforehand. Very friendly, nothing too much trouble.When he got up on stage, within minutes he had the audience attention and they couldn't speak highly enough of him!!! If all of your acts are this good, we would recommend to anyone. Will be in touch for next year and will look at who else you have.
---
Anne Barnes

, Venue Club, London
He was brilliant!
---
Melanie Allen - Hartshead Inn

, Restaurant, Manchester
A great act!
---
Stephanie Garrett

, Private Party, South Yorkshire
Buddy was an excellent choice for my parents Golden wedding anniversary. He was extremely polite, prompt, very accommodating. The entertainment was fantastic, loved the Buddy songs and also other songs from the era. He really engaged with the audience and everyone was joining in and up on their feet by the end of the night. We had such positive feedback from all our guests, I would certainly recommend Buddy to anyone considering him for a party. Thanks Buddy you were great!
---
Stephen Ellis

, Private Party, South Yorkshire
On behalf of the Rotary Club of York Ainsty I would like to thank you for an outstanding performance that was enjoyed by all.
---
Holiday Day Inn, Hull
Best Western Hotel, Reigate
Raddison Blu, Durham
International Music Festival, Malta.
Pete Best Festival, Liiverpool
Searchers Christmas Show, Hull City Hall
P&O, Hull
2 x 45 Minutes
3 x 30 Minutes
Please Note: The fees indicated below are approximate and based on a central location for each county. They are intended to provide a rough guide only and exact quotes can only be given once the date and exact location of your event have been provided.
Scotland
Aberdeen
£840.00
Inverness
£840.00
Perth
£840.00
Sutherland
£840.00
Ayrshire
£840.00
Fife
£840.00
Stirlingshire
£840.00
West Lothian
£840.00
Dumfries-shire
£840.00
East Lothian
£840.00
Lanarkshire
£840.00
Midlothian
£840.00
Glasgow
£840.00
Edinburgh
£840.00
Foreign Locations
Europe
£1,200.00
Rest of the world
£2,400.00
North East
Durham
£360.00
Northumberland
£360.00
North Yorkshire
£360.00
South Yorkshire
£360.00
Tyne and Wear
£360.00
West Yorkshire
£420.00
Yorkshire
£360.00
East Yorkshire
£300.00
Leeds
£300.00
North West
Cheshire
£480.00
Cumbria
£480.00
Manchester
£360.00
Lancashire
£480.00
Merseyside
£480.00
Liverpool
£480.00
East Midlands
Derbyshire
£300.00
Leicestershire
£360.00
Lincolnshire
£300.00
Northamptonshire
£420.00
Nottinghamshire
£360.00
Rutland
£360.00
East
Cambridgeshire
£480.00
Norfolk
£480.00
Suffolk
£540.00
Norwich
£480.00
Wales
Anglesey
£660.00
Caernarvonshire
£660.00
Denbigh
£660.00
Flint
£660.00
Cardigan
£660.00
Brecon
£660.00
Carmarthen
£660.00
Glamorgan
£660.00
Monmouth
£660.00
Pembroke
£660.00
Wrexham
£660.00
Cardiff
£660.00
West Midlands
Gloucestershire
£480.00
Herefordshire
£480.00
Shropshire
£480.00
Staffordshire
£480.00
Warwickshire
£480.00
Worcestershire
£480.00
Birmingham
£420.00
South East
Bedfordshire
£720.00
Berkshire
£720.00
Buckinghamshire
£720.00
East Sussex
£720.00
Essex
£720.00
Hampshire
£720.00
Hertfordshire
£720.00
Isle of Wight
£840.00
Kent
£720.00
Oxfordshire
£720.00
Surrey
£720.00
Sussex
£720.00
West Sussex
£720.00
London
£720.00
Middlesex
£720.00
South West
Cornwall
£720.00
Devon
£720.00
Dorset
£720.00
Somerset
£720.00
Wiltshire
£720.00
Bath
£720.00
Bristol
£720.00