Warble Entertainment's
Christopher The Magician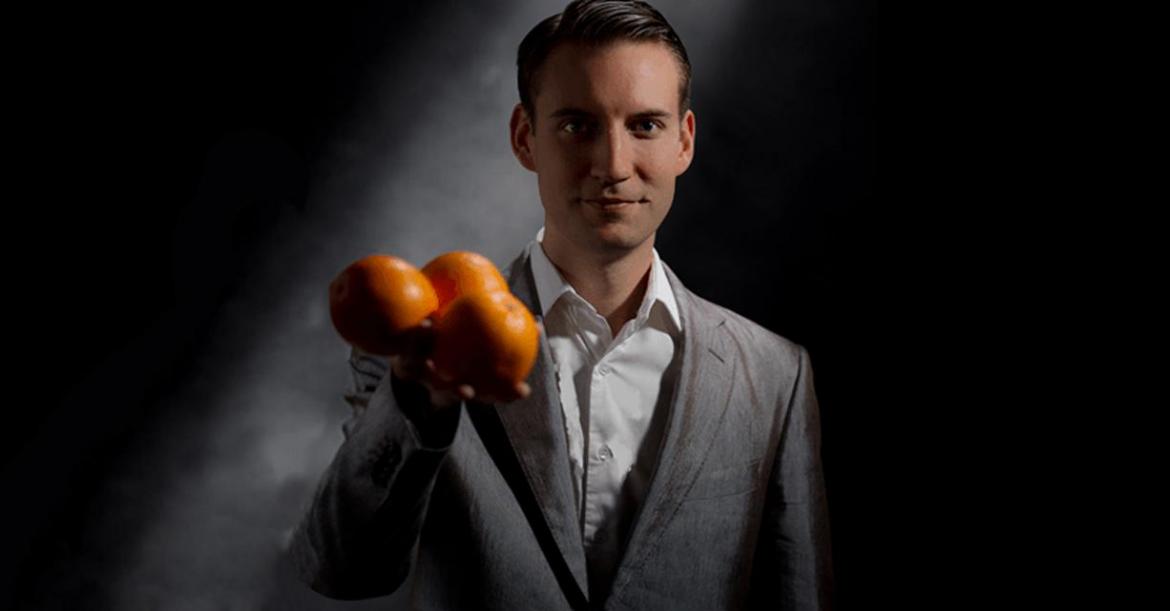 Location London
Starting from £420.00
Location London
Starting from £420.00
Introduction
Get a feel for them
Intro
Christopher's unforgettable performances and his charming presentation style add a mark of distinction to any event. He has performed around the world including at The Magic Castle in Hollywood in commercials and on international television.
I'd say he has to be seen to be believed, but I still can't believe what I've seen! - A. Quayle, Box of Tricks Theatre Company
11 reviews
Christopher The Magician
Number of Reviews and Counting... 11!
Christopher is a Member of the Magic Circle and a full-time professional magician with over sixteen years of professional experience. He is based in London with nation-wide availability and has performed both on TV and live, throughout the UK and internationally. Christopher presents his work for private events, corporate gatherings, and high profile clients across the board.
His engaging and polished style has been seen on such prestigious stages as The Magic Castle in Hollywood, Istinye Park in Istanbul, The Barbican Hall and The Hackney Empire in London. He has also recently been booked to appear at private events from San Francisco to the Azores to Cairo.
Nina Fitton - Google

, Corporate, Cahoots, London
Christopher was great - so personable, he worked the room like a total pro, inserting himself into conversations and wowing everyone with his tricks - from cards to rings to ropes to oranges, I think everyone was super impressed. What a professional - thanks so much for making our event special!
---
Steve Gallagher

, Corporate, Ruby Restaurant, Hertfordshire
Christopher was fantastic and kept everyone entertained throughout the whole time with his excellent magic tricks. Would highly recommend.
---
George Poole

, Corporate, London
We booked Christopher for our Brentford Showroom launch and he was a class act. He arrived on time, he entertained all our guest, who really enjoyed his tricks, and was great entertainment. I highly recommend Christopher!
---
Jenny Wilson

, Corporate, Glenmore House, London
Good performance, was able to do both close-up magic and a performance! Thank you!
---
Jo Saker

, Private Party, Berkshire
Christopher was fantastic, a real Christmas treat. Dealt with a difficult audience from a challenging eight year old to going deaf grand parents. He included everybody and kept us on the edge of our seats. We were left with a great memory and a little baffled especially by the trick with the oranges!!!
---
Matthew Talbot and Melika Jeddi

, Wedding, Surrey
Christopher was a fantastic stage and closeup magician, amazing us and our guests with tricks that we are still discussing at family gatherings. He was an absolute pleasure to deal with.
---
Paul

, Private Party, Norfolk
Dear Coral, you may remember booking Christopher The Magician for us. I have provided feedback via your system, which you will see is very good. I would like to add a personal thank you here to YOU for pulling out the stops at the last minute to obtain a suitable act for the party. Having Christopher added something intangible to the party in honour of my late wife - especially as everyone knew that she was such a fan of and a sucker for magic and magicians. Thank you again for going the extra mile.
---
Paul Revell

, Private Party, Norfolk
100 people at a private party (all ages including children). Mingling with standing guests and later table magic. 2 hours. Everybody loved Christopher. Lovely manner, gentle and pleasant - and slightly mysterious - drew people in and held their attention. Got round practically everybody in groups. Superb finale table trick with 10 guests including those throwing the party. I have seen quite a lot of magic and know a couple of magicians - Christopher is VERY good. He seems to have genuine delight in being the magician, which rubs off in the guests' enjoyment. He arrived in good time despite a tricky journey. The guests, without exception, loved the magic and loved the magician. Christopher really added something to the evening and I am so glad I booked him.
---
Ashlee Rose

, Wedding, Oxfordshire
Amazing Magician. Made the guests feel at ease but involved everyone from 4 to 84! Was there in excellent time and very polite to all. Value for money! Thank you!
---
Amy Whitmell

, Wedding, Oxfordshire
Christopher is an amazing magician! All of our guests were really captured by the close up magic and have spoken so highly and with enthusiasm about the tricks and the way Christopher performed. The Groom and I were especially impressed with the special 'princess and orange' performance... Very mind boggling! We would definitely recommend Christopher for any event - he is truly magic! Thanks also to Warble for friendly, fast and great service.
---
Nathan Stell

, Wedding, Kent
Amazing close up magician, wowed our guests with some unbelievable close up magic and slight of hand. Polite and friendly a real asset to our wedding day.
---
Kensington Women's Club
Leahy Brands Design
Lehman
Lloyds TSB
Lovells
Luis Vuitton
Merill Lynch
Pizza Express
Pokerstars.com
Royal Bank of Scotland
Saatchi & Saatchi
Sharon Osbourne
Southern Comfort
Sultan of Brunei
SJ Berwin
Tate Britain
Unilever
United Biscuits
Victoria & Albert Museum
Volkswagen
Are there any technical considerations?
Christopher's close-up magic performances need to finish before the band or DJ start playing. There needs to be enough light for people to see the magic and music low enough so people can hear what is being said without shouting.
What do the prices on the 'Prices' page refer to?
The prices on the Prices page are estimates based on a 2-hour performance quote and travel time. Once we know the exact location and timings of your event, a more precise quote can be offered which includes transportation costs and complete details.
How many close-up magicians do I need?
The rule of thumb is to have one magician per 80-100 guests. During a few hours of performances a magician can reasonably perform for about that many people.
When is the best time to have close up magic?
Christopher's close-up magic works best from the beginning (i.e. reception drinks) and/or also during dinner (between courses).
Usually 1-2 hours during reception drinks or between courses at tables during dinner.
Please Note: The fees indicated below are approximate and based on a central location for each county. They are intended to provide a rough guide only and exact quotes can only be given once the date and exact location of your event have been provided.
Scotland
Aberdeen
£660.00
Inverness
£660.00
Perth
£660.00
Sutherland
£660.00
Ayrshire
£660.00
Fife
£660.00
Stirlingshire
£660.00
West Lothian
£660.00
Dumfries-shire
£660.00
East Lothian
£660.00
Lanarkshire
£660.00
Midlothian
£660.00
North East
Durham
£660.00
Northumberland
£660.00
North Yorkshire
£660.00
South Yorkshire
£660.00
Tyne and Wear
£660.00
West Yorkshire
£660.00
Yorkshire
£660.00
North West
Cheshire
£660.00
Cumbria
£660.00
Manchester
£660.00
Lancashire
£660.00
Merseyside
£660.00
East Midlands
Derbyshire
£660.00
Leicestershire
£660.00
Lincolnshire
£660.00
Northamptonshire
£660.00
Nottinghamshire
£660.00
Rutland
£660.00
East
Cambridgeshire
£420.00
Norfolk
£420.00
Suffolk
£420.00
Wales
Anglesey
£660.00
Caernarvonshire
£660.00
Denbigh
£660.00
Flint
£660.00
Cardigan
£660.00
Brecon
£660.00
Carmarthen
£660.00
Glamorgan
£660.00
Monmouth
£660.00
Pembroke
£660.00
West Midlands
Gloucestershire
£660.00
Herefordshire
£660.00
Shropshire
£660.00
Staffordshire
£660.00
Warwickshire
£660.00
Worcestershire
£660.00
South East
Bedfordshire
£420.00
Berkshire
£420.00
Buckinghamshire
£420.00
East Sussex
£420.00
Essex
£420.00
Hampshire
£420.00
Hertfordshire
£420.00
Isle of Wight
£540.00
Kent
£420.00
Oxfordshire
£420.00
Surrey
£420.00
Sussex
£420.00
West Sussex
£420.00
London
£420.00
Middlesex
£420.00
South West
Cornwall
£660.00
Devon
£660.00
Dorset
£660.00
Somerset
£660.00
Wiltshire
£660.00
---
You may also like
Customers who have enquired for Christopher the Magician have also been interested in the following close up magicians who are also based in London and the South East of England. For more information or further options, please call 0845 643 9384.