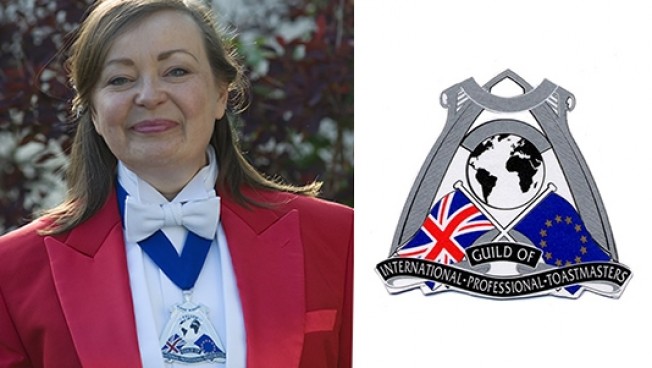 Location North Yorkshire
Starting from £223.20
Engage Claire as your Toastmaster and you are investing in a professional who delights in her role; she offers you her expertise in a friendly and engaging manner; her skill and experience will ensure that your event is a great success!
Claire was also winner of the 2020 Toastmaster Of The Year award as voted by the Guild of International Professional Toastmasters so professionalism and a premier experience is assured!
Number of Reviews and Counting... 7!
Claire is a Fellow of the Guild of International Professional Toastmasters and wears the badge with great pride; it represents the highest standard of training and examination in the industry.
Her professional background is in entertainment and hospitality, organizing special events for corporate and private clients throughout the UK and abroad. Claire now invests this skill and experience in the service she offers you as your Toastmaster; officiating at your special event and co-ordinating all elements of the occasion so that your celebration runs seamlessly and as planned.
As your Master of Ceremonies Claire has a confident but unobtrusive style that varies to suit the protocol and requirements of the occasion. She has a friendly and engaging manner and works closely with you to ensure that you receive sound advice and the right level of attentive service.
As a qualified Blue Badge Tourist Guide and lecturer she can also be engaged to lead guided tours or give talks on the local area for your guests' entertainment or you may take advantage of her speech writing service.
Claire lives in Yorkshire but travels extensively; she is pleased to offer her professional services at any event throughout the UK and internationally; she is well used to unsocial hours and to traveling long distances.
Book Claire as your Toastmaster and you can relax, assured of a happy, enjoyable and highly successful event.
Alison Wright

, Wedding, Moreteyne Manor, Bedfordshire, Bedfordshire
Claire was amazing, she took control for us and made sure that everything ran smoothly, she was a god-send! We could not have done it without her. Claire was so organised, which meant we could get on and enjoy our wedding. Claire made sure that our private moment was indeed private and stayed on when we ran late. It was a pleasure that she joined us at our wedding breakfast, a very welcome guest. All of our guests commented on how professional and pleasant she was. We would definitely recommend Claire's services to others.
---
Laura Stoddart

, Wedding, Islington Town Hall & Assembly Hall, London
Claire was every part the amazing Toastmaster we had hoped for. She has amazing energy, was poised, professional and kept everything running smoothly all day so that we could have an amazing day. She was available to answer all our questions prior to the day and help with the refinement of the timetable. Claire's personal touch helped those giving a speech feel at ease. Further, Claire worked well managing the other suppliers. We would hire her services again in a heartbeat. Thank you Claire and Warble Entertainment.
---
Emily Trimby

, Wedding, Cheshire
Claire really held the event together. She was a wonderful addition to the wedding and made things run very smoothly.
---
Emma Shaw

, Wedding, Derbyshire
She was brilliant. I was not good at providing the information but she went over and beyond what we expected and ensured our day was perfect. A big thank you from both of us.
---
Samantha King

, Charity, Shuttleworth, Bedfordshire, Bedfordshire
Very good auctioneer, got the most out of our bidders! Also offered help on the night with facilitation. Friendly and helpful.
---
Ellen Muir

, Wedding, Inverness
Our daughter Hannah had a large outdoor wedding in the Scottish highlands and Claire just kept everyone in the right place at the right time. She did everything to make sure it was the best day ever! Thanks Claire. Ellen Muir.
---
Laura Cooper

, Wedding, North Yorkshire
Claire was absolutely amazing! She made our wedding day run like clockwork and was on hand for any disasters, however small or large, that may have confronted her. Claire is such a lovely person and made everyone feel at ease and ensured we all had an amazing time. I couldn't recommend her anymore highly. Thank you Claire!
---
Claire has organised and presided over events at hotel and function rooms across the country and abroad, from the prestigious Cliveden and Gleneagles to small hotels and restaurants; whatever and wherever the venue Claire's sense of service and attention to detail remain constant.
Numerous appearances on television followed her engagement as the Wedding Expert on ITV's 'The Time. The Place'.
What does engaging Claire, a Fellow of the Guild of International Professional Toastmasters, mean to you, her clients?
Reliability - You receive expert, friendly, and independent advice before your event.
Authority - All elements of the day are co-ordinated and supervised to ensure that everyone performs to the best of their ability.
Peace of mind - No stress or worries on the day. A commitment to guide you every step of the way: should a problem arise I work quickly and quietly to rectify it without any fuss.
Personal - Your special day is exactly as you planned it to be.
Insurance - A relatively modest investment to ensure a worry free day with £5m liability insurance.
Dignity and Style - Adds an extra 'Touch of Class' to the occasion without ever being overbearing.
Fees are approximate and include a mileage charge, where the roundtrip exceeds 200 miles, and an overnight stay, costed at £35, where appropriate. Advance rail fares may also reduce these charges – where time, location and opportunity make this cost effective.
Claire is highly experienced and highly effective; as a Fellow of the Guild of International Professional Toastmasters she represents the highest standard of training and examination in the industry.
Once appointed as your Toastmaster Claire takes pleasure in using her professional expertise to guide and advise you, as required, and assumes a liaison role on the day so that your celebration can run seamlessly and as planned.
Please Note: The fees indicated below are approximate and based on a central location for each county. They are intended to provide a rough guide only and exact quotes can only be given once the date and exact location of your event have been provided.
Scotland
Aberdeen
£588.00
Inverness
£616.80
Perth
£234.00
Sutherland
£681.60
Ayrshire
£454.80
Fife
£474.00
Stirlingshire
£474.00
West Lothian
£462.00
Dumfries-shire
£432.00
East Lothian
£422.40
Lanarkshire
£422.40
Midlothian
£422.40
North East
Durham
£330.00
Northumberland
£342.00
North Yorkshire
£294.00
South Yorkshire
£330.00
Tyne and Wear
£330.00
West Yorkshire
£330.00
Yorkshire
£330.00
North West
Cheshire
£330.00
Cumbria
£330.00
Manchester
£330.00
Lancashire
£330.00
Merseyside
£330.00
East Midlands
Derbyshire
£330.00
Leicestershire
£330.00
Lincolnshire
£330.00
Northamptonshire
£330.00
Nottinghamshire
£330.00
Rutland
£357.60
East
Cambridgeshire
£330.00
Norfolk
£354.00
Suffolk
£354.00
Wales
Anglesey
£411.60
Caernarvonshire
£411.60
Denbigh
£357.60
Flint
£354.00
Cardigan
£474.00
Brecon
£414.00
Carmarthen
£422.40
Glamorgan
£450.00
Monmouth
£465.60
Pembroke
£474.00
West Midlands
Gloucestershire
£414.00
Herefordshire
£414.00
Shropshire
£378.00
Staffordshire
£357.60
Warwickshire
£378.00
Worcestershire
£394.80
South East
Bedfordshire
£405.60
Berkshire
£414.00
Buckinghamshire
£414.00
East Sussex
£480.00
Essex
£354.00
Hampshire
£474.00
Hertfordshire
£414.00
Isle of Wight
£534.00
Kent
£498.00
Oxfordshire
£414.00
Surrey
£476.40
Sussex
£480.00
West Sussex
£480.00
London
£354.00
Middlesex
£354.00
South West
Cornwall
£594.00
Devon
£474.00
Dorset
£474.00
Somerset
£354.00
Wiltshire
£354.00