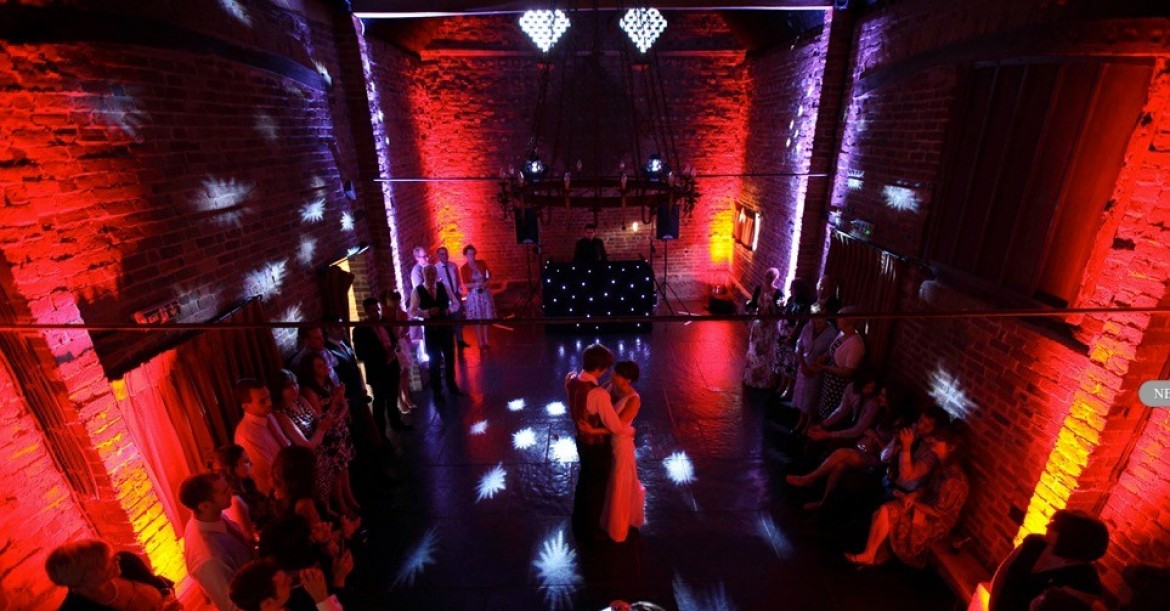 Location Worcestershire
Starting from £396.00
Adrian has been entertaining all over the UK since 1992 bringing quality discos to events ranging from weddings to celebrity studded functions.
Offering one of the best disco services in the UK for private functions or corporate events Adrian is able to cover everything with the most professional approach and equipment on the market.
Adrian is a DJ who has the style to bring any function to life. He has the ability to read a crowd and create that feel good atmosphere, from 20 people to 2000 Adrian has it covered to the highest quality.
Adrian has worked all over the UK and Europe for clients & venues such as London Dorchester, London SAVOY, The NEC, Lenny Henry, JLS and many more.
*Adrian's personalised focus on each job and friendly approach is his strong point*
Number of Reviews and Counting... 16!
Adrian has been entertaining all over the UK since 1992 bringing quality discos to events ranging from weddings to celebrity studded functions. Offering one of the best disco services in the UK for private functions or corporate events Adrian is able to cover everything with the most professional approach and equipment on the market.
Having worked in the entertainment and events sector for over 17 years Adrian has a strong knowledge of what works... and, what to avoid! Adrian is completely dedicated to ensuring that your event is accomplished flawlessly and reaches its desired outcome whatever your budget.
In 1992 Adrian set out to be one of the best in his area as a DJ for private functions and corporate events at all levels. To this day Adrian not only has achieved that but also succeeded in many other areas. Adrian is well known in the corporate sector all over the UK covering events for many of the large event establishments.
From a small function of 20 guests to a product launch to 2000 guests for their annual awards night Adrian is able to offer clients the very best personal attention to every detail from room décor to entertainment.
Adrian has experience in performing weddings, corporate and celebrity events and has a range of extra options including confetti cannons, karaoke, quiz events and 'the look', which has been amazing clients all over the UK and consists of a 6m x 4m LED show (LED star cloth backing with matching 6ft DJ booth surround, which is all made from professional black wool surge). In addition, Adrian is also able extend the starcloth for larger areas and if required dress the whole room!
In addition, Adrian can cater for some of the most spectacular theme nights to suit all sizes and budgets. Room décor can be organised and wall washes etc. Ideas include '70s, '80s, James Bond, School Disco, plus many more…
Adrian has worked all over the UK at product launches, indoor and outdoor fun days and store promotions. He works closely with Cancer research providing their outdoor PA and providing that constant motivational presence that is needed on large outdoor events.
Adrian is a personality DJ who has the style to bring any function to life. He has the ability to read a crowd and create that feel good atmosphere. His personalised focus on each job and friendly approach is his strong point.
Music styles from Motown, Rock 'n' Roll, R'n'B, Dance, Chart, '50s, '60s, '70s, '80s and '90s to the present day will be available at each function so everybody is catered for!
Adrian is also available without equipment with just his CDs or Mic if needed for store promotions etc.
All equipment is PAT tested and serviced each year to ensure full working order and Adrian also has Public Liability Insurance up to 5 million pounds.
Please Note: If your event is within 40 miles of the Redditch area Adrian is happy to pay you a visit to further discuss your requirements and ensure your event is completely as you would like it.
Steven Whateley

, Birthday Party, The Old Pheasant, Worcestershire
Adrian was a fantastic all round DJ and kept all of our guests entertained with a brilliant 70's themed disco. I wouldn't hesitate in recommending him for any party that required a DJ.
---
Trish Stansfield

, Wedding, Warwick Castle, Warwickshire
Adrian must be psychic! He read our minds and played exactly what we wanted to hear. Lovely guy and a great selection of music.
---
Angie Major

, Corporate, Manchester
Adrian really got the room up. Never seen a dance floor so packed at midnight.
---
Rebecca Loxley

, Wedding, Hassop Hall Hotel, Derbyshire, Derbyshire
Our evening entertainment was a huge success due to Adrian. He was professional, well equipped and knew exactly how to bring people to the dance floor. Couldn't recommend enough, his music was vast, up beat and took all requests. Thank you so much.
---
John Percival

, Wedding, Somerset
DJ Adrian was absolutely superb! I quizzed him ahead of the event and was put at ease entirely. I shared playlists and the tracks were woven into the evening perfectly. He had a great setup; I've got high standards when it comes to audio and the sound quality in the venue was excellent. It was a pleasure to work with DJ Adrian and the dance floor was full all night which is a testament to his ability to read the crowd and his capabilities.
---
Carys Masters

, Wedding, Wiltshire
The silent disco was incredible!! Everyone absolutely loved it, it could not have gone down any better! Adrian was great, a very friendly guy willing to accommodate our friends interesting song requests!! Simply brilliant, we would recommend the silent disco to anyone, it made the night!
---
Kiera Meneghini

, Wedding, Hampshire
DJ Adrian was fantastic and took requests all night from myself and the other guests. I would highly recommend him for any occasion. Thank you!!
---
Sam and Stef

, Wedding, Nottinghamshire
We would like to say a big thank you to Adrian for playing at our wedding he did an amazing job and played some fantastic music, everyone had a brilliant time dancing the night away. Thank you again for everything.
---
Tamara & Kevin

, Wedding, Gloucestershire
Adrian was absolutely brilliant, everyone commented on how good the music was and he was more than happy to play requests. The dance floor was packed all night. I would definitely recommend your company as the price is extremely competitive and communication is extremely good. The fact that we could also pick the music we wanted was great. Please pass on our thanks to Adrian and also thank you for helping us have a great night!!
---
Natalie Forster

, Wedding, Warwickshire
We were very happy with Adrian and Warble!
---
Rachel and Steve Dunn

, Wedding, Warwickshire
We had such a perfect wedding, it was a relaxed fun day with a really great atmosphere, which was definitely continued when Adrian arrived for the evening function. We were very impressed with Adrian, he fitted into our day perfectly, played a great song set from our playlist which meant the dance floor was full from the very first song till the end of the night - when everyone began chanting for more! Thank you so much for recommending Adrian and for all your help, you have been very professional and helpful right from the outset and quick to answer all my many queries. We were worried that a DJ would say they would play our playlist but end up playing Abba etc. but you reassured me that that wasn't so and put me in touch with Adrian, it was great to talk to him and put my mind at rest. We didn't need to worry as he already had all the songs on our playlist, gauged the mood of the night perfectly and people were following him out to his van at the end of the night to say how good he was and how much they enjoyed the night. We asked people to request 3 songs on our wedding invites and we had put people's names by their requested songs, Adrian was brilliant, as he would sometimes mention the person who had requested the song - much to their delight! We would definitely recommend Warble Entertainment and Adrian, the whole thing ran really smoothly and we wouldn't hesitate to use you again.
---
Cliff & Paula

, Wedding, Birmingham
Just wanted to drop you a note to say thanks to Adrian for Friday night. Lots of people have commented on what a great time they had, we've had texts, emails and all sorts!! Several people also said it was good that their requests got played and it made for a nice mix of sounds on the night.... Myself and Paula would like to say a personal thanks for making our night special... and for persuading us to have a "first dance"!! Thanks to Warble for making the whole experience painless and for the attention to detail!
---
Rachel Palfreyman

, Wedding, Birmingham
Thank you for your congratulations - the day went wonderfully and we've just returned from a fantastic honeymoon at Disneyland Paris. Adrian was brilliant at our wedding. He kept people dancing until 1am, played a fantastic mix of songs from his own collection and some of our own choices. The music he chose was perfect for the group of people, and many guests have since commented that the disco is one of the best they have been to. The evening flowed beautifully, and we even fitted in a bit of karaoke! The arrangements made through you with Warble also worked wonderfully. The booking was dealt with promptly and the questions I asked were answered very efficiently and professionally. Thank you both for making the preparations for the wedding day, and the day itself, run so smoothly. We will certainly recommend Warble and Adrian in the future.
---
Samantha Sandbrook (Universal World Events)

, Corporate, Berkshire
Ade was great, the client seemed to really enjoy themselves. Will recommend!
---
Gareth Sobocinski

, Wedding, Herefordshire
Just wanted to say thanks for an amazing end to an amazing day! Dealing with Adrian was a pleasure and he made every attempt to make sure we got want we wanted and then some! All in all would highly recommend Adrian to anyone else, 11/10.
---
Steve and Jilly Bartell

, Wedding, Shropshire
Hi Matt, Jilly and I just wanted to say what a difference it made to our day having the wonderful Chester Harpist playing the harp ,and the evening entertainment done by Adrian, they both in their own way made our day perfect. And please thank Adrian for our wedding CD what a lovely thought. And lastly how over the last couple of months, how helpful you have been Matt. Thank you once again, our kindest regards.
---
Adrian's diversity has lead to him covering events for the
DJ & Event Supplier for Sir Elton Johns UK Tour
PA, Equipment and Production for McFly
2013 West Bromwich Albion Player of the Year Awards - full production and entertainment
DJ for the re-launch of the London SAVOY hotel
Audio & Visuals for Radio 1 Scott Mills
PA & Event manager for Jermaine Douglas XFactor Runner Up
Event Production for JLS
PA and Piano for Myleene Klass
Event Supplier and DJ for SKY TV's 'Battle of the Brides' 2012 wedding reality show!
Production for 2008 Britain's Got Talent Act - Signature
Venues & Supply: London Dorchester, Grosvenor House, Birmingham ICC, Hilton Park Lane, The London Gherkin, Warwick Castle, Aston Villa FC, West Brom FC, Sainsbury's, David Lloyd UK, Edgbaston Cricket Ground, Redhouse Barn, Curradine Barns and many more.
Adrian has spent a lot of time and money investing in the best sound and lighting on the market. The presentation is very important.
Sound: Martin Audio with QSC amps and Martin processors provide ultra clear highs and nice rich deep bass. In the world of pro. Audio, this is the highest in its league
Lighting: Martin professional DMX computer controlled effects are used to create that instant WOW factor for any event. Many different lighting effects are used to ensure that the perfect lighting is used for each function. If you have a company event or are getting married, then why not have your company logo, or the bride and grooms names rotating on a wall or dance floor?
LED Tri-Lighting: Adrian keeps on top of game and with the latest LED lighting on the market there is no other place you need to go. Adrian has invested in the latest TRI-LED 3W lighting. The lights are ultra bright and TRI meaning the colour mixes within the light, offering a pure colour mix where as the cheaper LED lighting on the market will give off shadows of unwanted colours. Example: to get pink you mix RED & BLUE, old lighting will give off shadows of RED & BLUE but with TRI-Lighting you get a 100% pure PINK!!.
Also the Tri-Lighting is 12 x brighter that any the older style lighting, perfect for day events also that cross over into the night such as a wedding breakfast. Also the Tri-Lighting is TV studio rated - this means that NO flicker is given off the lights so if your wedding or corporate event is being videoed then the colours remain as they are seen to the human eye and not flickering/strobing on the TV playback.
Additional Services:
If you want something different than a standard disco, the following options are available:
• HUGE light shows to impress your friends or business customers
• Sound for the largest of events for up to 5,000 people
• Show-LED starcloth for behind the disco set up or stage backdrop or maybe a whole wall, or room! Adrian has one of the UKs largest stock of LED starcloth.
• Got a singer/ comedian or a guest speaker booked? Well let them plug straight in– Adrian's PA is of the highest quality Martin Audio blackline series. Radio mics can be provided (Shure SM58 or Sennheiser). All this is at a great cost and much cheaper than hiring another PA company
• Karaoke - over 7500 hit singles mixed with current music, Adrian will have your Karaoke needs covered!
• Quizzes - can be arranged as quiz nights or quiz discos or during a meal to add an element of fun to a function. This can consist of varied rounds of pictures, music and spoken rounds and a few extra surprises!
DECOR: To create the magical touch to any event, creative ideas coupled with planning and imagination, Adrian is able to transform the most basic of venues into a completely different experience. Bringing your event to life with wall up lighting, backdrops, star cloth, props and much more Adrian can custom design and fabricate a complete decor package for your special event.
Eveything Adrian uses is of the highest quality which is rarely seen used by many DJs today. Please be aware of cheap imitations!!!
Please Note: The fees indicated below are approximate and based on a central location for each county. They are intended to provide a rough guide only and exact quotes can only be given once the date and exact location of your event have been provided.
North West
Cheshire
£480.00
Manchester
£480.00
Lancashire
£480.00
Merseyside
£480.00
East Midlands
Derbyshire
£444.00
Leicestershire
£456.00
Lincolnshire
£456.00
Northamptonshire
£408.00
Nottinghamshire
£444.00
Rutland
£444.00
West Midlands
Gloucestershire
£408.00
Herefordshire
£408.00
Shropshire
£408.00
Staffordshire
£408.00
Warwickshire
£396.00
Worcestershire
£396.00
South East
Bedfordshire
£432.00
Berkshire
£444.00
Buckinghamshire
£444.00
Hertfordshire
£444.00
Oxfordshire
£432.00
Surrey
£456.00
London
£504.00
Middlesex
£504.00