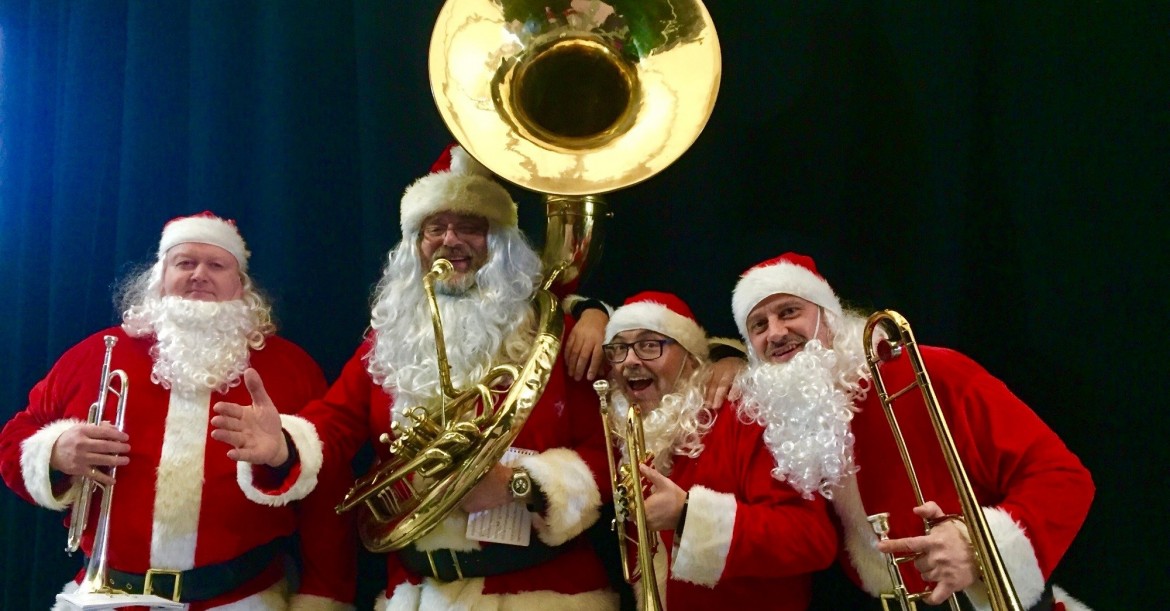 Location London
Starting from £840.00

Festive Brass quartet will entertain you with both traditional Christmas Carols and Hymns, and also more recent classics from the likes of Mariah Carey, the Pogues and Slade.
Listen




Number of Reviews and Counting... 4!
Festive Brass are a festive brass quartet, who will entertain you with both traditional Christmas Carols and Hymns, and also more recent classics from the likes of Mariah Carey, the Pogues and Slade.
While Festive Brass normally perform in Santa costumes, they can also wear smart suits or Dickensian costumes (the last are hired in so would be at an additional cost).
Festive Brass have performed at shopping centres, corporate and private parties and Xmas light ceremonies around the country, some highlights include the Festive Gift Fayre at Birmingham NEC, and Disney hired Festive Brass for the premier of their animated Christmas Carol.
Festive Brass require minimal space and setting up time and so are the perfect addition to any Christmas event inside or outside (weather permitting!).
2 x Trumpets
1 x Trombone
1 x Tuba
Christmas Songs
Holly And The Ivy
Twelve Days Of Xmas
Once In Royal David's City
Can You Hear What I Hear
O Little Town Of Bethlehem
Merry Xmas Everybody
Stop The Cavalry
Rocking Around The Xmas Tree
Fairytale Of New York
Jingle Bells
Here Comes Santa Claus
All I Want For Xmas Is You
Away In A Manger
Walking In The Air
Kerry Parker - Uniper UK Limited

, Private Party, The Historic Dockyard, Kent
The guys playing were excellent and everyone really enjoyed the welcome into the venue with their music. Andy was very easy to deal with when we were confirming the final details about the venue facilities and location of the venue. We would definitely use them again! A*** - Brilliant.
---
Jeanette Hockley

, Select Event Type, Chichester City Centre , West Sussex
The Festive Brass Band were absolutely brilliant, extremely talented and top quality. All four members interacted with the public and were professional in every way. Chichester BID highly recommend the Festive Brass Band.
---
Richard Hayward - DPD Group

, Corporate, Birmingham
The band were fantastic and very entertaining. All of our employees loved the music and the costumes. The band were very easy to work with and extremely flexible to deliver exactly what we needed. Thanks very much.
---
Emily Collins

, Private Party, Hertfordshire
Wow you were absolutely fabulous at my party, really got everybody in the Xmas spirit - thanks again!!!
---
Disney
Selfridges
Festive Gifty Fayre
London Hilton
London Lacaster Hotel
Tobacco Docks
Debenhams
Can you perform outside?
Yes indeed, though weather permitting - rain or heavy snow would obviously rule this out!
How much space do you need?
Minimum of space, approx 3m x 3m but we're used to squeezing into odd spaces and are happy to move around a performance area to entertain sections of your crowd.
Do you have any power requirements?
Absolutely none!
Would you require a changing room?
This is a definite if in costume. We can perform in smart suits if no changing facilities were available, but we'd still require some kind of area to leave cases / coats etc
Can you perform non-Xmas music?
If required yes, we have a full repertoire of non-Xmas tunes, from classical pieces and marches through to modern pop and rock covers.
Do you have insurance?
We are all members of the Musicians Union and so have full Public Liability Insurance
2 x 45 Minutes
3 x 30 Minutes
Please Note: The fees indicated below are approximate and based on a central location for each county. They are intended to provide a rough guide only and exact quotes can only be given once the date and exact location of your event have been provided.
Foreign Locations
Europe
£1,800.00
Rest of the world
£1,800.00
North East
Durham
£1,080.00
Northumberland
£1,080.00
North Yorkshire
£1,080.00
South Yorkshire
£1,080.00
Tyne and Wear
£1,080.00
West Yorkshire
£1,080.00
Yorkshire
£1,080.00
East Yorkshire
£1,080.00
Leeds
£1,080.00
North West
Cheshire
£1,080.00
Cumbria
£1,080.00
Manchester
£1,080.00
Lancashire
£1,080.00
Merseyside
£1,080.00
Liverpool
£1,080.00
East Midlands
Derbyshire
£960.00
Leicestershire
£960.00
Lincolnshire
£960.00
Northamptonshire
£960.00
Nottinghamshire
£960.00
Rutland
£960.00
East
Cambridgeshire
£960.00
Norfolk
£960.00
Suffolk
£960.00
Norwich
£960.00
West Midlands
Gloucestershire
£960.00
Herefordshire
£960.00
Shropshire
£960.00
Staffordshire
£960.00
Warwickshire
£960.00
Worcestershire
£960.00
Birmingham
£960.00
South East
Bedfordshire
£840.00
Berkshire
£840.00
Buckinghamshire
£840.00
East Sussex
£900.00
Essex
£840.00
Hampshire
£900.00
Hertfordshire
£840.00
Kent
£900.00
Oxfordshire
£840.00
Surrey
£840.00
Sussex
£900.00
West Sussex
£900.00
London
£840.00
Middlesex
£840.00
South West
Devon
£1,080.00
Dorset
£960.00
Somerset
£960.00
Wiltshire
£960.00
Bath
£960.00
Bristol
£960.00